I am new to corn pudding, but what I lack in history I make up for in fervor. There's a special place in my heart for those dishes that look like sides but are really not so far from dessert, sneaking into the party early (extra marshmallows on the sweet potato casserole, please) and if ever there was one, this is it: The delicate sunshine of corn kernels nestled into a dense, moist casserole, silky but just enough texture to be hearty, one savory note shy of an actual pudding. I was ready to love it before I'd even tasted it.
This version is a little like a love child of two corn sides that live in my book–a creamed corn inspired by a restaurant in my hometown and a sweet sesame cornbread. There are versions of corn pudding that incorporate corn muffin mix, almost like a particularly moist spoonbread, and others that use nothing more than canned cream-style corn, eggs, and cornstarch for their structure. I went for the latter, but improvised the "creamed" corn from scratch using the simple recipe in my book–simmering sugar, corn, and a touch of salt together until the house smells like summer, draining it and puréeing it before mixing it back with everything else.
Into that I added both sesame oil and sesame seeds, which, as I learned in writing the cornbread recipe for the book, plays surprisingly well with corn. The toasty savoriness from the oil lends a certain depth to the sweetness of the corn pudding without detracting from it, and the sesame seeds add a popcorn-like nuttiness and a pleasant bit of crunch alongside the whole kernels. The result is a casserole with a craggy top and burnished crisp edge, but a soft pudding center, creamy but studded with corn, suggestive of sweet kettle corn and chawanmushi at once.
If that weren't enough, this couldn't have been easier. We're heading down to my parents' for Thanksgiving (and I am fully prepared to lose my mind with joy to be back in a full and working kitchen, even if temporarily) but were we staying home, it would be no barrier to making this–a pressure cooker with a sauté setting will boil water enough to simmer the creamed corn (or you can just use canned), a food processor, blender, or even immersion blender will purée the corn, and then all you need is a countertop oven or even just a toaster oven that's big enough to hold a gratin dish, and you're on your way. I continue to be surprised by the number of things we've been able to make in our folding table "kitchen."
What are you planning to make for your Thanksgiving or holidays? Hope you're all headed into wonderful holiday seasons.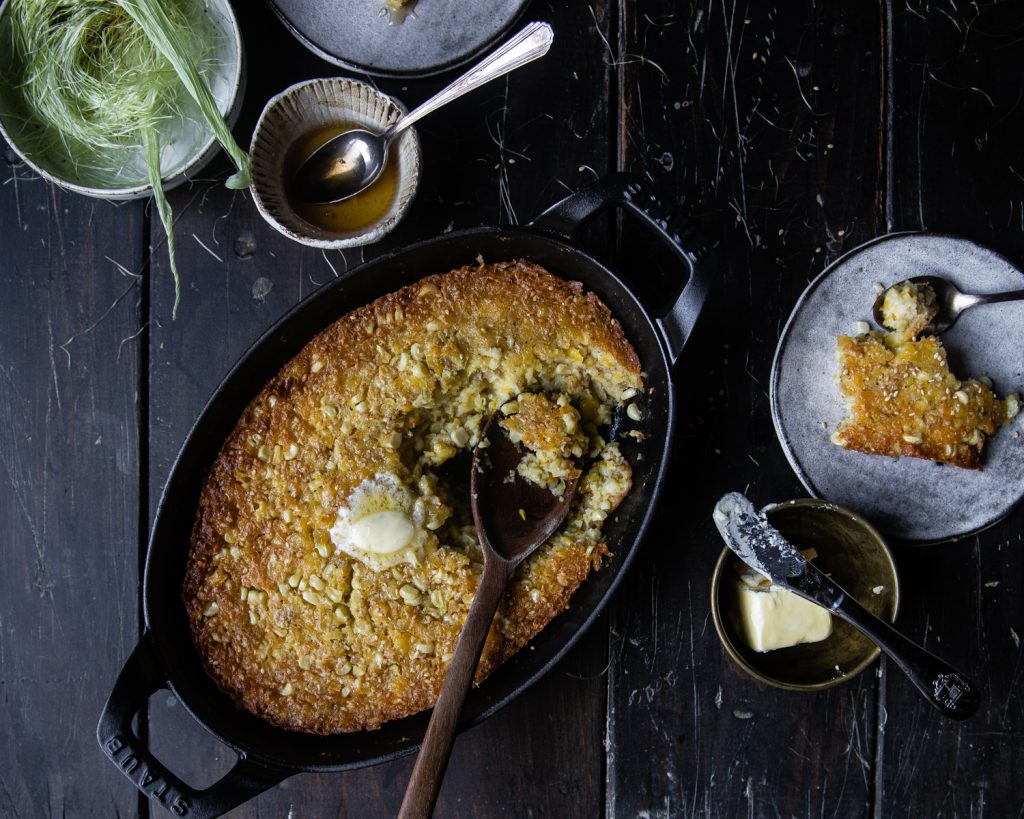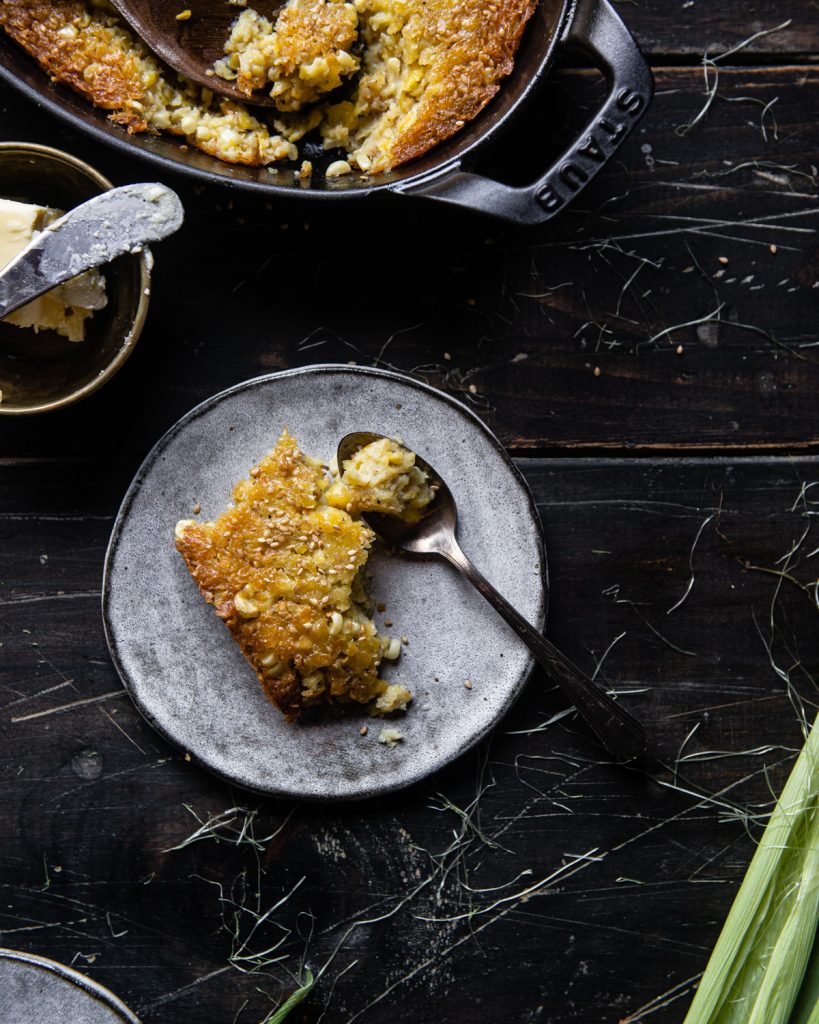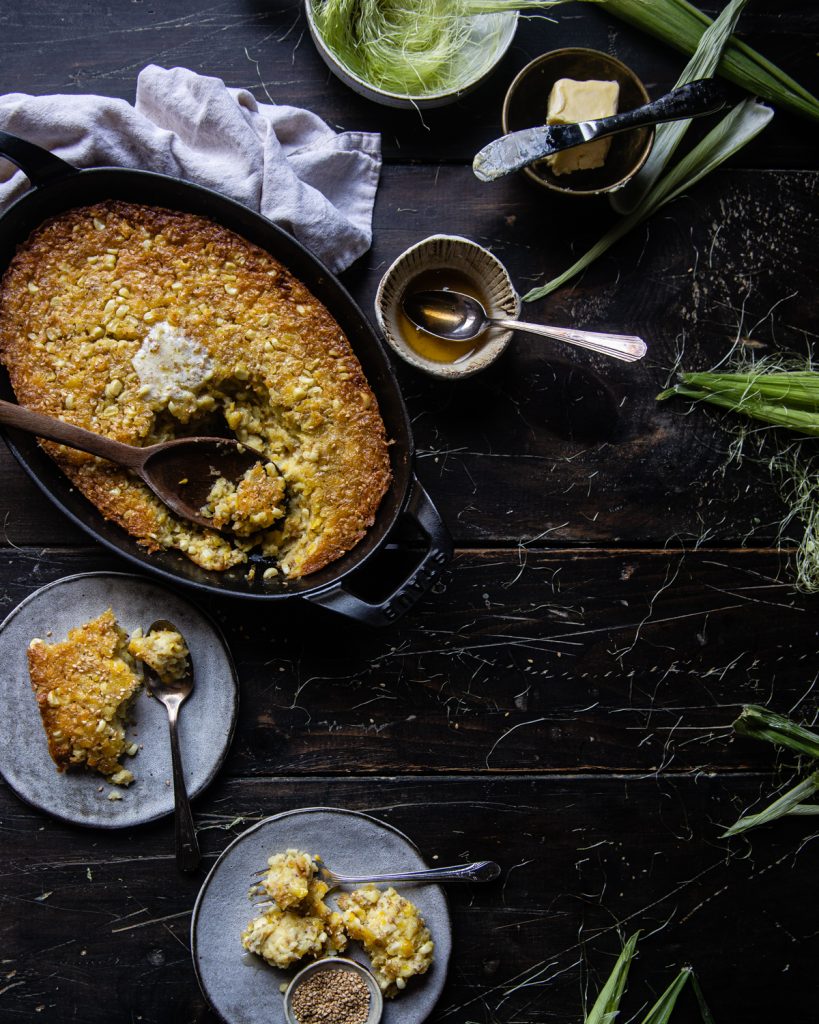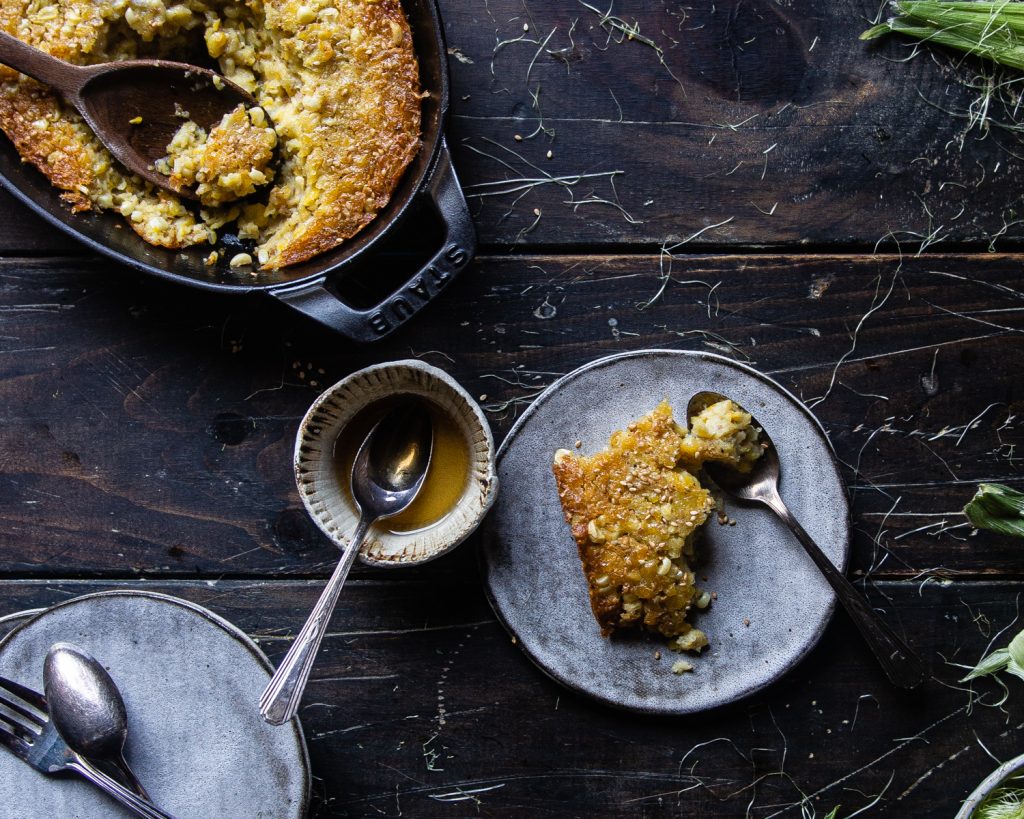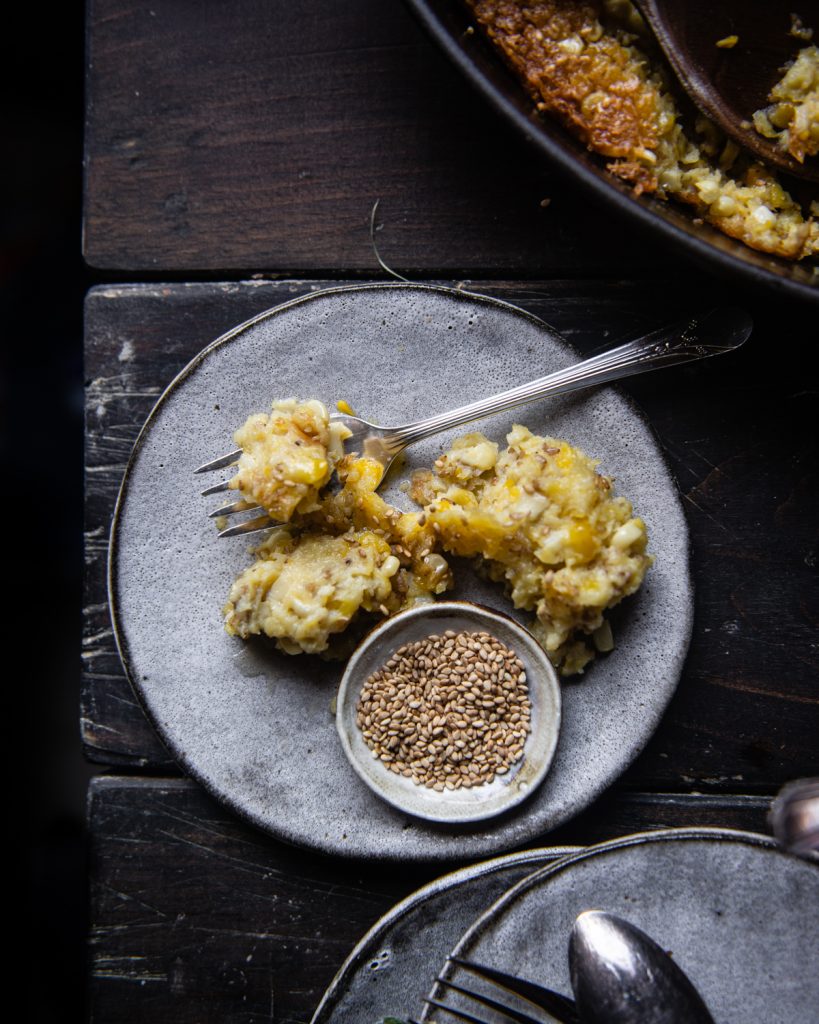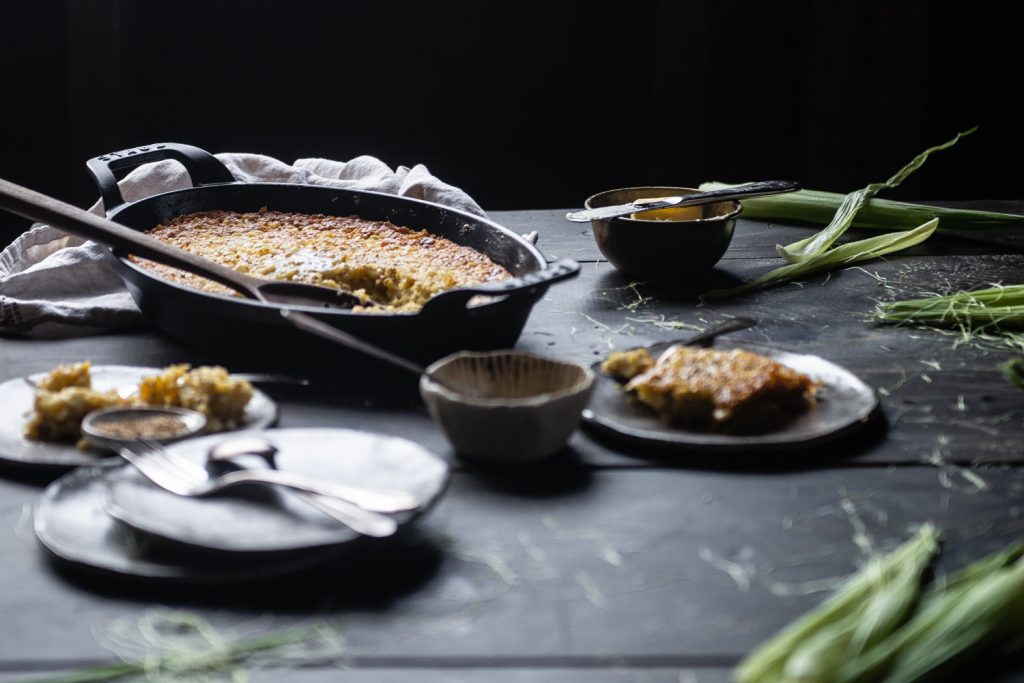 Print
honey sesame corn pudding
This is unapologetically sweet, just a few savory notes shy of pudding, and if you don't have a sweet tooth like mine you may want to lessen the amount of honey used.  As written, it turns out craggy on top and crisp at the edges but silky, sweet, and pudding-like in the center, dense and custardy and studded with sunny corn kernels.  Cream will make this almost too decadent to be fair, but milk will work just fine, too.
For the creamed corn (see Notes):
2 cups sweet corn kernels, frozen or fresh
1 ½ cups water
¼ cup sugar
½ teaspoon salt
For the pudding:
1 cup sweet corn kernels, frozen or fresh 
3 large eggs, lightly beaten
3 tablespoons honey
½ teaspoon salt
¼ teaspoon ground black pepper
¼ teaspoon dried onion (optional)
⅛ teaspoon garlic powder (optional)
¼ cup toasted sesame seeds, plus more for garnish
2 tablespoons cornstarch
½ cup whole milk (or heavy cream, see Notes)
¼ cup (½ stick) unsalted butter, melted
1 tablespoon sesame oil
Instructions
To make the creamed corn: 

In a medium saucepan, combine 2 cups corn kernels, 1 ½ cups water, ¼ cup sugar, and ½ teaspoon salt and bring to a boil.  Simmer until the corn is soft and cooked through, about 6 to 8 minutes. Drain (that's important!) and use an immersion blender or food processor to purée just briefly, until partly smooth, 10 to 20 seconds.  Be sure to drain before puréeing, as leaving the water in will result in both too much liquid and too much sugar.  (Alternatively, skip this step and just use one 14.25-ounce can of cream-style corn, drained–see Notes.)

To make the corn pudding: 

Preheat oven to 350 degrees and generously brush a 10-inch cast iron skillet or 11×8-inch baking cocotte with butter.  In a large bowl, combine the corn purée (or canned creamed corn, if using), 1 cup sweet corn kernels, eggs, honey, salt, pepper, dried onion (if using), dried garlic powder (if using), and toasted sesame seeds, and whisk until combined.  
In a separate bowl, whisk together the cornstarch and 2 tablespoons of the milk until smooth.  Whisk in the rest of the milk, then add the milk mixture to the corn puree mixture and stir to combine.  Finally, stir in the melted butter and sesame oil.
Pour into the greased cast iron skillet and bake for about 45 minutes, or until the pudding is nicely browned around the edges and just slightly puffed, but mostly set.  Cool for a few minutes before serving. When the pudding is done, garnish with additional sesame seeds if desired and enjoy warm.
Notes
Many recipes call for one 14-ounce can of cream-style corn, which you should feel free to use (drained) instead of making your own in step 1.  You can also use heavy cream in place of the milk if you'd like a really decadent corn pudding, but you won't miss it if you opt for milk (or even 2% milk).