This is the second in a series of posts in partnership with KitchenAid! You can find the first here.
I'm knocking on wood madly as I say this, but we may–just may–be in the home stretch of our renovations. Our KitchenAid appliances are on the way, the kitchen has not only floors, not only base cabinets, but countertops and upper cabinets too, one of our bathrooms is almost done (!) and the other is on its way. Here's to hoping I did not jinx it all by typing this!
Our time without a kitchen has felt easier in large part because I've been getting to know some amazing KitchenAid small appliances, including the KitchenAid K400 Blender that I used for this soup. I've previously made do with the cheapest blenders I could find, and now that I have a "real" blender I'm amazed by the wallop it packs. The K400 Blender has three presets for ice crush, icy drinks, and smoothies; for things like this soup, it has a 5-Speed Variable Speed Dial so that you can choose your own adventure and truly control taste and texture. I've been frustrated in the past by blenders that seem to whirl uselessly in the center without touching anything on the edges or the top of what it's blending, and this one has asymmetric blades that neatly avoid that by blending at different angles to create a "vortex" that pulls it all in. The coolest part is that it even has a motor control that senses what you're blending (what) to optimize blending speed. It's been a revelation to remake things that my old dinky (non-KitchenAid!) blender couldn't handle quite right, like turning out Lily's chocolate chia mousse as billowy-light as you could want, or a smooth homemade Nutella, or really any nut butter at all.
This soup was inspired by my favorite pumpkin curry, and to make it with this blender, it's almost doing no work at all. You start with sweet and earthy kabocha, which you can cook hands-off in the oven or in a pressure cooker until tender, and while it's cooking you simmer together a dollop of red curry paste and velvety coconut milk with a handful of fragrant kaffir lime leaves and Thai basil. Add all these to the K400 Blender, and it yields a silky-smooth soup in seconds that feels rich yet nourishing at the same time, complex yet so easy that it's made in just 10 minutes of hands-on time.
For us, it was the ideal bridge for that awkward span between holidays–creamy and luxurious but laced with enough vegetables to balance out all the cookies; nutritious without feeling abstemious; easy enough to feel like a breather between the marathon preps for holiday feasts. It would be an incredible way to use up leftover squash or pumpkin puree you might have sitting around after Thanksgiving, too. Pretty much perfect–and no kitchen required.
Hope you're all having cozy and festive Decembers!
Thank you to KitchenAid for sponsoring this post and providing these appliances. All opinions are, as always, my own.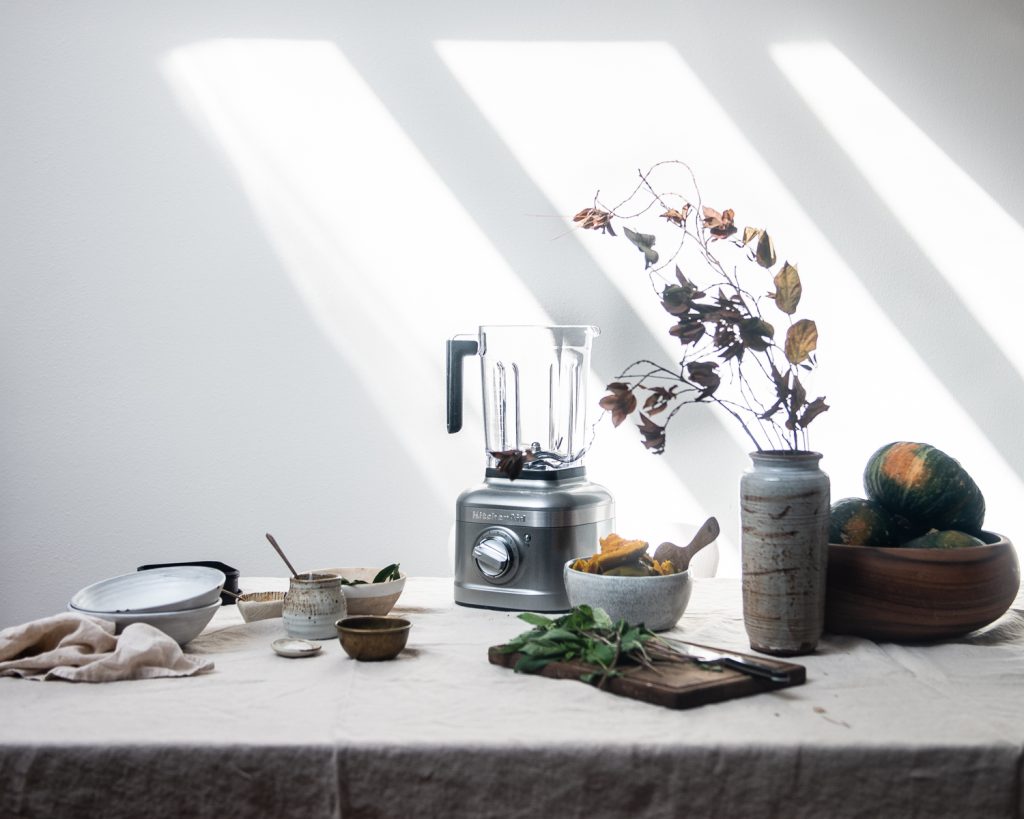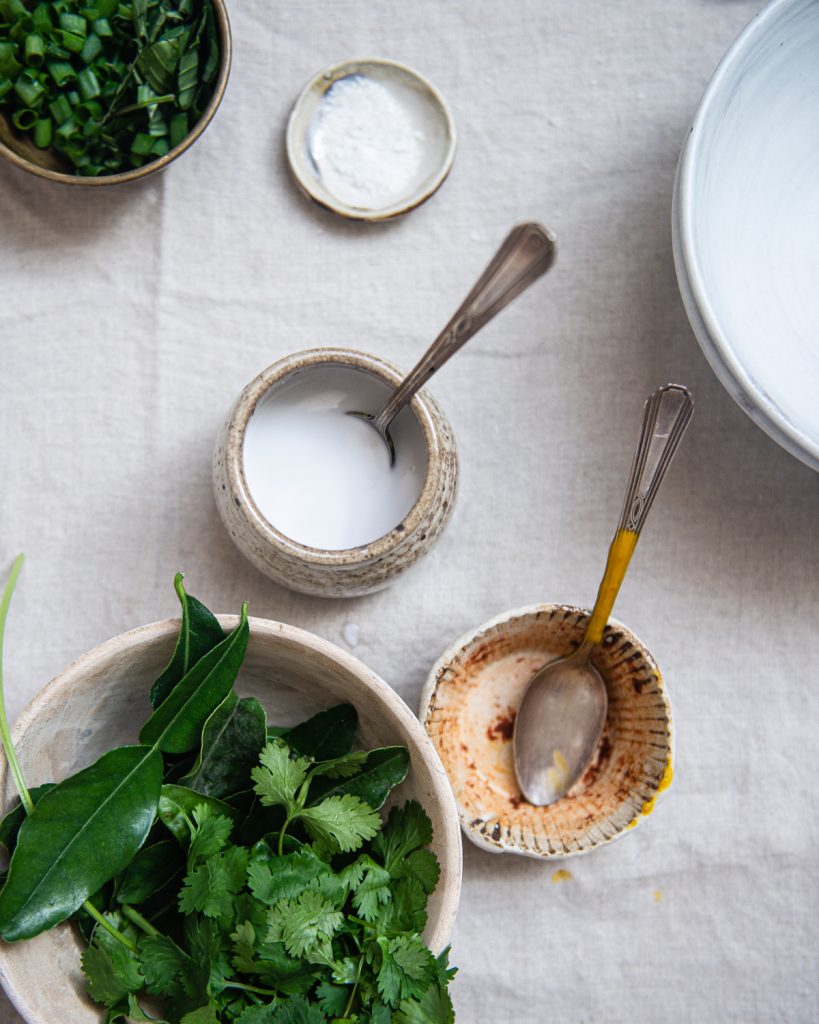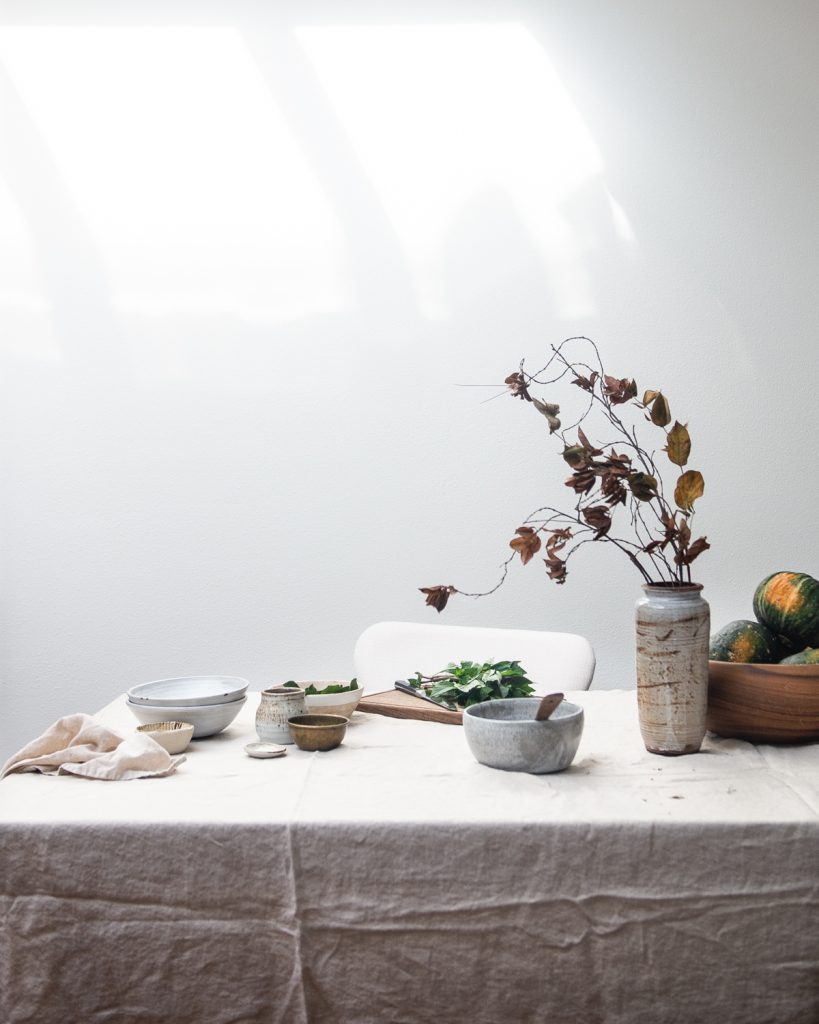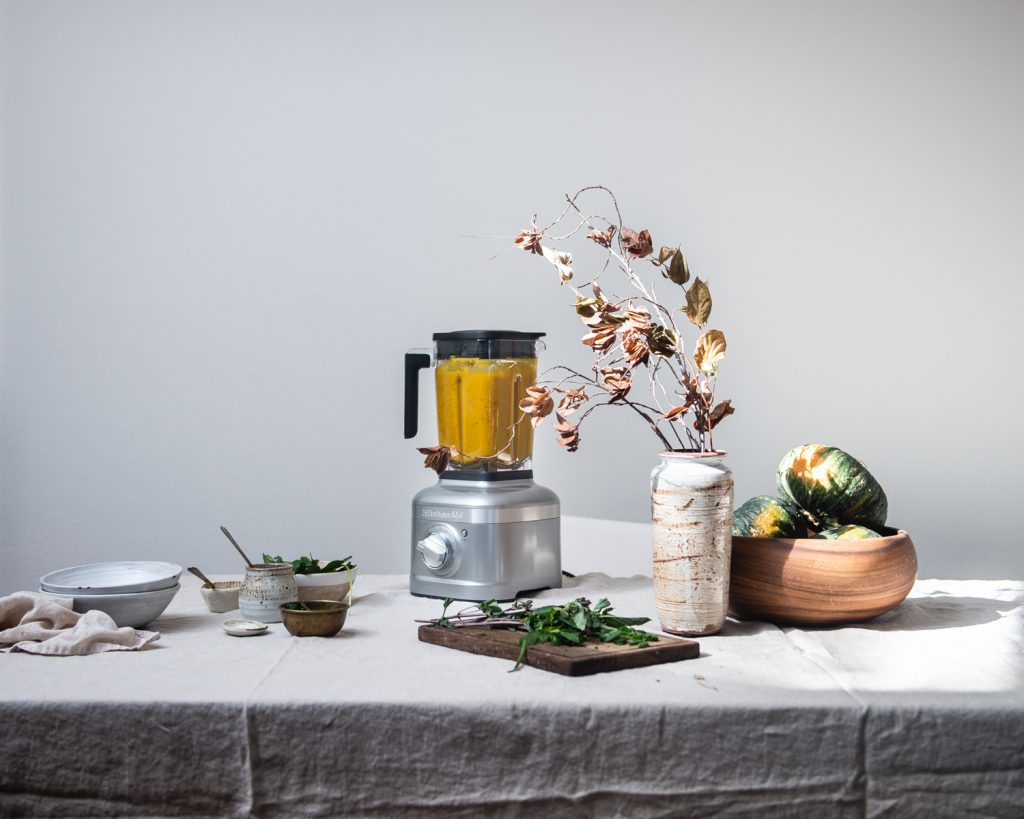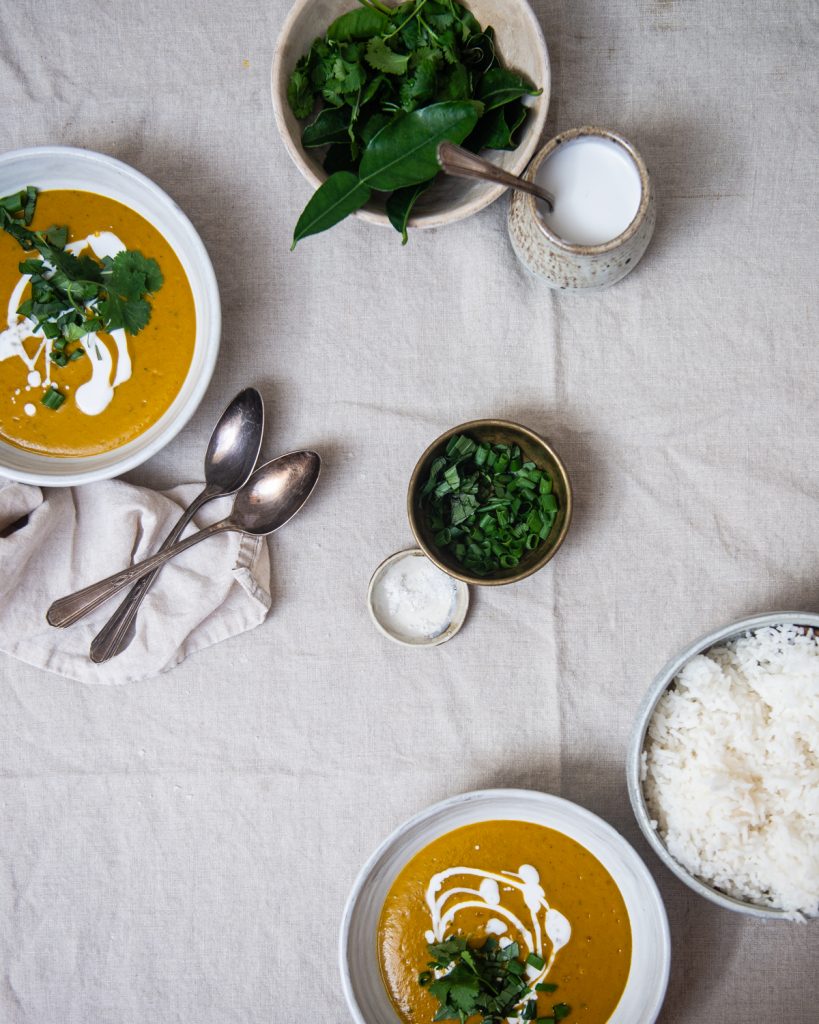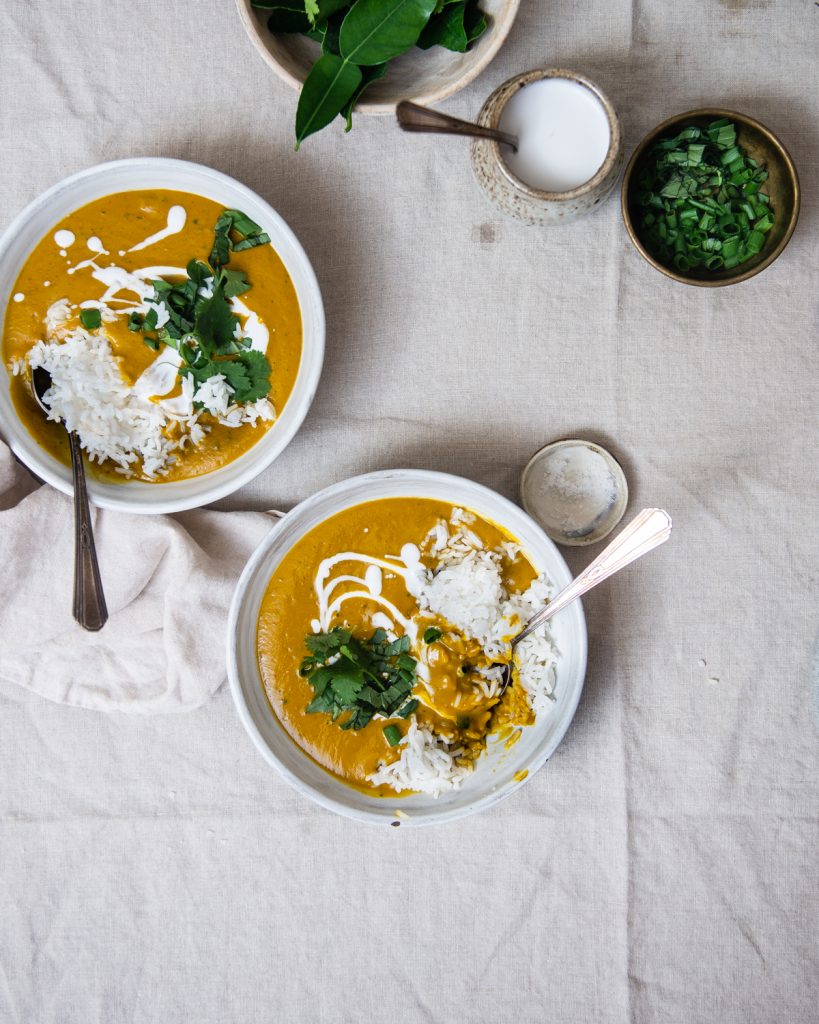 Print
red curry kabocha soup
1 medium (2-3 pound) kabocha squash (see Notes)
1 13.5-ounce can coconut milk (I like Aroy-D, per Ashlae's guide, or Chaokoh)
3 tablespoons red curry paste (I used Mae Anong)
2 kaffir lime leaves, sliced into thin ribbons (about 2 tablespoons)
4–5 cups chicken or vegetable stock
1 cup Thai basil leaves, loosely packed, plus more for garnish
1 tablespoon brown sugar (or more, to taste)
1–2 teaspoons fish sauce (or more, to taste)
½ teaspoon salt (optional, to taste)
¼ cup torn cilantro (optional), for garnish
¼ cup sliced green onions (optional), for garnish
Instructions
Cook the kabocha:

 My favorite way to cook the kabocha is to halve it and rub it lightly with oil, then roast at 400 degrees in the oven until tender.  You can also pop it whole into a pressure cooker and it's done in 15 minutes flat, but I find the flavor is better, and the texture smoother, when roasting.  When the kabocha is done, seed it, peel (if desired–the peel is edible!), and break into large pieces.

Make the curry:

  If your coconut milk has separated into thicker cream at the top, scoop about ⅓ cup of it into a pot and whisk together with the curry paste until well-blended.  (If it hasn't separated, ⅓ cup of the regular milk is fine, too.) Bring to a simmer and let cook for about 1-2 minutes.  
Reserving a few tablespoons of the remaining coconut milk for drizzling, add the rest of the can of coconut milk, the kaffir lime leaves, and 1 cup chicken or vegetable stock.  Last, stir in the Thai basil, just until wilted.

Make the soup: 

Transfer the cooked kabocha to a KitchenAid K400 Blender.  Pour in the coconut milk mixture and blend until smooth, 1-2 minutes.  Loosen with 3 or so cups more chicken stock, or as much as needed to reach your desired consistency, and blend again if needed.
Taste and add fish sauce, brown sugar, and salt to your liking.  (I found I needed at least 1 tablespoon brown sugar, 2 teaspoons fish sauce, and just a pinch of salt, but the amount will depend on your tastes, the kabocha, and the brand of red curry paste.) 
Pour the soup into bowls, drizzle with extra coconut milk, and garnish with extra basil and other herbs, if desired.  Serve with jasmine rice and enjoy!
Notes
If your kabocha is already cubed raw, add it to the pot along with the coconut milk, kaffir lime leaves, and chicken stock in Step 3, and simmer for about 15-20 minutes or until fork tender.  Then proceed with blending in Step 4.
If you don't have a blender, you can substitute the squash with one 30-ounce can of pumpkin puree.