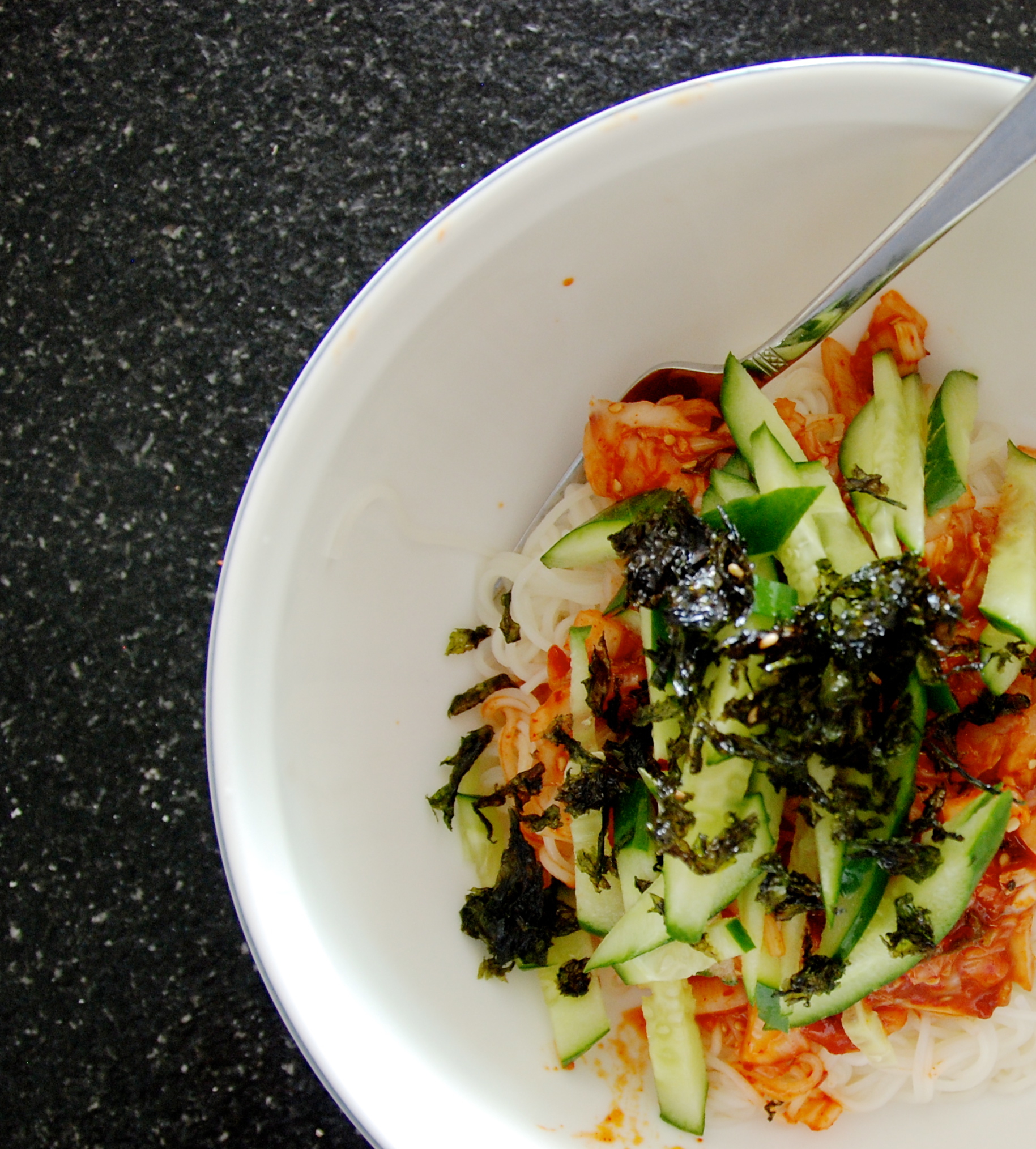 Yay, today I have a recipe to share that I've been itching to post!  I've been trying to stagger my posts for these six weeks since I'm bound to run out of things to say sooner or later, without my own kitchen to make messes in — right now I'm relying on a backlog of recipes that never got posted because I was studying for the bar, and some new recipes that I got from surreptitiously snapping photos of Bowl #2's mom's cooking.  This is the latter. The recipe is for bibim guksu (비빔국수), or noodles mixed with kimchi. It's a quick and easy dish that is the absolute perfect summer lunch recipe –tasty, simple, cool and refreshing without being insubstantial. Bowl #2's mom is the best.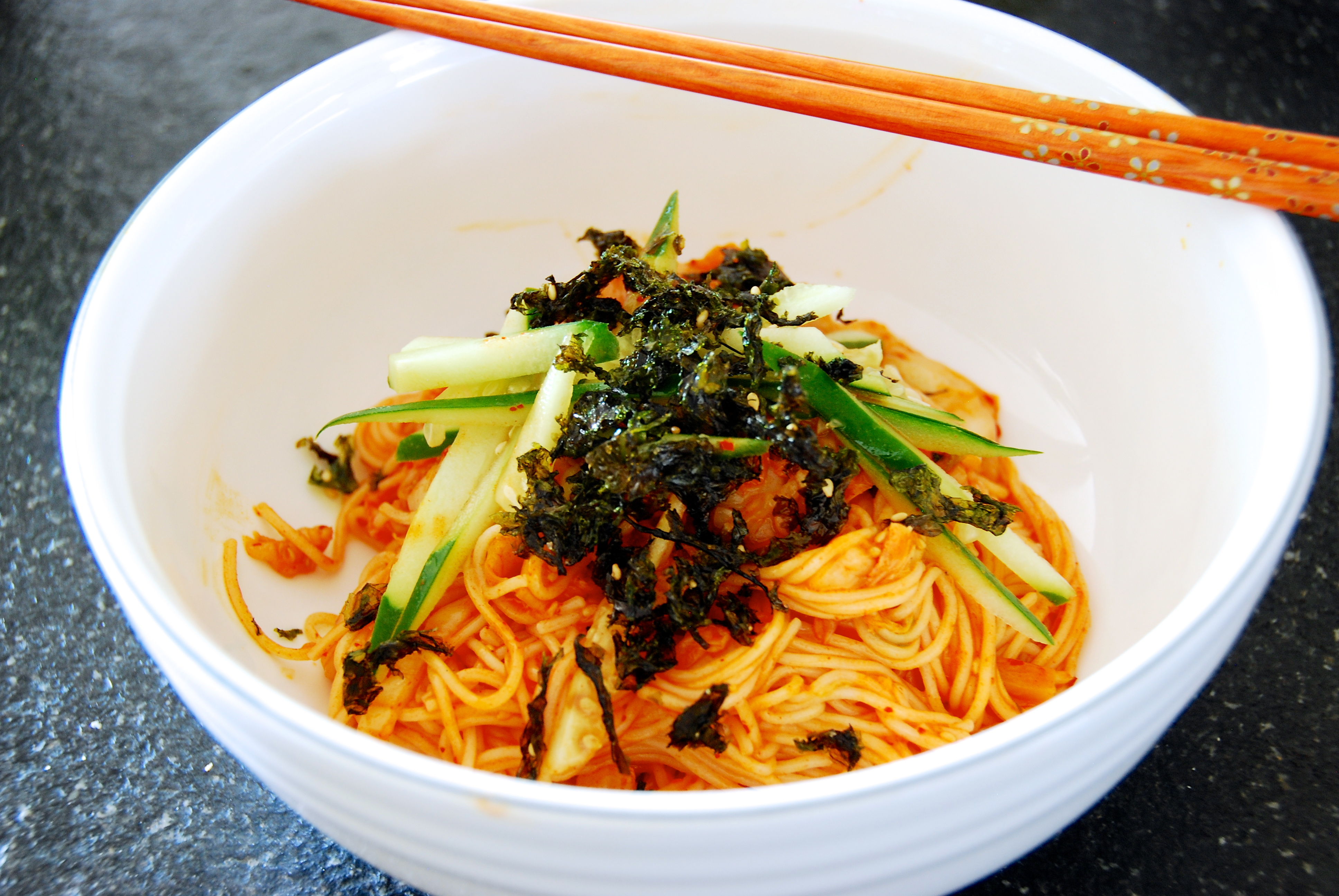 I've seen versions of this that use all different sorts of vegetables (and as with bibimbap, pretty much anything goes). But Bowl #2's mom's version is, I think, elegant in its simplicity, and it is already more than flavorful enough. The ingredients are essentially just mak guksu noodles and kimchi, with some seasoning and garnish for extra flavor. You can add pretty much anything else you want, or replace the noodles with other kinds, like the noodles used in naengmyeon.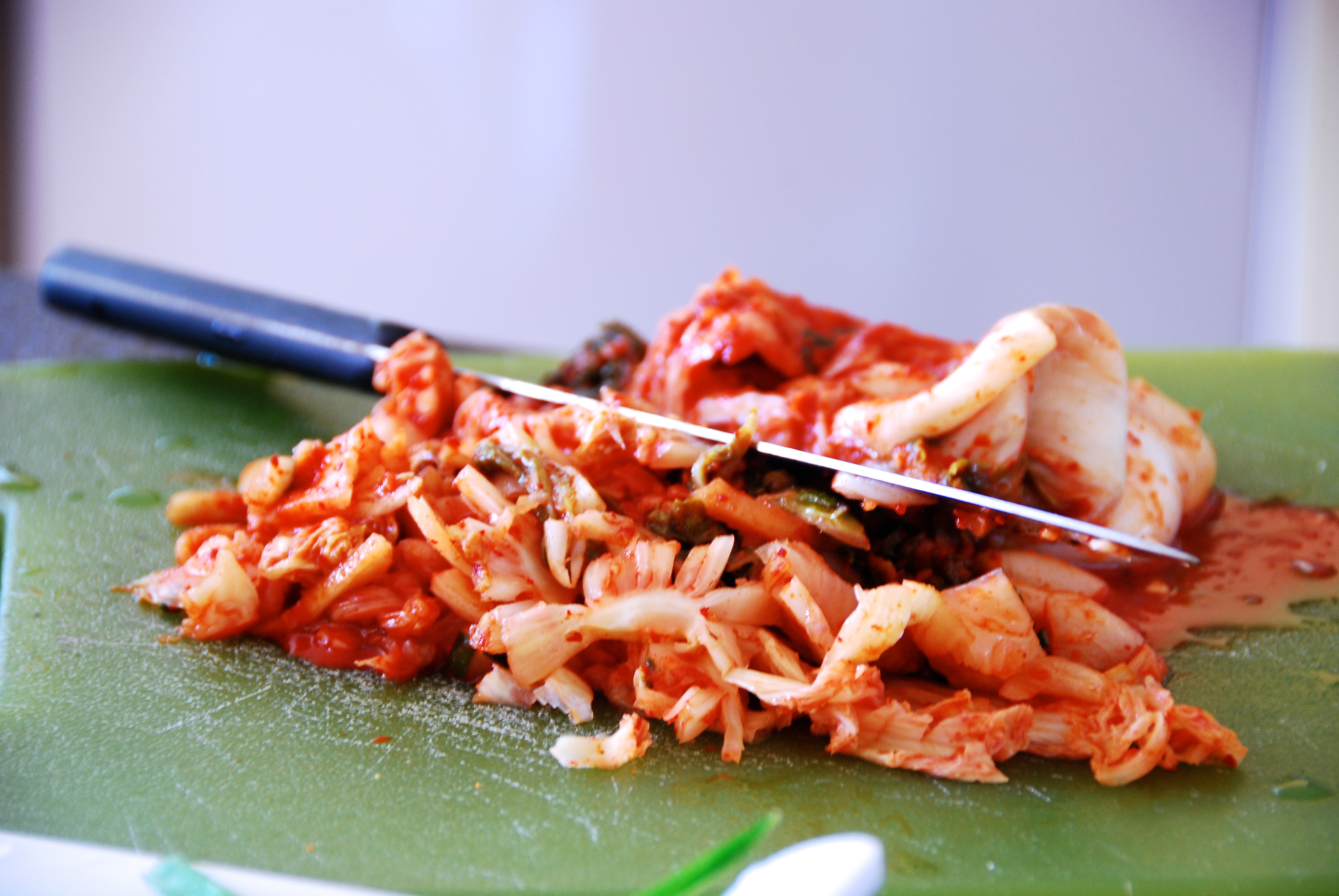 Bibim Guksu (비빔국수)
Bibim (비빔) means mixed and guksu (국수) means noodles, so the dish literally translates to mixed noodles (just like bibimbap translates to mixed rice). This means that this pretty much works with any veggies and sauce mixed with noodles.
8 oz mak guksu (Korean wheat noodles)
2 cups diced kimchi
1 tbsp gochujang
1 tbsp sesame oil
1 tbsp honey, sugar, or agave nectar (to taste)
1/2 tbsp toasted sesame seeds
1 small cucumber, sliced into matchsticks or thin slices
1/4 cup dried nori shreds (more or less to preference)
1. Finely chop kimchi. Add 1/2 tbsp gochujang (more if you like it), 1 tbsp sesame oil, 1/2 to 1 tbsp sweetener, and about 1/2 tbsp sesame seeds. Mix vigorously. It's easiest just to mash it all together with your hands (here's when those disposable plastic gloves I wrote about last time come in handy!)  And, definitely play around with the amount of seasoning.  For better or worse, Asian cooking (for me) has been all about "to taste," so go with it 🙂  When you're satisfied, set aside.
2. Prepare mak guksu according to the package directions (generally, just bringing a pot of water to boil, then adding the noodles and removing when done). These will cook very, very quickly — only 3-4 minutes! Also, if you like your noodles to be a bit chewier, you can add one cup of cold water right after you add the noodles to the pot, then remove as soon as it comes back to a boil.
3. Drain noodles and rinse with cold water. Drain again.
4. Add kimchi to noodles and, again, mix vigorously with your hands until fully incorporated.
5. Separate portions into bowls and top with cucumber and nori shreds.  Korean 엄마 Pro Tip: nori shreds make everything look prettier. 🙂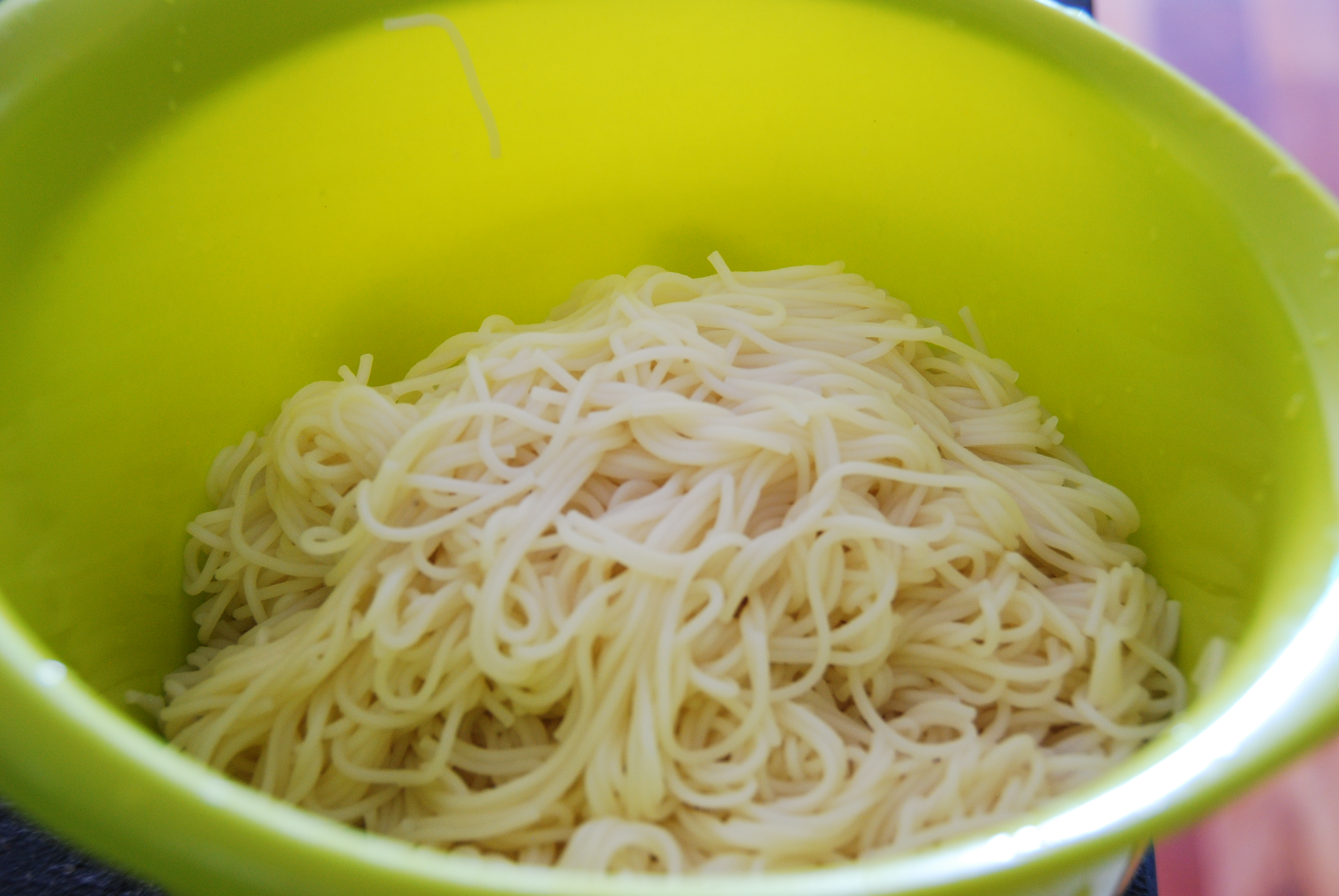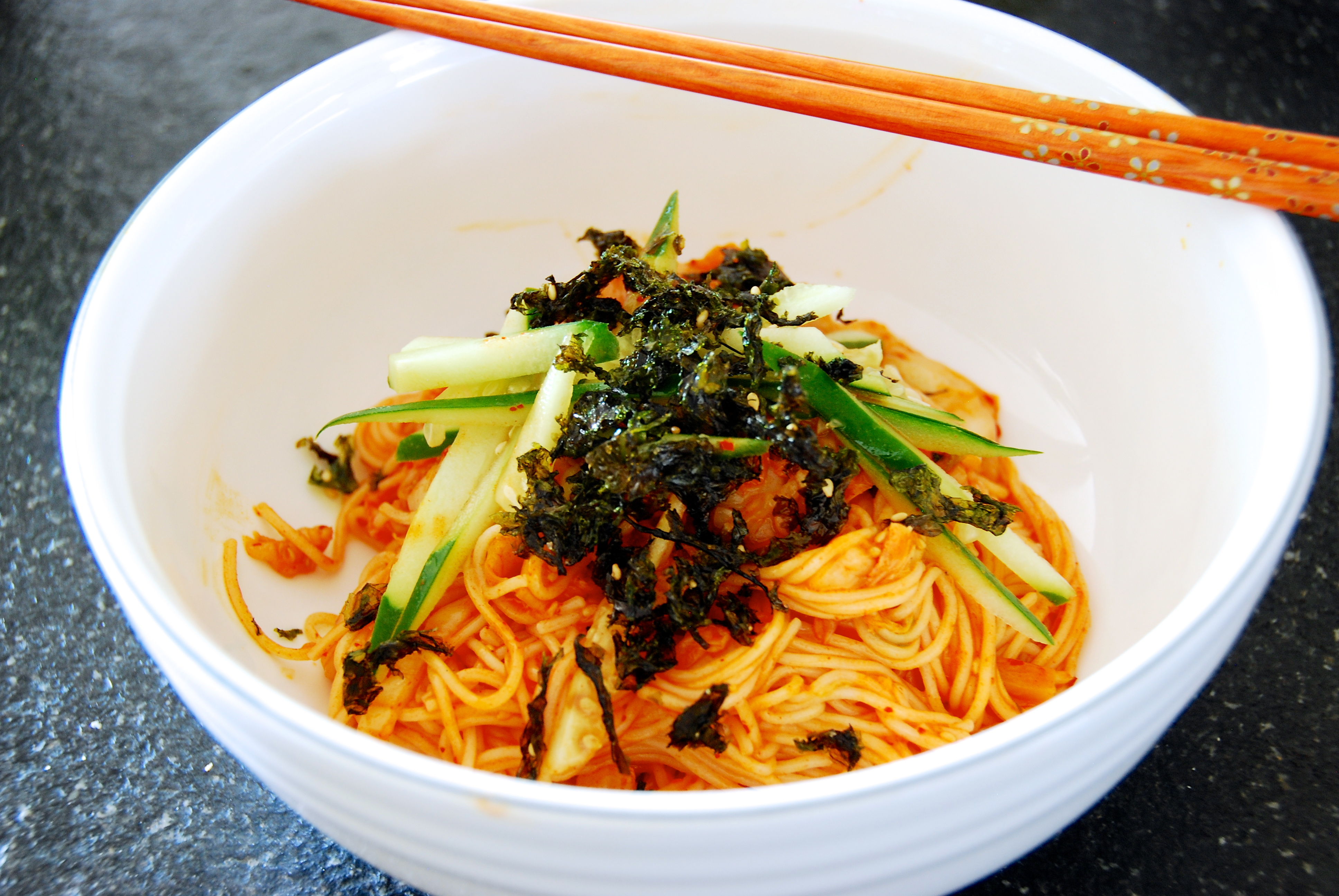 Thus concludes yet another unknowing "guest post" from Bowl #2's mom, aka the all-star 엄마. Hope you enjoy and thank you so much for reading!!
Other Korean recipes can be found here (bibimbap) and here (hobak jeon, ssamjang, and gireumjang).