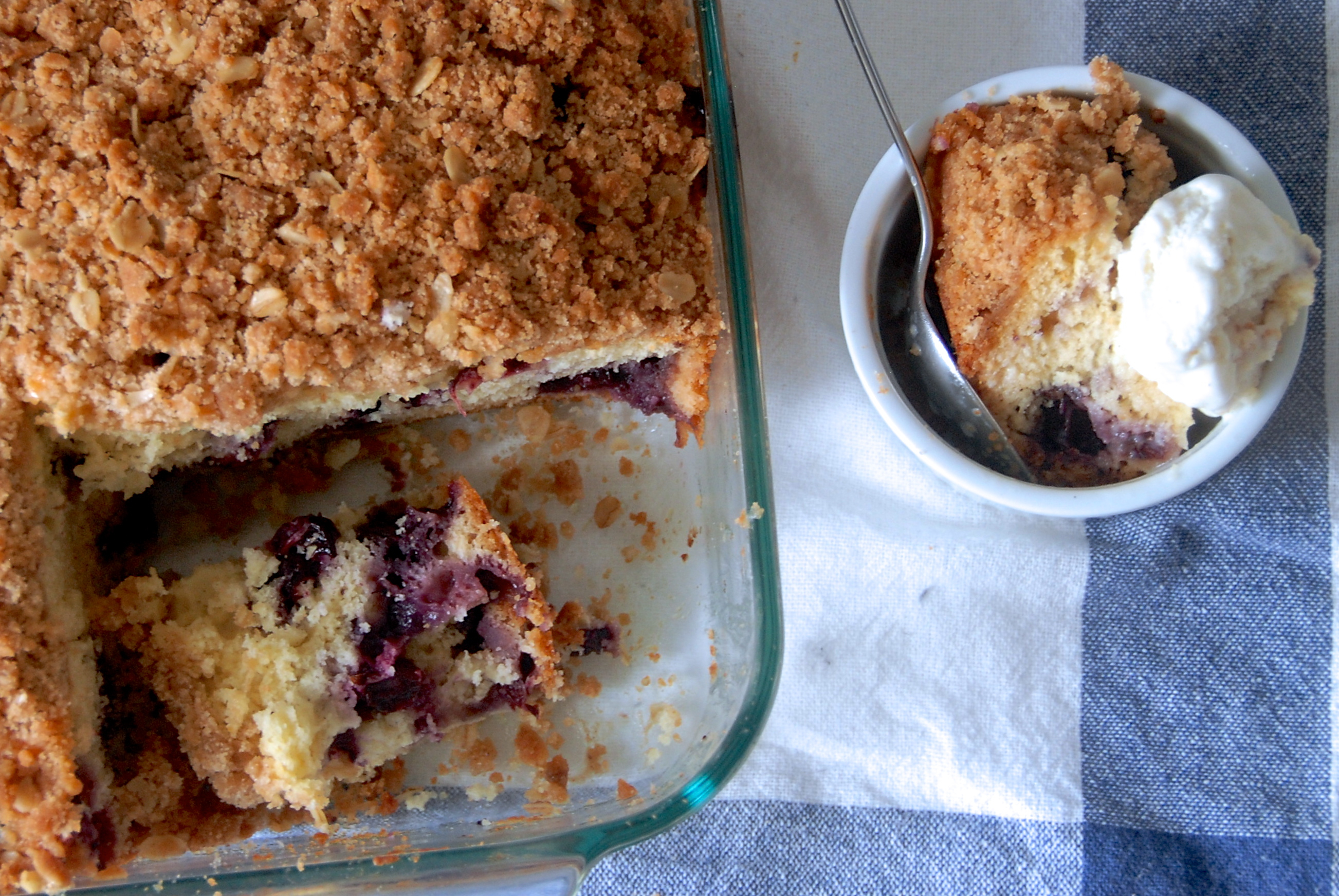 Happy Tuesday!  After all the excitement of Sunday, it's just been sunny peacefulness as usual here.  (Phew.)  Before blueberries go out of season, I thought I'd share the first of a couple of recipes with blueberries that I made earlier in the summer, during one of those kicks where boxes of fat blueberries are overflowing on the grocery shelves and going for something like a dollar apiece and the sale-monger in you can't resist buying like four. (Maybe that's just me.)  The first is an amazing blueberry buckle coffee cake recipe from Annie's Eats, and the second is a simple blueberry muffin recipe that I cobbled together, which I'll post sometime next week.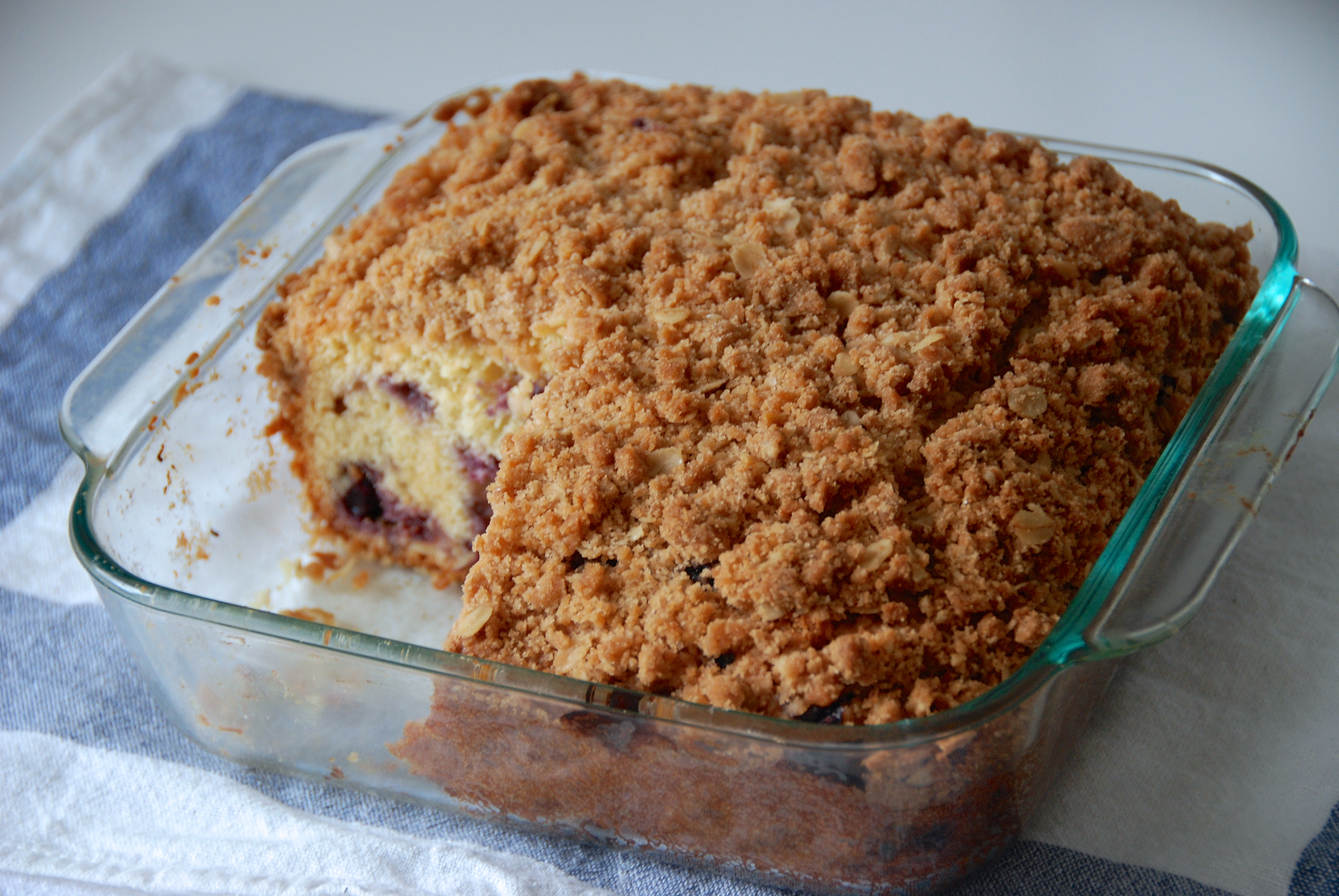 I am absolutely in love with this buckle recipe.  The cake is delicious and pairs perfectly with either ice cream or with hot coffee.  Plus, the recipe for the streusel on top is the best that I've come across (maybe because I adore cinnamon :)).  The streusel has actually become my go-to for crisps and muffins, too.  Thank you so much, Annie!
Some notes about the recipe. The original recipe calls for a 9×9 baking pan, and I used an 8×8 glass dish instead. As a result, we did end up with a bit too much cake for the dish, since, as you can see from the pictures, the cake turned out particularly thick, and took over an hour to bake fully. I think this may be due to the fact that the Pyrex glass dish I tend to use is in actuality even smaller than 8×8 (more like 7×7 at the base, from reviews). We also couldn't finish it by ourselves. In light of all that, I halved the cake recipe below for subsequent re-makes and slightly reduced the recipe for the streusel.  I think that will likely yield the thickness of cake closer to what is shown in her photos; double the cake recipe below if you'd like the thickness of cake that's shown in these pictures, or if you're making for a bigger household than ours. (The streusel recipe should still be about the same.)  I think the one below is much better when you're baking for two.
I also didn't have whole wheat flour on hand, so do know that you can replace it with all-purpose, as I've done below, with very good results.  I wish I'd had whole wheat flour, though, as it would have made it both delicious and healthy!  As always, I've modified the recipe for instructions without an electric mixer, since I don't have one. And lastly, I modified the streusel to use half brown sugar and half granulated sugar.  Just my personal preference.
Blueberry Buckle Coffee Cake, from Annie's Eats
modified for little households (or, more specifically, a 2-quart or 8×8 glass dish.  I used Pyrex.)
for the streusel:
1/4 cup granulated sugar
1/4 cup brown sugar
1/2 cup unbleached all-purpose flour (or about 5 tbsp whole wheat pastry flour and 3 tbsp all-purpose flour)
3-4 tbsp old-fashioned rolled oats (I really like oats in streusel, so I upped this slightly)
about 2/3 tsp ground cinnamon (you can be generous here if you like cinnamon like I do)
1 generous pinch grated nutmeg
1 generous pinch salt
1/4 cup (2 oz.) unsalted butter, at room temperature
for the cake:
1 1/4 cup unbleached all-purpose flour (or 1 cup white whole wheat flour and 1/4 cup all-purpose)
1 tsp. baking powder
1/4 tsp. salt
2 tbsp. unsalted butter, at room temperature
1/2 cup granulated sugar
1 large egg
1/4 cup milk
1/2 tsp vanilla extract
1 cup fresh blueberries
1. Preheat the oven to 350˚ F.  Line an 8×8 or 2-quart glass baking dish with parchment paper or grease it lightly. (If using a metal pan instead, increase the baking temperature to 375˚ F.) The recipe as modified will make an 8×8 cake that is about 1.5-2 inches in thickness.
2. To make the streusel, combine the sugar, whole wheat pastry flour, all-purpose flour, oats, cinnamon, nutmeg and salt in a medium bowl.  Cut the butter into small pieces and toss in the bowl with the dry ingredients.  Work together with your fingertips (or a pastry cutter) until the mixture is crumbly.  (This is totally my favorite part.)  Set aside.
3. To make the cake, combine the flours, baking powder, and salt in a medium bowl and whisk briefly.
4. In a large bowl, whisk together the butter and sugar until light and fluffy.
5. Blend in the eggs one at a time, scraping down the sides of the bowl as needed.
6. Gently stir in half of the dry ingredients just until incorporated, then the milk and vanilla, and then the remaining dry ingredients. Lastly, add the blueberries and stir once or twice, gently, just to incorporate.
7. Spread the batter into the prepared pan and sprinkle the streusel mixture over the top.
8. Bake until a toothpick inserted in the center comes out clean and the top is golden brown. (The batter will rise somewhat.) This will take around 45-50 minutes for a glass dish, but probably only 30-40 minutes for a metal pan with a half-batch like this. I'm sorry I can't give a better estimate since I haven't made it with the lesser quantities! The full batch in the glass dish took more than one hour, so with a half-batch, I would keep an eye on it after 40 minutes (for glass) and 30 minutes (for metal), at any rate.  When done, transfer to a wire rack and let cool before slicing and serving.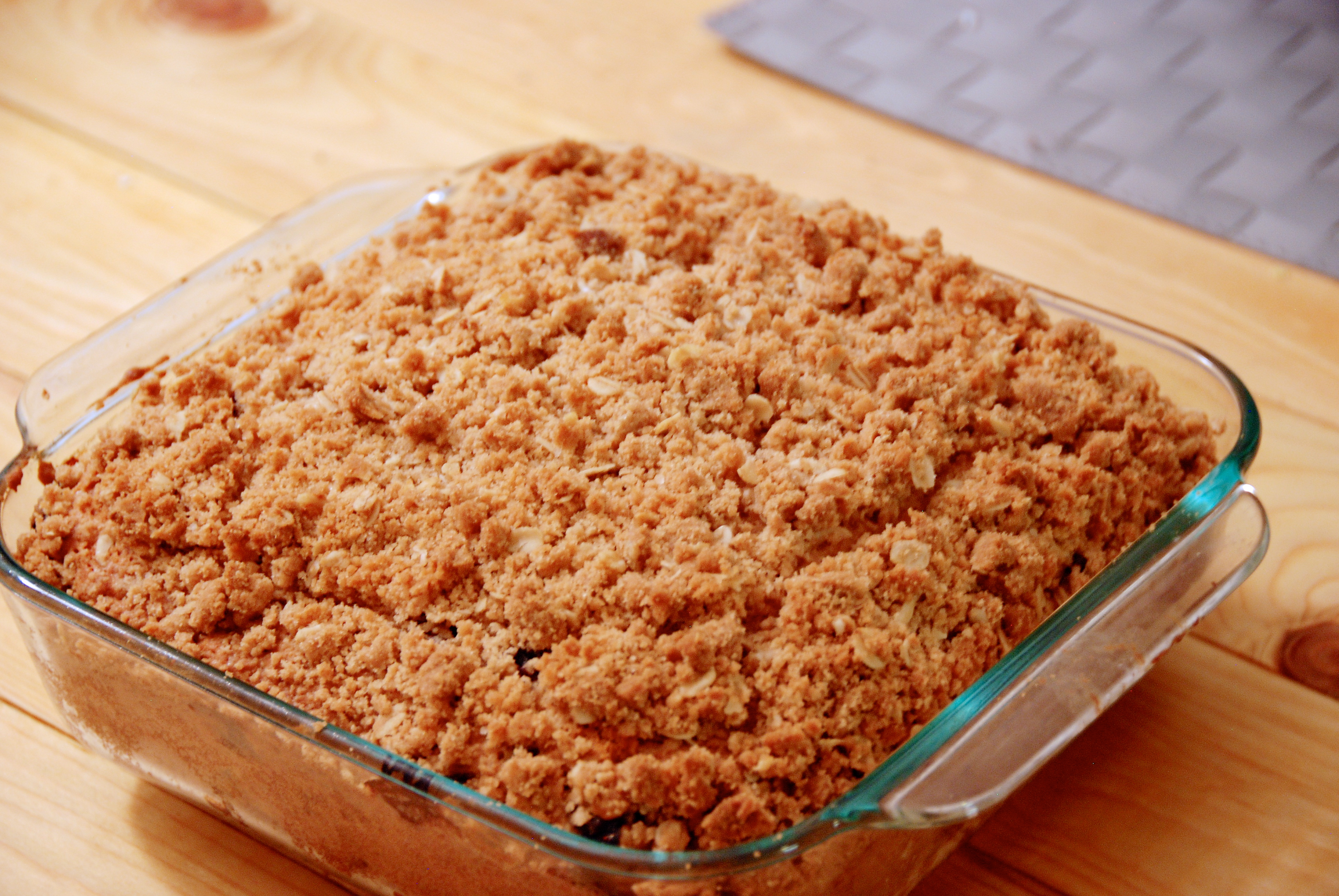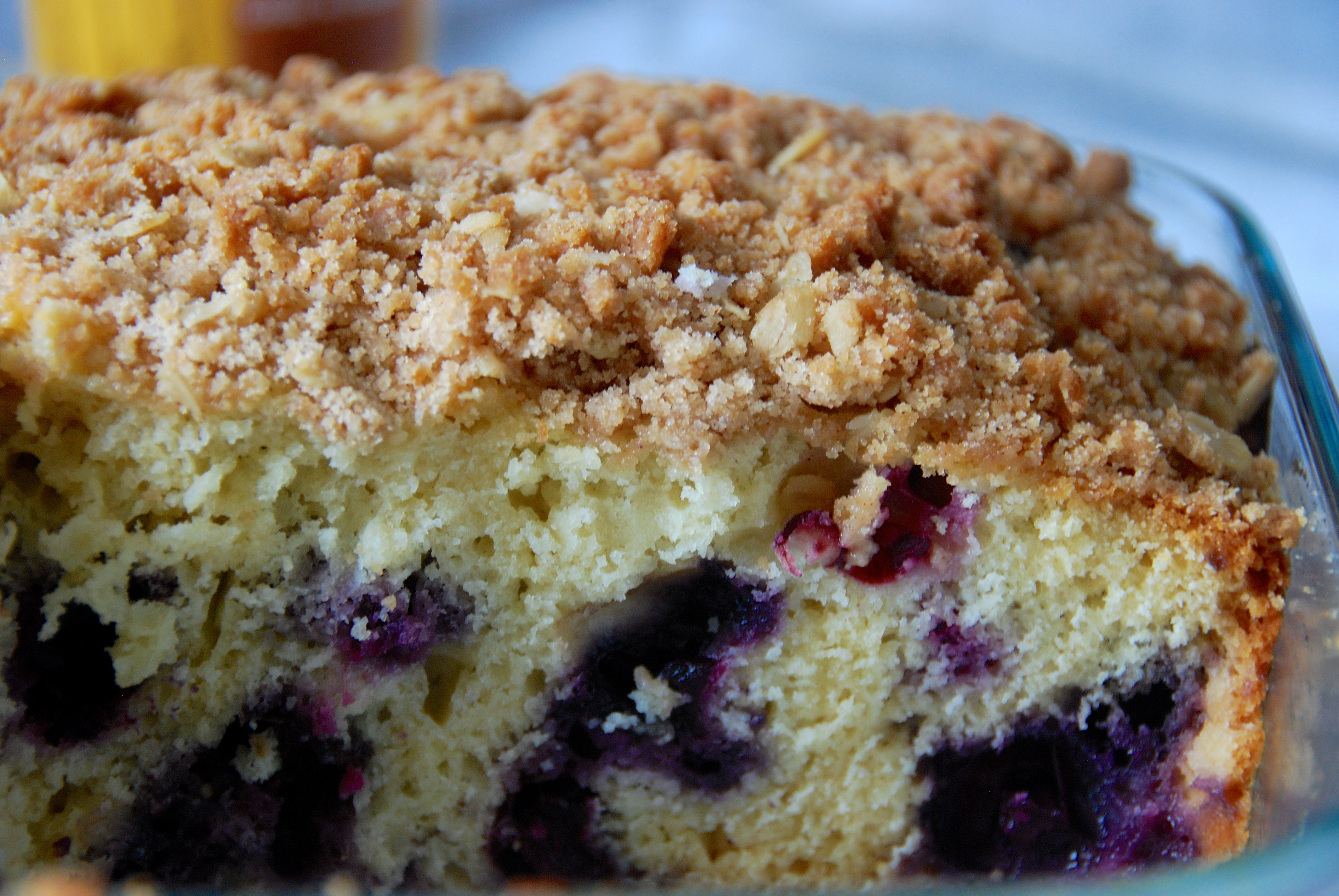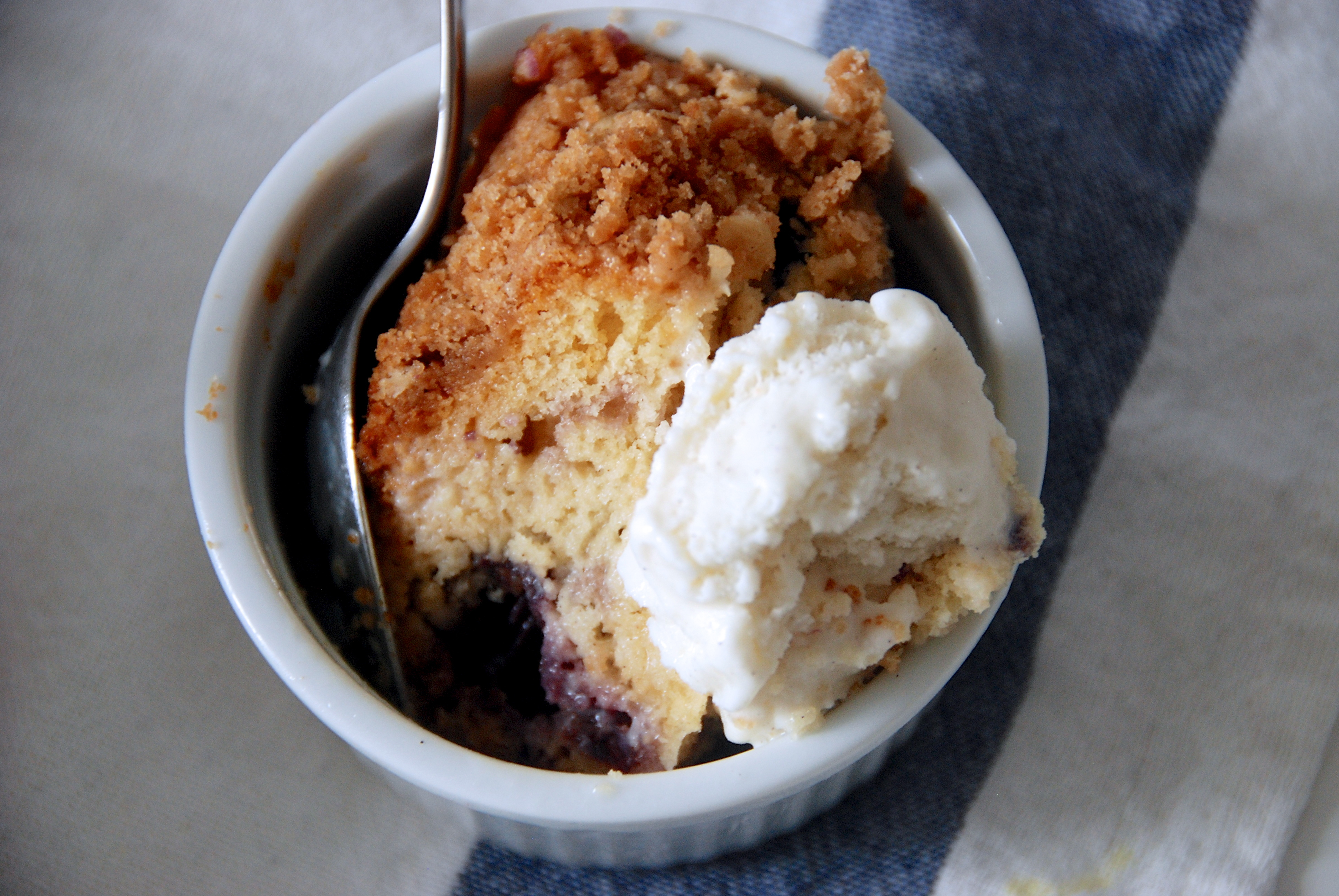 Thank you again for the recipe, Annie, and thank you all so much for reading!