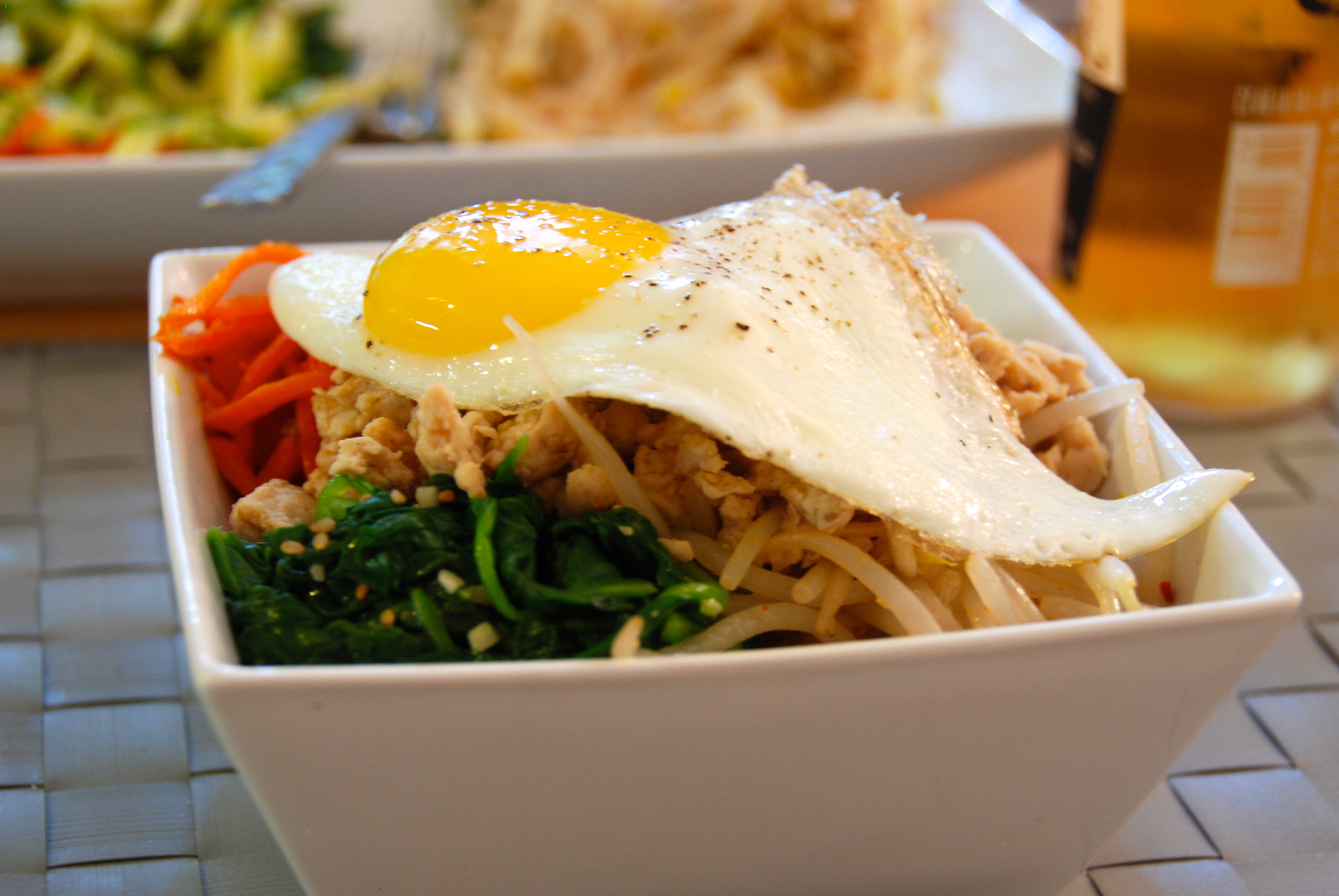 Ahh, welcome to my new blog! I thought I would start it off with something I was really excited to learn how to cook: bibimbap.
One of the most exciting parts about my year thus far has been learning how to cook Korean food from Bowl #2's mom. I think we went for about a month right after I acquired these mystical gifts where I cooked nothing but Korean food. Lucky for me, he never really gets tired of Korean food (clearly, neither do I).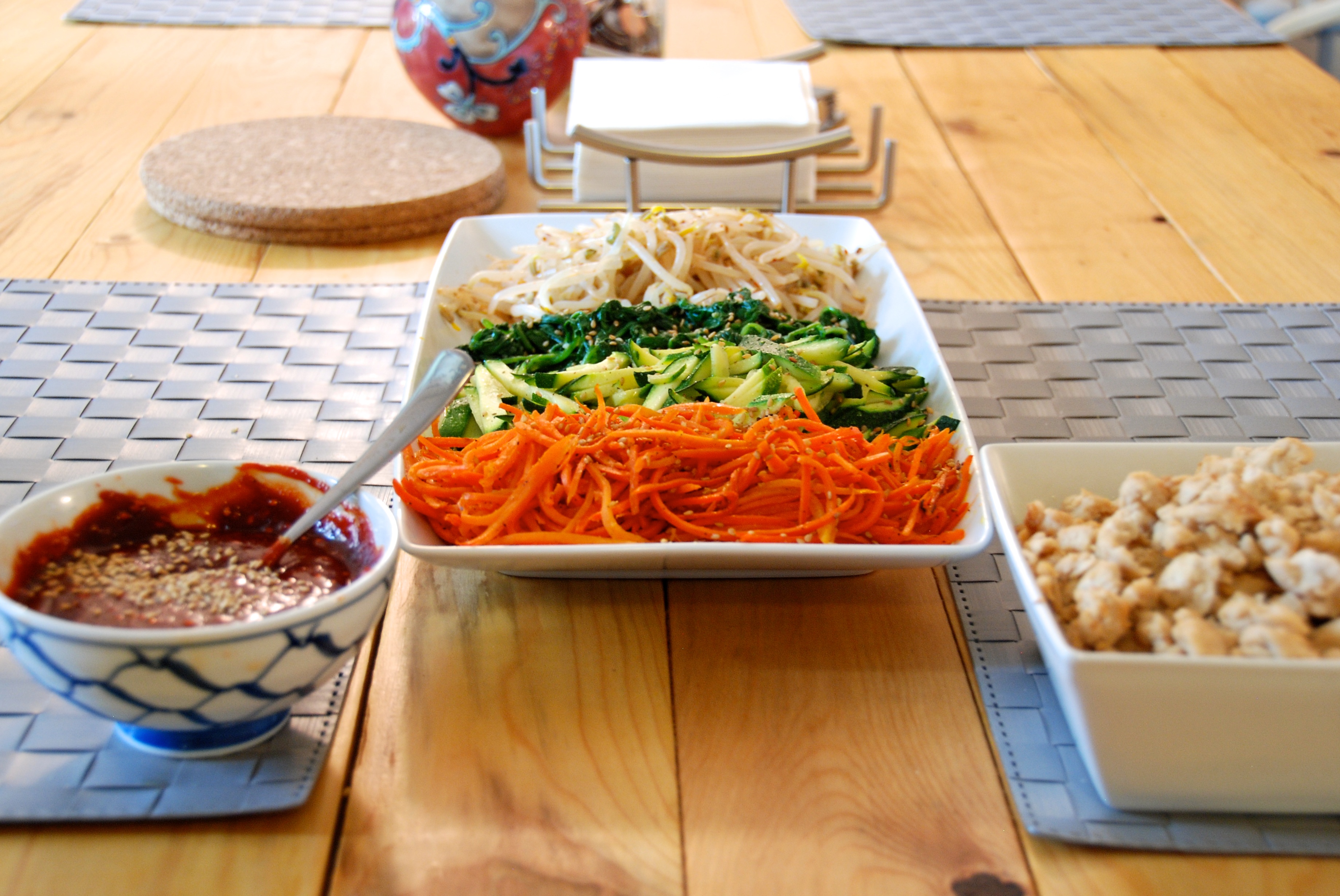 Bibimbap is one of my favorites, and the prep is extremely simple (although it may take some time if you're making everything at once and not using leftover veggies). The recipe I have from Bowl #2's mom is just one variation — other versions can have any number of vegetables, including fernbrake, pickled julienned radish, mushrooms … and basically anything else you like, even any leftovers you have around. From the limited Korean that I've learned from his mom, bibim (비빔) means mixed, and bap (밥) means rice, so literally the dish just means "mixed rice." Bowl #2's mom tells me that some of her friends even just take the leftover banchan home from Korean restaurants and dump that in too 🙂
One more side note: as with most Asian food, making Korean food is a lot about measuring to taste and not so much measuring for real. The amounts below are all estimates, but I vary depending on how things taste (especially with the bibimbap sauce).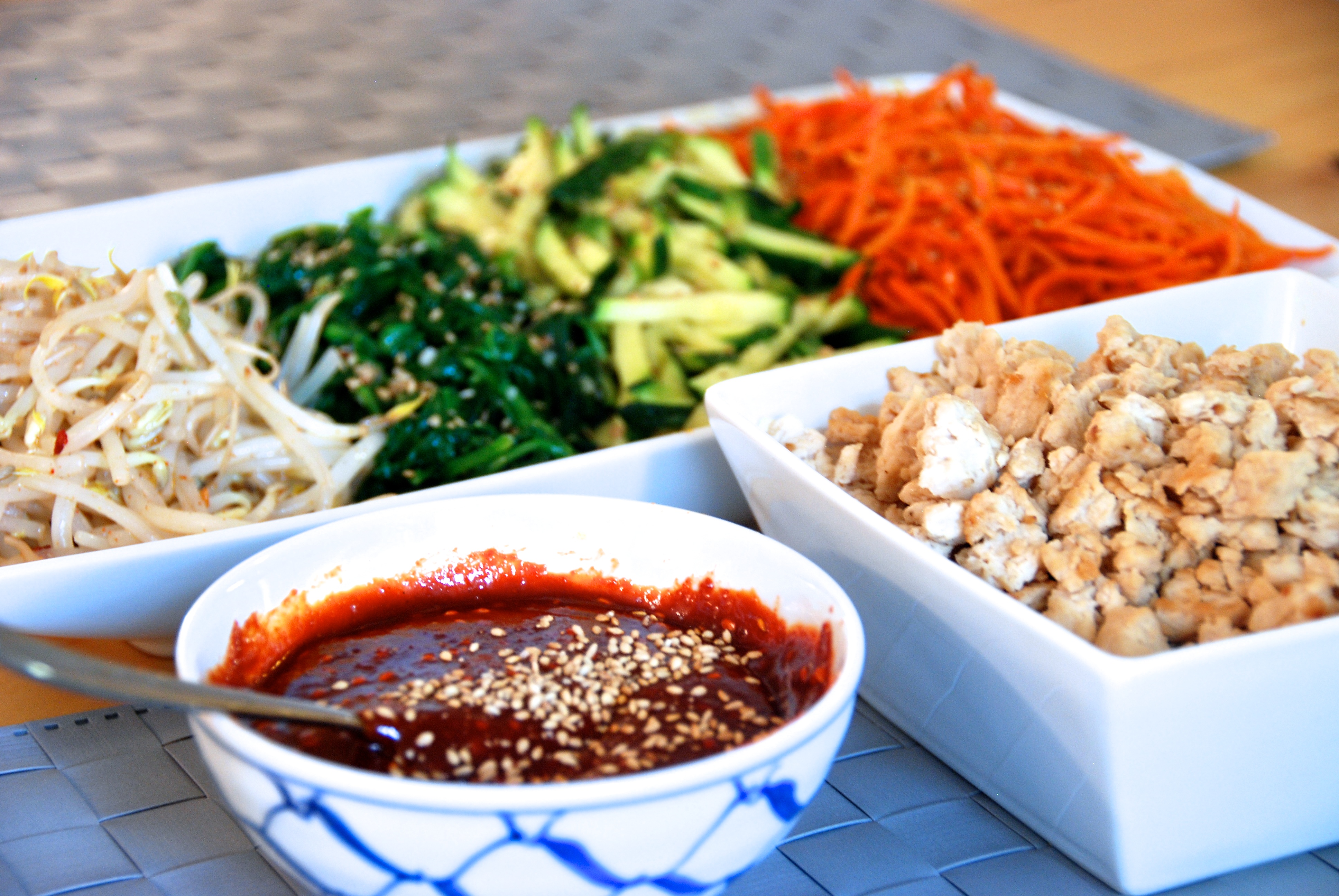 Bibimbap
serves 2 (easily doubled; I usually double it to have leftovers for lunch.)
2 cups spinach
1 cup bean sprouts
1 cup carrots, julienned
1 cup zucchini, julienned
1/2 lb ground meat (generally beef or pork, but you can use chicken or turkey, which is what I generally do; to fancy it up, you can also use thinly-shaved bulgogi meat, marinated according to this recipe)
2 tbsp shredded nori
2 eggs
3 cups cooked rice
roasted sesame seeds
sesame oil
soy sauce
black pepper
salt
minced garlic
crushed red pepper flakes, or Korean red pepper powder (gochugaru) if you have it
for bibimbap sauce:
1/4 cup red pepper paste (gochujang)
1/2 tbsp soy sauce
1/2 tbsp sugar or honey
1 tbsp sesame oil
1 tsp minced garlic (optional)
1/2 tbsp roasted sesame seeds
Since it's just a combination of vegetables, meat, and rice, you really don't have to follow these steps in the exact order (you know, other than prepping before cooking). This is just how I happen to organize to save time. Plus, you may not have to do any of this at all, if you're using leftovers!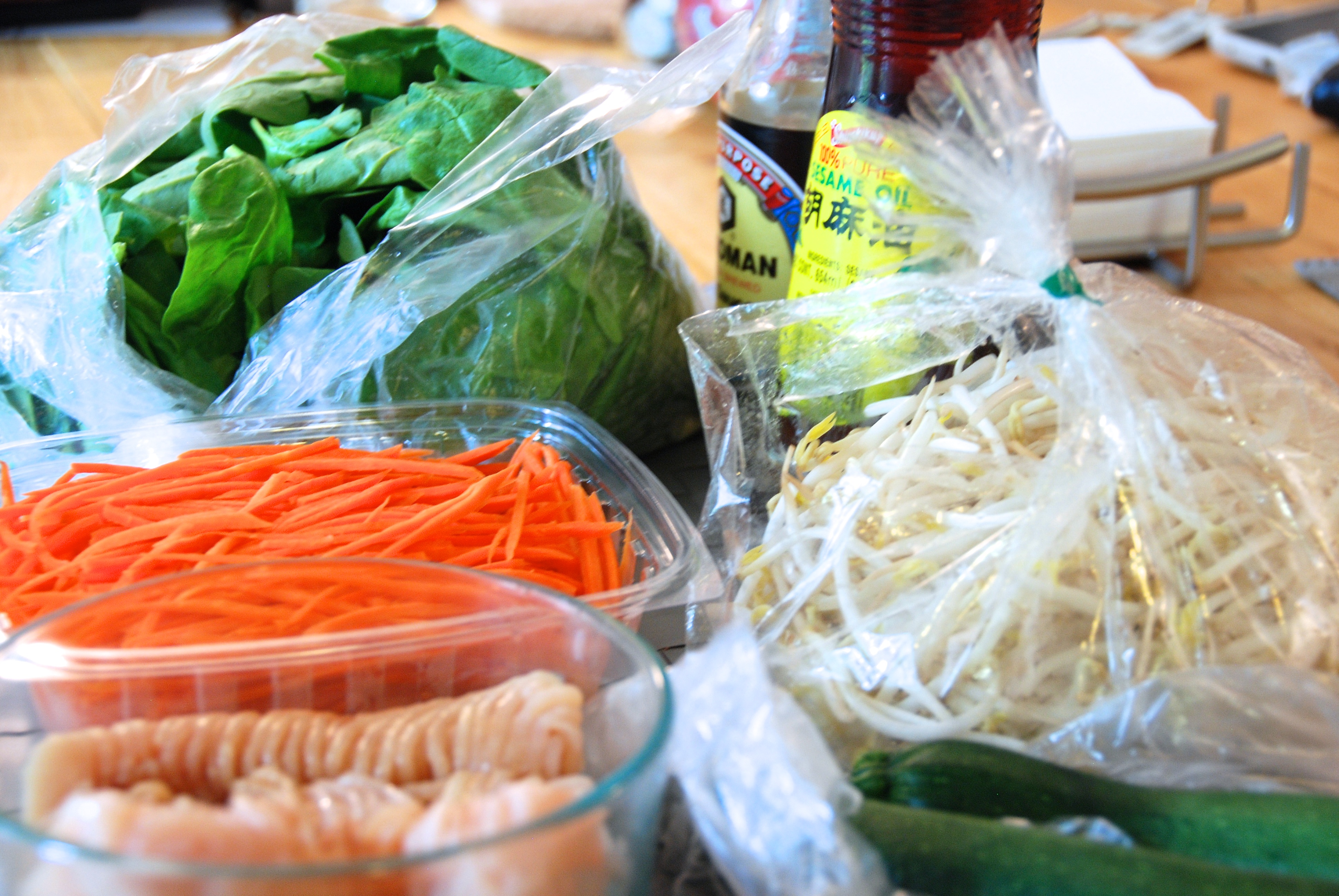 1. Mix ground meat with 1/2 tbsp soy sauce, 1/2 tbsp sesame oil, 1/2 tbsp minced garlic, salt and pepper to taste, a few teaspoons of sugar, and a healthy dash of sesame seeds (probably at least 1/2 tbsp). Put in refrigerator to chill while you prepare everything else. (If using bulgogi meat, use this recipe and give it a little longer to marinate, about an hour and up to overnight.)
2. Combine the ingredients for the bibimbap sauce, above (gochujang, sugar, soy sauce, sesame seeds, and sesame oil) and set aside. (Note: Some like to add garlic, but I haven't really noticed a difference.) You can also do this just before serving.
3. Prep all vegetables. Slice carrots and zucchini into julienne or matchsticks, and wash spinach and beansprouts. If you're diligent, you can do like my mother likes to do and break off the ends of the sprouts. I find that about the most tedious kitchen prep task ever (and one I was entrusted with regularly, growing up) so I refuse on principle.
4. Now, for the vegetables, you'll need to blanch the spinach and bean sprouts, but sauté the carrots and zucchini. So I like to start by putting a large pot of water on to boil, but while it's heating up, prepare the carrots and zucchini. Carrots: I heat about a tablespoon of oil in a skillet over medium-high heat and sauté carrots briefly (1-2 minutes is all you really need), or until aromatic. Season with salt and pepper and set aside.
5. Zucchini: repeat the same steps. Heat oil in pan, sautée until soft, and then season with salt and pepper. Set aside.
6. Spinach: By then, the water should be boiling. Fill another bowl with very cold water (I often add ice chips) and place next to stove. Blanch spinach by submerging it in the boiling water for about 30 seconds or until spinach is very deep green, then removing and placing it in the cold water bath. I usually start to remove the spinach with a slotted spoon pretty much as soon as it's all submerged. Strain excess moisture from spinach, then add salt and pepper to taste, a few teaspoons of sesame oil, some sesame seeds, and a few teaspoons of minced garlic. Set aside.
7. Soybean sprouts: Using the same pot (the water will be greenish, but don't worry, the sprouts won't be), blanch soybean sprouts, but for a bit longer (about a minute). Again, place in a cold water bath, rinse, and strain. Add salt, pepper, sesame oil, sesame seeds, and crushed red chili pepper flakes or gochugaru (gochugaru is great for this if you have it). Set aside.
8. Finally, heat a bit more oil in your skillet and sauté the marinated ground meat until browned.
9. Time to put it all together! Prepare two bowls of rice and top with equal parts carrots, zucchini, spinach, bean sprouts, and ground meat. I shake sesame seeds liberally over all of it, just for fun. Fry two eggs sunny-side up and place one over each. Finally, serve with bibimbap sauce. As stated above, just mix together 1/4 cup gochujang, 1/2 tbsp soy sauce, 1/2 tbsp sugar or honey, 1 tbsp sesame oil, and 1/2 tbsp roasted sesame seeds. If it's too sticky, add a bit more soy sauce and sesame oil to loosen it up and make it more mixable. (It's pretty much the same as ssamjang, though I also recently saw a bibimbap sauce recipe that uses ground beef and sounds fabulous, here.)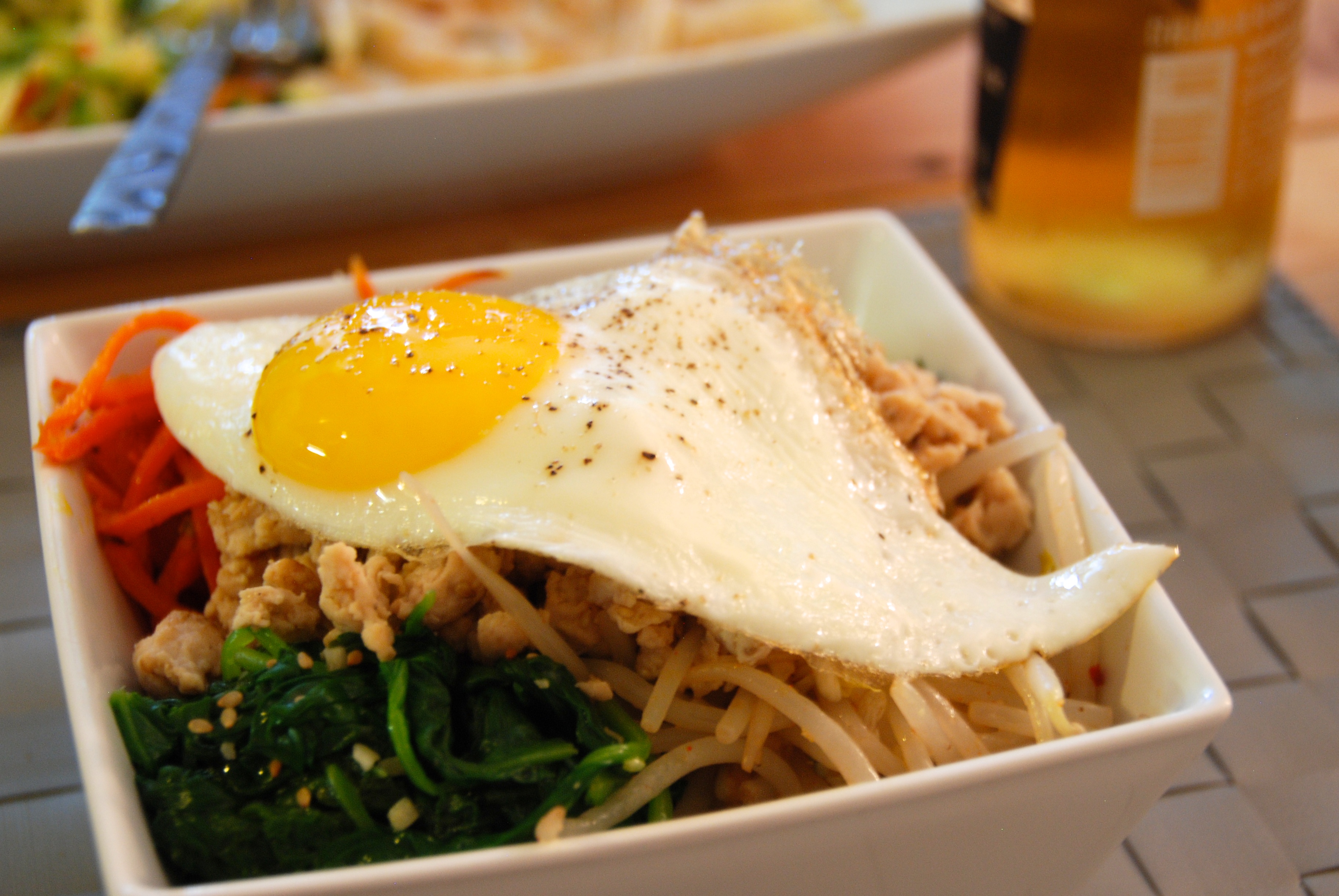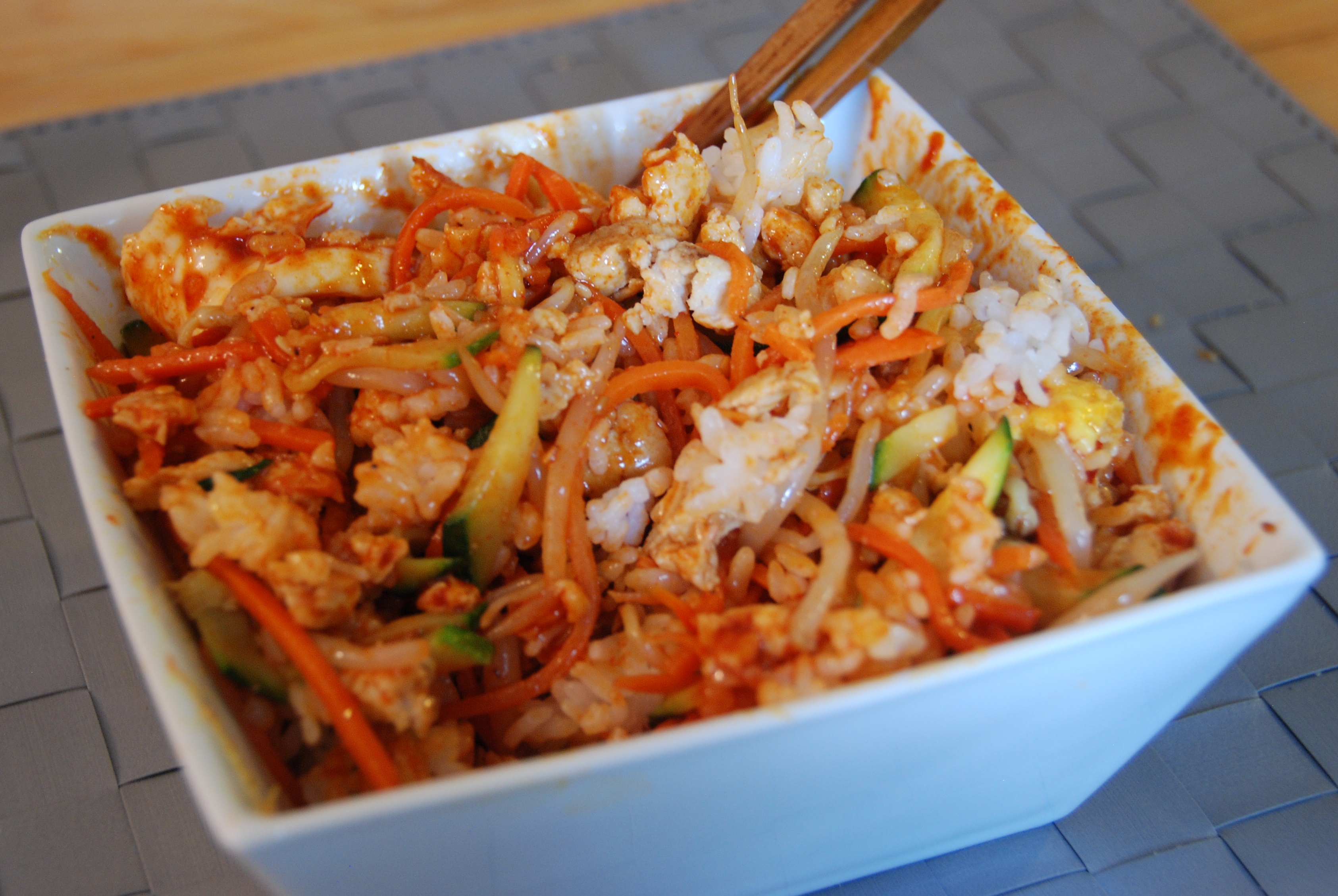 You should definitely try it with your own combination of vegetables. Pretty much anything goes. The other day we made it again with sautéed onions and that was really delicious, too. Have fun!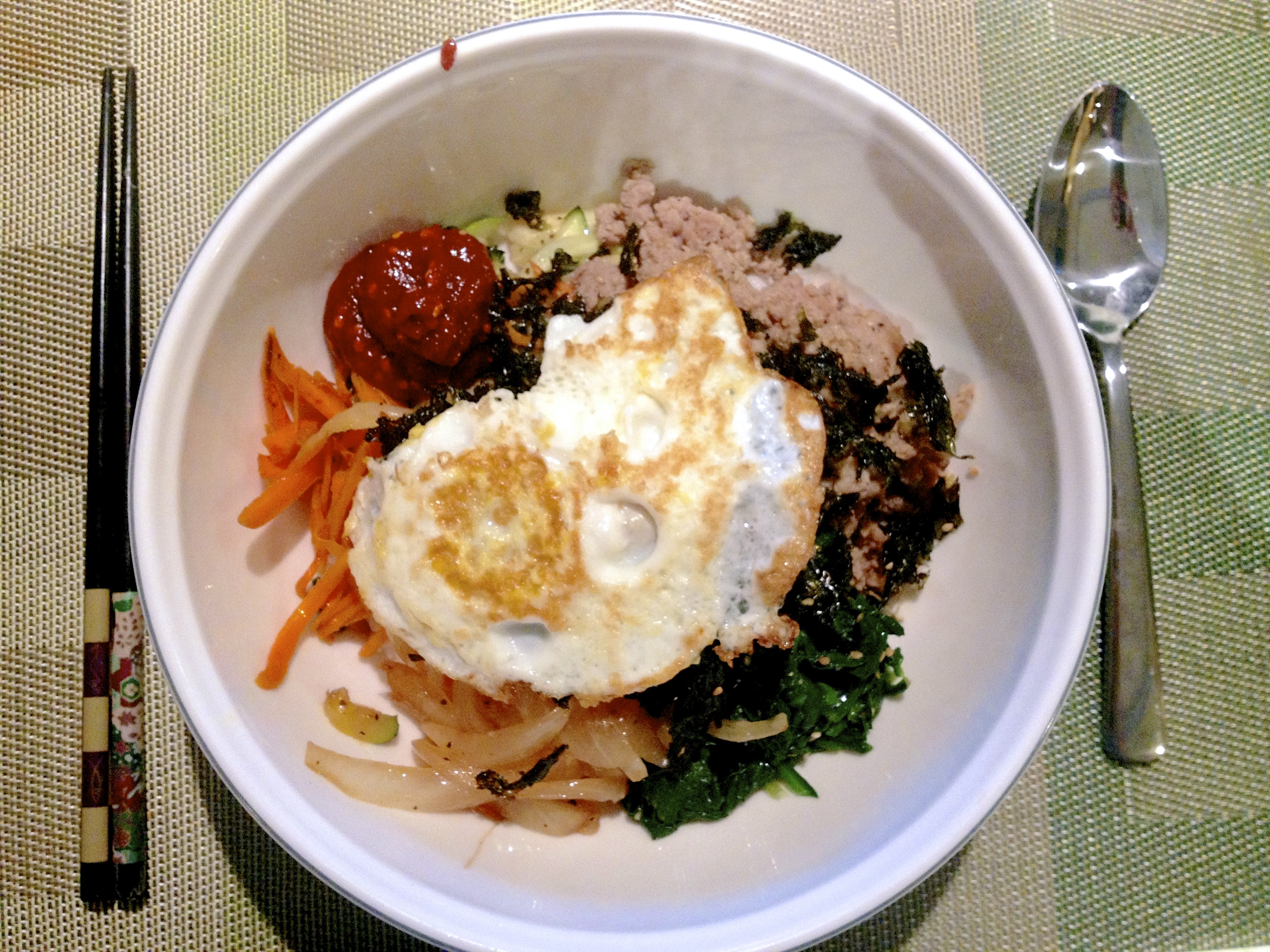 Thanks for reading my baby-blog!