I'm so excited to share some of Bowl #2's mother's cooking. I learned how to make bibimbap and bindaetteok from her last time we visited, so I was super eager to learn how to make more Korean food this time around. Last night, we had galbi wraps (ssäm) and hobak jeon, both of which were so delicious. The galbi was prepared and marinated by a client of hers, but she showed me how to make the hobak jeon and did all the rest of the ssäm fixings, as well as the ssamjang (chili paste dip) and gireumjang (sesame oil dip). The recipes are below. Also, I apologize for the blurriness and awkward ISO on this pictures — I was embarrassed to be whipping out a giant DSLR in front of Bowl #2's somewhat baffled (but good-humored!) parents, so I was a little too hasty about snapping these!
Since we didn't make the galbi ourselves this time, I will just direct you to a recipe for galbi marinade at Maangchi's amazing website (complete with video!). I use her recipes for spicy pork bulgogi and beef bulgogi on a regular basis and it is just perfect. I don't doubt that her instructions for galbi will also prove better than anything I could write. But I've still included the little recipes for the side dishes and fixings we made.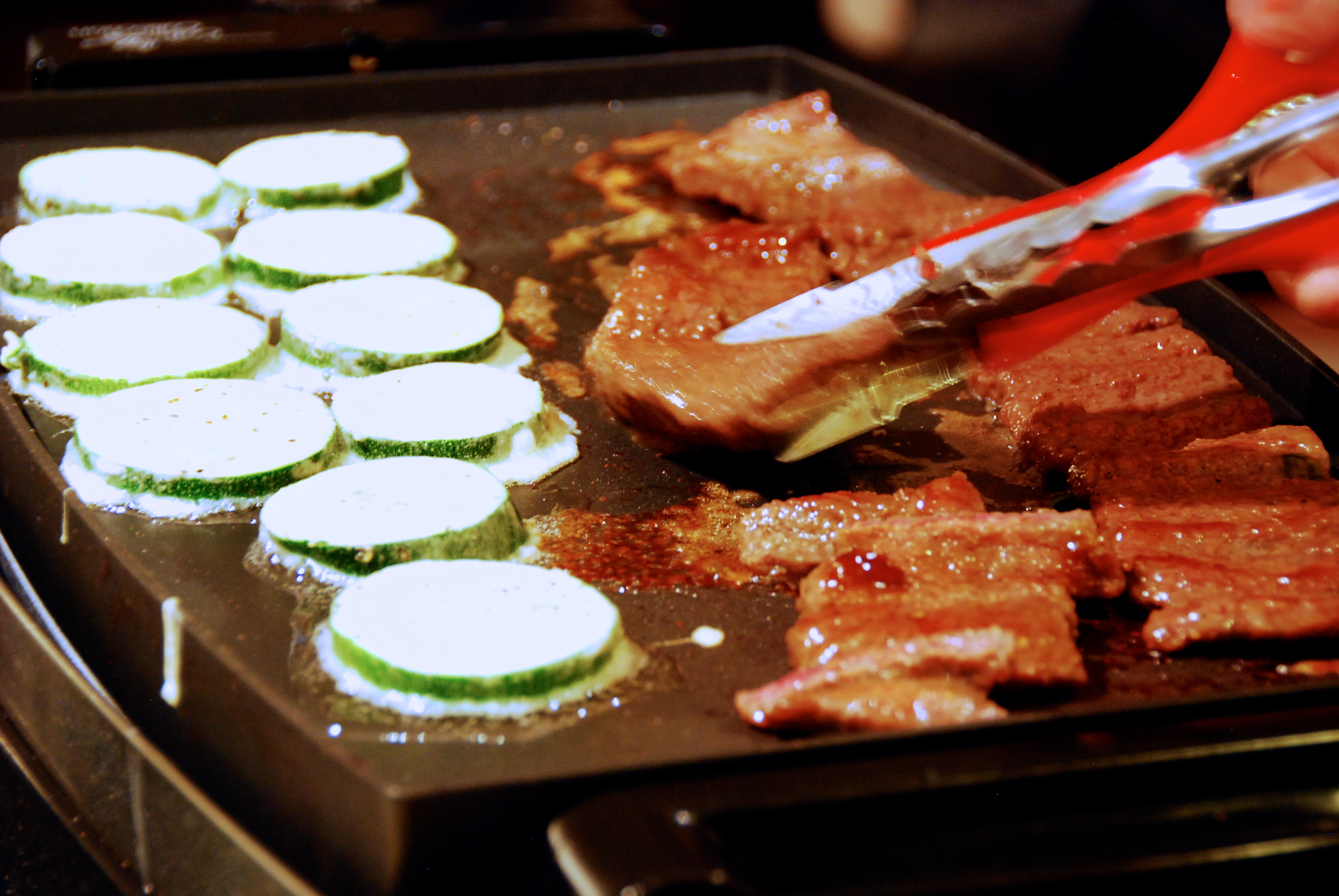 Just a few of the many kitchen tips and tricks that Bowl #2's mom has clued me in on — scissors for food (amazing), disposable plastic gloves, and electric griddles. I'd only ever thought to use an electric griddle for pancakes, but those things are perfect for everything from bindaetteok to bulgogi, and (above) galbi and hobak jeon.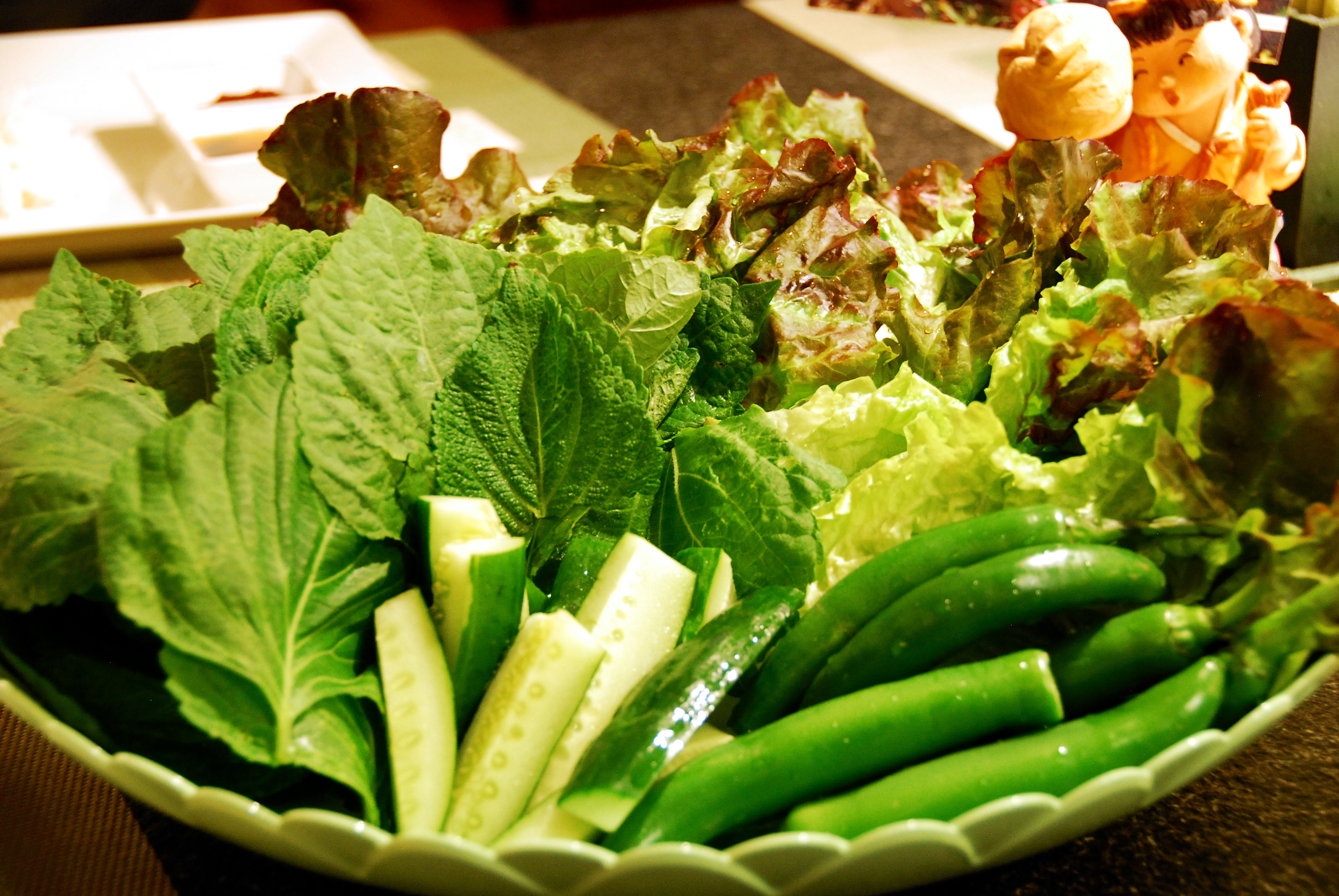 We had our galbi wrapped up in red lettuce, Korean perilla (ggaennip), cucumber, and ssamjang or gireumjang depending on your preference. Bowl #2 also had his with the Korean green peppers shown above, but those are too spicy for me to eat in whole bites!  Maybe in slices.  🙂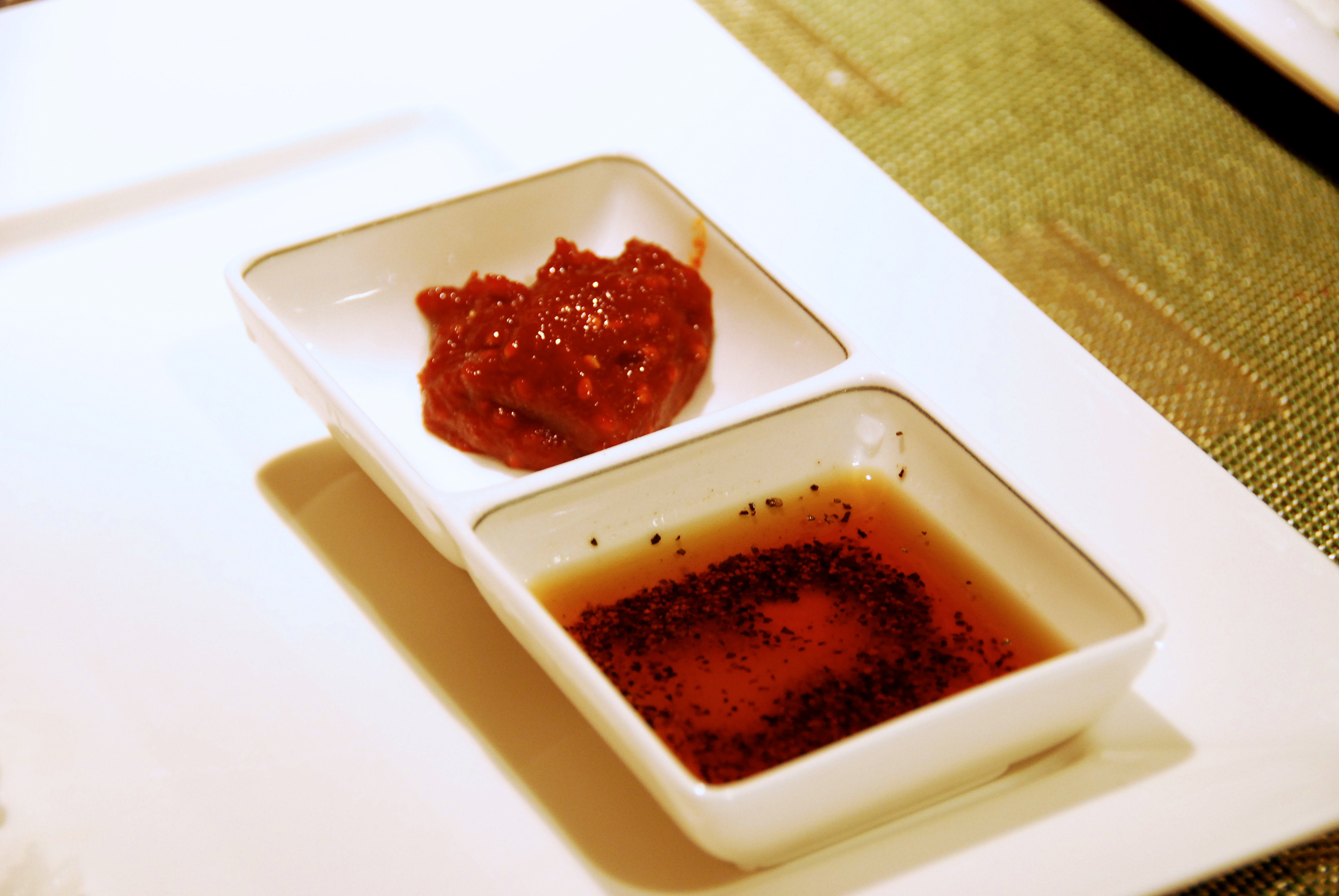 Ssamjang
This is a red chili paste dip made mainly from gochujang. Some recipes call for soybean paste as the main base, which is also tasty, and we have sometimes added garlic and green onions, but this simple recipe works perfectly and is my go-to at home.
1/4 cup red pepper paste (gochujang)
1/2 tbsp soy sauce
1/2 tbsp sugar or honey
1 tbsp sesame oil
1 tsp minced garlic (optional)
1/2 tbsp roasted sesame seeds
Mix together and serve! 🙂
Gireumjang
This one is even easier. Just mix 2 tbsp of sesame oil with 1/2 tbsp of salt and 1/2 tbsp of pepper. Done!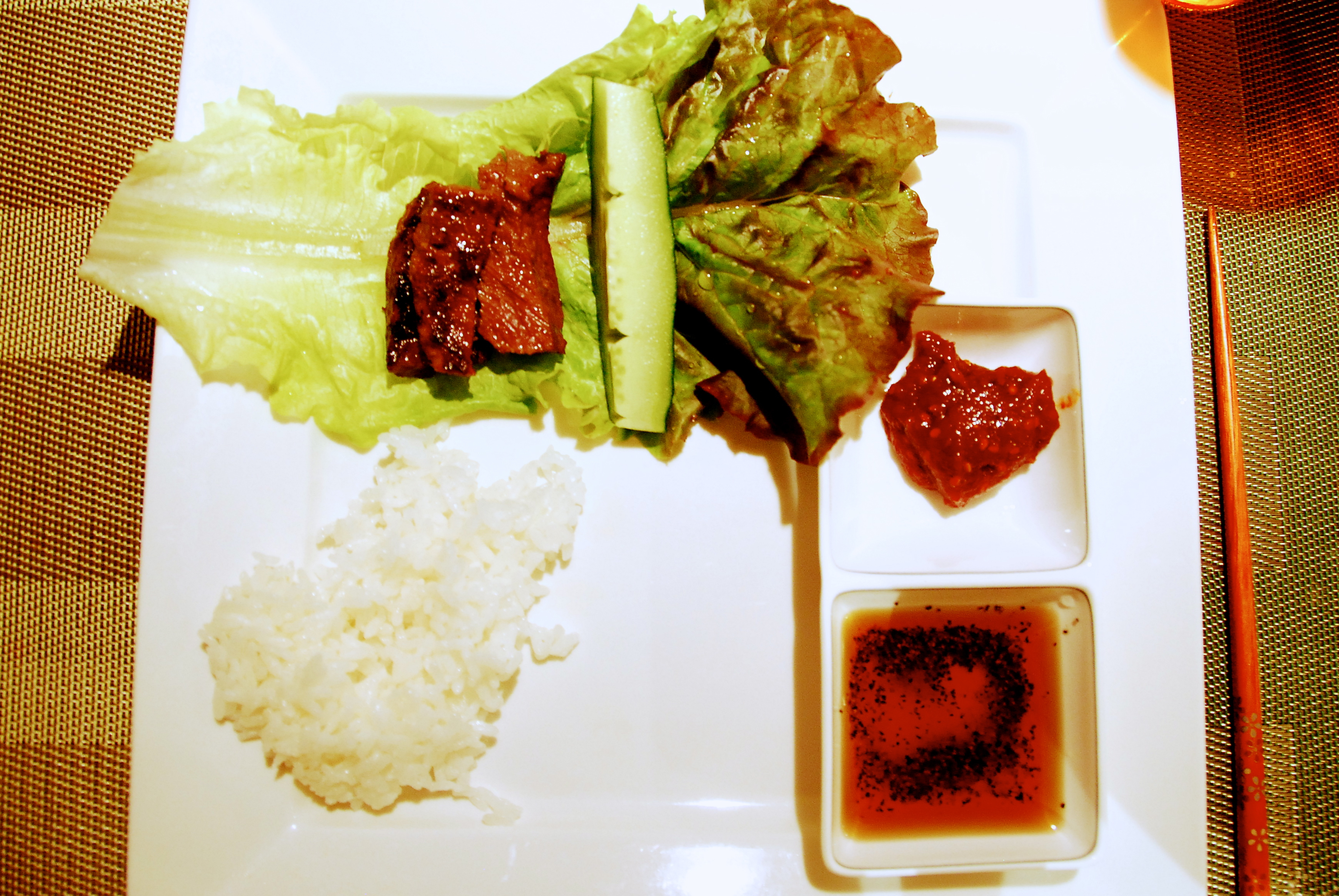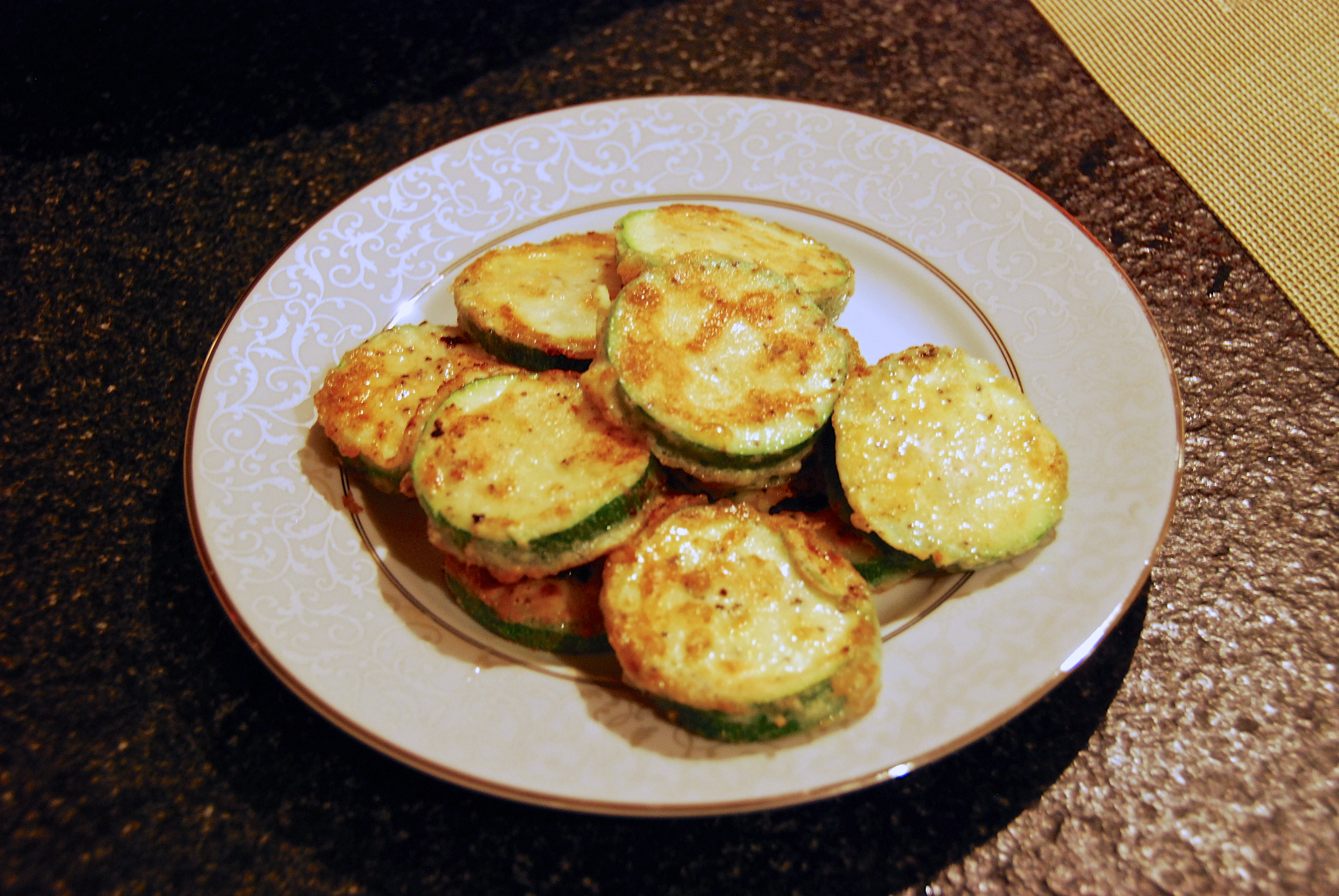 Hobak Jeon
Hobak means zucchini, and jeon (the same as in pajeon) means pancake, so literally this translates to zucchini pancakes (or zucchini fritters). I've seen friends use this method of frying in batter for lots of veggies, and even Spam. Another great recipe for hobak jeon can be found here, by Kimchimari, with lovely step-by-step photos.
1 zucchini, sliced into thick coins
1/4 cup all-purpose flour, enough to dredge fully
2 eggs
coarse black pepper and salt, to taste
1. Slice one zucchini into thick (approx. quarter-inch or more) coins. Place in a single layer on a large platter, and sprinkle the entire batch liberally with salt and pepper.  Let sit for a few minutes.  The longer you let it sit, the softer the fritters will be.  We're usually short on time (plus I like them crisp) so we generally move on fairly quickly.
2. Prepare a bowl of flour.  Dredge each zucchini coin fully in the flour and replace on pan.
3. Beat eggs with a bit more salt and pepper. One by one, dip the zucchini coins into the egg mixture and lay in a single layer on a griddle. Once zucchini is browned, flip to the other side to allow that side to cook. Once browned on both sides, remove and serve! We just used the gireumjang and ssamjang as dips, but Kimchimari recommends a soy-vinegar sauce that would work well, too.
I hope you all have very happy weekends! Thank you so much for reading!