OK, so I have two confessions to make.  One, I have to admit that I don't know what exactly makes sangria sangria. Does it have to use wine?  Citrus fruit?  Liquor?  This uses … none of that.  So I'm not really sure if it's sangria at all.  (But I promise that whatever it is, it's still delicious.)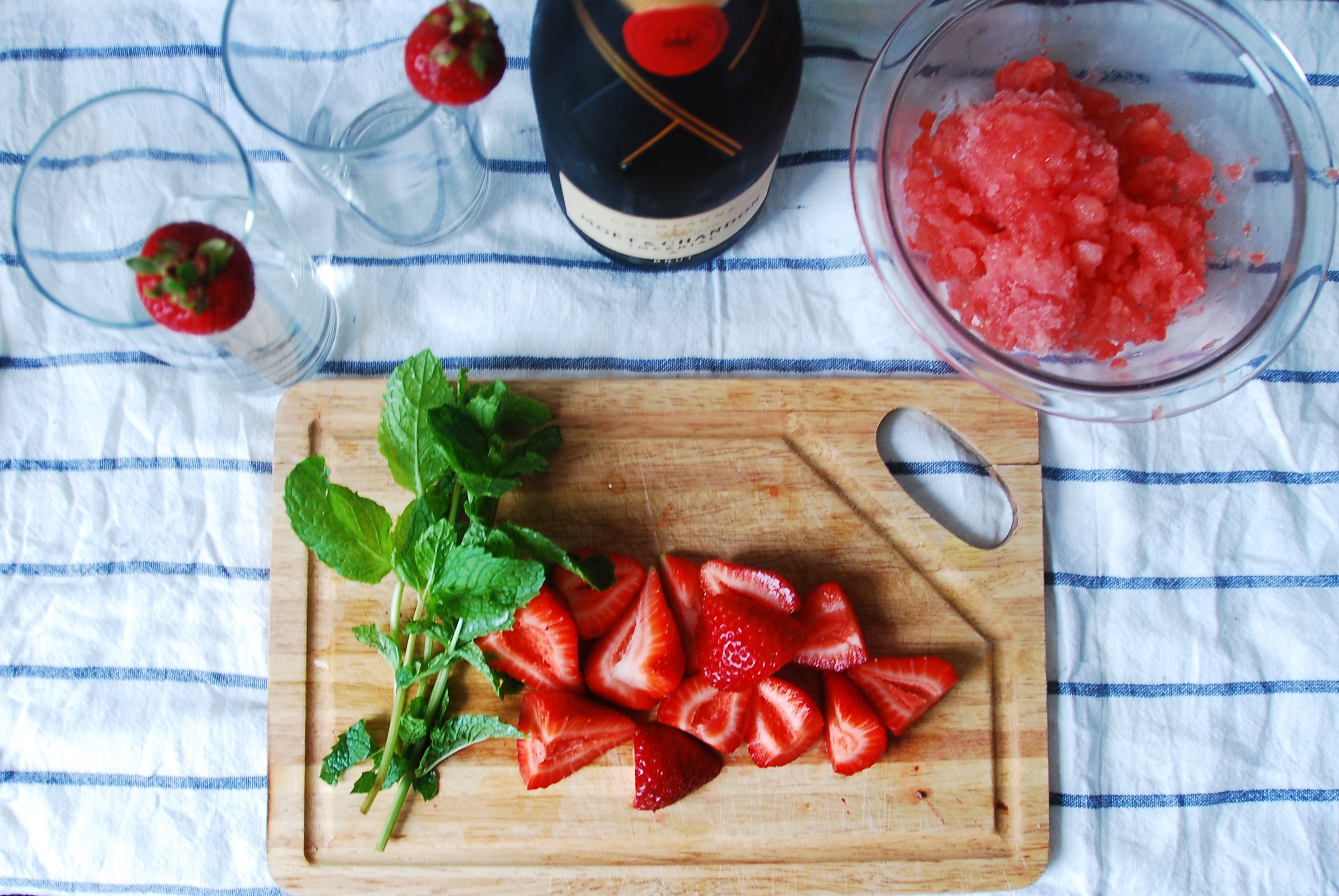 Two, I am not much of a champagne drinker.  So when Bowl #2's aunt gifted this very nice Moet for graduation, I was okay with using some of it for sangria, even though I know I'm supposed to appreciate it on its own and not just waste it on a fruity concoction.  But … I still probably enjoyed it more than I would have otherwise.  Forgive me.  (And, in case this totally horrifies anyone out there, let me reassure you that at least Bowl #2 had the remaining majority of the bottle in its rightful form!  Haha.)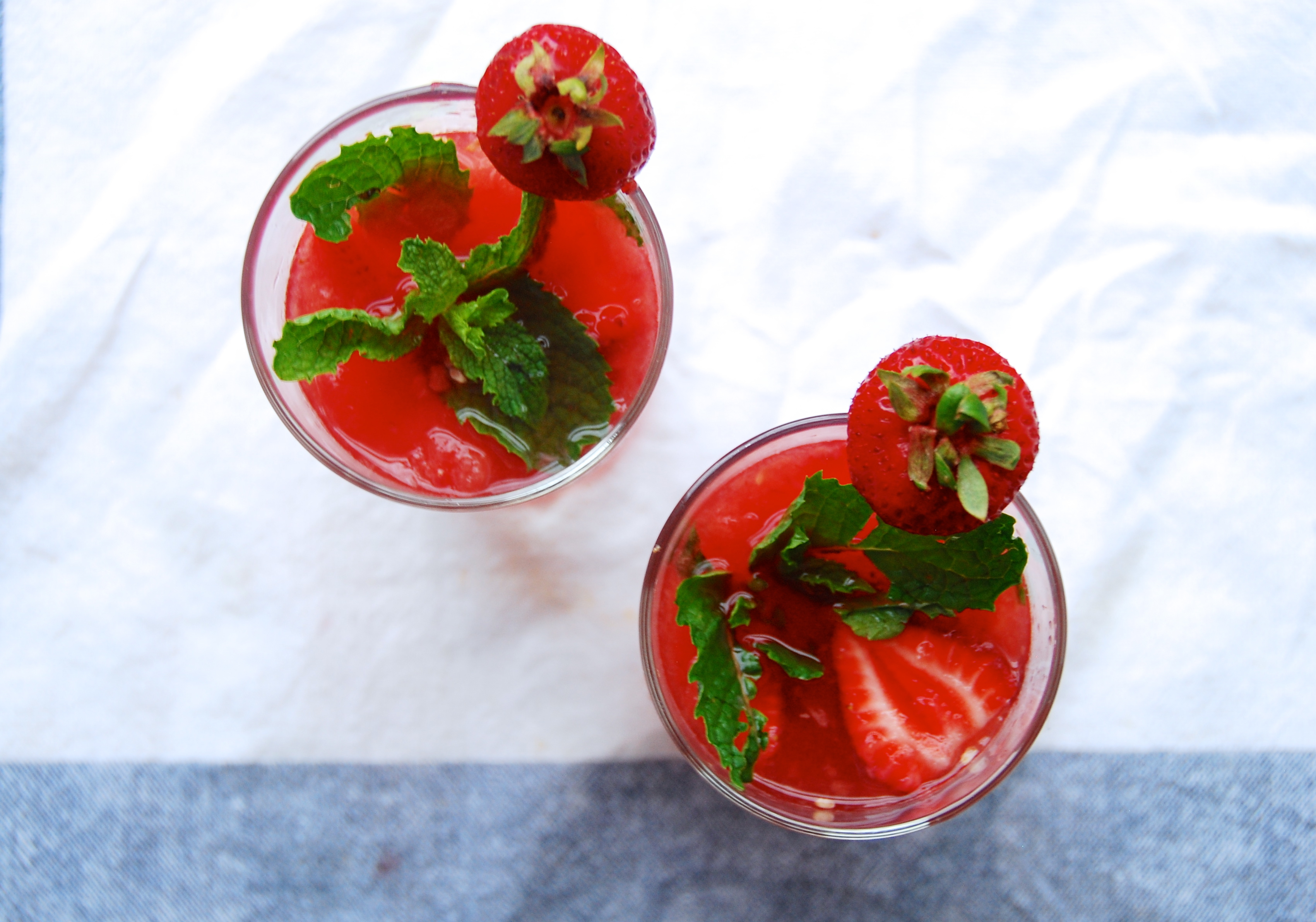 So … I hope we can still be friends after that. Now that that's done, here's an improvised recipe for sangria that uses watermelon, strawberries, mint, aloe juice, and champagne, and is wonderfully vivid both on the eyes and on the tongue.  We enjoyed it as a post-bar celebration and as our chance to finally break out that graduation gift from Bowl #2's wonderful aunt.
Watermelon Strawberry Sangria, with Aloe and Champagne, 
inspired by Joy the Baker
yields about 2 tall glasses or 3-4 cups of sangria.
2 cups watermelon chunks
6-8 strawberries (about 1 cup), hulled and sliced (and a few whole for garnish, if you like)
8 oz aloe juice (I just used this because we love it — any refreshing juice that is not too strong will work, or you can even make your own watermelon-strawberry juice — see below)
8 oz champagne, chilled (or other wine)
a few mint leaves, with two springs for garnish
1. Muddle about half the strawberries in a small jug. I added one mint leaf for a little extra kick — if you like mint, feel free to add more.
2. Briefly pulse half the watermelon in a blender and add to the strawberries. Stir to mix. (I used frozen watermelon, so I blended all of it briefly to break it into smaller chunks and added it all at once.)
3. Add remaining fruit. Pour aloe juice and champagne over the entire mixture and stir briefly. That's it! Garnish with extra strawberries and mint, and serve.
(Note: If you don't have aloe juice, this would be just as great — if not better — with homemade strawberry watermelon juice, like the original recipe calls for.  I made this the next day and it was wonderful. To make, blend 6-8 strawberries, hulled, with 2 cups of watermelon chunks, then pour through a strainer.  It will yield about 1 cup of juice.)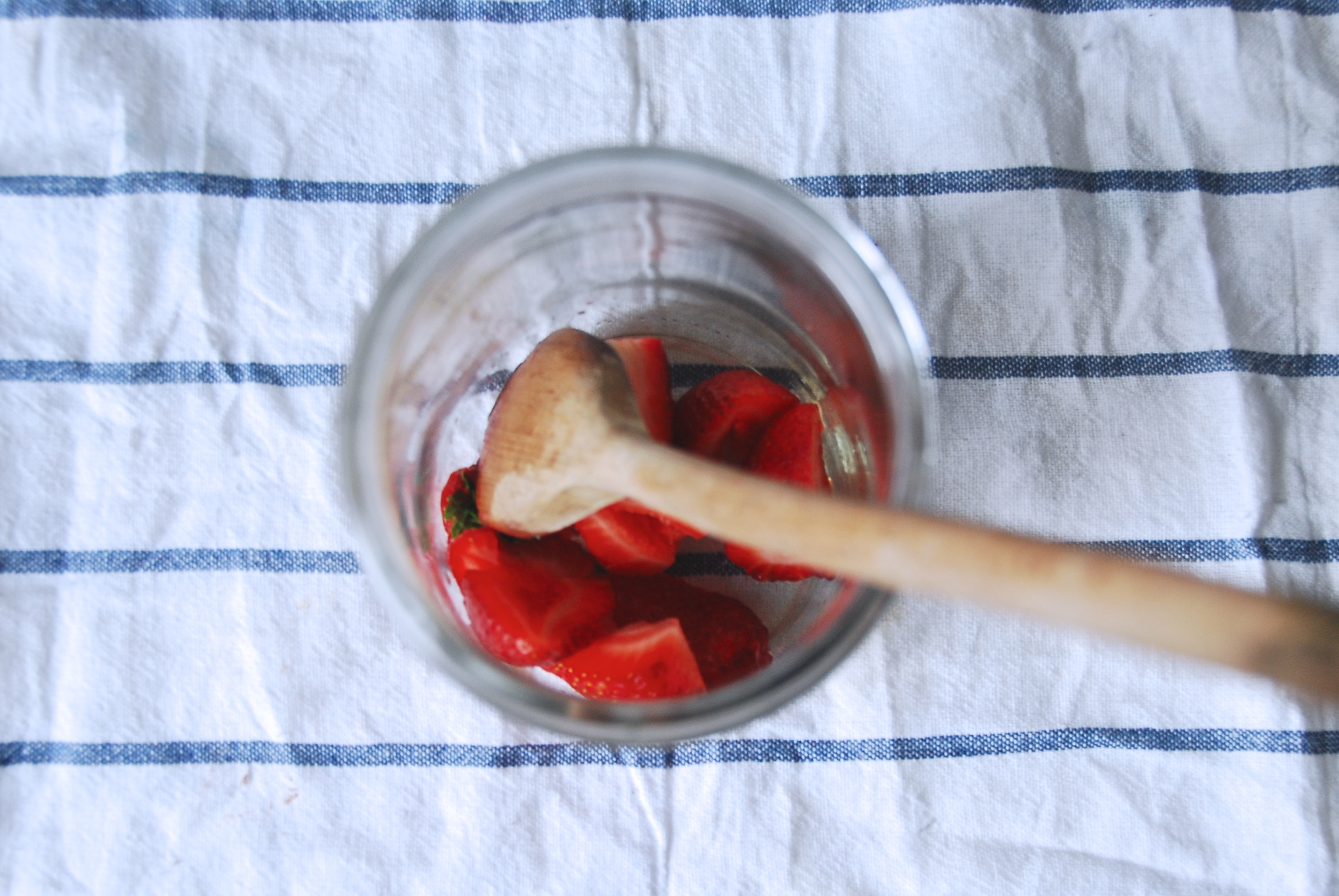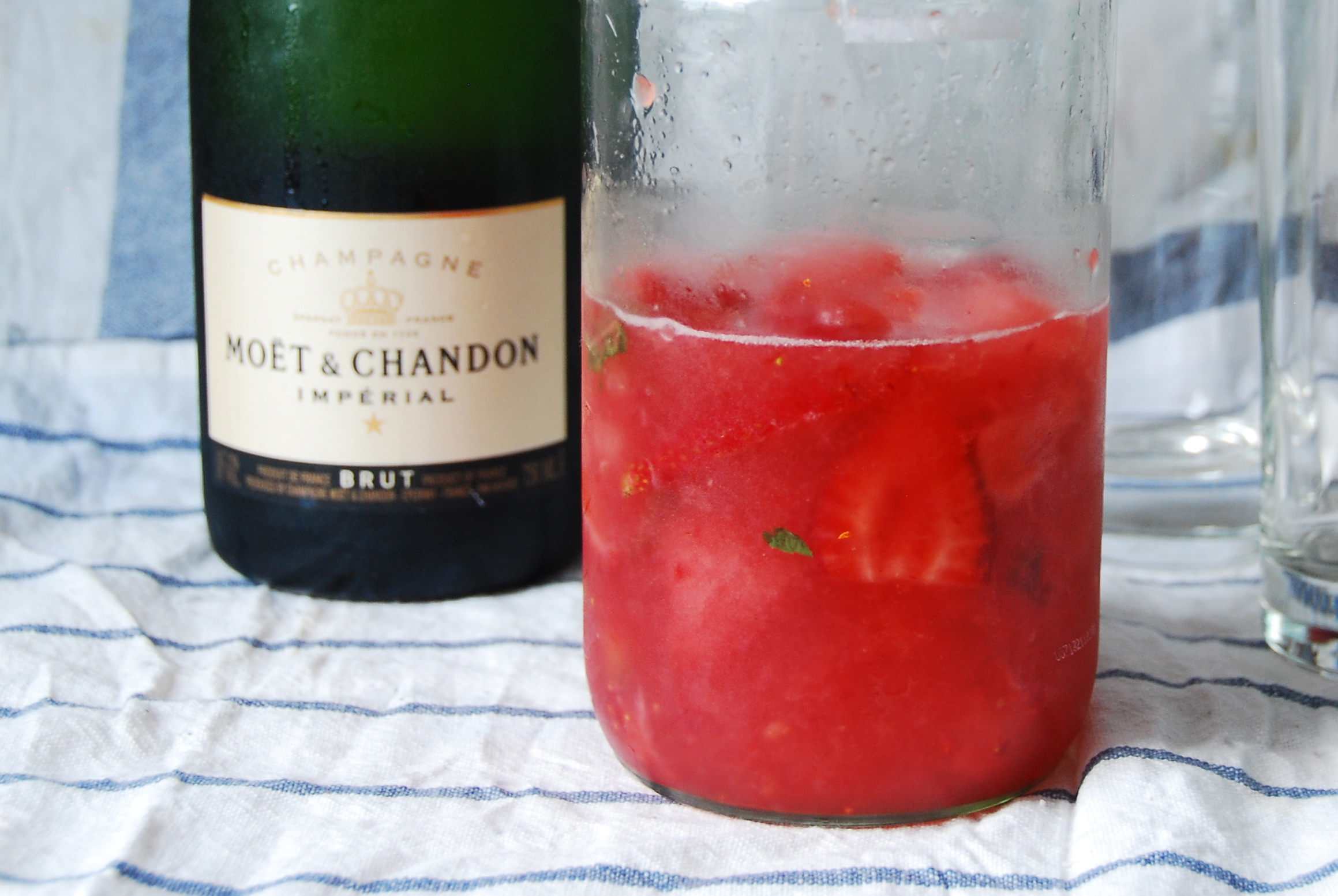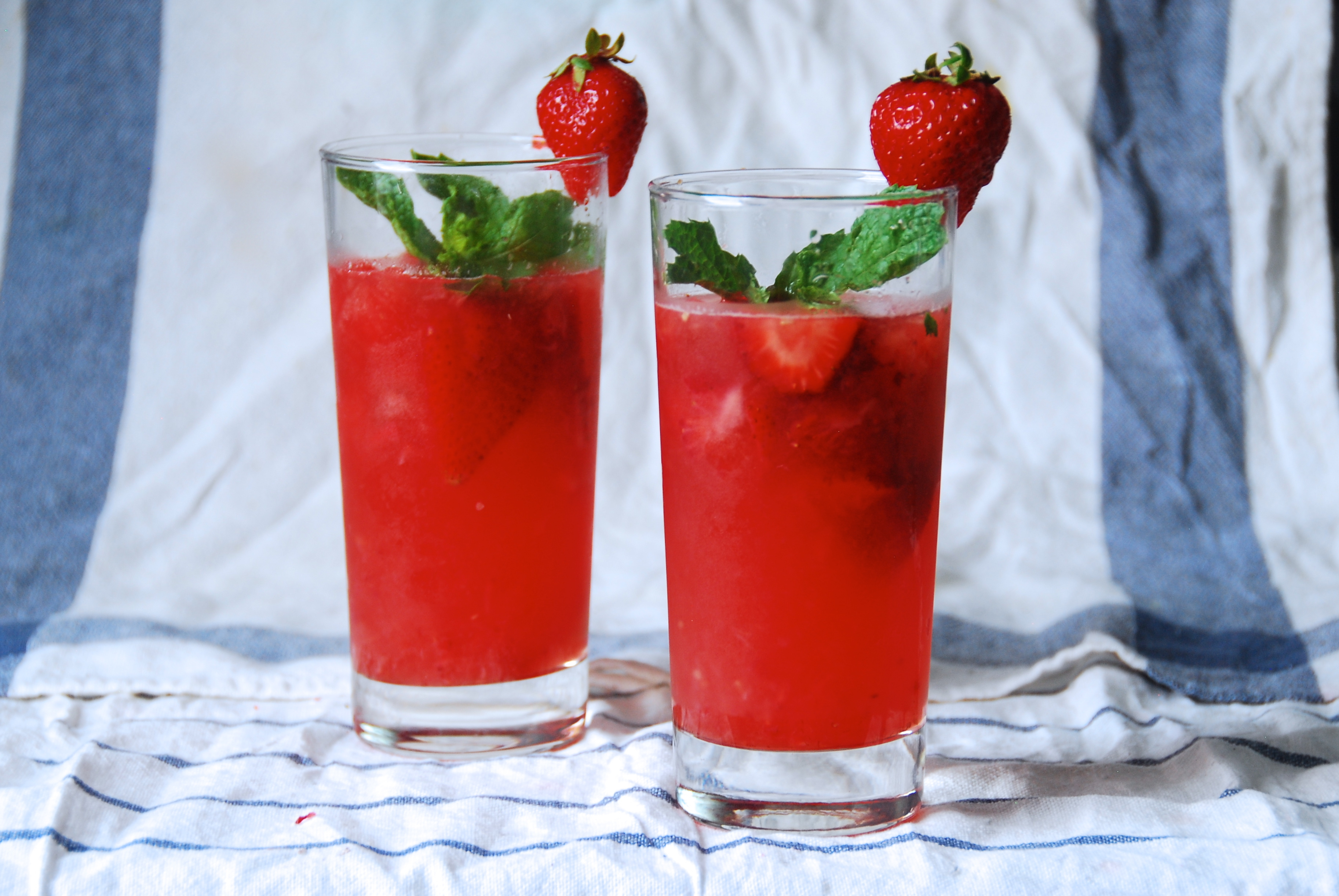 Hope you enjoy! We're flying out to Hawaii tonight, so I will see you again from the other side of the world. 🙂 Thanks so much for reading!