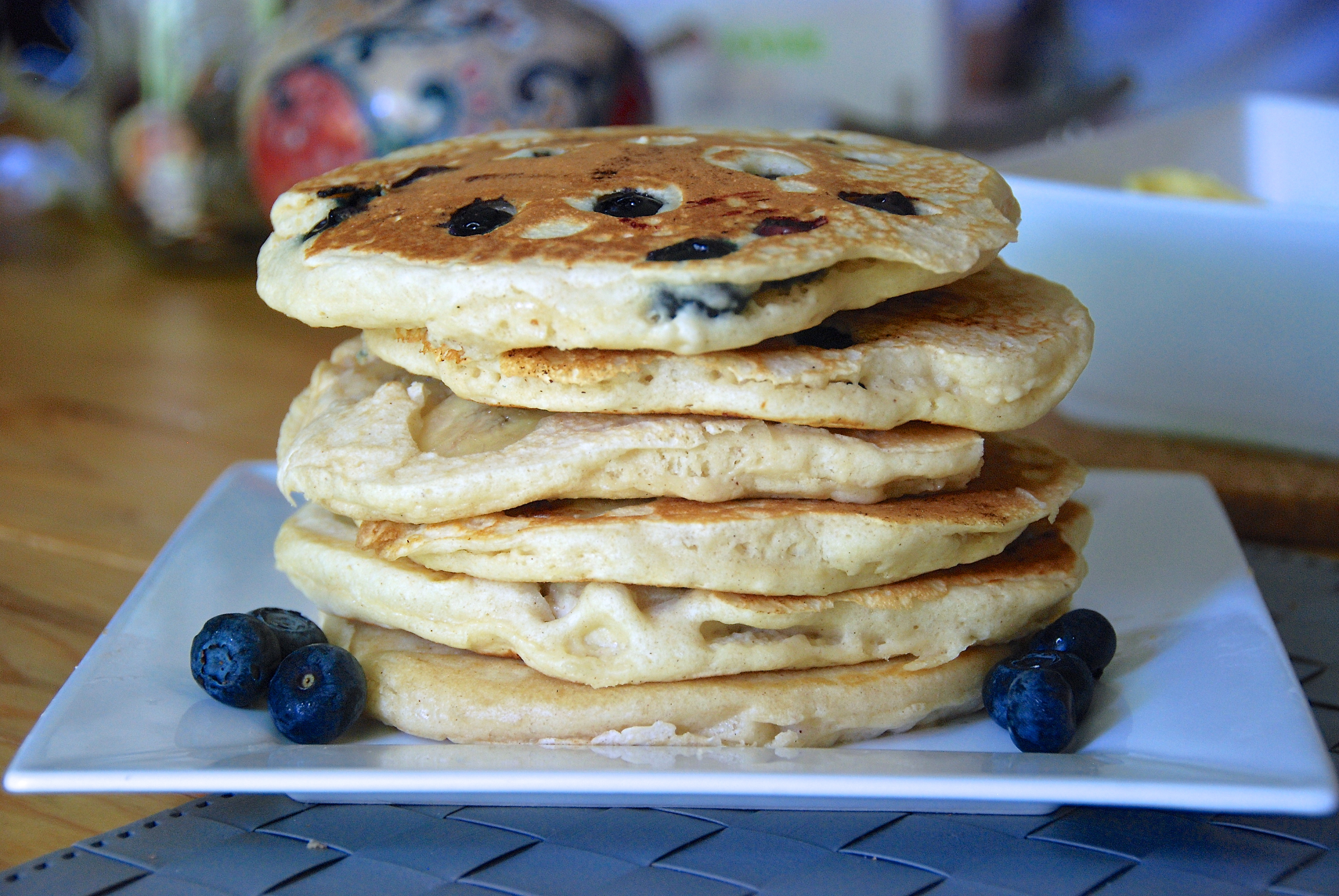 As it turns out, studying for the bar is no fun. No fun at all. But if there's anything that makes it okay, ridiculously fluffy homemade banana pancakes must be high on the list. This past Sunday, I thought we would take a break from memorizing the law by indulging in a traditional lazy, full-fat, extra-syrup brunch, and for the first time, I decided to make pancakes from scratch instead of reliable old Aunt Jemima. It turns out that it might be even easier than premade mix (me, for once, deciding not to buy premade things!), to the point where I don't know why I didn't do it before. And it was absolutely worth the sluggish non-studying we did the rest of the day.

I made half blueberry and half banana pancakes, with a pancake mix base I got from Jamie Cooks It Up (thank you!)  One slight hiccup for us — what Jamie suggests, and what I found that many other recipes also suggested, is to make the dry pancake mix in bulk, and then scoop out a cup or so to mix with wet ingredients in individual batches. This is a pretty great idea, especially since the dry mix keeps for months, but because we don't eat pancakes very often, and because we're a teeny household of two, I wasn't sure if we'd ever finish it. So I modified the dry portion of the recipe down to just a single batch's worth (which included a bit of vague number fiddling and odd amounts and was probably a bit inaccurate, but hey, it worked).  Note: My go-to buttermilk pancake base is now this version (you know, without all the Nutella and espresso) adopted from Joy the Baker's recipe.
And one last note on cast-iron — I also took the opportunity to try out my cast-iron skillet to make pancakes for the first time, and it was just amazing.  Not only did is it key to evenly golden brown pancakes, since it holds heat at low settings incredibly well, it also manages to perfectly caramelize the bananas to add a touch of burnt complexity to the pancakes.  There are so many more things I could say about cast-iron (crispy bacon!  fighting anemia!) but I'll save that for another day.
Homemade Banana and Blueberry Pancakes
modified to serve 2, adapted from Jamie Cooks It Up
1 1/3 cup flour
1 1/2 tsp baking powder
1/2 tsp baking soda
1/4 tsp salt
1 tbsp sugar
1 cup milk (for buttermilk pancakes, use 1 cup buttermilk or 1/2 cup Greek yogurt and 1/2 cup milk, blended well)
1 egg, beaten
2 tbsp butter, melted
1 small banana, sliced
1/2 cup blueberries
1. Combine flour, baking powder, baking soda, salt, and sugar in a medium bowl. Whisk well.
2. Add milk, but don't combine yet.
3. Beat egg in a separate small bowl until frothy; add to milk and dry ingredients, and mix until just combined.
4. Add melted butter and whisk until combined.
5. Heat a pat of butter or a bit of oil in a skillet or griddle (cast-iron!!!) over medium-low heat. Make sure surface is well-coated. It should be nice and shiny.
6. When water droplets hiss and evaporate immediately, pour batter in 1/4 cup portions into skillet. Lay pieces of banana or blueberries (or both?!) evenly over batter.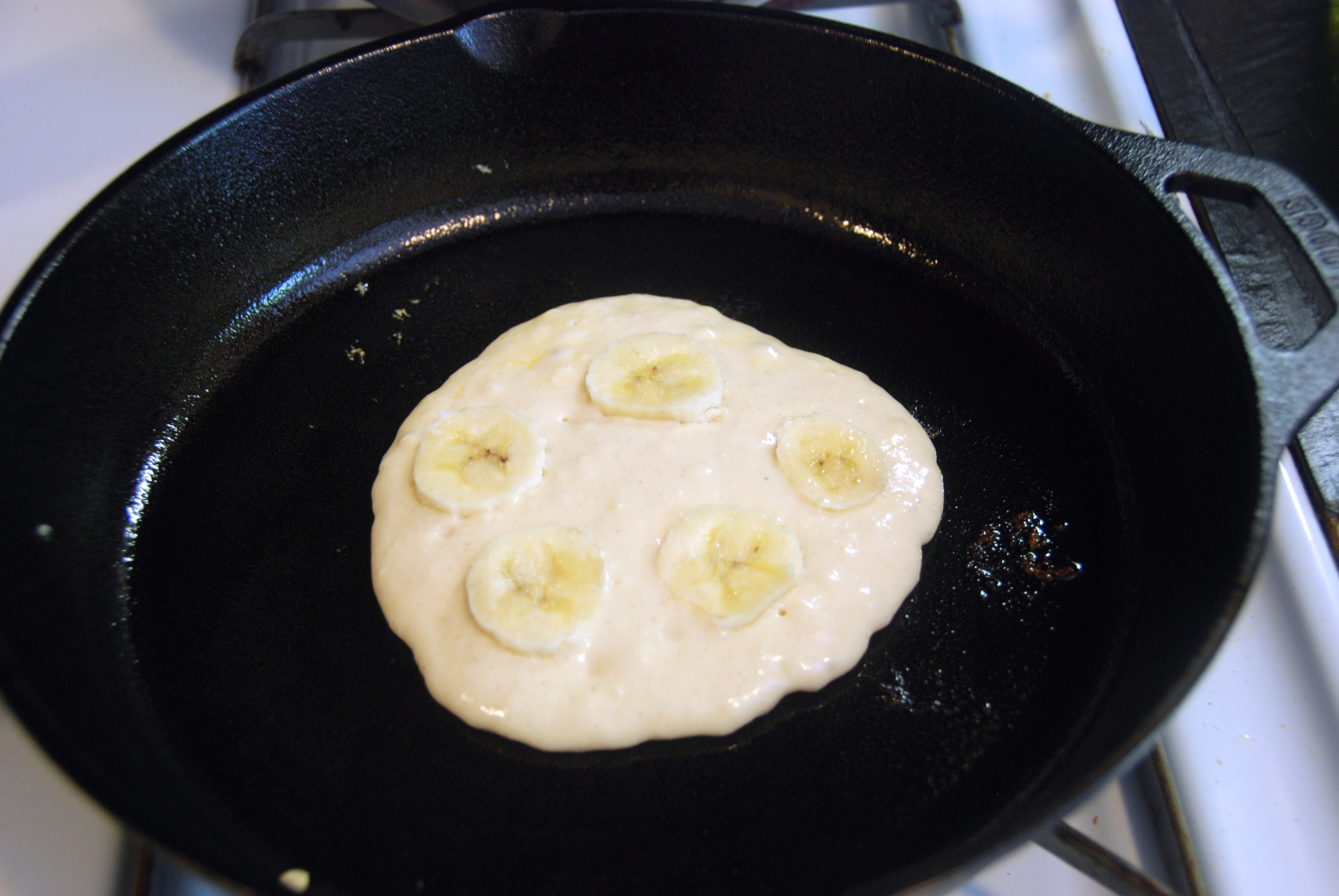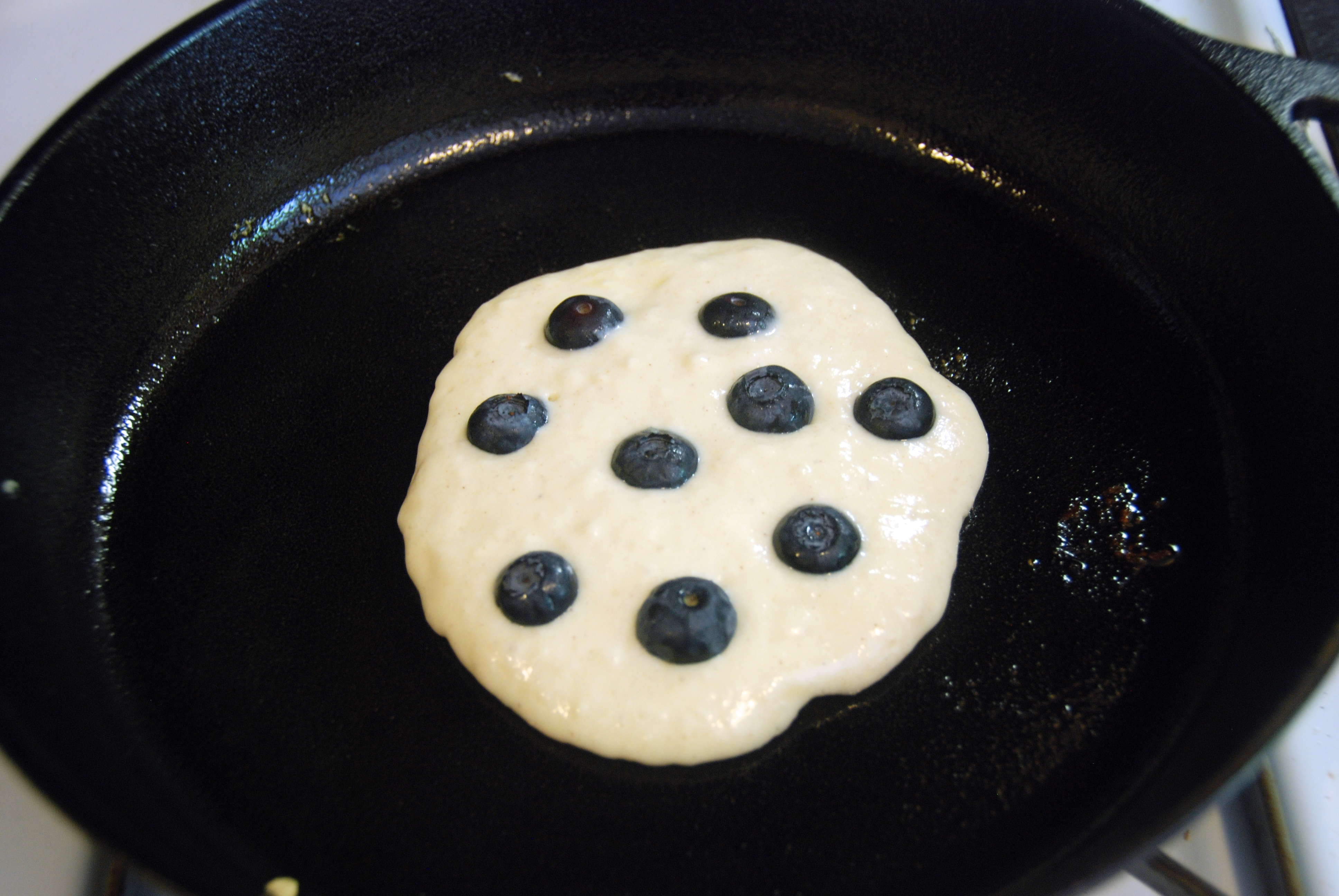 7.When bubbles form in the pancake and start to pop, flip pancake and let cook on the other side (fruit-down) for an additional 2-3 minutes, before removing to a plate.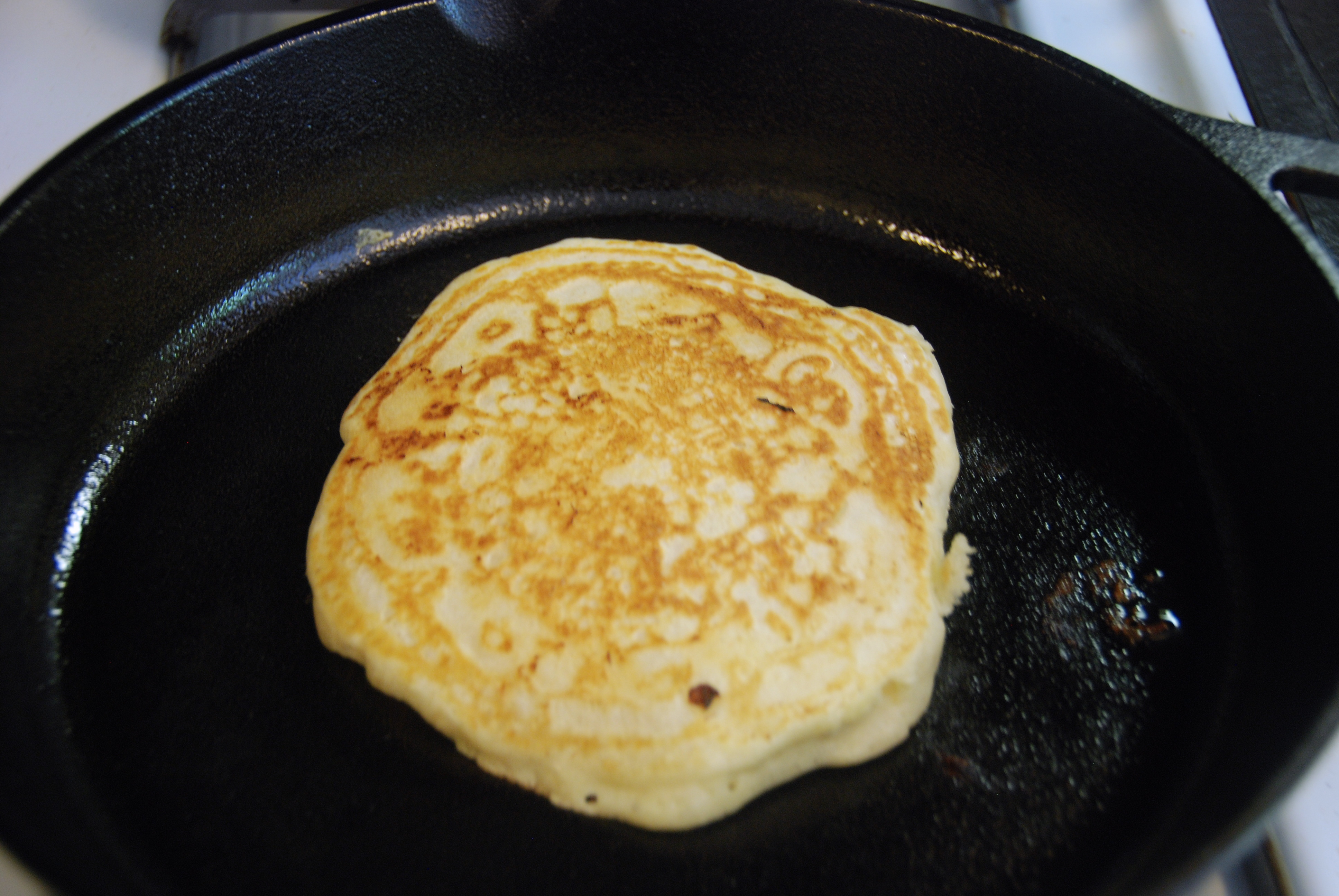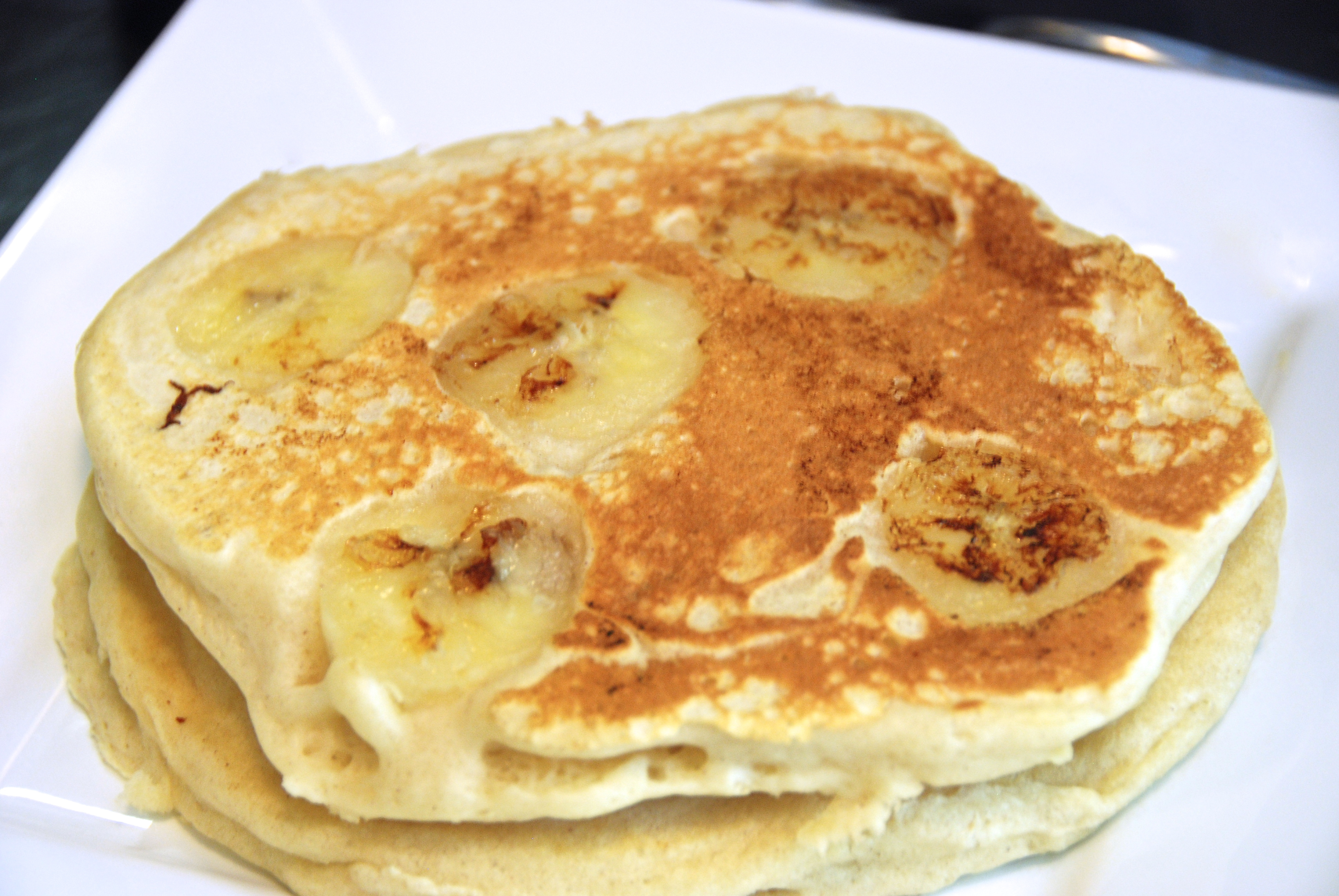 8. Repeat until batter is gone, then serve!  (Or, if you're prone to eating them off the platter with your fingers — won't say if that's me — serve to others as pancakes become ready, so that they're still warm and maximally fluffy … and not eaten.)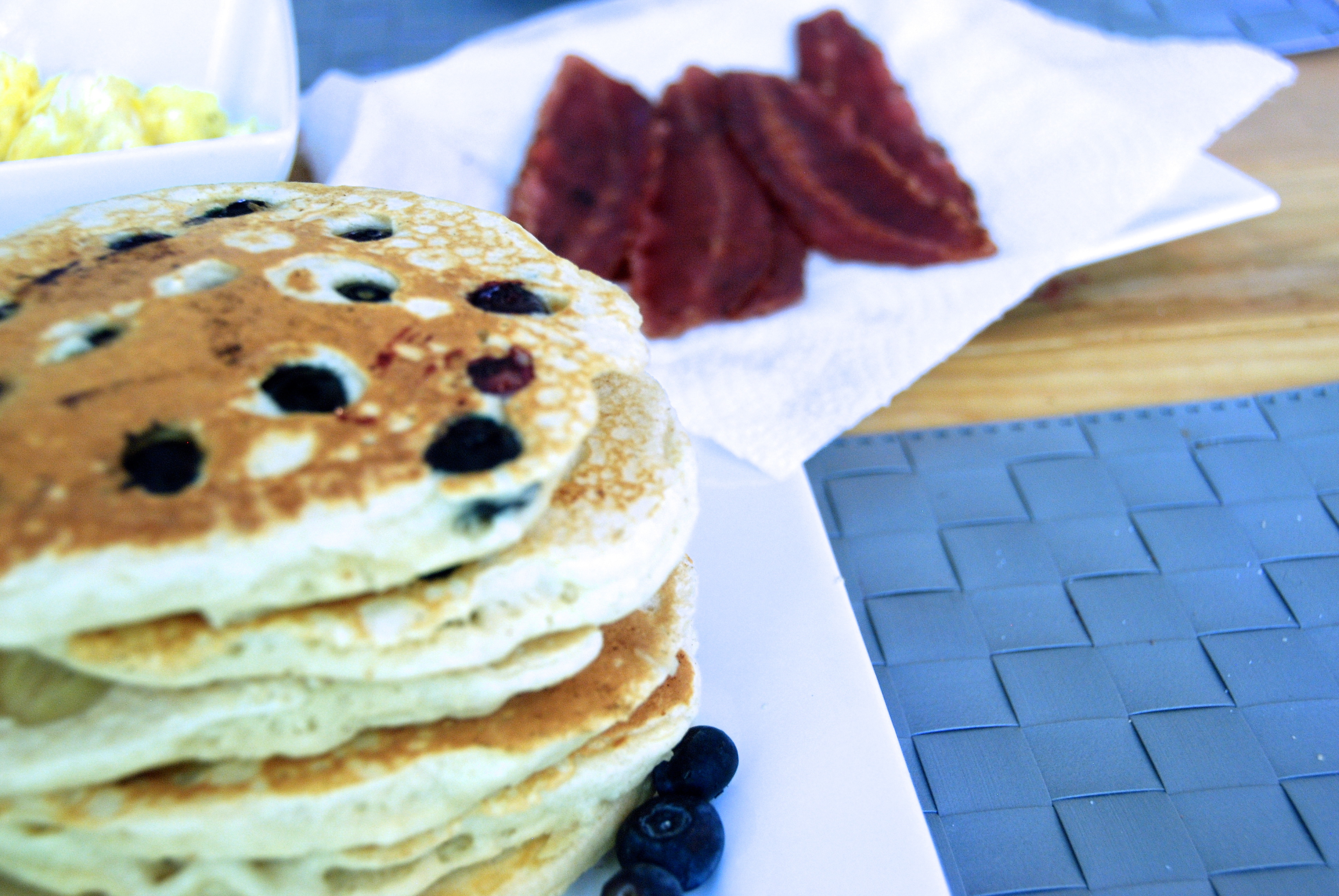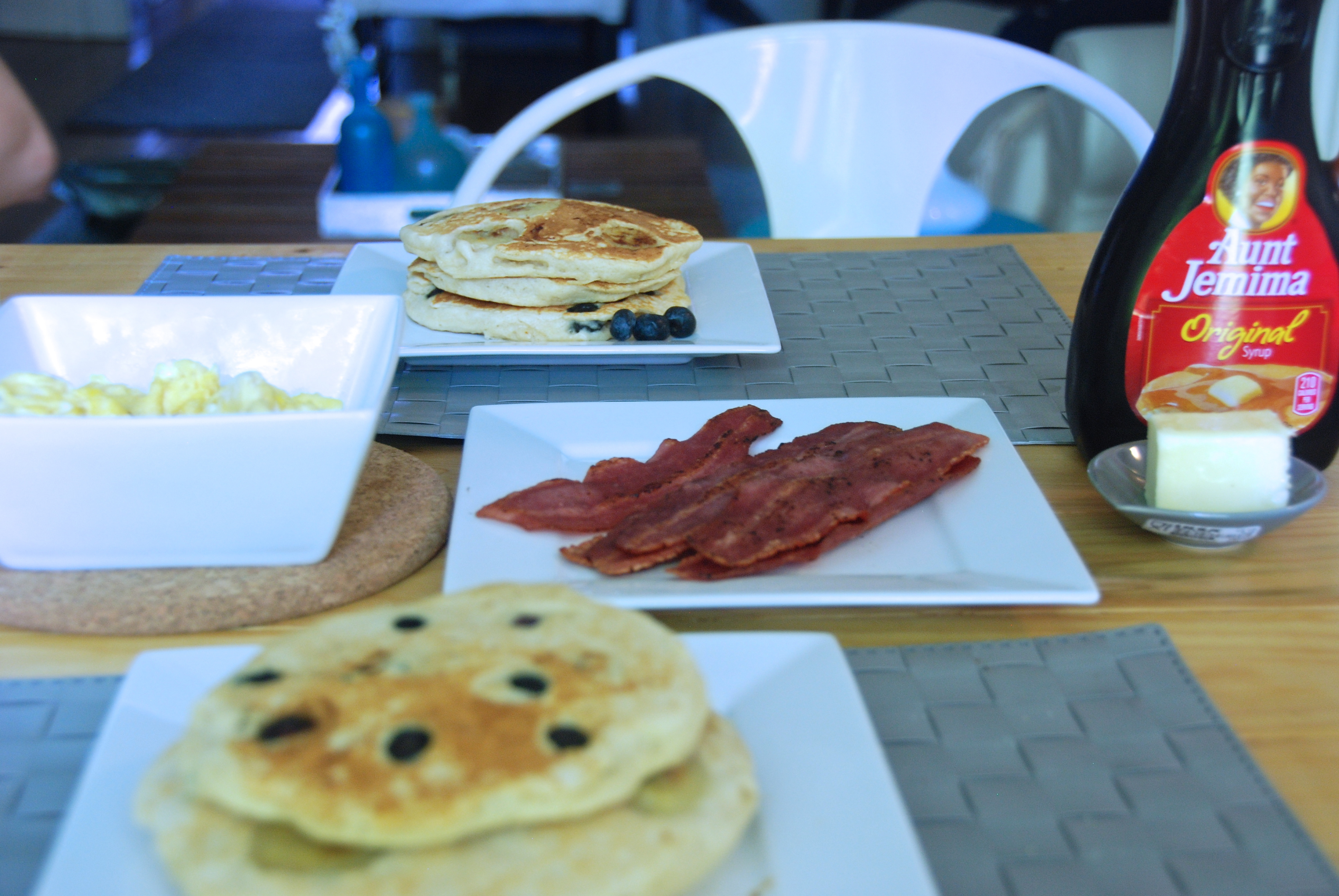 Thank you so much for reading!