WE'RE DONE! Three months of blissful ignorance about whether we passed begins now. Words can't express how happy I am. 🙂 But they can express peanut butter and chocolate (well, to an extent) so I'll try and do that instead.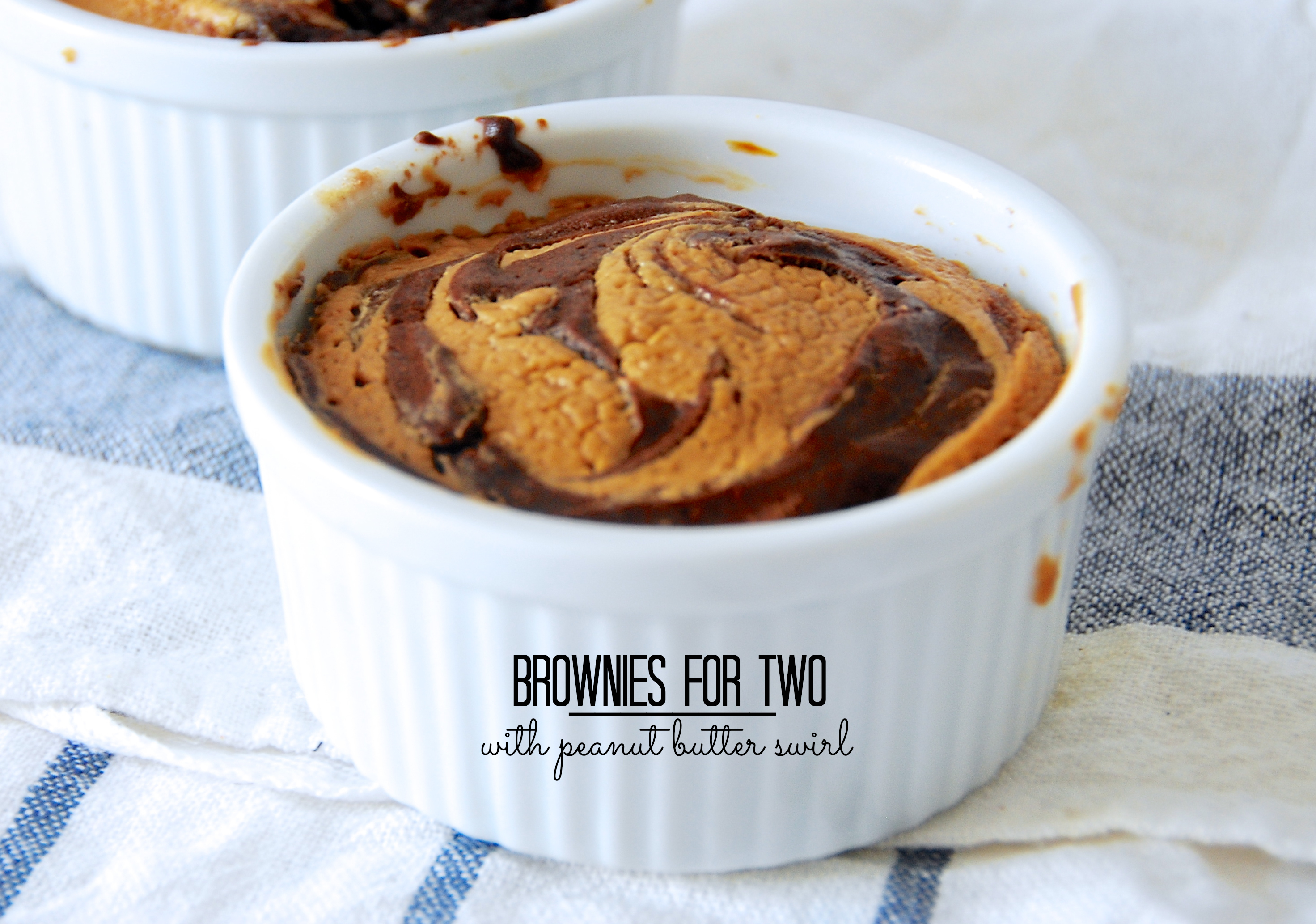 Usually, the first thing I like to do after a hugely stressful event is bake or cook. In college, I used to come home after turning in a paper or taking a final, and instead of heading into bed, I'd run into the kitchen and de-stress by making a huge mess. It usually never tasted that good, but it was a great destressor 🙂 Fortunately for my kitchen, I didn't do that this time — the first thing on the agenda when I got back into the city was remedying some much-neglected social obligations, and the next few days will be filled with errands before we leave for Hawaii.  But I still thought I'd share what I would have baked last night to celebrate.  Here's a recipe for individual peanut butter swirl brownies, adapted slightly from a recipe originally posted and beautifully made by The Baker Chick.  I made these twice in the last two weeks before the exam instead of studying (much to my own dismay), so I hope they don't end up being my downfall. 😉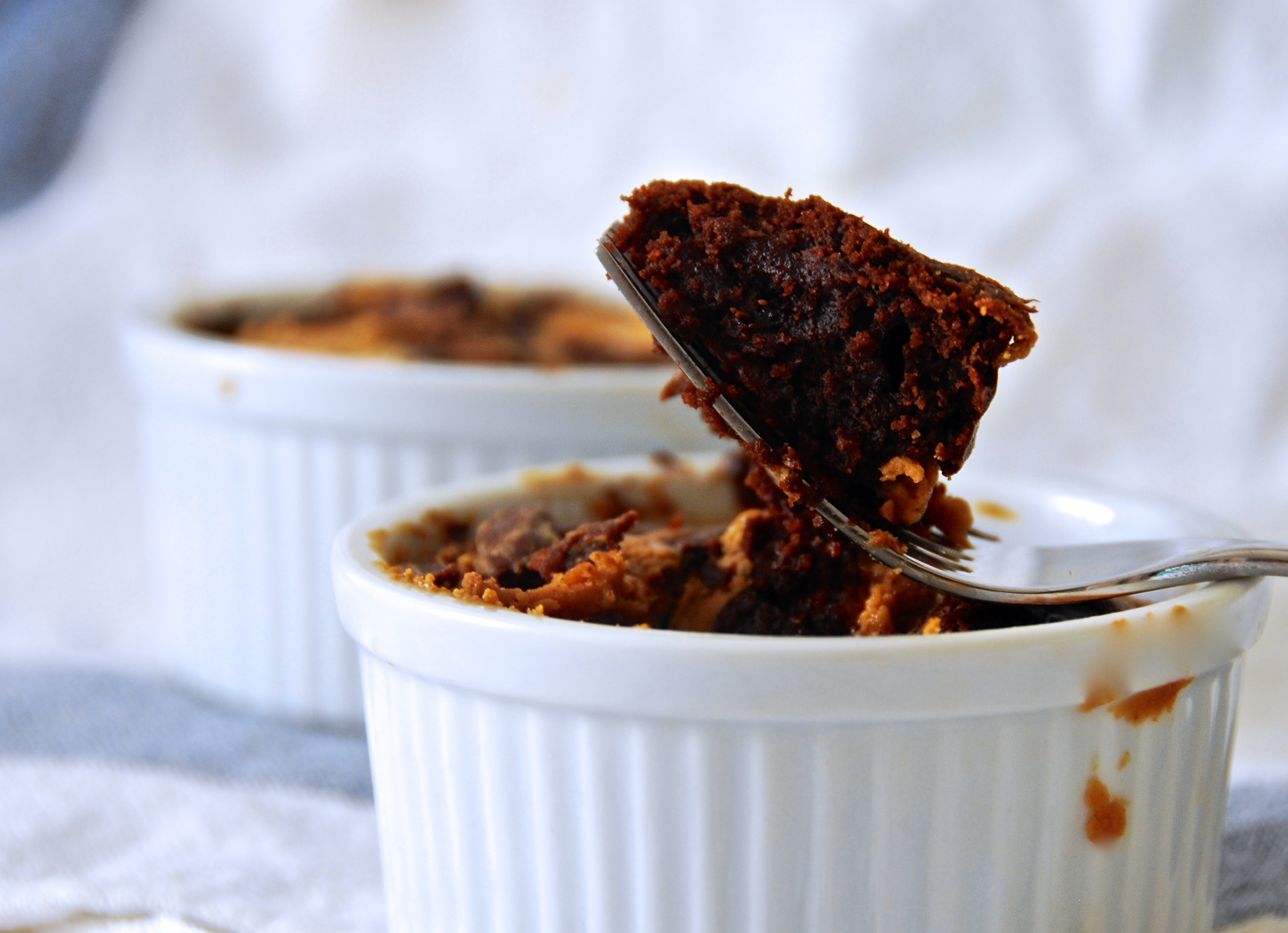 It's funny the kind of variety that will pop up if you google the "perfect brownie."  It crops up everything from dense and fudgy, to moist and gooey, to dry and cakey; recipes that swear by only melted chocolate and butter, or only cocoa powder, or some mixture of the two.  In my mind, though, the perfect brownie is one thing only, and that's the brownie you make from Ghirardelli's brownie mix — haha!  Lusciously dark, nearly-black brownies that are so gooey that it gets stuck to your fingers when you eat it.  Mmm.  Incidentally, that's exactly the kind of brownie The Baker Chick posted, but the incredible thing about hers is that they're from-scratch, homemade, the real deal.  So I had to try it.  I wouldn't say mine quite matched up to hers (not least because I let them run a little too long in the oven) but they lived up to everything they looked like they'd be.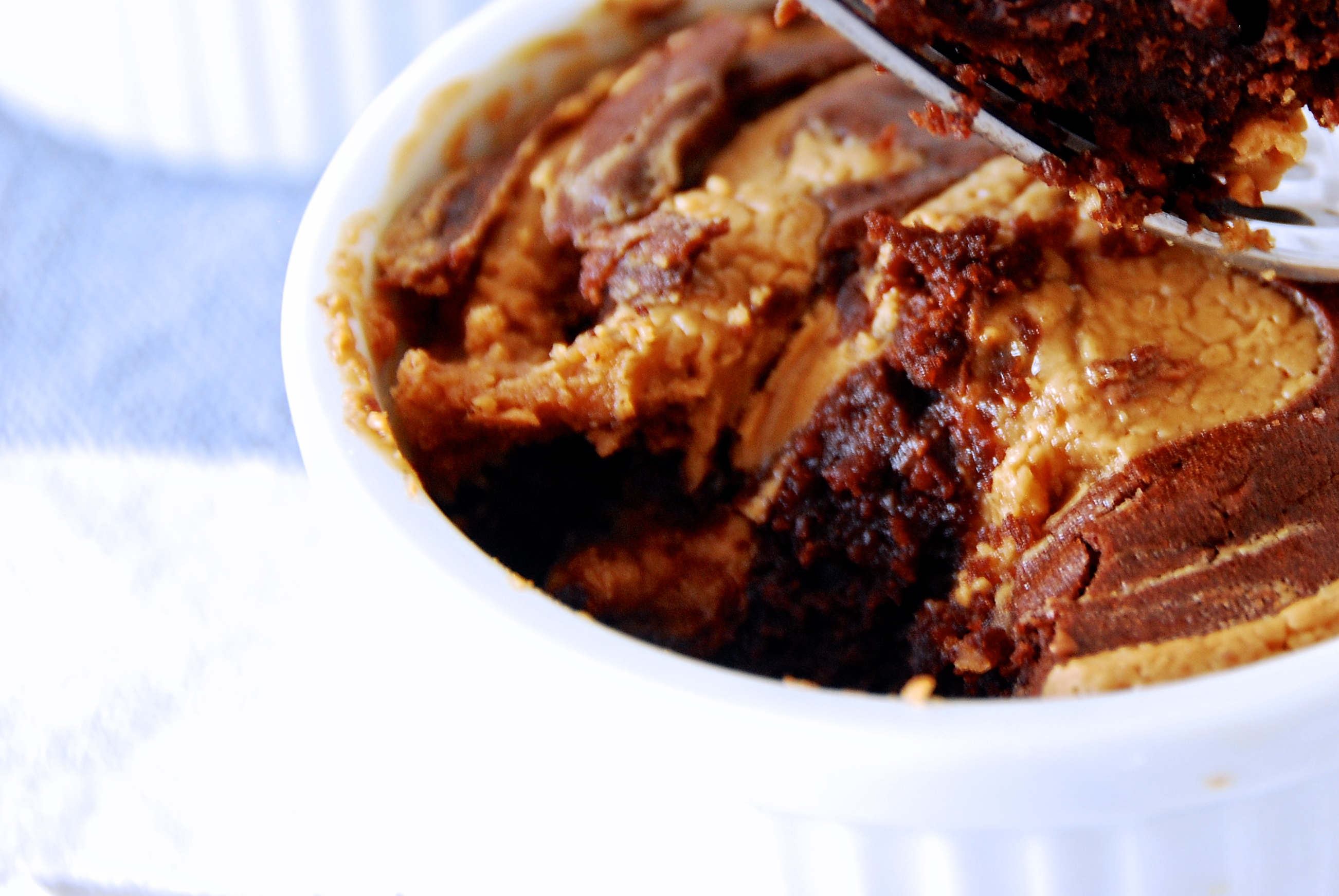 Because we are a small household, and because Bowl #2 doesn't like sweets (I know, I don't get it) I usually try to scale down recipes for desserts, either for use in a smaller pan or in individual ramekins.  (Otherwise, I have to think very carefully about how to entice Bowl #2 to eat them when he's not paying attention, or else be prepared to eat the whole pan myself.  Which I do.  Often.)
But the problem I run into most with scaling down recipes, other than being stuck with some very odd numbers, is how to divide an egg. What do I do when the entire recipe only called for one egg and I'm now trying to use a measly quarter?  Well, an egg is about 1/4 cup of liquid when beaten.  So one answer is to substitute that 1/4 cup with 1/4 cup of regular or Greek yogurt before dividing the numbers, which I did for the first iteration of this recipe (so, 1 tbsp of Greek yogurt, because 1 tbsp = 1/16 of a cup).  But, while adequate, that changes the texture and consistency somewhat, and you also miss out on a little of that oh-God-I'm-dying-of-calories feeling afterwards. And why else would you eat a brownie? So the other answer is simply to beat an egg, remove a tablespoon of the mixture, and reserve the rest for something else later — like scrambled eggs. 🙂  And that's exactly what I did the second time.  Here they are side-by-side (yogurt on the left, egg on the right):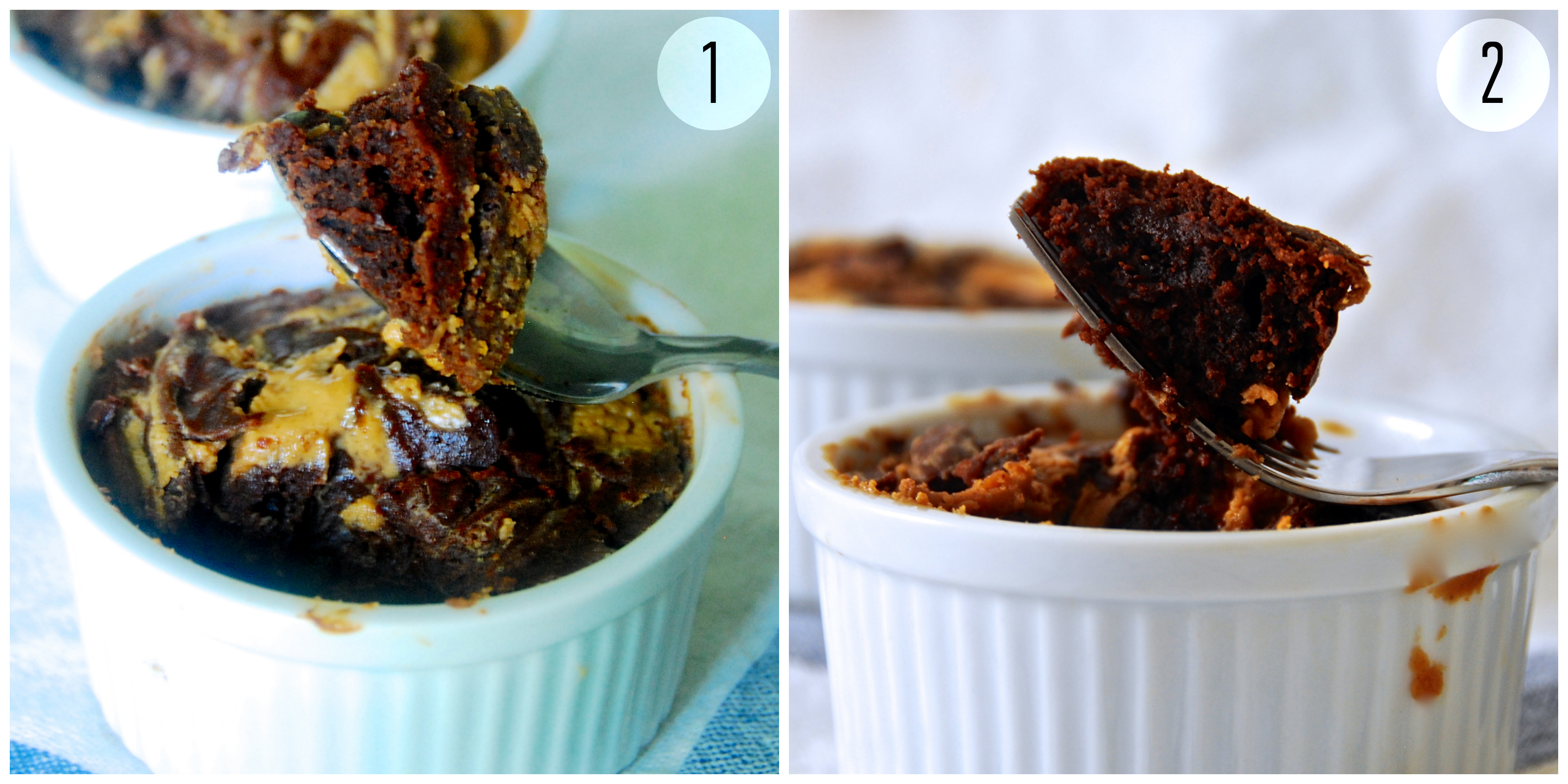 Ta-da! If you've replaced egg with yogurt in your baking before, you can probably tell the difference immediately — while the yogurt does ensure that the brownie remains nice and moist, it is noticeably denser, with a smoother and fudgier texture. It also adds a twinge of sour, though not enough to make a difference with the peanut butter, in my opinion. But it's a great, slightly lighter option, not to mention vegan, so it has a lot going for it.  I can definitely see myself opting for this again (especially when I don't have scrambled eggs in my plans).
Just one last note about my version — I tend to like the extra depth that brown sugar adds to cookies and brownies, so I replaced 1 tbsp of white sugar with brown. I also replaced the boiling water with hot coffee, because, coffee. Both are pretty common in baking with chocolate, so nothing genius here.  And finally, if I haven't lost you yet, here's the recipe!  I absolutely loved it, not least because it doesn't call for melting chocolate, just cocoa powder and you can just whip it up in one small (red) bowl.  It's going on the favorites list for sure. Thanks, Audra.
Gooey Brownies with Peanut Butter Swirl (for Two) adapted from The Baker Chick
Note: This adjusted recipe will yield one very full ramekin (about a fourth of the full recipe) and is about two to four regular brownies' worth piled into a monster one; if you prefer yours to be the thickness of a normal brownie, I would divide the batch between two ramekins.
2 tbsp unsweetened cocoa powder (dark, good quality cocoa will give you darker and more luscious brownies; I just used regular Hershey's)
one pinch baking soda
1½ tbsp vegetable oil
1½ tbsp hot coffee
3 tbsp white sugar
1 tbsp brown sugar
1 tbsp egg, beaten OR 1 tbsp Greek yogurt
¼ cup all-purpose flour
a few drops of vanilla extract
a tablespoon of chopped Reese's chunks or chocolate chips (optional) 🙂
for the peanut butter swirl:
1 tbsp creamy peanut butter, melted
½ tbsp vegetable oil or melted butter
½ tbsp confectioner's sugar (since the peanut butter is already sweet, you can replace with a tsp of flour if you don't have confectioner's sugar on hand; I used flour and it worked perfectly)
1 pinch salt (just a sprinkle)
a few drops of vanilla extract
1. Preheat oven to 350 degrees F.  Lightly grease one 8 oz ramekin, or two if you're making shallower brownies.  If you only use one, it will be filled to the height shown in these pictures.  (There are just two because I messed up the one in the background, ha.)
2. In a small bowl, stir together the cocoa and baking soda with a fork. Add a ½ tbsp of oil and the hot coffee. Mix until blended and thickened.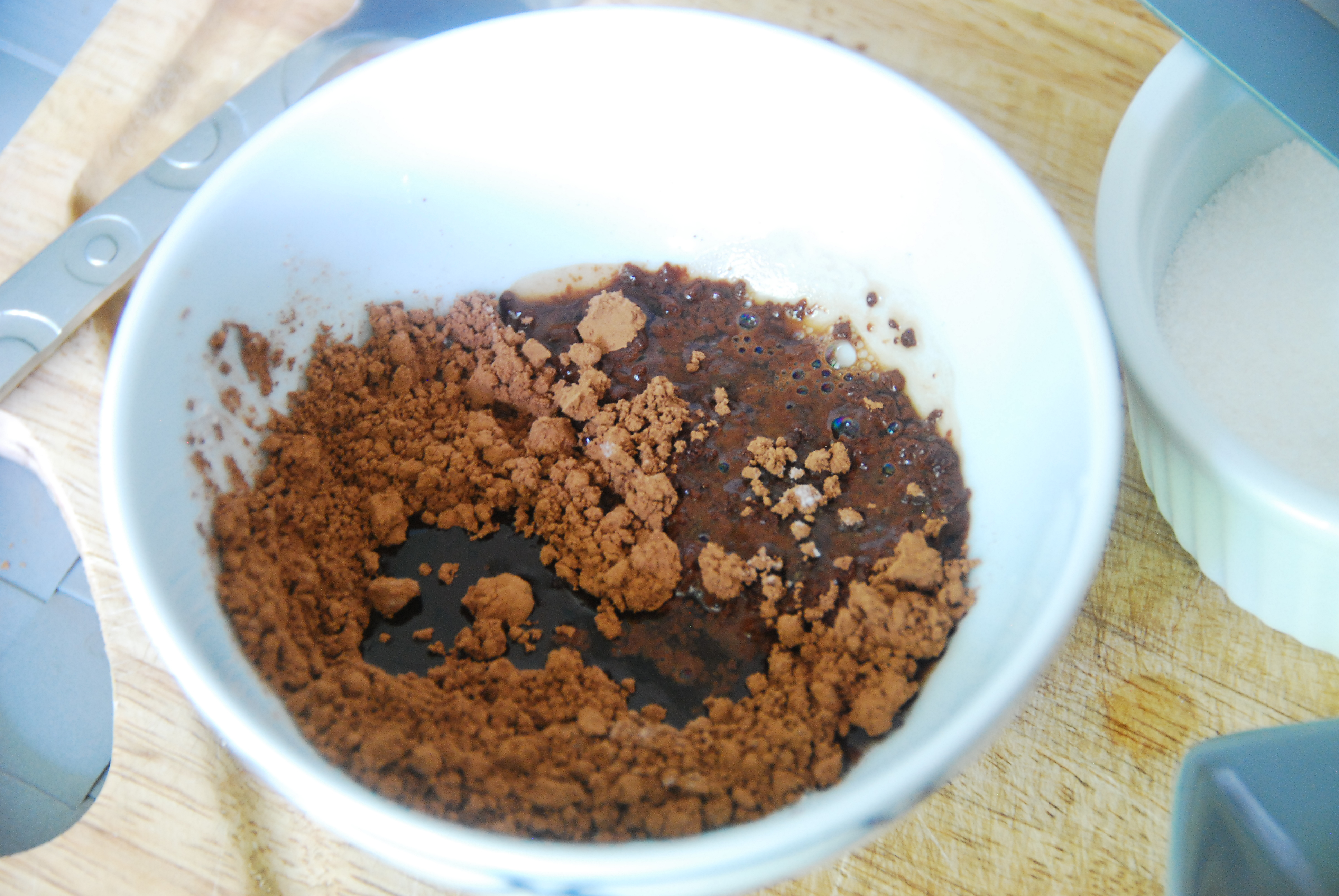 3. Next, stir in 3 tbsp white sugar, 1 tbsp brown sugar, 1 tbsp beaten egg OR 1 tbsp yogurt, and the remaining 1 tbsp of oil, again until blended.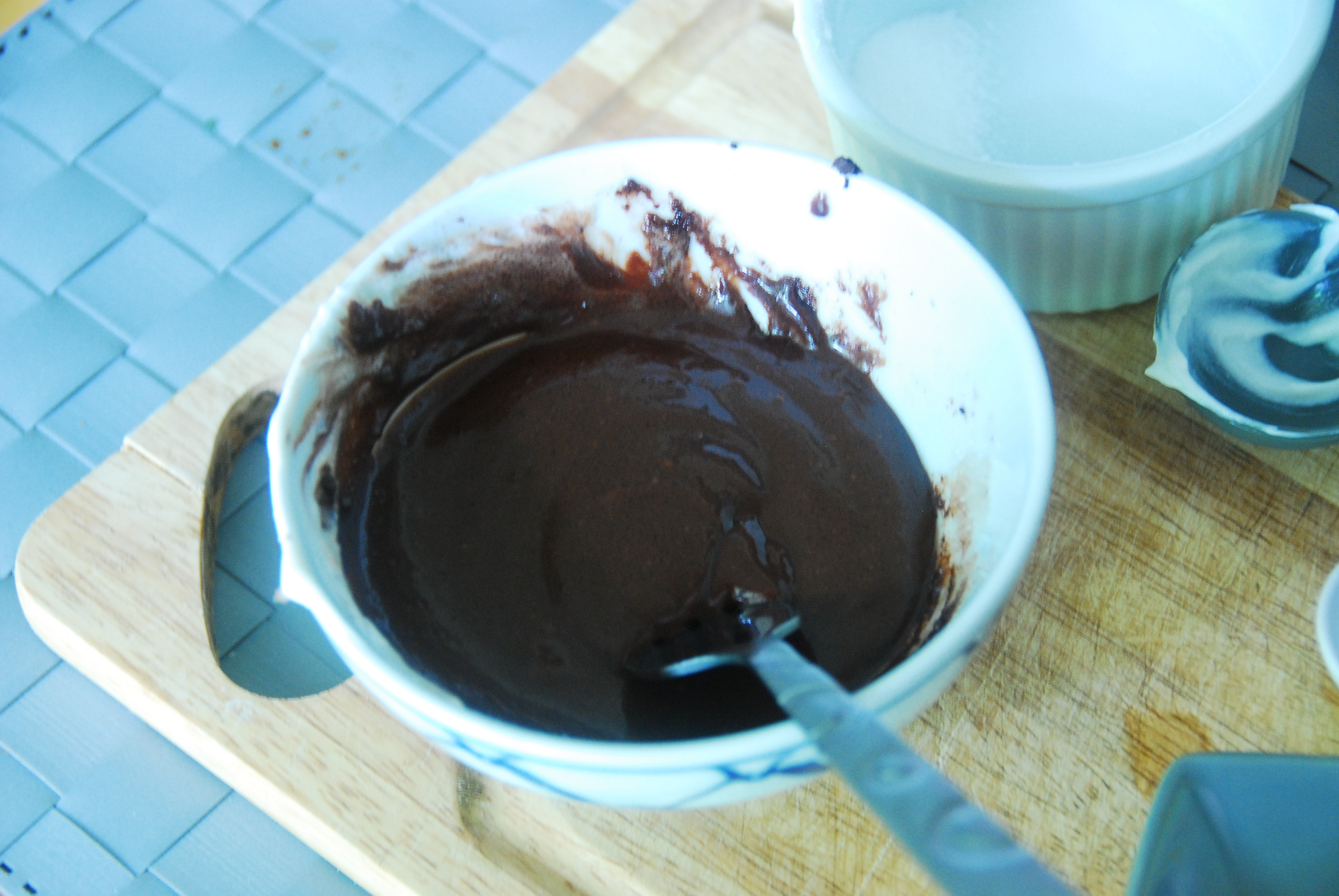 4. Lastly, add 1/4 cup flour (you can use less if you like your brownies particularly gooey), a few drops vanilla extract, and a pinch of salt. Mix gently and just until incorporated. If using chunks of Reese's or chocolate chips, incorporate gently. Set aside.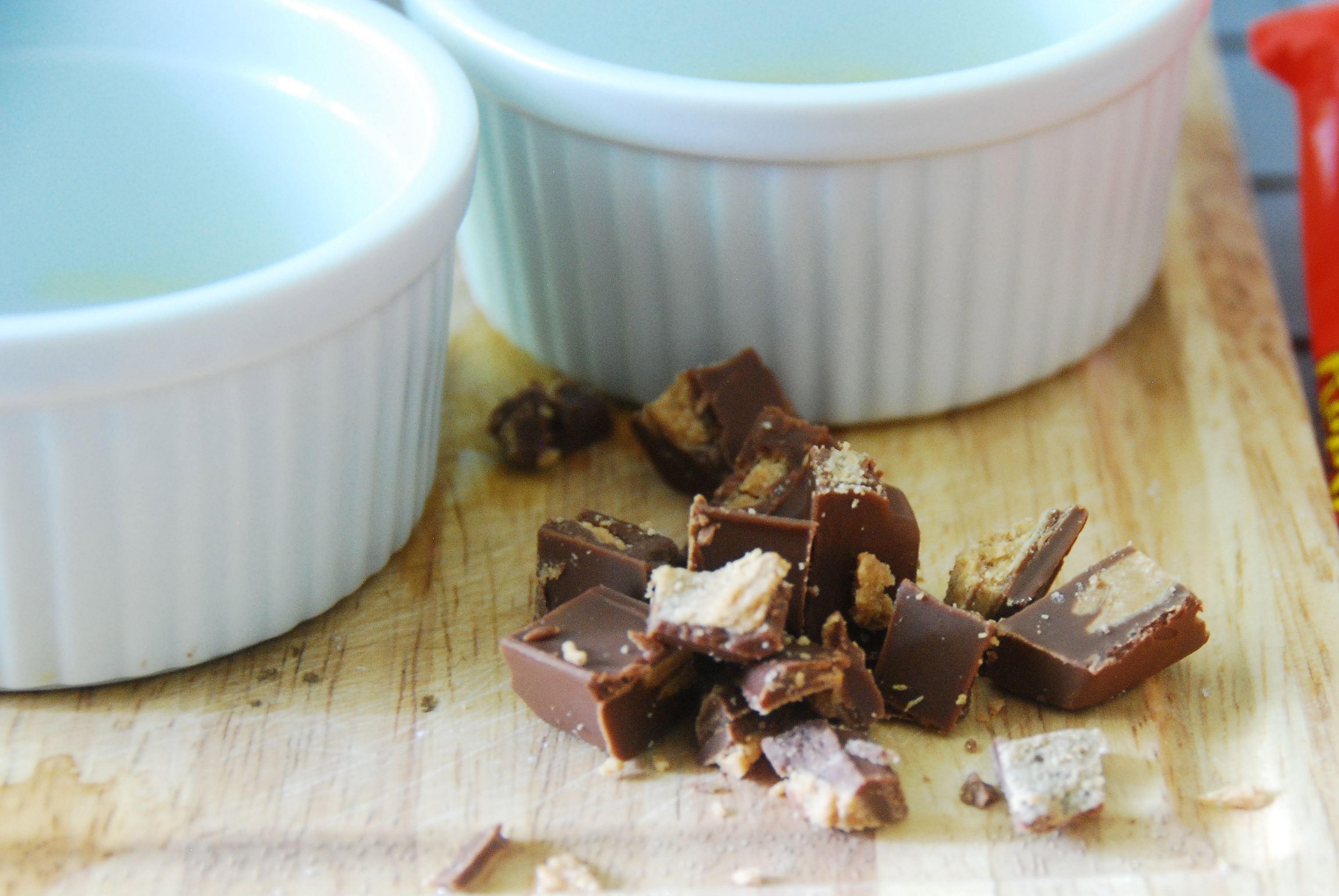 3. For the swirl, I simply stirred together all the ingredients until creamy and well-blended — 1 tbsp creamy peanut butter, heated until soft and melted, 1/2 tbsp oil or melted butter, 1/2 tbsp confectioner's sugar (or a tsp of flour, if you don't have that handy), a pinch of salt, and a few drops of vanilla extract. You want the mixture to be approximately the same thickness as the brownie batter, but I don't think the other ingredients matter as much past that — I think peanut butter on its own does work, for instance, though it dries out a bit, and peanut butter with a bit of oil would work just as well, too, so you can omit the sugar. This is just in case you, like me, don't like things too sweet. 🙂
4. Finally, pour the brownie batter into the greased ramekin(s). Dot with peanut butter filling in two to three places, then swirl with a butter knife. I generally just do one swirl, with the knife very lightly breaking the surface, in a spiral from the outside to the center — I find that if the knife blade is too deep into the mixture, things can get messy, whereas a very gentle and shallow swirl produces a more even pattern.  Though that also means that the peanut butter stays mostly on the top, so pick your poison?
5. Bake in the preheated oven for 15-20 minutes, or until a toothpick inserted into the brownies comes out almost clean.  Don't worry if it's still underdone when you take it out!  I feel like I'll never stop falling for this mistake when I bake … I remember the first time I ever made cupcakes I was scared they were underdone and they hardened up like rocks. And still, after all this time, I thought my brownie cups were underdone and they didn't have that delicious gooey near-raw-ness at the center that is the best part. Ha. So I wouldn't let it go past 20 minutes (but, if you like a cakier brownie, feel free to let it bake the full time!)
Enjoy!  And CONGRATULATIONS to anyone else who just took the bar too!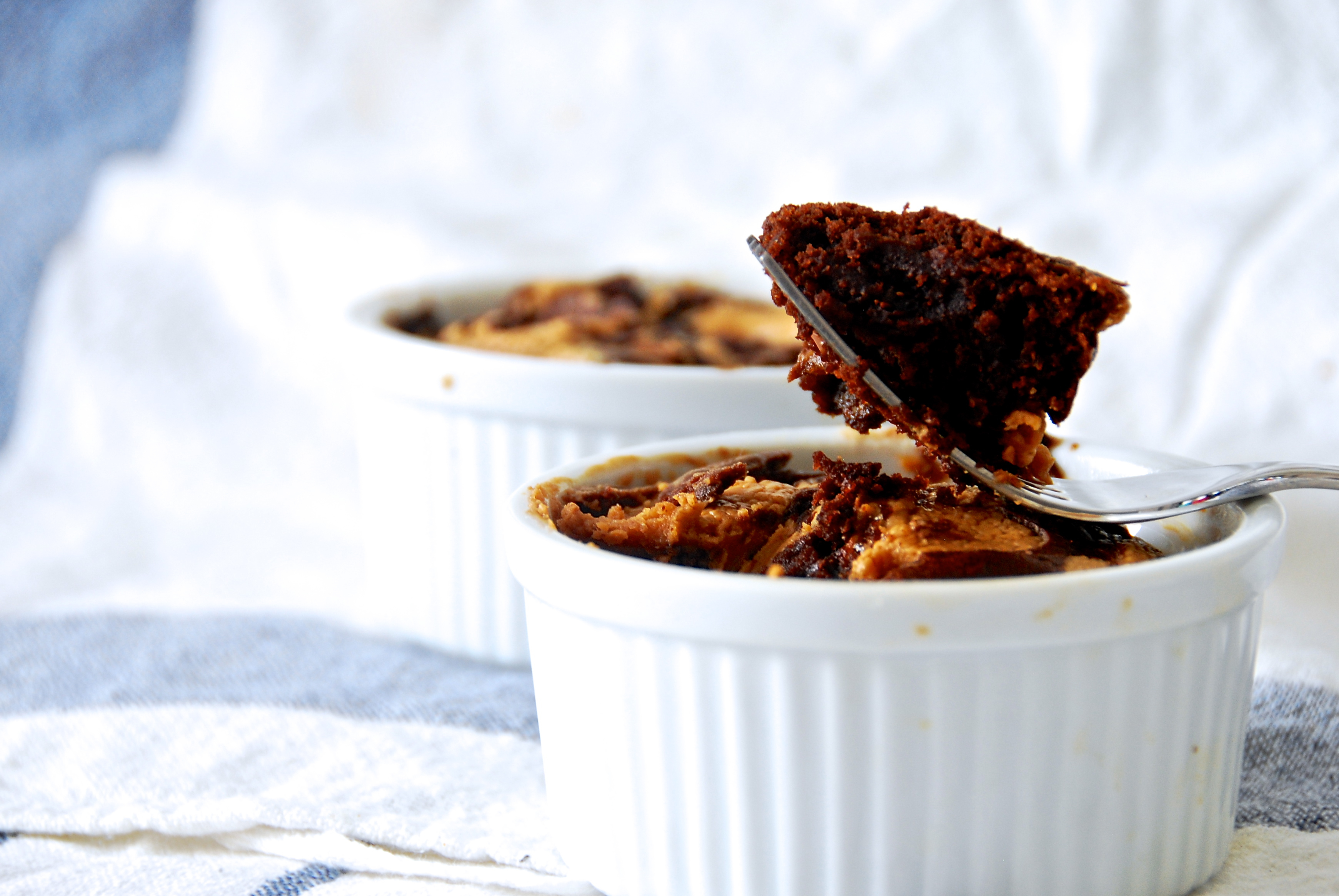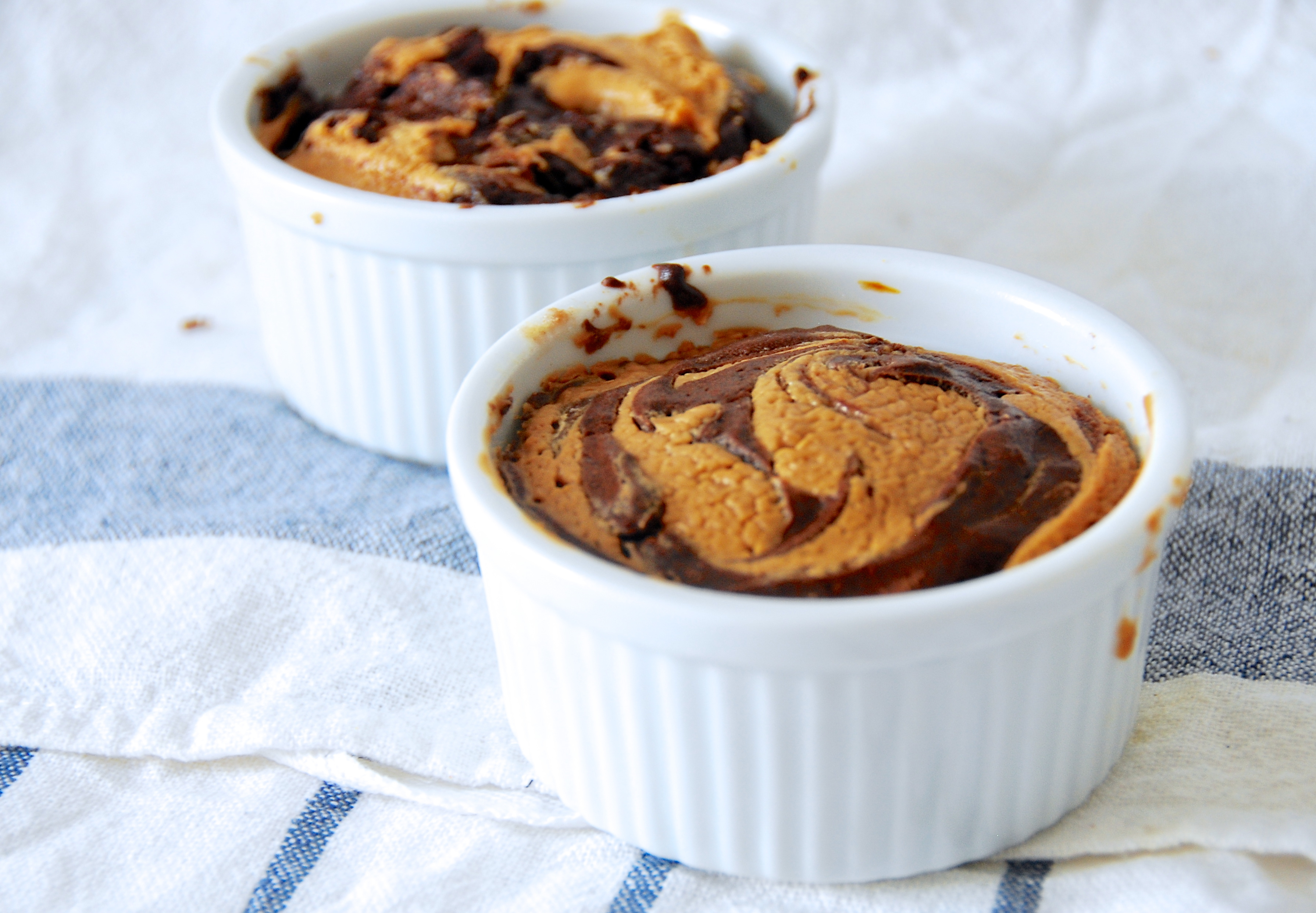 And lastly, here's a zoomed out picture of the sad stepchild brownie that I messed up, in the background.  I thought I'd include it, after I came across an interesting discussion that I saw on Spontaneous Tomato the other day about how food blogging can be misleading and doesn't tend to show the failures, but only the successes.  Well, let it be known that I have a crap ton of failures.  Haha.  But I will say, too, that this recipe in particular was symptomatic of a lot of that discussion, where getting a perfect picture sometimes gets in the way of what's really important — eating!  I let these bake a little too long because I was afraid of how they would turn out, and I'm afraid I redid them in the first place only because I wanted them to look prettier.  (The failure, for instance, was perfectly delicious.)  Things to keep in mind as this baby-blog grows.