Last weekend, the folks behind my favorite shop in LA, Now Serving, hosted a bake sale to raise funds for Australian bushfire relief. I've felt at a loss lately as to what to do as the fires continue, so I was so grateful to have the opportunity to bake these cupcakes as part of the sale. I hadn't planned to post the recipe, but more of you asked for it than I expected, so here they are after all (and in my Stories highlights, too).
These cupcakes were inspired by a beloved black sesame chocolate loaf recipe in my cookbook, but made into cupcakes using Ina Garten's Pancake Princess bakeoff-winning chocolate cake recipe. If you are ever making something for a crowd, using the winner of one of Erika's bakeoffs as your guide is the way to go–all 60 came out beautifully, so moist (as in, moist enough to keep in the fridge without drying out!) but fluffy, with picture-perfect domes. Combined with black sesame, they're deeply chocolatey but with a toasty, nutty undertone to them that makes them neatly complex.
The loaf version in the cookbook comes out a little richer, with an almost Reese's peanut butter-chocolate taste to it, but it's too dense for cupcakes (alas!), so the mascarpone buttercream that went on top of these helped bridge that gap. This one is adapted from Baker Bettie and it's my new favorite–the first I've made that is just as easy as American buttercream but has all the benefits of the more finicky Italian or Swiss buttercreams, far less sweet, so incredibly silky, and still structured enough to pipe. I may never make another. With black sesame in the frosting and piled atop chocolate cupcakes, the result is a kind of toasty grown-up cookies and cream cupcake, reminiscent of childhood but just a little more nuanced.
If I'm being truthful, all the news day after day has me feeling a little overwhelmed these days–struck by how many lives are being affected around the world so devastatingly, and for so many reasons. I'm immensely thankful for friends like Now Serving for leading the way for those of us wondering how to help. If you're feeling like me as well, their online fundraiser is still open here.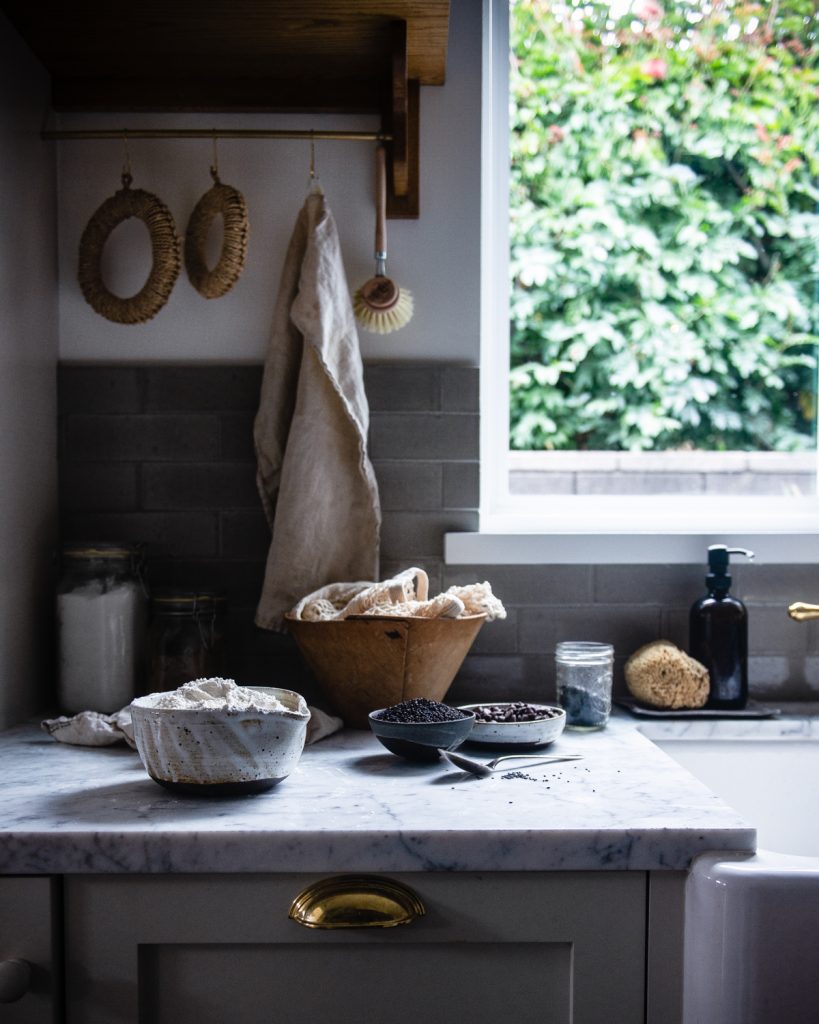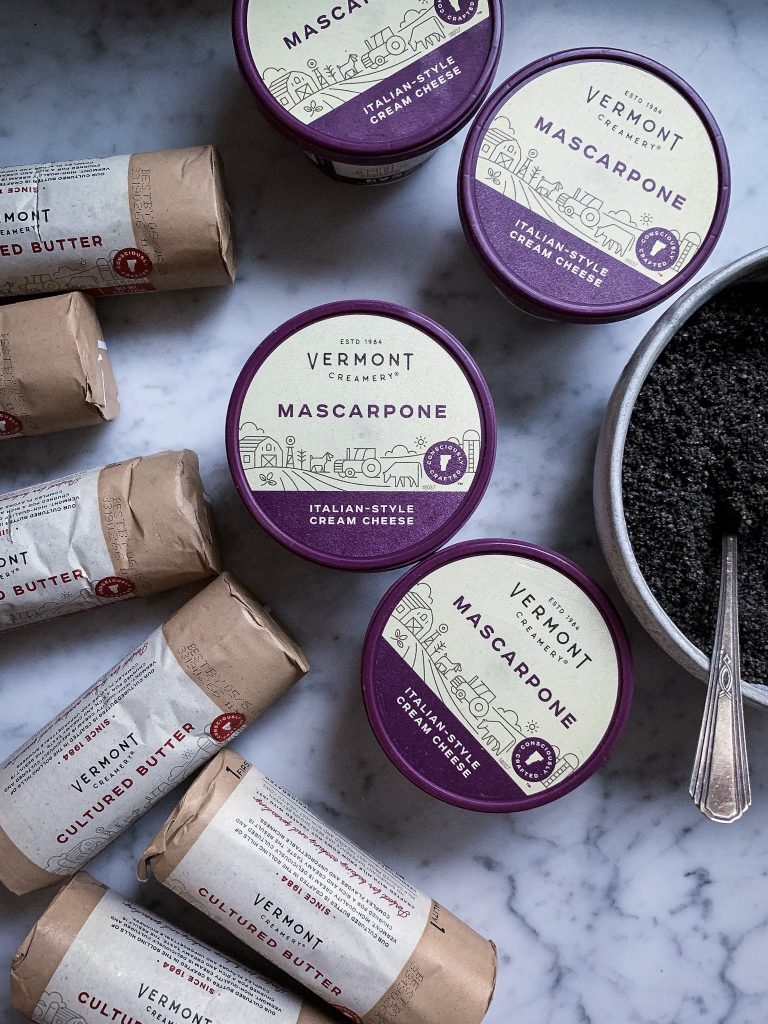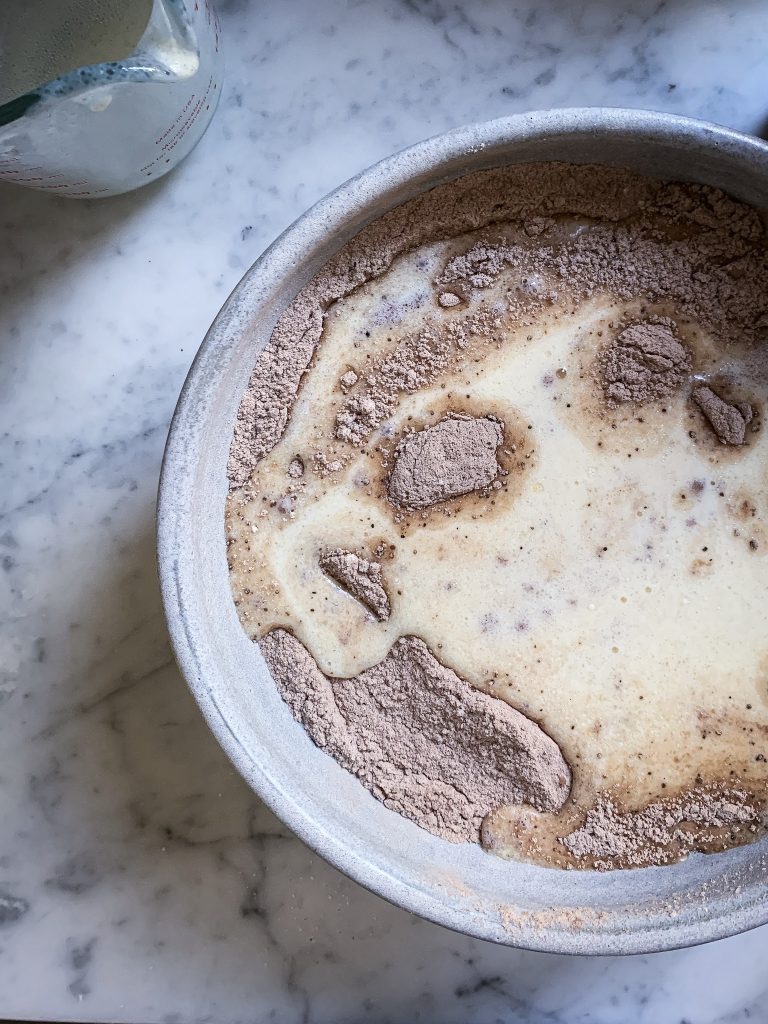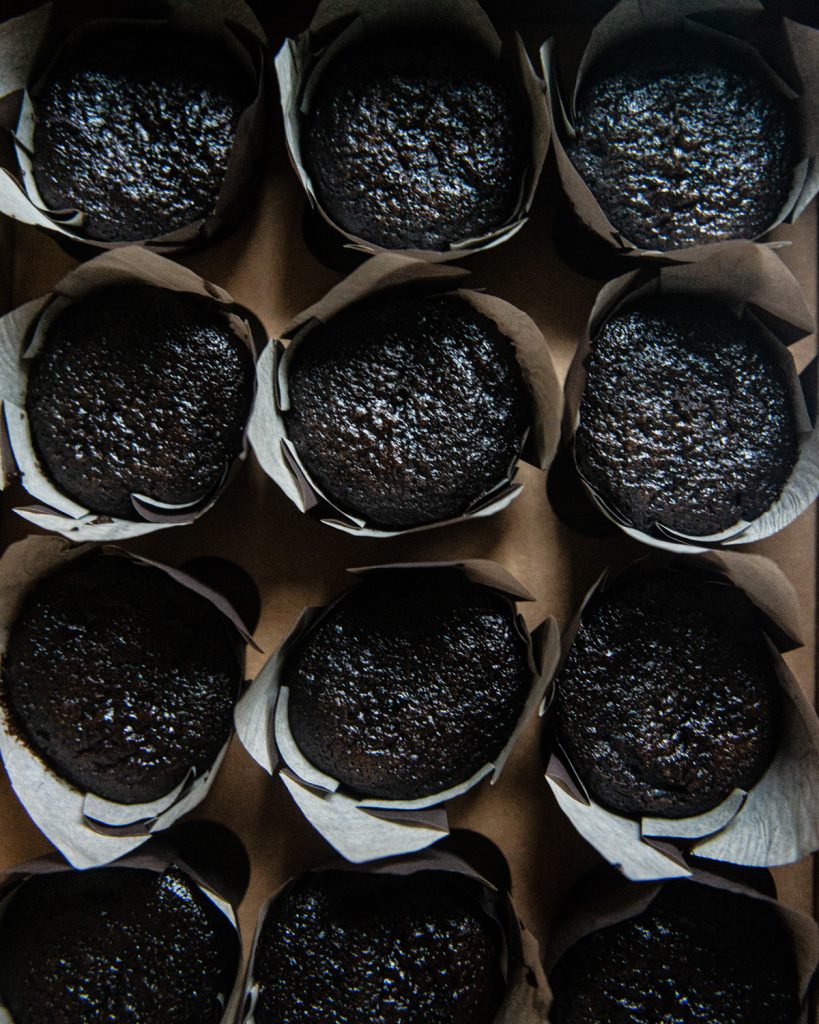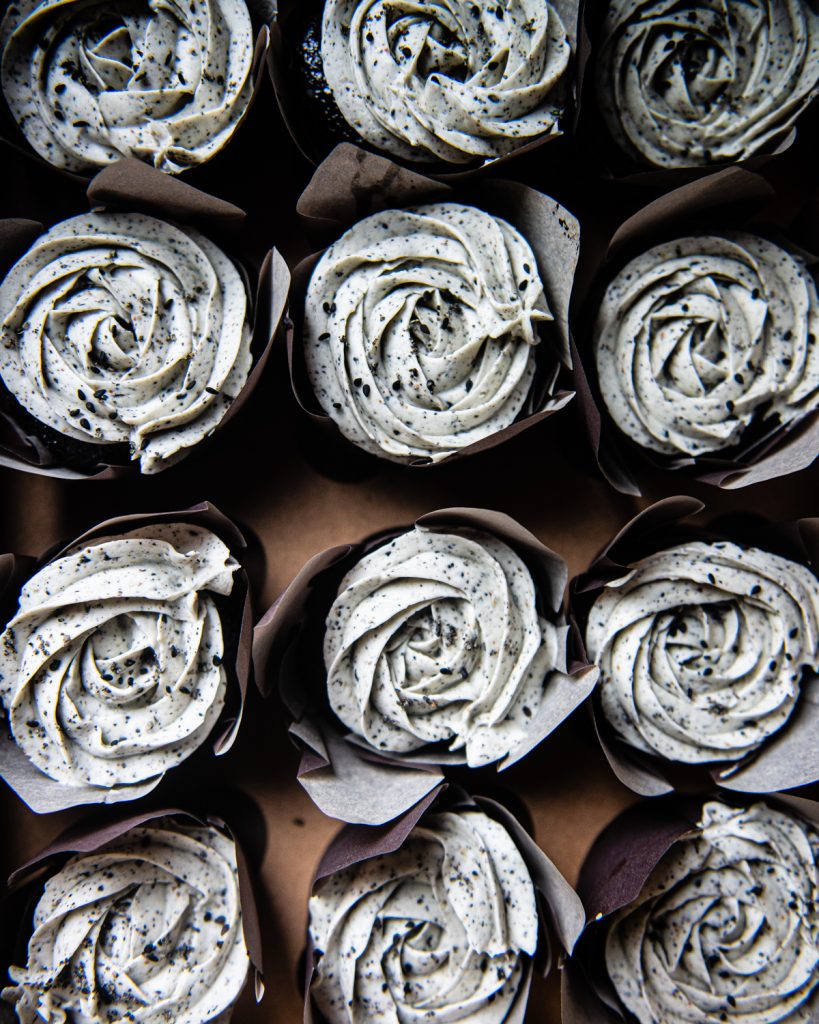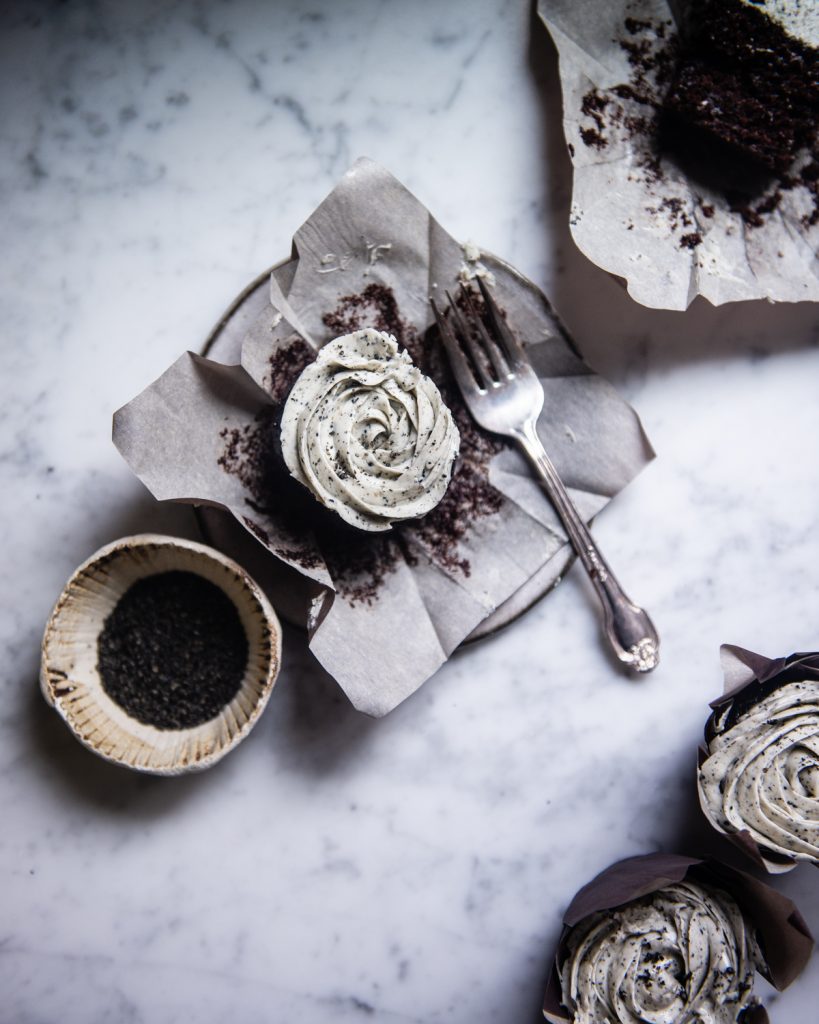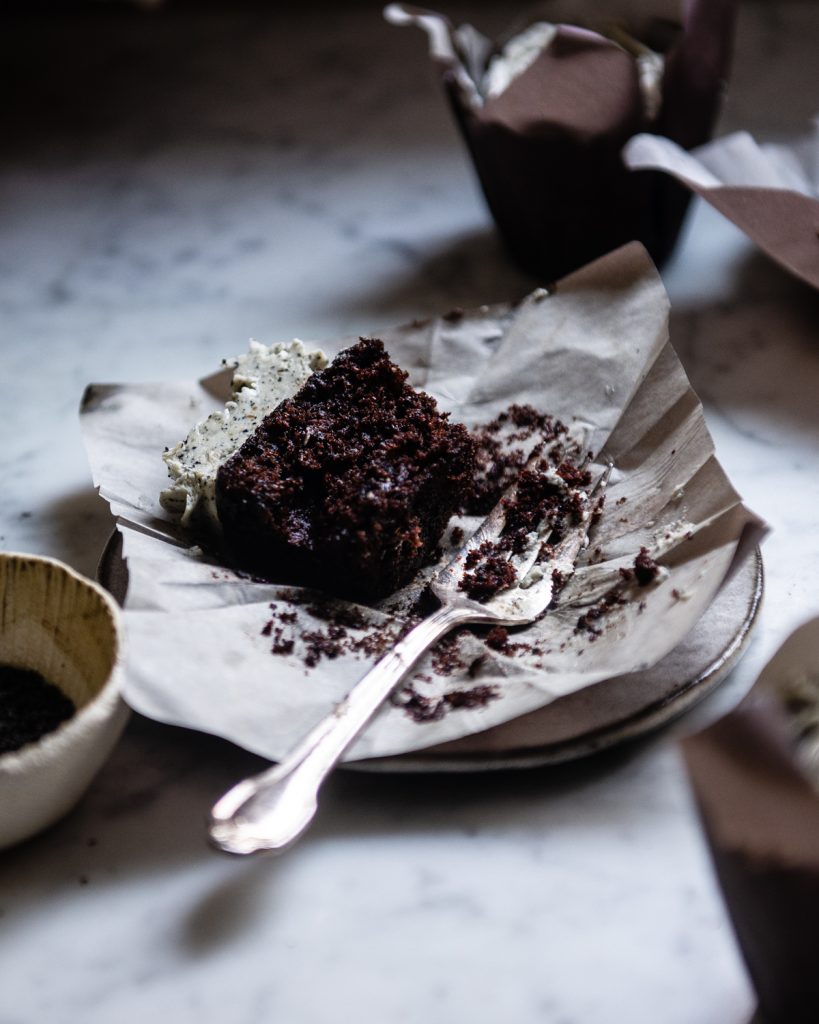 Print
black sesame cookies & cream cupcakes
Yield:

18

–

24

cupcakes (less if you use tall tulip-style liners, more if you make standard cupcakes), but also easily halved

1

x
For the toasted black sesame flour:
1 cup black sesame seeds
For the cupcakes:
1/2 cup (65 grams) toasted black sesame flour, from above
1 3/4 cups (218 grams) all-purpose flour
1 1/2 cups granulated sugar (or up to 2, if you prefer sweeter)
1/2 cup cocoa powder
2 teaspoons baking soda
1 teaspoon baking powder
1/2 teaspoon salt
1 cup buttermilk
1/2 cup neutral oil
2 large eggs
1 teaspoon vanilla
1 cup hot brewed coffee (or 1 cup hot water)
For the black sesame mascarpone frosting:
1 cup (2 sticks, or 8 ounces) unsalted butter, at room temperature
1 cup (8 ounces) mascarpone, at room temperature (my favorite is Vermont Creamery)
1/4 cup heavy cream, at room temperature
1 1/2 cups confectioners' sugar (or up to 2 or 3)
1/2 cup (65 grams) toasted black sesame flour, from above
1/2 teaspoon vanilla extract
1/4 teaspoon salt (optional)
Instructions
In a dry, heavy-bottomed skillet over medium heat, toast the black sesame seeds for 2-4 minutes, or until they begin to smell fragrant, warm, and roasty.  A few may jump in the pan.  If they begin to smell at all burnt, remove immediately from heat.
In a food processor, blend the black sesame seeds for 1-2 minutes, or until the seeds form a flour similar to the consistency of almond meal.  Set aside.
For the cupcakes:  Preheat your oven to 350 degrees.  In a large bowl, whisk together 1/2 cup of the toasted black sesame flour, the flour, sugar, cocoa powder, baking soda, baking powder, and salt until well-combined.  In a separate measuring cup, whisk together the buttermilk, oil, eggs, and vanilla.  (While you do this, you may want to brew your coffee if you haven't already.)
Add the buttermilk mixture to the flour mixture and whisk just until combined.  Pour in the hot coffee (or hot water, if preferred) and stir until incorporated.  The batter will be quite liquid–this is fine!
Divide the batter between 18-24 cupcake liners.  If you're using taller tulip-style liners, fill to about 3/4-inch below the top of the liner, and you will only need about 18.  If using standard liners, fill 3/4-full or divide evenly between 24 liners.  The batter is fine to refrigerate if you need to bake in more than one batch.
Bake for about 18 minutes, or until cupcakes are slightly domed and bounce back when pressed, and when a cake tester comes out clean or with only a crumb or two attached.
For the frosting:  While the cupcakes are cooling, make the frosting.  Be sure to let your frosting ingredients sit at room temperature for at least a few hours to let them warm.  If the mascarpone is at a different temperature than the cream or butter, it can curdle.
When your ingredients are all at room temperature, combine in a stand mixer and beat with the paddle attachment at medium-high to high speed for about 5 minutes.  (I accidentally used a balloon whisk–it worked fine!)  For me, I made three batches and each time the mixture started out curdly and scary-looking–perhaps because of the whisk–even though they were all at room temperature, but eventually it came together around the third or fourth minute and turned pale, light, and fluffy.  Once it does, stop the mixer and scrape down the bowl, then let the mixture whip for a few more minutes.
Turn the mixer down to medium and add the powdered sugar, 1/4 cup at a time, until incorporated.  I found I only needed 1 1/2 cups for a frosting that was pipeable yet not too sweet, but you can add up to 2 or 3 (or more) if you prefer.
Finally, add the vanilla and the remaining toasted black sesame flour.  (If desired, reserve a little sesame flour for sprinkling on top.)  Once incorporated, stop the mixer and fold any streaks into the frosting.
When the cupcakes are fully cool, frost as desired.  I used an open flower piping tip to pipe inexpert rosettes on these, using tutorials from Tessa Huff and Lyndsay Sung's beautiful cake books.  And enjoy!  
Notes
Because these have mascarpone in them, refrigerate if not eating immediately.  The cupcakes are so nice and moist that they keep beautifully even after 48 hours in the refrigerator.  Let the cupcakes come back to room temperature before enjoying, as the frosting will firm up when chilled.  
The frosting is best piped or used immediately after whipping, but can be made ahead and refrigerated.  If you do, let the frosting warm up for 30 minutes to an hour and then re-whip.  It will be a bit grayer in color from the black sesame seeds, but is otherwise fine.