Earlier this summer, I spent a few glorious hours in Venice at The Tasting Kitchen in what felt like an endless parade of dream brunch fare. Before this I'd never had any kind of chef's menu or omakase-type meal, but a group of us opted for their tasting menu (because that seemed like what you should choose at a restaurant similarly named) and it was a culinary romp that makes me wish I could splurge on that kind of treat all the time:  a smorgasbord of baked goods to start, with tender, butter-yellow biscuits, dense and moist breakfast cakes studded with fruit or dark with spices, and sticky pecan buns drenched in syrup; little lox and cucumber sandwiches in crunchy, unabashedly buttered toast; omelettes tucked neatly around tomatoes and creamy avocado; perfect parfaits (redundant?) with sweet sliced plums and berries on top.
By the time the parfaits came we assumed, from its vague dessert-iness but more from our painfully stretched bellies, that that was the last course — so the reaction when another course came (including an entire platter of chicken and waffles) was something like excitement bordering on terror.  But the tomato-braised eggs and polenta that inspired this dish was part of it, and it should say something about how amazingly incredible it was that (a) I still managed to eat so much of it, (b) it wasn't overshadowed, both literally and figuratively, by the actual mountain of chicken and waffles that it came alongside, and (c) it was the thing I most wanted to make again after the brunch was all over.
This recipe is probably the simplest rendition you could possibly find of the Tasting Kitchen's version, but it preserves everything I loved from their creation.  On top it's a kind of pared-down shakshuka, a simple tomato sauce that cradles a cheerful crowd of softly (or fully, for us pregnant folk, grr) cooked eggs, and underneath that snug tomato blanket is the polenta, creamy and indulgently cheesy in a way that perfectly balances out the sweet acidity from the tomatoes.  And it's finished off with toasty garlic bread, crisp with drizzled olive oil, for scooping.
The best part (courtesy of Joy the Baker) is that the polenta is baked — hands off, no stirring! — literally poured into a skillet with water or chicken stock and left to simmer in the oven until just shy of done, before getting a glorious dose of butter and even more glorious cheese.  (OK, so there is some stirring here, but it is quick and painless and gives you an excuse to eat some even though it's not done yet.)  This shortcut is only matched in its miraculous quality by the tomato sauce, which is the fabled Marcella Hazan sauce that I've been meaning to try for so long, made from just three ingredients (plus a fourth, garlic, because I couldn't resist) and absolutely perfect, too, in its simplicity.  Since we're cooking more lately in California, and since I'm getting rolier and polier by the day, these unbelievably simple shortcuts are my very favorite thing — especially when the reward is this good.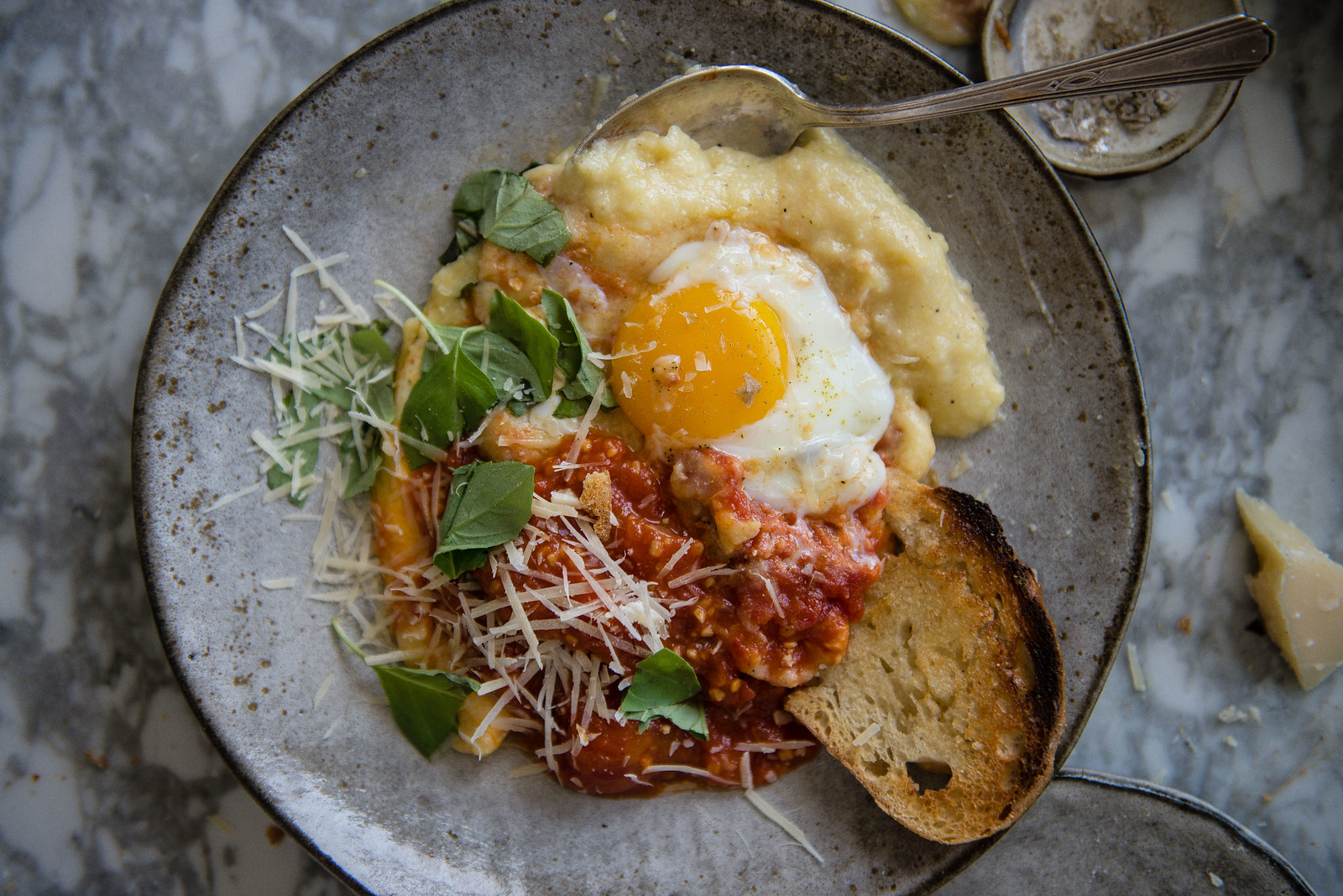 Print
Tomato-braised eggs and creamy baked polenta
4 cups

water or chicken stock

1 cup

coarse ground cornmeal

1 tsp

salt (you may want to decrease this, if using chicken stock)

1

28-ounce can whole and peeled tomatoes (or about

2

lbs fresh, ripe tomatoes; see Notes)

1

onion, peeled and sliced in half

1

stick (1/2 cup or

113g

) unsalted butter, divided

1

–

2

tsp minced garlic (optional)
salt and crushed red pepper flakes to taste

1/2 cup

grated Parmesan cheese, plus more for topping (if desired)

4

eggs

1/4 cup

fresh chopped basil
toast, for serving
Instructions
Place a rack in the upper third of the oven and preheat oven to 350 degrees F. In an 8×8-inch baking dish or a 10-inch cast-iron skillet, stir together the water (or chicken stock), coarse cornmeal, and salt. The cornmeal will sink to the bottom of the pan and the water will turn a bit cloudy. Bake for 45 minutes.
Meanwhile, make the tomato sauce. If using canned tomatoes, combine the tomatoes (juice included), half the butter (4 tbsp, 2 ounces, or about 66 g), onion halves, and garlic (if using) in a medium saucepan over medium heat. (If using fresh tomatoes, see Notes below.) Keep the onion halves whole — or, you know, halved — for easy removal when the sauce is done. Bring the sauce to a simmer and cook for 40 minutes, stirring occasionally. The sauce will gradually reduce. The tomatoes should break down, but will stay somewhat chunky. Remove the onion halves, reserving if desired — I saw a great note somewhere that you can use them as a spread on toast, which I did and loved. Add salt and red pepper flakes to your liking, and set aside.
Remove the polenta from the oven and add the remaining 4 tablespoons of butter and Parmesan cheese to the skillet, stirring until melted and fully incorporated. Spoon the tomato sauce over the polenta. Make four divots in the tomato sauce, and crack the eggs into each. Return to the oven to bake for 15 minutes, until eggs are set to your liking and polenta does not jiggle. (If you want your eggs softer, take the polenta out around 12-13 minutes, and if you are like me at the moment and need them cooked through — wah — bake for 18-20.) Enjoy immediately, with fresh basil over top and extra Parmesan.
Notes
When tomato season is in full swing like it is now, you should feel free to use fresh, ripe tomatoes for the sauce instead. Marcella Hazan recommends two methods, as found here (courtesy of Smitten Kitchen):
Blanch: Plunge the tomatoes in boiling water for one minute. Drain them and let cool, then skin and slice into coarse pieces.
Puree through a food mill: Cut the tomatoes in half and place in a saucepan over medium heat. Cover and cook for 10 minutes, then transfer to a food mill fitted with the largest holes. Puree through the food mill into a bowl.
Once prepared, use in the same way as the canned tomatoes, written above.