It's the most polarizing holiday of the year! Yay! The Bowl household is pretty neutral on the V-Day. We don't mind it. But we're also a tad lazy. So what happens is I end up making goofy foods into heart shapes (what do you mean Spam's not romantic? And, um, no, I'm pretty sure bindaetteok were meant to be made into hearts), then we just pig out and watch movies in our sweatpants.
Yep. This is a thing that happens in the Bowl Home for Valentine's Day.
In his defense, Bowl #2 has more initiative than me — last year he strung fairy lights all around his basement bedroom before I got home, and that was pretty awesome. I love fairy lights. (This year, we'll have 'em too, because why? Because we still haven't taken down our fairy lights from Christmas. Aw yeah. Laziness win.)
So, in the spirit of Bowl #2's sentimentality, I tried my hand at making something that's actually cute in a heart shape. Or … (yet another) type of mochi. After my first post on plain mochi, the idea of rose-flavored mochi popped into my head and would. not. leave. Rose mochi, you guys. Like Turkish delight that wandered into the Asian side of Turkey and then kept going til it hit Japan, then met some mochi and made Turkish moch-elight babies. What could possibly be better?! Nothing, that's what. Nothin'.
I made a few slight adaptations to the recipe here — it's only a half-batch this time, and I subbed in a lighter milk than coconut (I used almond). You can use the original coconut milk recipe and simply add a tablespoon or two of rosewater — it'll work just as well (in fact, better). This recipe came out a bit softer (dangerously so when it first came out of the oven) but still held together in the end, yielding the same pillowy soft texture, but with the added headiness of that alluring, Edmund and the White Witch, Turkish Delight-ful rose flavor. This is maybe my favorite thing ever, y'all. So so good. (Just like a Turkish moche-light baby.)
Note: Having compared side-by-side, I still have to say that the original recipe with coconut milk is noticeably superior — it's just richer, with a luxuriously sweet depth of flavor. But if you don't have much use for coconut milk (and I didn't) using whatever milk you have on hand will still work.
Print
Rose Mochi
a half-batch recipe for lighter mochi, based on this recipe. To make this according to the full-fat coconut milk recipe, omit the almond milk, and instead use 1/2 cup water and 1/4 cup plus 2 tbsp coconut milk. You may also want to decrease the sweet rice flour to 1/2 cup.
1/2 cup

plus 2 tbsp sweet rice flour

1/2 cup

sugar

1/4 tsp

baking powder

3/4 cup

almond milk (soy or regular milk would likely work, as well)

1/2 tbsp

oil

1 tbsp

rosewater

one

drop red food coloring (optional)
starch
Instructions
Preheat oven to 275 degrees. Line a 9×9 glass baking dish with parchment paper.
In a large bowl, whisk together the mochiko, sugar, and baking powder. In a separate bowl, whisk together the almond milk, oil, rosewater, and food coloring. Add the wet ingredients to the dry and whisk until the mixture is smooth and no lumps remain. Unlike most baking, you don't need to worry about overmixing the ingredients, since mochi is dense and chewy to begin with. So whisk away! Alternatively, if you have this nifty food processor you could win below (ee!), combine the mochiko, sugar, and baking powder in the food processor and pulse to sift together. Pour the almond milk, oil, rosewater, and food coloring into the food processor and pulse again until well-incorporated.
Pour the mixture into your lined baking dish. Cover tightly with foil and bake for 60 minutes. The mochi is done when it is soft and gelatinous but holds its shape when touched. Note that it's important to cover the mochi. Leaving it uncovered, as is the way with Chinese red bean rice cake, will result in a drier, cakier texture.
Let cool completely or overnight. Dust a surface with your starch (alternatively, you can simply use more mochiko flour) and turn the mochi onto the surface. Sprinkle starch over the mochi. Wrap a knife in Saran wrap to prevent the mochi sticking. Using the wrapped knife, cut the mochi into small pieces, then dust again with starch or flour, and serve. Alternatively, you can use a small heart-shaped cookie cutter to cut individual mochi pieces out that way.
Notes
Sadly, if you do the cookie cut-outs for these mochi pieces, you won't be able to reuse the scraps, so it's best to try to cut them as closely as you can — and then just chop up the scraps to use as froyo topping! Or gobble it up in one go.
Last but not least! (More like, last but most.)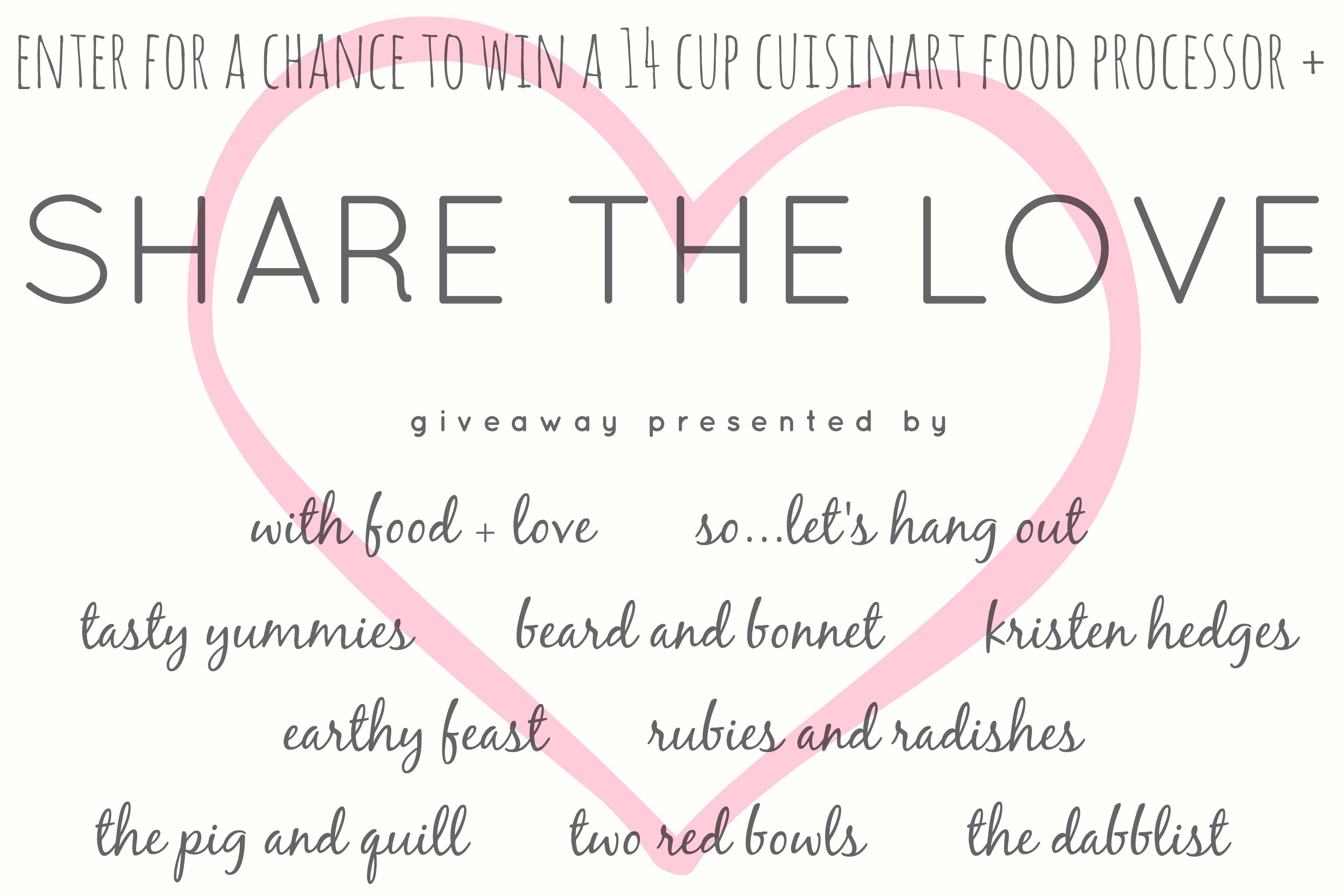 For my first blog Valentine's Day, I'm teaming up with these lovely bloggers below to participate in my (first ever) giveaway. Sherrie at With Food + Love and Gina at So…Let's Hang Out have put together a "Share the Love" giveaway, where we'll be giving away this 14-cup Brushed Stainless Steel Cuisinart Food Processor. I have the 3-cup version of this food processor and it has never once steered me wrong. I use it for red bean paste, pie crusts, mincing anything and everything — it's wonderful. And you can even use it to make this mochi, as I've noted above. Enter by liking me or anyone on the list below on Facebook or Pinterest below using the widget — you get extra entries for everyone you like. The giveaway runs from today until February 21st 25th! Deadline extended until Tuesday! Sherrie will be organizing the gift for the winner. Readers must be 18 to enter and must be located in (or be willing to have it shipped to) the continental United States. Good luck! 🙂
The other participating bloggers can be found here: