Today is the first day of the rest of my life.
Okay, so I just wanted to say that to be dramatic. Haha. But today is the day I finally start work at my law firm. Full-time grown-up "associate" work for the first time, ever! It's been almost three months since we took the bar exam, and after my whopping 90 days of funemployment, I think I'm as ready as I'll ever be to enter the real, real world.
The last few weeks of my post-bar pre-work freedom have been the best kind of blur. Bowl #2 started work earlier than me, so since coming back from my parents' place, I've been left to my own housewifely devices in our apartment during the day. And boy, I really went at it. I think I baked or cooked at least three (if not four, if not more) things every day, running back and forth between dough rising in the kitchen, to photographing food in our study, to the oven timer going off, to butter softening for frosting, to dishes piling up in the sink. Half the time, Bowl #2 came back from a long, stressful day at work mystified to find me even more exhausted than he was, sprawled out on our couch with my apron still on and flour smears on my jeans.
It was seriously the best kind of vacation. (It also fills me with both envy and admiration at those who can do this for a living!)
Making these galettes was the perfect encapsulation of my time off. Based on a lovely recipe by White on Rice Couple, here, they were a joy to make from start to finish — it has a lot of steps, but I didn't find anything too stressful or complex, thanks to their tips. Each step is simple, soothing, and rewarding, and the result is a phenomenally nuanced dessert that you'll be surprised you made. (At least I was. I literally kept taking bites and staring at it like, really? This? Me?) The brandied pear, the almond filling, and the buttery crust play off each other perfectly and evenly, without any one flavor dominating another.
The day I made these started gloomy and rainy, which made poaching pears in their mixture of cinnamon, star anise, cloves, and vanilla the perfect way to cozy up our apartment. There's literally nothing like the warm fall-spiced smell that fills the kitchen when you poach these. And then the recipe calls for a sunny, butter yellow pastry cream that thickens right before your eyes like magic, that's then mixed with almond paste and spread on the galette underneath the pear. And by the time I went to roll out the galette crusts, the sun had come out, so that I ended up laying pear slices on these delicate galettes with slanting fall sunlight warm across my shoulders.
This dessert was also a first in every sense — first time poaching pears (so easy!), first time making a pastry cream, and, last but not least, first time making a pie crust. The crust was a little daunting, just because I've heard so much about how hard it is to get a pie crust right. But with an excellent recommendation from Nancy at Gotta Get Baked of the ultimate pie crust recipe by Courtney at Neighborfood, Courtney's phenomenal tips, and this adorably teeny Cuisinart 3-cup food processor that I finally splurged on a few weeks ago, it turned out perfectly. Tender, flaky, buttery, generally splendid. The smell that started wafting from the oven at 20 minutes was enough to make me run across the apartment to glue my face to the oven door. Awesome. Thank you so much Nancy and Courtney! Hopefully soon it'll actually be a pie crust I make, and not just a lazy man's galette crust. A girl can dream. 🙂
Brandied Pear Galette with Almond Cream Filling (based on White on Rice Couple)
makes one large galette or four small. Note: There's also a brandy caramel recipe in the original link that I did not make for this, but which sounds phenomenal.
galette crust dough (from Neighborfood, recipe is halved):
1 1/4 cups unbleached all-purpose flour
1/2 tsp salt
1 tsp sugar
1/2 cup (1 stick) butter, cut into small squares
2 tbsp ice water
pears:
2 cups water
2/3 cup brown sugar
1 tsp lemon juice
1/2 tsp vanilla extract
3 whole cloves or 1/2 tsp ground cloves
1 anise star
1/4 tsp ground cinnamon
2-3 medium Bosc pears, ripe but still firm, sliced into halves (I only used two and froze the third)
1/4 cup brandy
almond filling:
1/2 cup milk
1 tbsp cornstarch
2 tbsp sugar
a pinch of salt, preferably kosher or sea salt
1 egg, separated
1/8 tsp vanilla extract
1/2 cup blanched almonds*
1/2 cup confectioners' sugar*
1/4 tsp almond extract
*alternatively, use 4 oz almond paste
1. First, prepare the galette (pie) crust. If you have a food processor, combine the flour, sugar, and salt in the bowl and pulse once or twice to sift it. Add the cubed better and pulse again until the mixture has small lumps. Finally, add the ice water one tablespoon at a time, blending briefly after each, just until it forms a dough. Here's how mine looked only after pulsing very briefly after the second addition of water: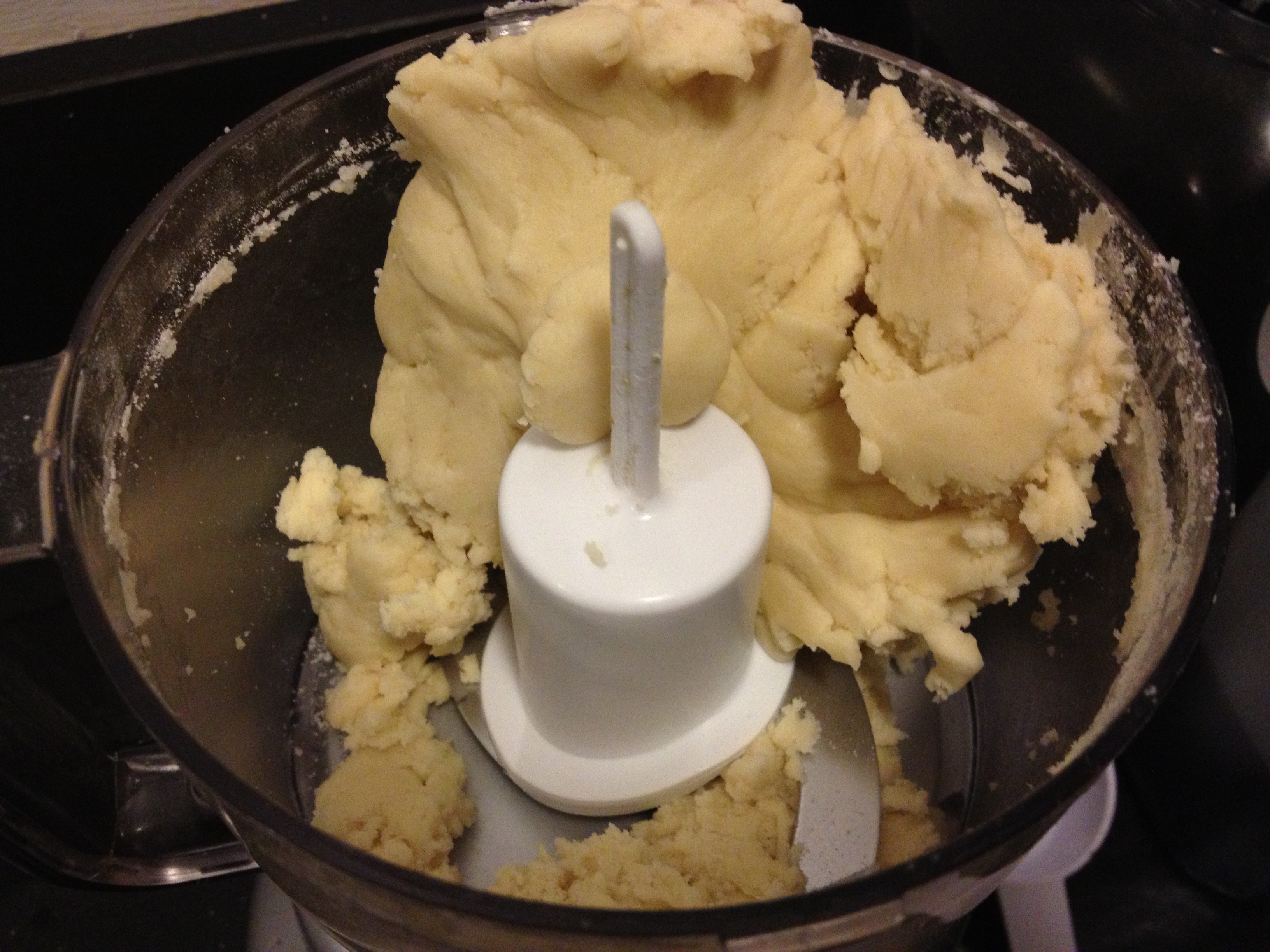 For instructions on how to make pie crust without a food processor — and generally amazing tips on how to tackle them — see Courtney's post. Also, note that the small food processor worked for this because I halved the recipe; it may not work if you make the full scale one.  Edit:  Since making this first crust, I now tend to make my pie crusts a bit differently, by hand and by grating the frozen butter into the flour — see this recipe for reference.
2. If you plan on making one large galette, roll the dough into one large ball, wrap in plastic, and refrigerate. If you plan on making mini galettes, divide into three or four balls, wrap each, and chill. You can either refrigerate for up to 30 minutes or freeze them until you're ready to use them. If frozen, let thaw in the fridge overnight or on the counter for 30 minutes.
3. Next, prepare the pears. In a pot, combine water, sugar, lemon juice, vanilla, cloves, cinnamon, and anise, and bring to a boil. Stir until sugar dissolves, then add the pears and cook for 10-20 minutes or until pears are tender. Remove the pears and reserve the syrup for other uses. Place the pears in a bowl or Ziploc bag with the brandy.
4. To make the almond filling, you'll first need to make a pastry cream. Heat the milk in a small saucepan over medium heat. While milk heats, combine cornstarch, sugar, salt, and egg yolk (reserving the white) in a small bowl and whisk until well-incorporated. After the milk is hot, pour a third of the milk into the egg mixture and whisk immediately to avoid cooking the egg. Pour the tempered egg mix back into the saucepan with remaining milk and return to heat. Heat over medium-low heat until pastry cream thickens, stirring constantly. Add vanilla extract, then pass through a fine mesh sieve to filter out any lumps. Set aside.
5. Next, make the almond paste. Pulse together the blanched almonds and confectioners' sugar in a blender or food processor. Add the egg white and almond extract and blend again until incorporated. Whisk the almond mixture and the pastry cream together and set aside. (Note: Mine was still a bit coarse, and that was fine for me.)
6. Remove the cores from the pears and slice them into 1/8″ slices. I sliced them widthways to form shorter slices, since I was making mini galettes.
7. Working with one dough ball at a time (leaving the others in the fridge), place the dough between two sheets of plastic wrap or parchment paper and roll it out to a circle about 1/8″ thick.
8. Now you're ready to put the galettes together! Preheat the oven to 375 degrees and line a baking sheet with parchment paper or greased foil. Peel off one piece of parchment from the dough, flip the crust onto the baking sheet, and then remove the other piece of parchment. Pour a few tablespoons of the almond filling into the center of the galette crust and spread it evenly in a circle. Layer on pears, then fold the edges of the dough around the pears. Repeat for the other galettes.
9. Place sheet pans in oven and bake for approx. 35 min or until crust is golden brown.
Wish me luck today 🙂 Even though I'll just be sitting in training all day. Thank you so much for reading!