It's December! Which means all I want to do these days is bake Christmas cookies and post about them. But, while that's definitely coming, I felt like I needed to do a post first on this Korean staple (again, all about the blog staples!) because it's so essential in some of the recipes I've posted, and because I've already been talking to so many of you about it in comments. So I'm resisting the ginger snaps, cranberries, and peppermint extract for now (so hard!), and sharing with you all my (limited) experiences with making homemade kimchi.
Before I start, I want to be clear that I am absolutely no kimchi-making expert. For that, you need to turn to Maangchi's all-knowing kimchi wizardry. But given that I was working from no experience and managed to make kimchi from her recipe fairly successfully, I figure I'm about as good a person as any to advise those who are similarly clueless. 🙂 The recipe below is based on her "mak kimchi" recipe, meaning "easy kimchi" (I found the title promising), and I went with it because Maangchi's recipes have been no-fail thus far. It was also very similar to what Bowl #2's very Korean uncle recommended — and he prides himself on his kimchi! I was extremely pleased with the results. We had it both fresh and in everything I make with kimchi (kimchi fried rice, bindaetteok, etc.) and it tasted on point. At the very least, it was a big improvement on storebought and far cheaper, which was all I was aiming for. (With the quality of storebought kimchi in the Northeast, it's a low bar.)
The most traditional way of fermenting cabbage kimchi is keeping the head of cabbage whole — and you can see in stores that it's sold both as whole heads and diced. But making kimchi the traditional way requires at least overnight salting before you begin fermenting it in the kimchi paste, not to mention having large enough containers and storage space to hold a whole head of cabbage. So this method is called mak, or easy, kimchi, and it requires only a few hours of salting, by comparison. I've seen other translations that say it's "carelessly made" kimchi.
You'll start by chopping the head into fourths and then bite-sized pieces, cutting out the core:

Then comes a very important process — salting the kimchi. This is perhaps the hardest thing to get right in the kimchi-making process, because not salty enough means it won't ferment properly and will go bad, and too salty is … well, too salty. I've seen recommendations of about a teaspoon for every handful of cabbage and about 1/2 cup (from Maangchi) for 5 lbs (two heads) of cabbage, so I used about 1/4 cup for my one head of cabbage. But taste it after you rinse off the salt to make sure that you're on the right track. It should taste salty, but not so much that it's inedible. And if it's not salty at all, you'll want to repeat the salting process before moving on. The salting is also the most time-consuming process in making kimchi, since you'll need to turn the cabbage every so often to make sure the salt is evenly distributed, and let the cabbage sit in the salt for at least 1 1/2 hours. But you'll know more or less that you did it right when the cabbage shrinks sizeably after 1 1/2 to 2 hours of salting: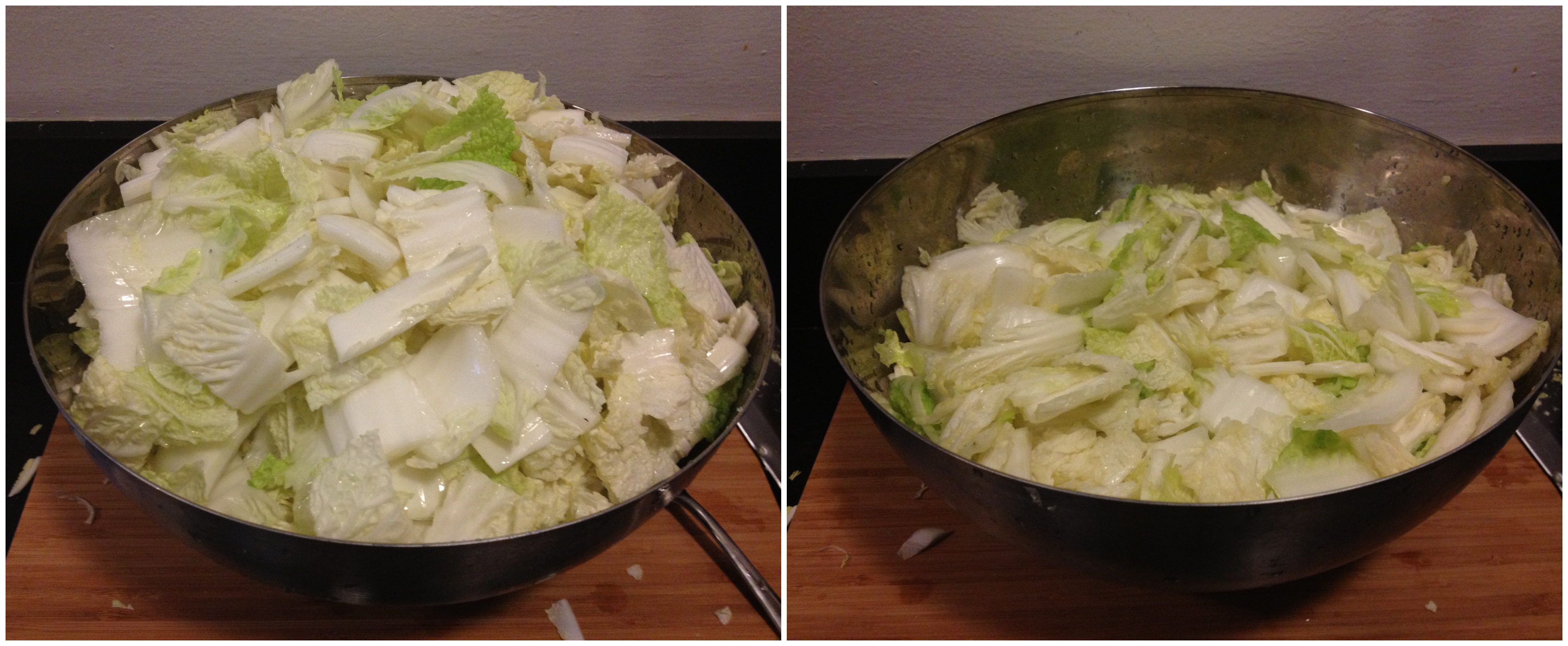 While it's salting, you can then make the kimchi paste, which is what gives the kimchi all its flavor. You'll start by making a kind of porridge to serve as a base for the kimchi paste — I think of it as serving a roux-like purpose. It's made from water and sweet rice flour (also known as mochiko flour, the same kind used to make butter mochi), and helps distribute the flavor evenly across all the leaves. This sweet rice porridge isn't crucial, though it's recommended by many — it just helps to spread the flavor better, and helps the cabbage to better absorb it. If you don't have mochiko flour handy, just use water instead, with a few added tablespoons of sugar to make up for the sweetness.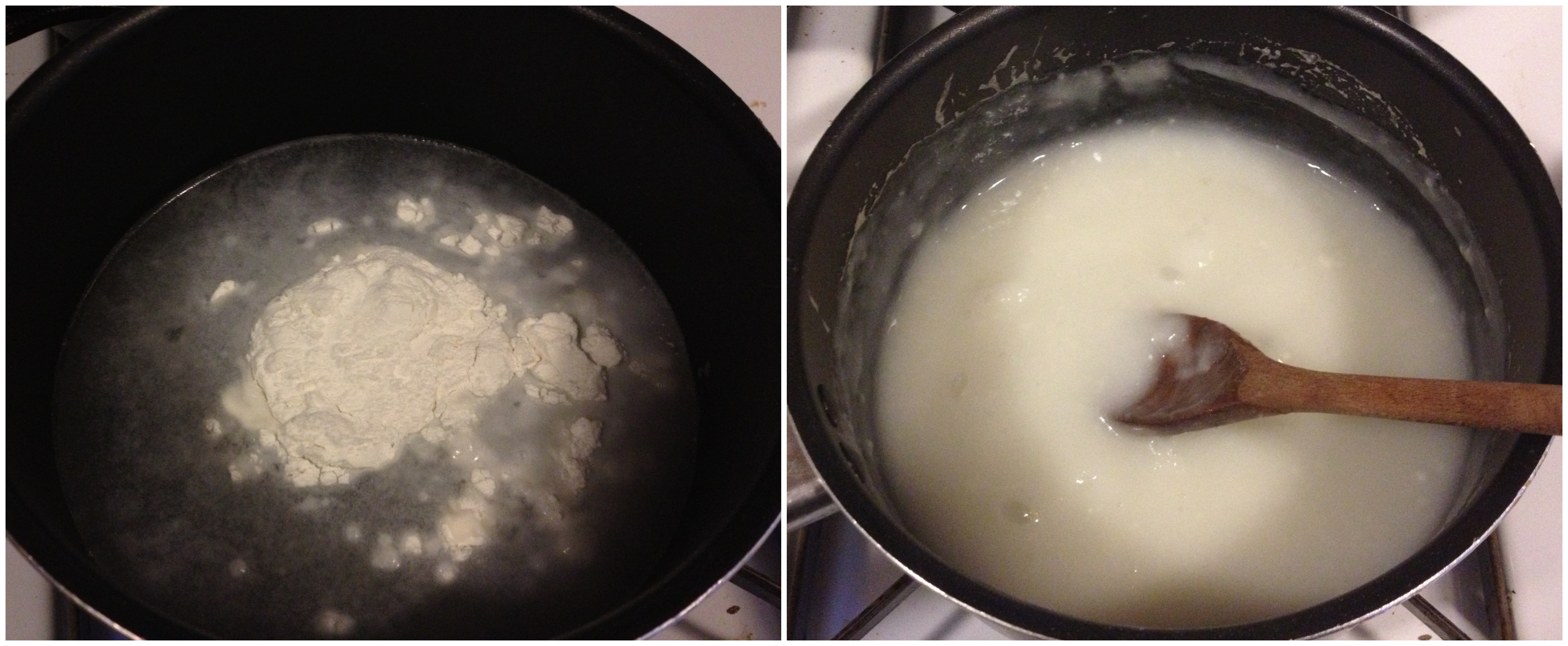 Then you'll puree some ginger, garlic, and onion: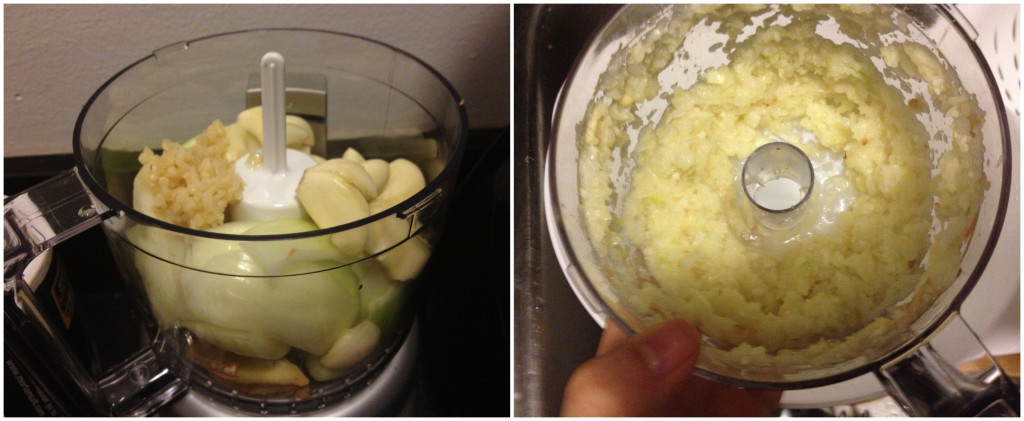 And add it to the porridge, along with a healthy amount of fish sauce and a kind of incredible amount of Korean red chili pepper: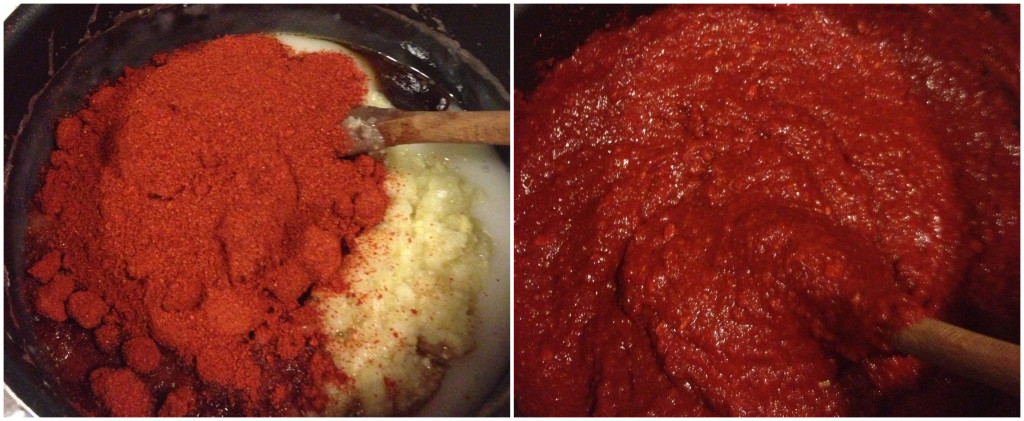 This Korean red chili pepper is perhaps the most crucial ingredient in kimchi paste — it's called gochugaru or kochukaru, and kimchi will not taste like real kimchi unless you use it. It looks somewhat like cayenne, but it has a smokier, sweeter flavor and is crucial to a lot of Korean cooking. You can usually find it in large containers in H-Mart or other Asian markets. If you don't have an Asian market near you, there are 1 lb bags available on Amazon here and here. Here's the one I used, not that this brand is particularly preferable to any other: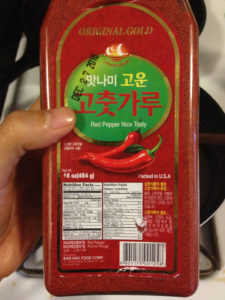 Note that you'll also need to add fish sauce to the mix. I use Tiparos Thai fish sauce (you can find it here on Amazon) for everything that requires it, and it works wonderfully for this and for things like spicy basil fried rice. Many other kimchi recipes call for some kind of salty seafood in addition to the fish sauce — Maangchi's recipe calls for squid and sometimes oyster, for instance, and David Chang of Momofuku fame recommends salted shrimp in his recipes. Bowl #2's mom added some dried anchovies to hers. I didn't have any of these, so I just used the fish sauce and felt that it was completely fine.
Lastly, you'll mix in some other chopped vegetables — carrots, green onion, and leek if you have it — before finally coating all the salted cabbage with it. And then you'll store it to let it ferment and work its spicy/smelly magic!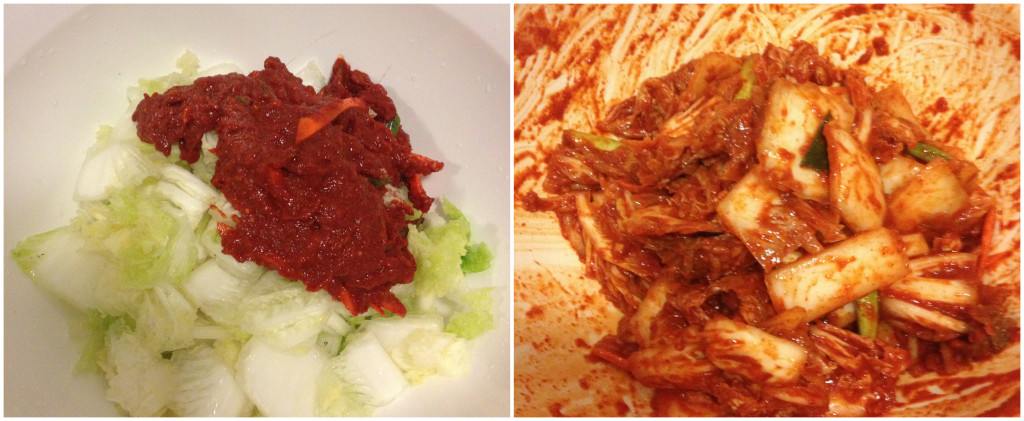 A few notes about storing and fermentation — as with any canning method, make sure that your hands, your bowls, and your storage containers are clean when making and storing your kimchi. You don't want any bad bacteria mixing in with the good fermenting kind. If your kimchi smells off (not overly sour, but actually rotten), it's possible that harmful bacteria got in while you were making it. This can also happen when you under-salt your kimchi. This happened to a jar or two of mine and I was sad!
On fermentation, kimchi will ferment fastest at room temperature and will likely take only a few day to a week to fully ripen. In the refrigerator, it will ferment slower. For kimchi you want to eat soon, ferment it at room temperature first for 24-48 hours (Bowl #2's mom likes to let it sit in a large bowl of lukewarm water), then eat or store it in the fridge to slow down the fermentation process. For kimchi you'll want around for awhile, stick it straight into the fridge, then remove small amounts at a time to ferment at room temperature to bring it to the taste you'd like. For this, you can store your kimchi in a gigantic container and remove a bit at a time, like Maangchi does, or you can store it in several containers right off the bat like I did — either because you don't have a container big enough (me) or for the ease of fermenting batches separately (my excuse). Fresh kimchi can be eaten as banchan, on the side, or in bibim guksu; more sour kimchi can be used in kimchi fried rice, kimchi jjigae, or bindaetteok. And I'm pretty sure any kind of kimchi would rock in a kimchi grilled cheese. Kimchimari has written an excellent explanation on how to ripen kimchi here.
If you end up having some extra paste left over like I did, you can use it for not just cabbage, but cucumber, as below — and this kind you can eat right away! — or daikon. Maangchi includes daikon in her kimchi recipe, but I didn't include any. If you want to make kimchi from it, be sure to salt it as well before adding the paste.
And without further ado, the recipe! Hope that introduction and the instructions below are explanatory — please, please ask any questions that you might have! I'll try to answer them as best I can. 🙂 As usual, I halved the recipe to make a smaller batch. This is designed for one head of cabbage and will make about 3 pounds of kimchi. Some aunties make up to 10 pounds at a time!
Print
Mak ("Easy") Kimchi
Total Time:

2 hours 30 minutes
2

very large bowls

1

large head napa cabbage, about

2 ½

to

3

lbs.

1/4 cup

(

4 tbsp

) kosher or sea salt

1 1/2 cup

water

1/4 cup

sweet rice flour (also called mochiko flour, or chapssal garu) (optional, see below)*

1/2 cup

pureed or minced garlic

1 tbsp

pureed or minced ginger

1/2 cup

pureed or minced onion

1/2 cup

fish sauce

1 1/4 cup

gochugaru (Korean hot pepper powder), or more or less depending on your spice preference

4

–

5

green onions, sliced into

two

-inch pieces

1/4 cup

julienned carrot (optional)

1

–

2

leeks, sliced into two-inch pieces (optional)
Instructions
Trim off the discolored outer leaves of the napa cabbage. Slice into fourths, remove the core, and chop into bite-sized pieces. Wash thoroughly.
Soak the pieces of cabbage in cold water, drain, and place into one of the two large bowls. Your next task is to make sure that each piece of cabbage is salted. In order to do this, I worked in batches, putting the cabbage batch by batch into the second bowl and salting each as I went. I used at least 1/4 cup of salt for one head of napa cabbage, if not a bit more.
After salting, the kimchi will need to wilt in the salt for the next 1 ½ to 2 hours. Every 30 minutes, turn the cabbage over to salt evenly. I just transferred the cabbage from one bowl to the other every 30 minutes.
After 1 1/2 hours, the cabbage should have shrunken to about half the size it was originally. Rinse the cabbage in cold water several times (I did it in batches in a smaller bowl) to clean it thoroughly, then drain. At this point, taste it to make sure it's salted enough. If it's not salty at all, you may need to add more salt and let it soak for a bit longer.
Next, make the porridge. Combine 1 1/2 cups of water and 1/4 cup sweet rice flour in a small pot over high heat and bring it to a boil. Keep stirring until the porridge makes thick bubbles — about three to five minutes — then take it off the heat and set aside to cool.
Once the porridge is cool, add 1/2 cup of fish sauce, 1 1/4 cups of gochugaru (depending on your taste), 1/2 cup of minced garlic, 1 tbsp of minced ginger, and 1/2 cup of minced onion to the porridge and mix thoroughly. You can also purée the garlic, ginger, and onion together in a blender or food processor before adding.
Add the green onions and carrot and mix thoroughly. You can also add leek if you have it.
Finally, pour the kimchi paste over the drained cabbage and mix by hand until all pieces are well-coated. (Again, I did it in batches.) Finally, store in airtight glass or plastic containers. The kimchi will need to ferment at room temperature for at least 24-48 hours before it is ready to eat. You will know when it's ready when the lid pops when you open it and you can see bubbles rising to the surface. (It'll also announce itself with a very strong smell.) If you want to eat fermented kimchi right away, go ahead and leave it at room temperature right after jarring it. If you'd like to keep some for later, put it straight into the fridge without letting it ferment at room temperature. Then, when you're ready to eat, take it out and let it sit at room temperature for the required time. It will likely only take one day, rather than two, depending on how long it's been in the fridge.
Notes
*If you don't have sweet rice flour, it's fine — all the flour does is help create a porridge to more evenly distribute and infuse the kimchi paste flavor. Just replace the mochiko flour with 1 tbsp sugar to make up for the sweetness.
I didn't have one single container large enough for all of my kimchi, so I stored it in several smaller jars. I actually think that's good, in some ways — this way you can put a few jars into the fridge right away, where it can sit for months before eating, and keep one or two out to ferment at room temperature to start eating in one or two days.
Again, please ask any questions about anything that seems unclear — this is such an interesting and unusual kind of cooking! — and I'll try to answer them to the best that I can with my limited knowledge! And in the meantime, check out these awesome posts — a FAQ on kimchi here, a chart on fermentation by Kimchimari here, and Maangchi's website in general here. Thank you so much for reading!
If you love kimchi, you may also like: