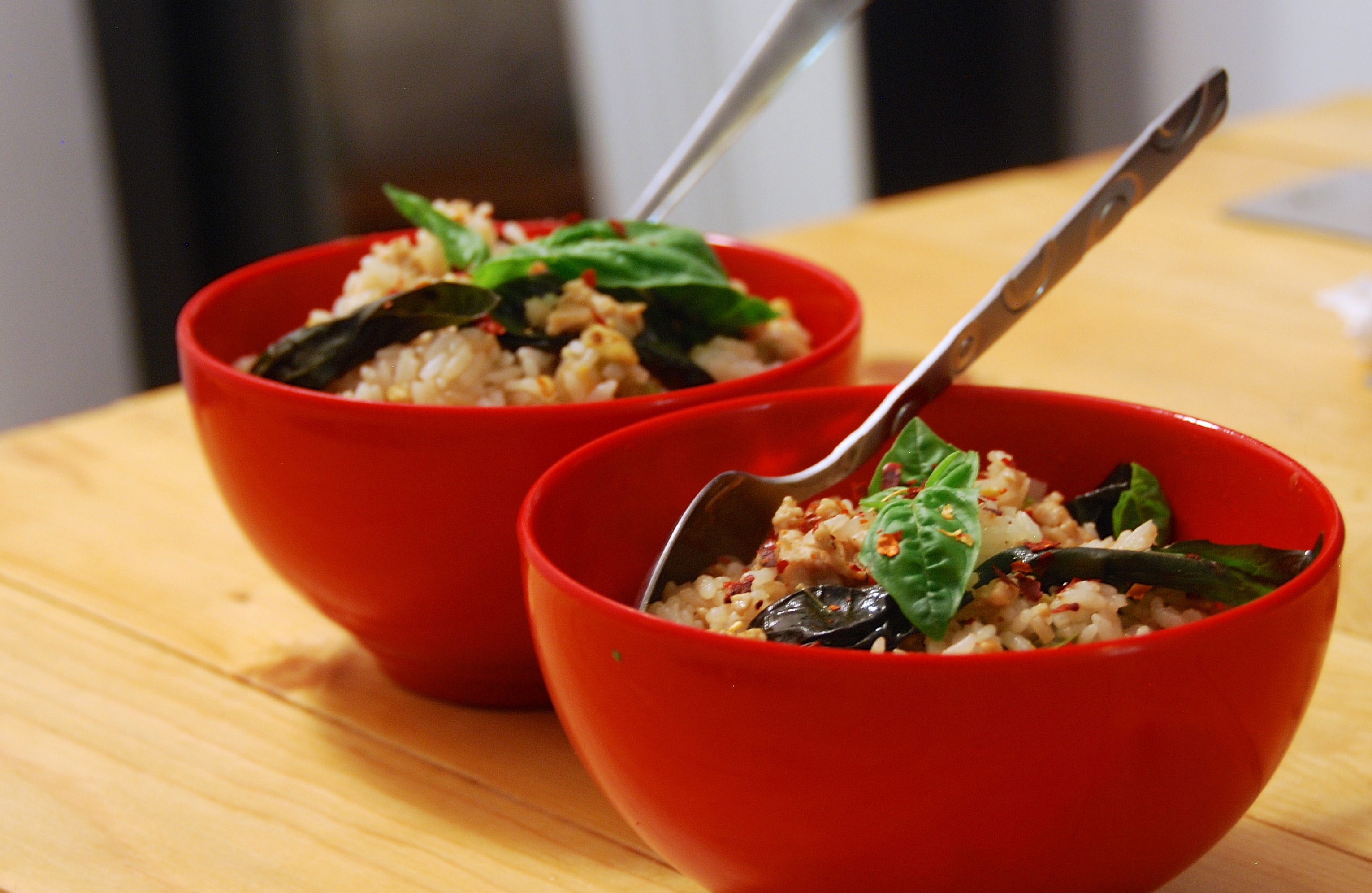 I have never seen anyone anywhere eat with the capacity and fervor of Bowl #2 when he orders spicy basil fried rice for delivery from a Thai place. No matter how monstrous the portion is, he will finish it (even if it means total immobilization and agony for hours afterwards). So, given the tumultuous events in Boston yesterday, I thought I would try to recreate it as a comfort food amidst all the lockdown insanity.  (I won't talk too much about everything that happened, since it's been done much more eloquently than I could attempt to, I'm sure. I will say that I'm not ashamed to admit that we probably did exactly what we would have done on any other day with no obligations — stayed home in our pajamas, watched TV, cooked food, noshed on food. But, other than the fact that what we were watching that day was breaking news, wasn't half of the lockdown's eeriness simply knowing that you couldn't leave if you wanted to?)
I used recipes here and here as a starting off point, with a few small additions (mainly egg and soy sauce). I might try brown sugar next time to see what it adds — but overall, it was pretty great! It ended up not an exact dupe, but it seems close enough to save us some delivery costs in the future.
(Also, I made sure that this produced only two reasonable servings. No overeating agony here!)
Thai Spicy Basil Chicken Fried Rice
serves 2.
2 tbsp oyster sauce
2 tbsp fish sauce
2 tbsp soy sauce
1 tbsp brown sugar
2-3 tbsp vegetable oil for frying
3 cups cooked jasmine rice, chilled
3-4 cloves garlic, crushed or minced
1/2 jalapeno pepper, sliced (for less heat, deseed)
1-2 boneless, skinless chicken breasts, cut into bite-sized strips
1/2 onion, diced
2 eggs, beaten
2 cups sweet Thai basil
1 red pepper, seeded and thinly sliced (optional)
1 cucumber, sliced (optional, for garnish)
1/2 cup cilantro sprigs (optional, for garnish)
1. Whisk together oyster sauce, fish sauce, soy sauce, and sugar in a bowl.  Optional: You can marinate the sliced chicken in about half the sauce for several hours before cooking.
2. Heat a tablespoon of oil in a large wok or pan over high heat; scramble the eggs, breaking into small pieces as it cooks.  It's better to brown it more than you would for American scrambled eggs — I also add a little bit of the sauce to the egg mixture before scrambling, to add some extra flavor.  Set aside.
3. Add more oil to the wok over medium-high heat.  Once hot, add the garlic and chili pepper, stirring quickly.  Right after that (before the garlic burns), add the sliced chicken, bell pepper, and onion.  If you marinated the chicken beforehand, do not add any sauce at this point; if you didn't, add half the sauce mixture.  Cook until chicken is no longer pink.
4. Raise heat to high and stir in chilled rice; stir quickly until sauce is blended with the rice.  Add remaining sauce and continue to stirfry.
5. Remove from heat and stir in basil leaves until wilted. Garnish with cucumber, cilantro, and crushed red chili pepper to taste, and serve.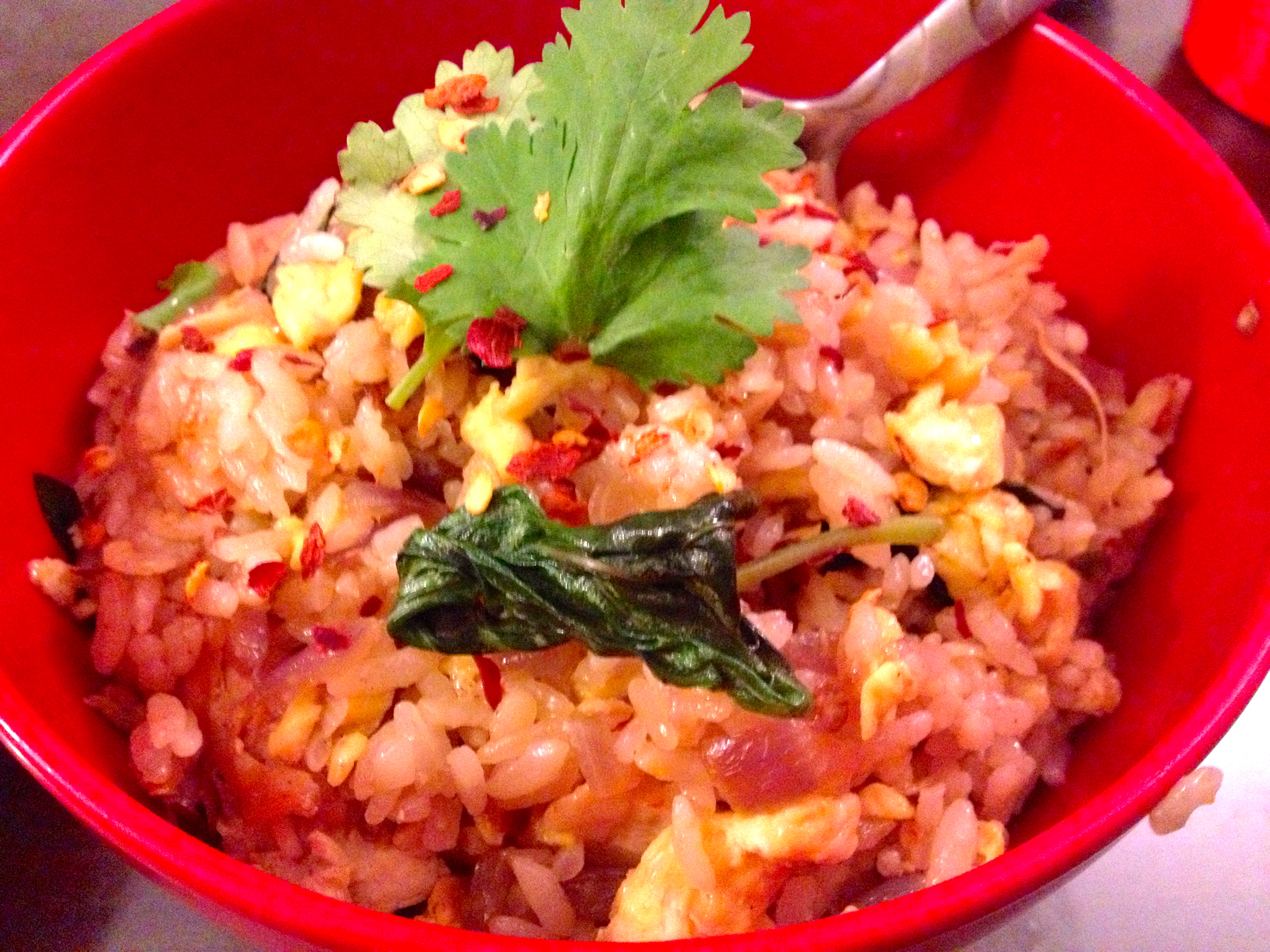 Thanks for reading!<