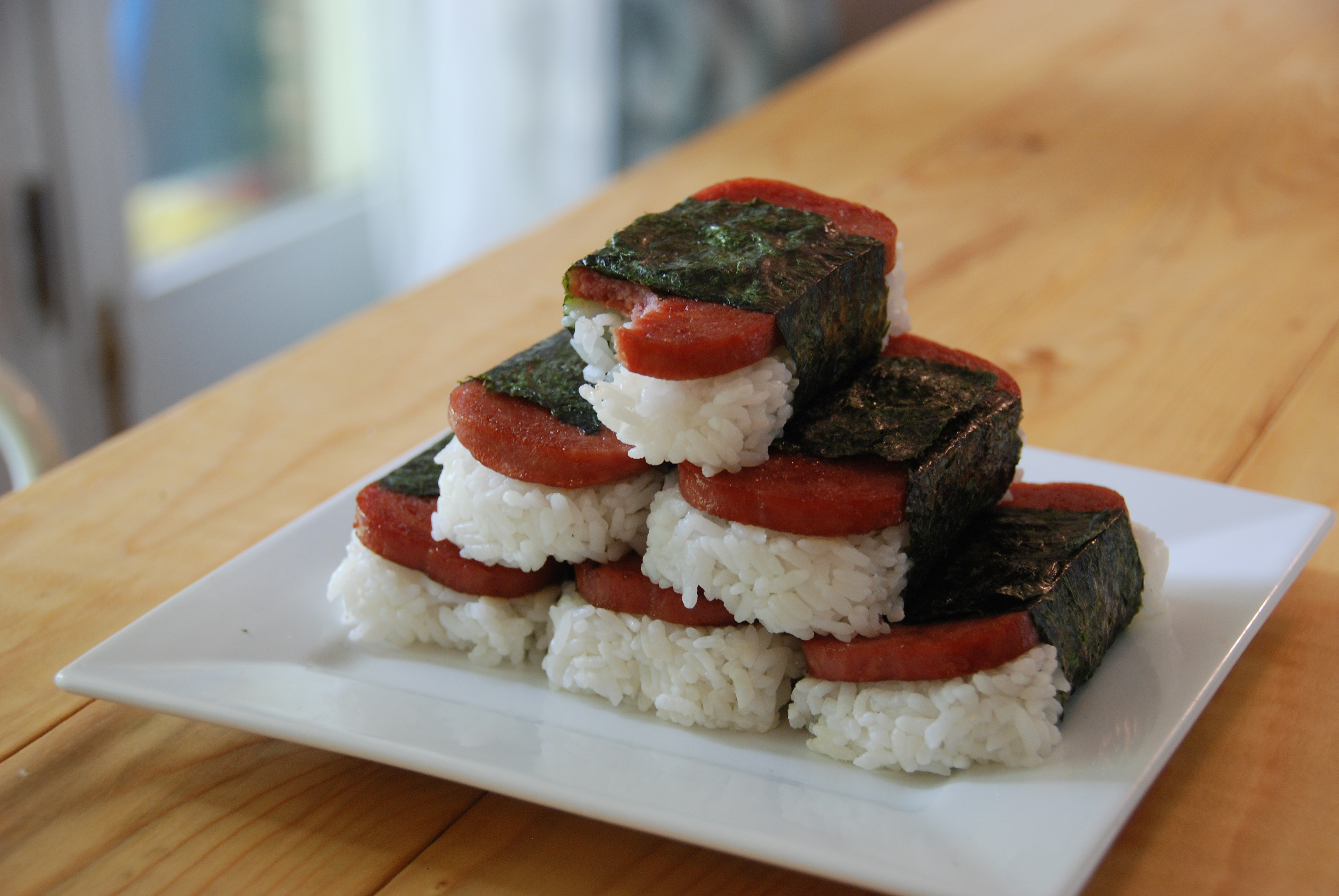 Hello! It's been awhile! Pretty much a week after I started this up, I went into a whirlwind month and a half where we took our very last finals ever as students, left Boston, moved to New York (where we had 10 days to furnish our new but totally empty apartment before hosting family), went back to Boston, graduated from law school, visited family, and ended up back here mostly intact, when we are now supposed to be studying for the bar. Supposed to. Most relevant to this blog, however, is that I also acquired a hand-me-down digital SLR! So I can hopefully start posting pictures that are a little more palatable.
So — to start, last week was Bowl #2's birthday! He's from Hawaii and misses it constantly, and since we aren't going back until after the bar this summer, I thought I'd do the typical thing, "bring Hawaii to him," and make him his favorite Hawaiian foods.  We had a little feast of spam musubi, spicy ahi poke, and butter mochi for dessert.  Here's the first recipe of the three — spam musubi.
Of all the Hawaiian foods that I've discovered, loved, and attempted to make, spam musubi has probably been both the easiest and most challenging.  The ingredients and process are simple, but it seems like each recipe and each Hawaii mom has their own tried and true method. Some marinate the Spam, some don't, some use sushi rice with all the fixings (rice vinegar, etc.) and … some don't! Almost all, though, seem to call for soy sauce and sugar in addition to the three main ingredients — Spam, nori, and rice.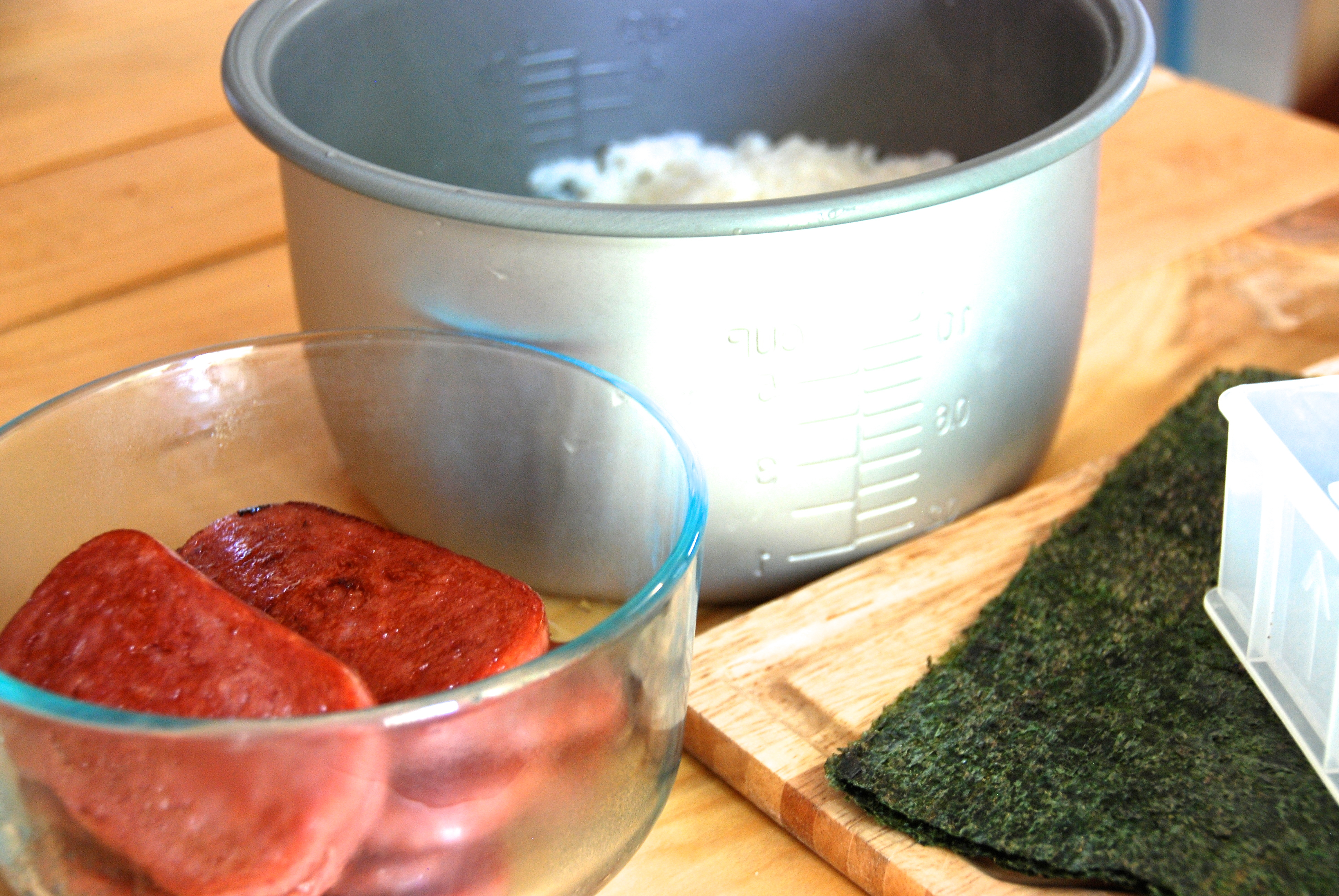 When Bowl #2 talks about musubi, he always says that his "friend's mom's musubis" are the best he's ever had.  In school, his friend's mom's musubis were their own currency, he says; his friend would peddle them at lunch for cash, or use them to barter for coveted snacks.  And given that every recipe I found boiled down to the same thing, I figured I had to be able to recreate it.  But every single recipe I tried, Bowl #2 would just say that it wasn't quite it. After numerous attempts that were "almost but not quite," I finally asked him if he'd mind actually emailing her and asking for the legendary recipe.
Imagine my disbelief when she replied with a recipe that was just four lines long — calling for nothing more than Spam, sugar, water, nori, and rice. No soy sauce! No brown sugar! No way. Refusing to believe that it could be that simple, I actually subjected my Hawaii boy to a blind taste test (really). But lo and behold, that was the one he chose, right away.
So here it is below! Indeed, I really do like this the best. I do add just a tad of soy sauce, and I'm sure that many would prefer a saltier, more caramelized version that omits the water altogether for soy sauce instead, but this recipe really brings out the seaweed, rice, and Spam flavors in a perfect balance.
A few notes on preparation: First, if you plan on making these a lot, I recommend buying a cheap musubi mold off Amazon, and even a Spam slicer, if you (like me) are bothered by uneven slices. Both of those are just a few bucks, and I find that it's so worth it.  It saves time and effort, and it's cheap!
Second, if you don't have a mold, never fear. I have fashioned molds out of cans before (like Momofuku for Two does here) or just used my hands to press rice into Spam-sized balls. It's not an exact science and very forgiving. (Although, if you do use your hands, be sure to use plastic food gloves or wet your hands before each musubi, or else you'll get a thick layer of rice absolutely everywhere and very quickly.)
Simple Spam Musubi
1 can Spam (I prefer to use Spam Lite)
1-2 tbsp sugar
1/4 cup water
1 splash soy sauce (optional; for a saltier version, reduce water to 2 tbsp and increase soy sauce to 3 tbsp)
3-4 cups cooked rice
3 sheets nori, cut into 2-inch strips (9 strips)
1. Slice Spam into 8 or 9 slices. Some prefer thinner slices, but I like a good Spam to rice ratio. 🙂
2. Heat a skillet over medium heat. If the pan is non-stick, lay Spam slices directly in skillet; if not, spray lightly with Pam or coat in a tablespoon of oil before placing Spam in. Panfry, turning until nicely browned on both sides.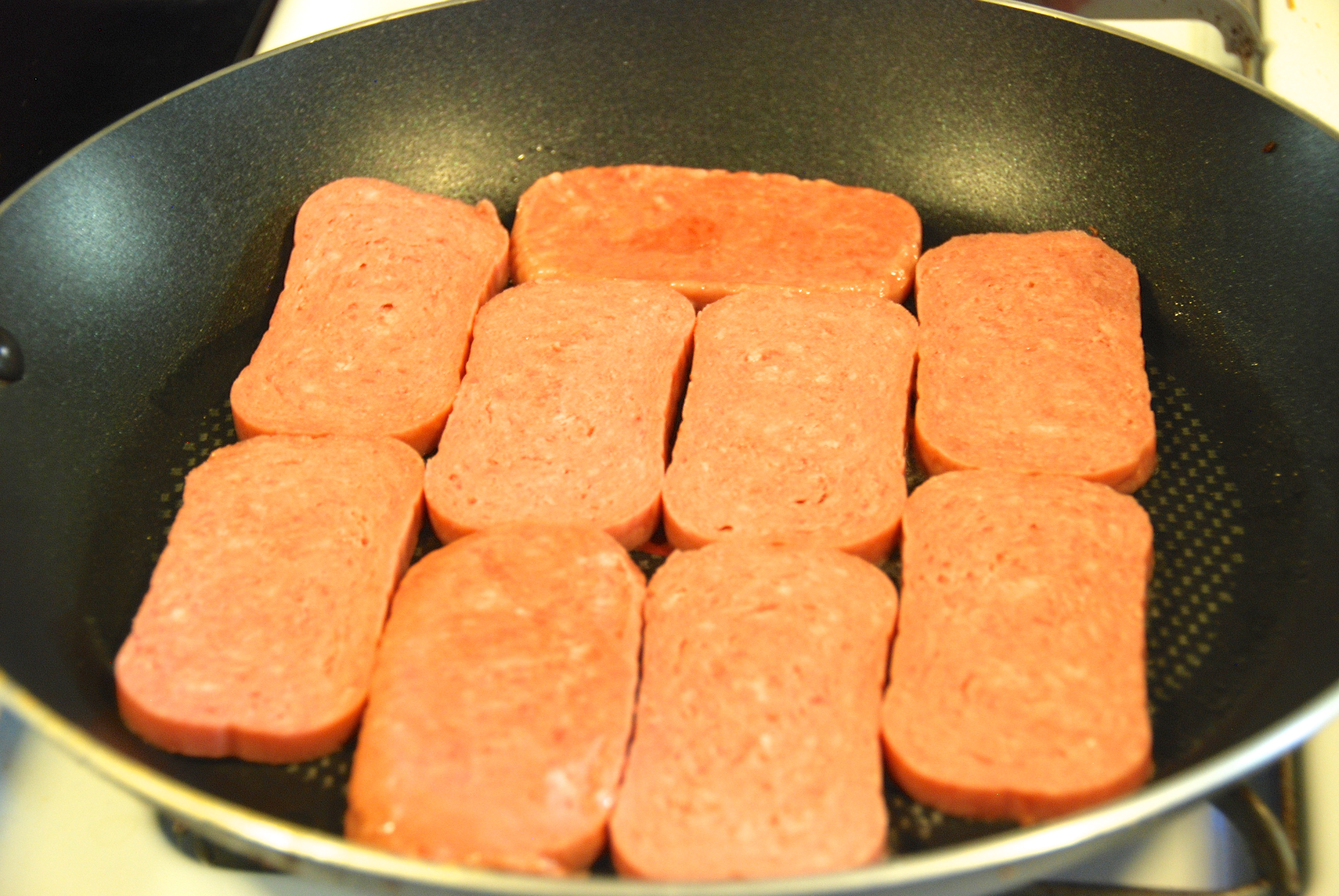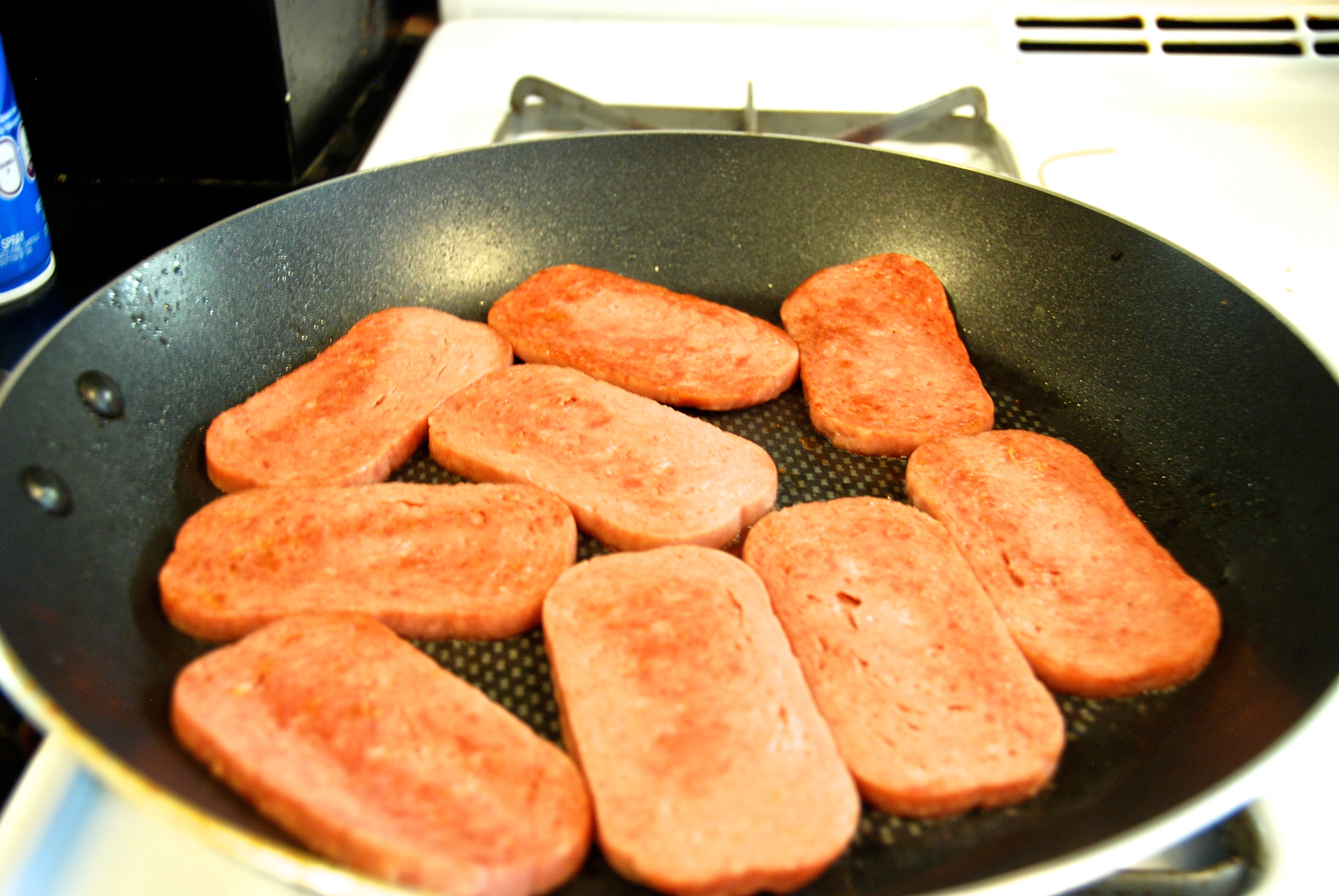 3. Turn the heat to medium-low. Sprinkle sugar evenly over Spam, then pour in water, coating each slice. The first time I did this, I was mildly alarmed because it looks like the Spam is swimming in water — don't worry, it will quickly caramelize. Also, note — if you want the Spam a bit saltier, mix a splash of soy sauce with the water before pouring. I usually do about half a tablespoon. If you want a really strong soy sauce flavor, replace more of the water with soy sauce (i.e. 2 tbsp each) for this step.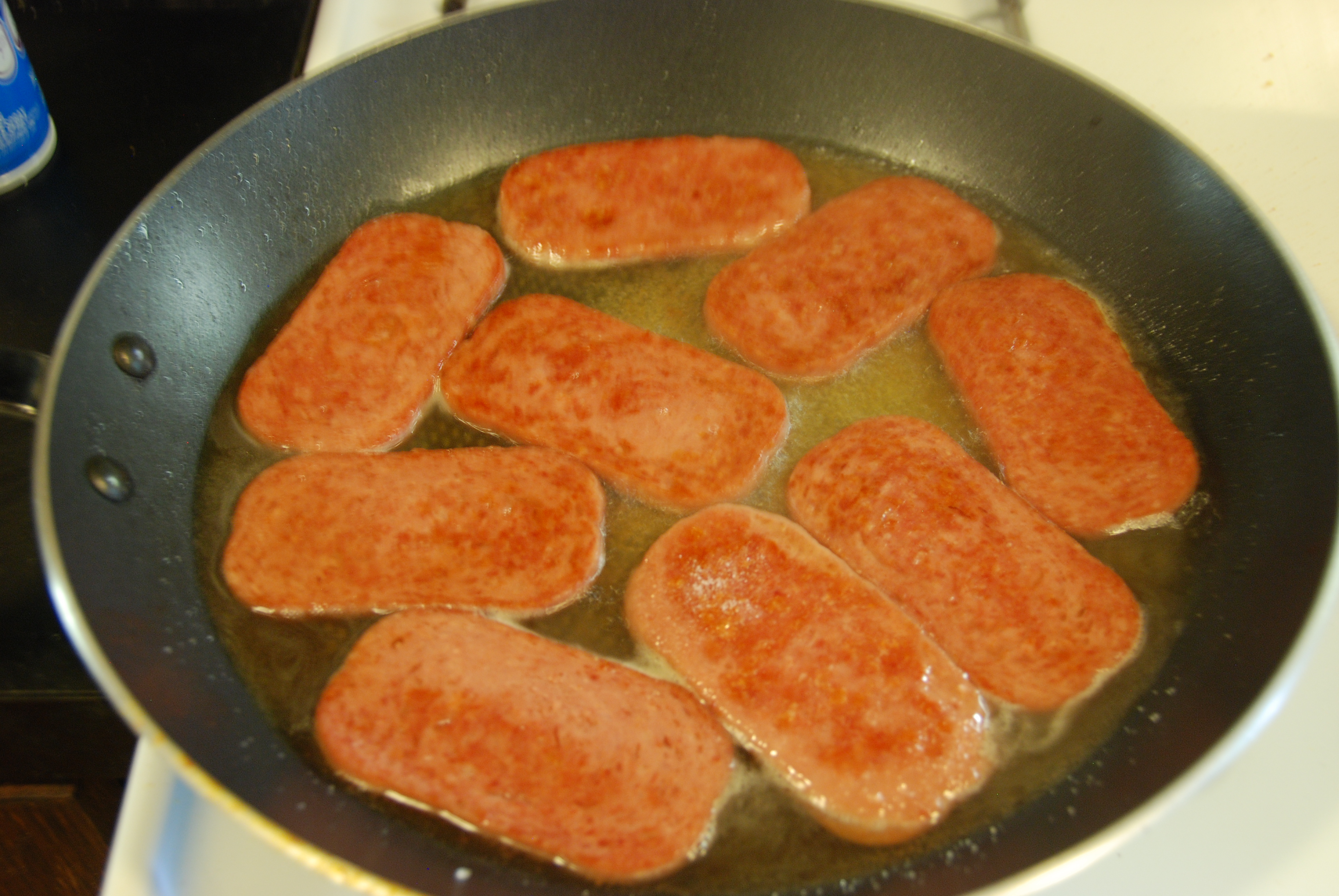 4. At this point, turn heat back up to medium or medium-high, turning Spam slices until the water evaporates and Spam caramelizes. Turn off heat and set aside.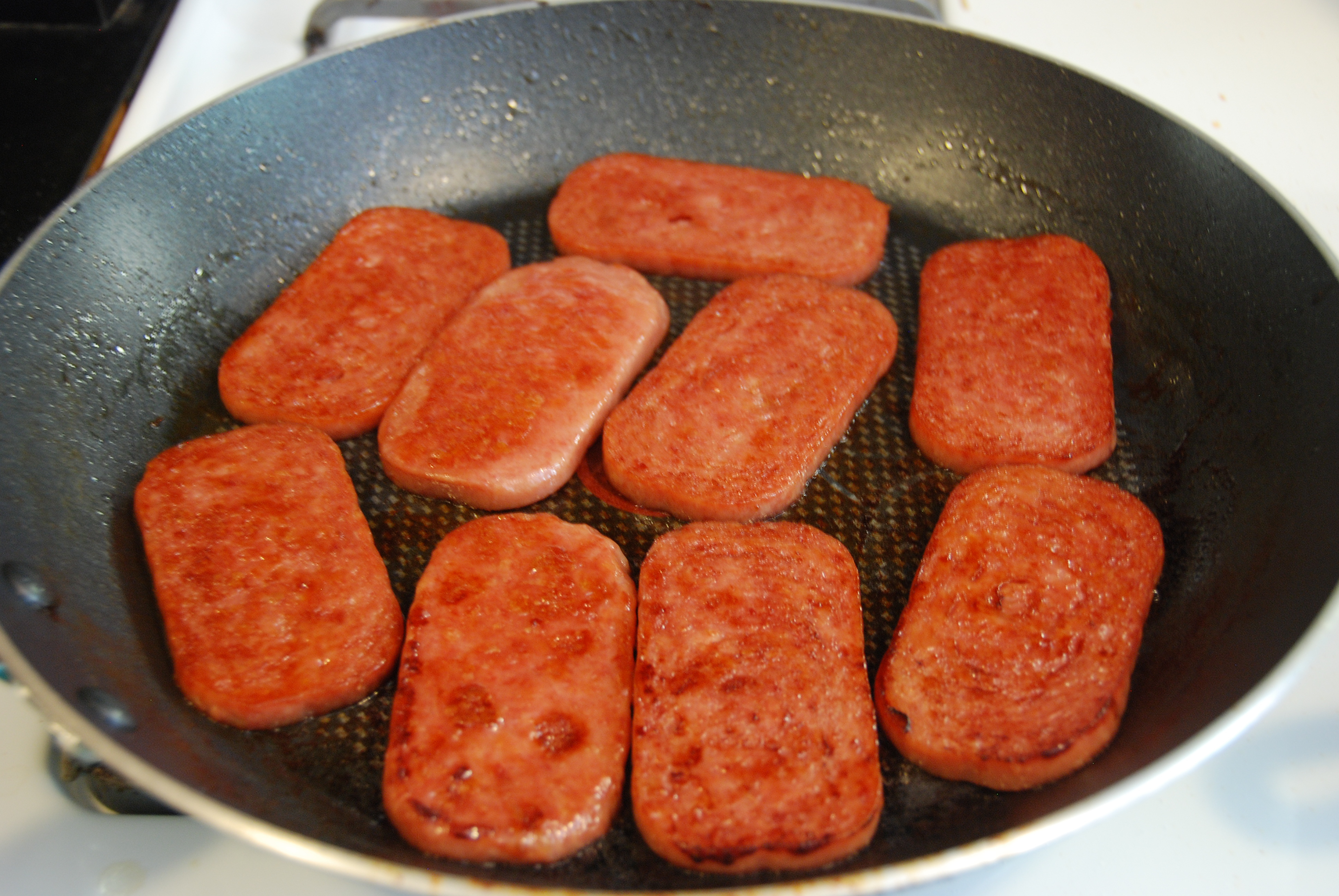 5. Once Spam has cooled, set up your musubi mold, rice, and nori.  Note: These pictures show the first way that I learned how to make musubi using molds — rice into the mold first, then Spam, folding the nori on top of the musubi.  Since making these, I've experimented with putting the Spam in first, then rice.   I vastly prefer this, and recommend it, because it allows you to fold the nori under the musubi instead of on top, so that when you set them aside, the top does not crinkle unattractively, and the moisture from the rice will help seal the musubi better.  It was how I did it when I made them by hand, but all the recipes I had found online using the molds recommended rice first.   I don't see why!  Both ways are pretty self-explanatory, but I've added pictures at the end of the alternate method that I prefer.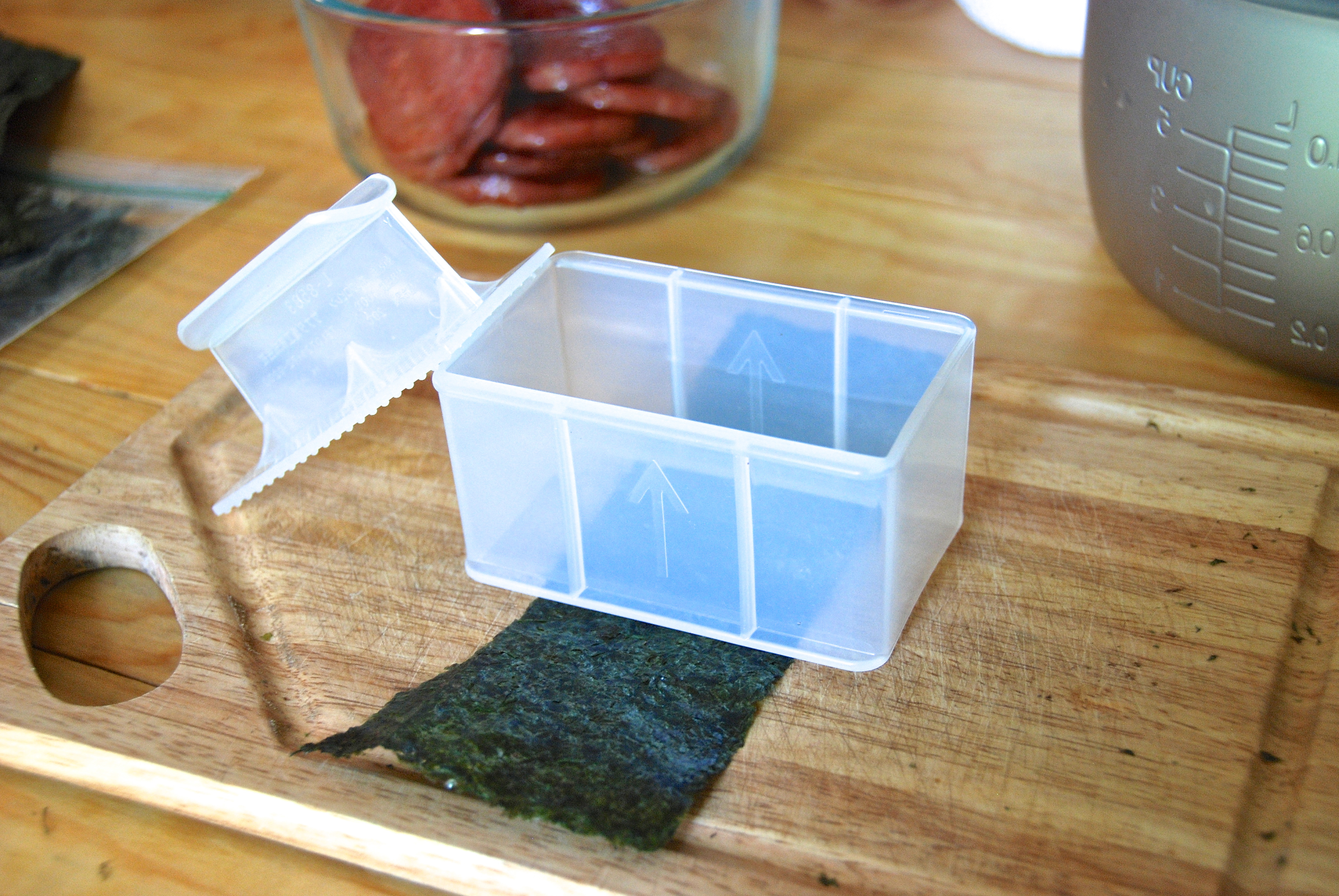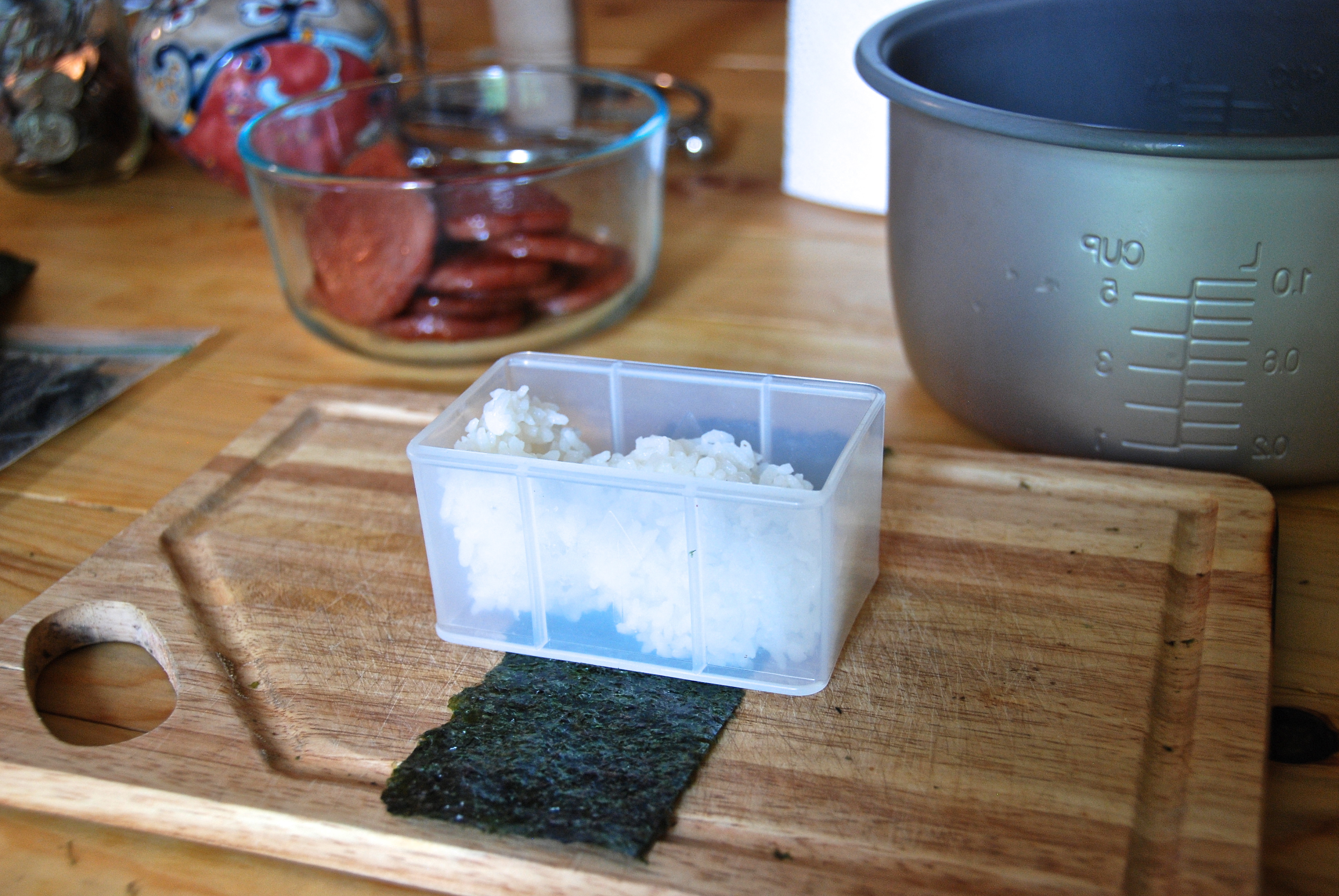 6. Press rice firmly into mold. Remove the mold and lay one slice of Spam on top of the newly formed rice.  (Or, add the Spam first, then press the rice into the mold, and then remove it.)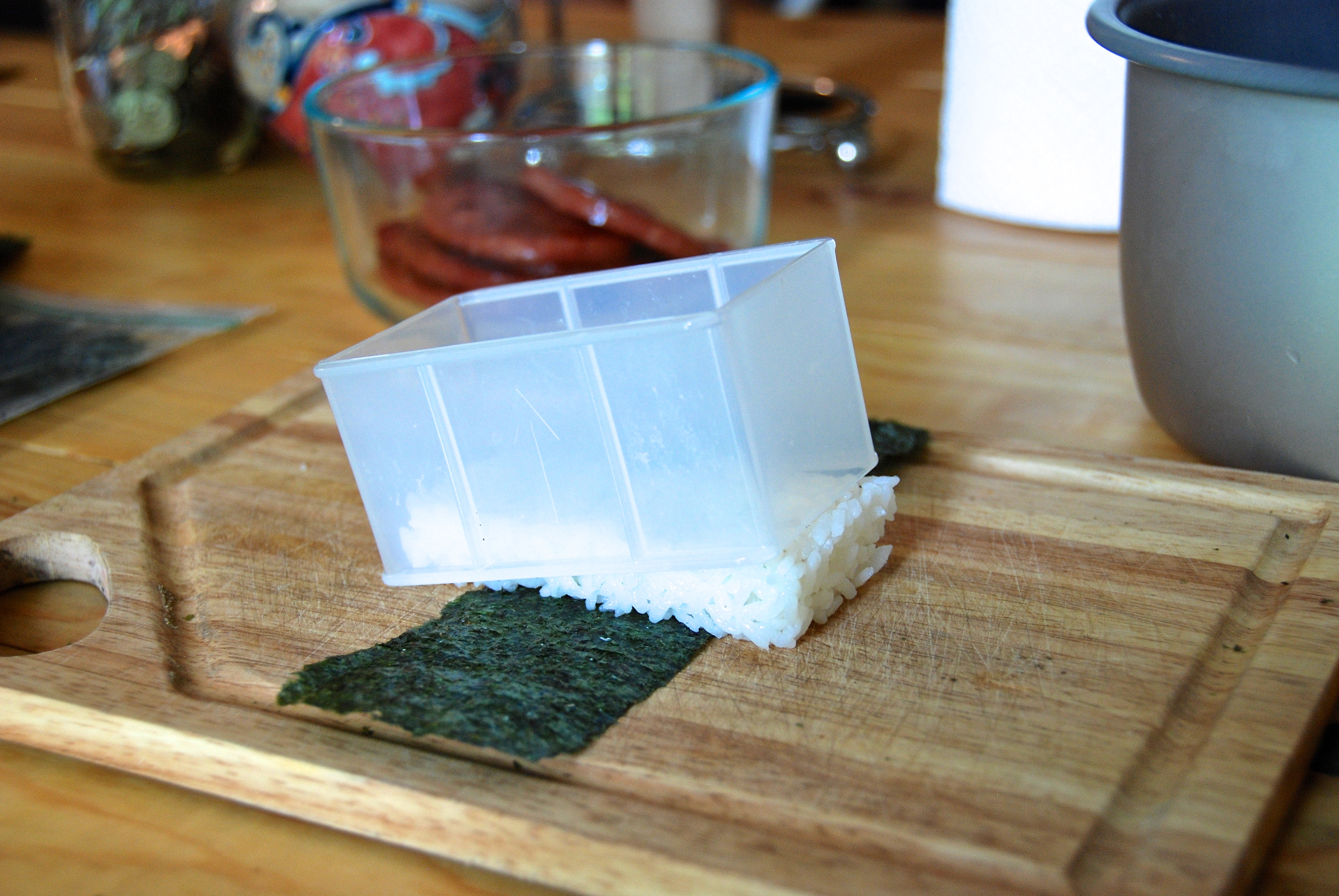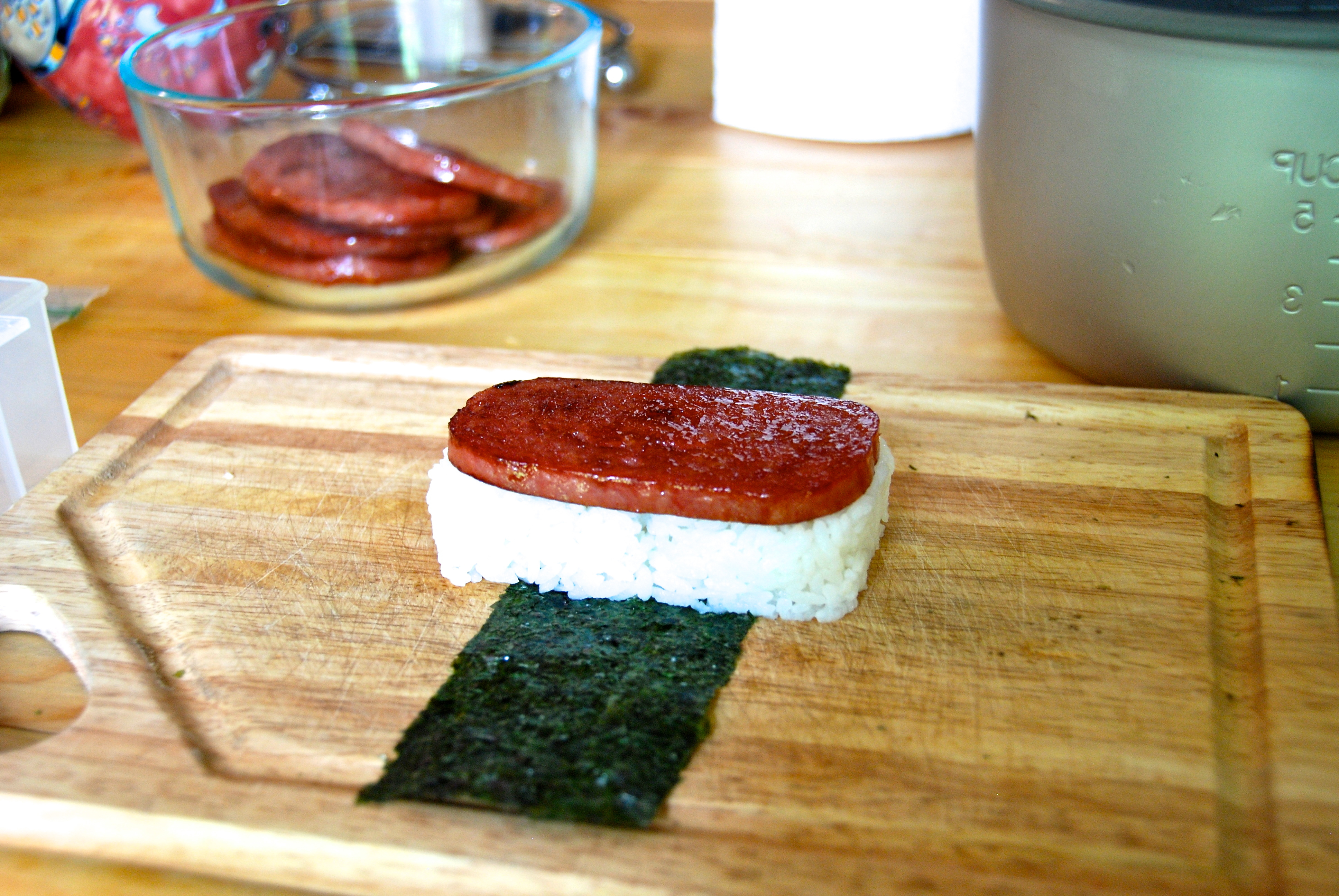 7. Fold nori tightly around the musubi. I use several grains of rice to seal the nori, but you can also use a few drops of water if you prefer.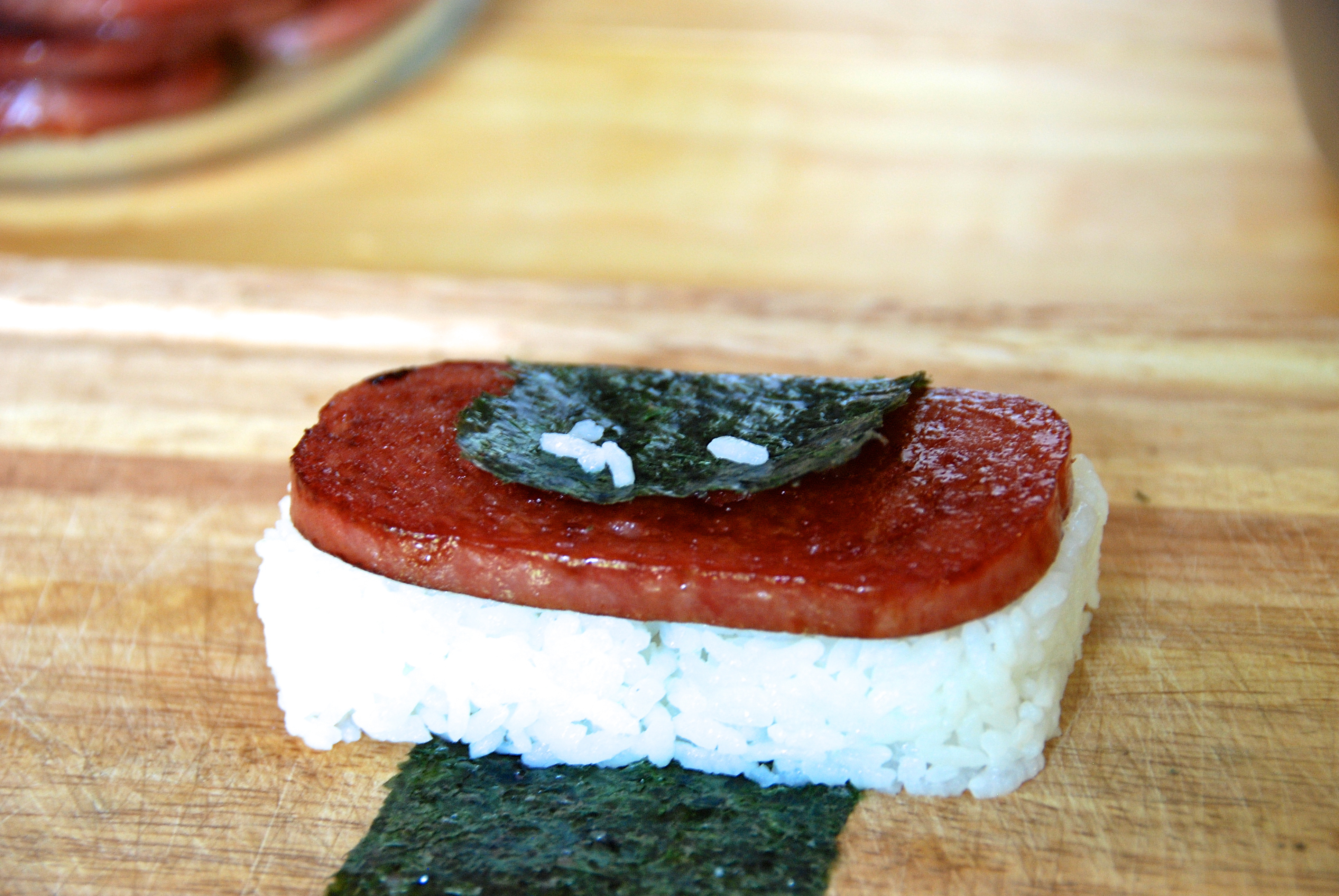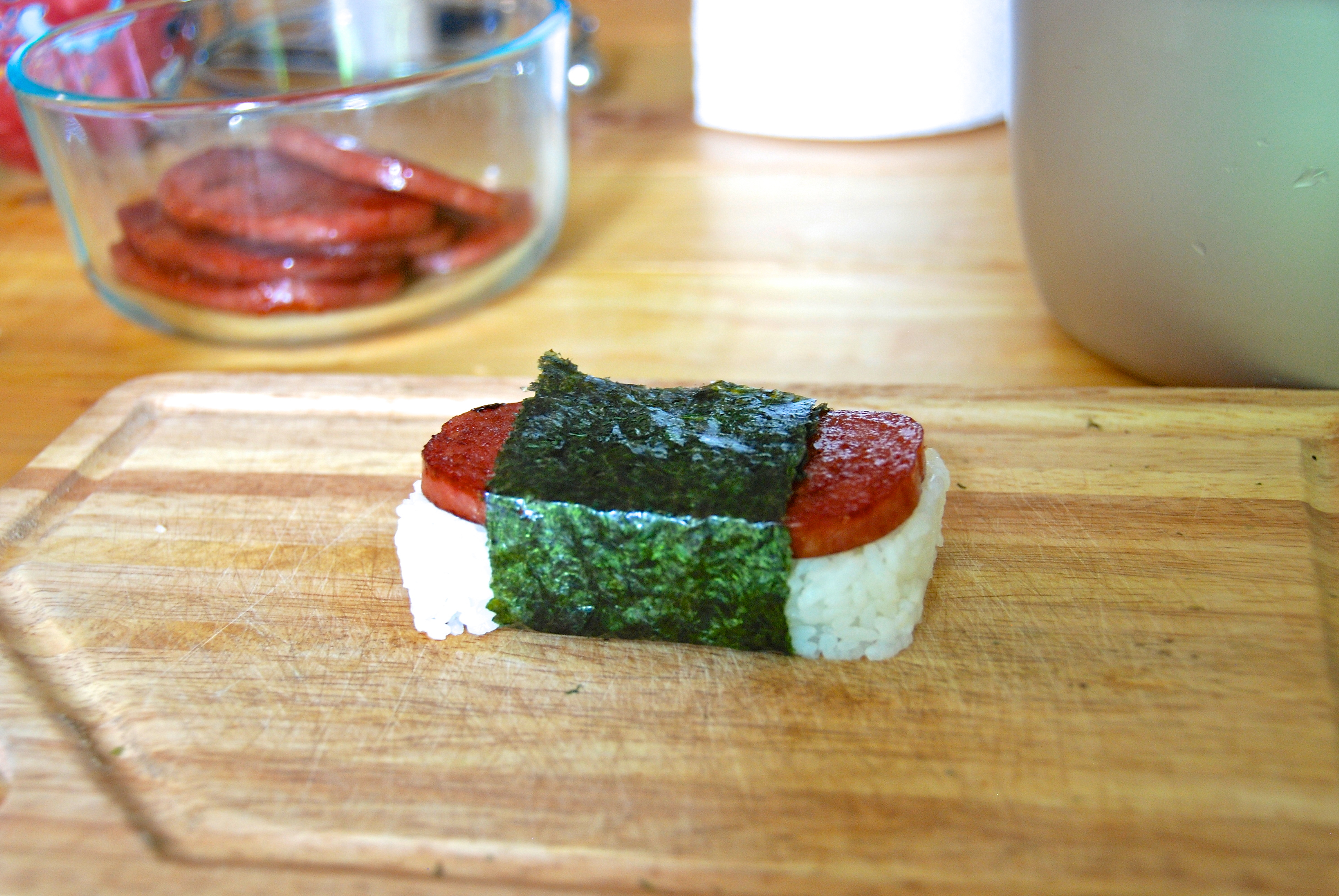 And here are pictures of the Spam first folding method (is this complicated enough to be called a method?):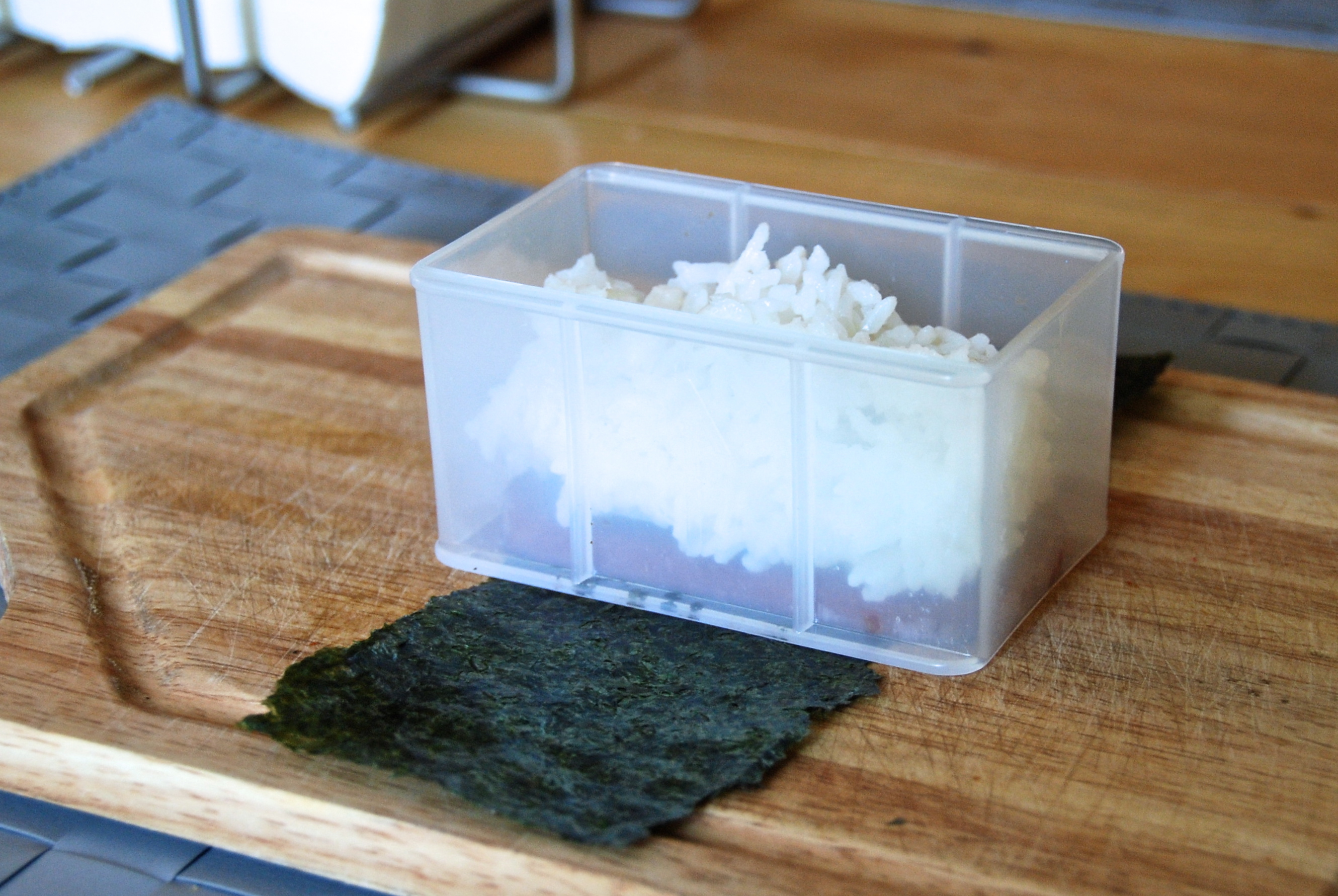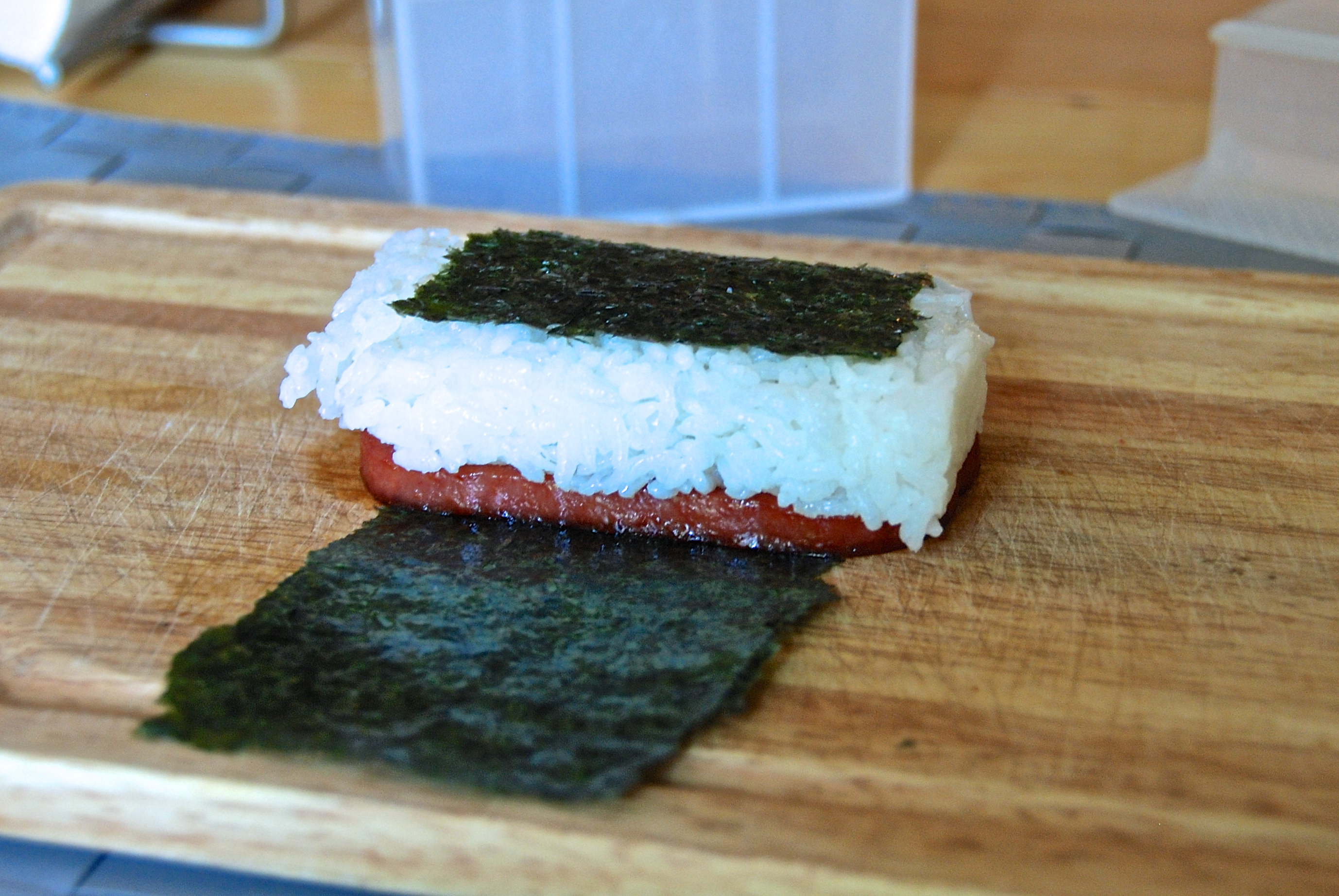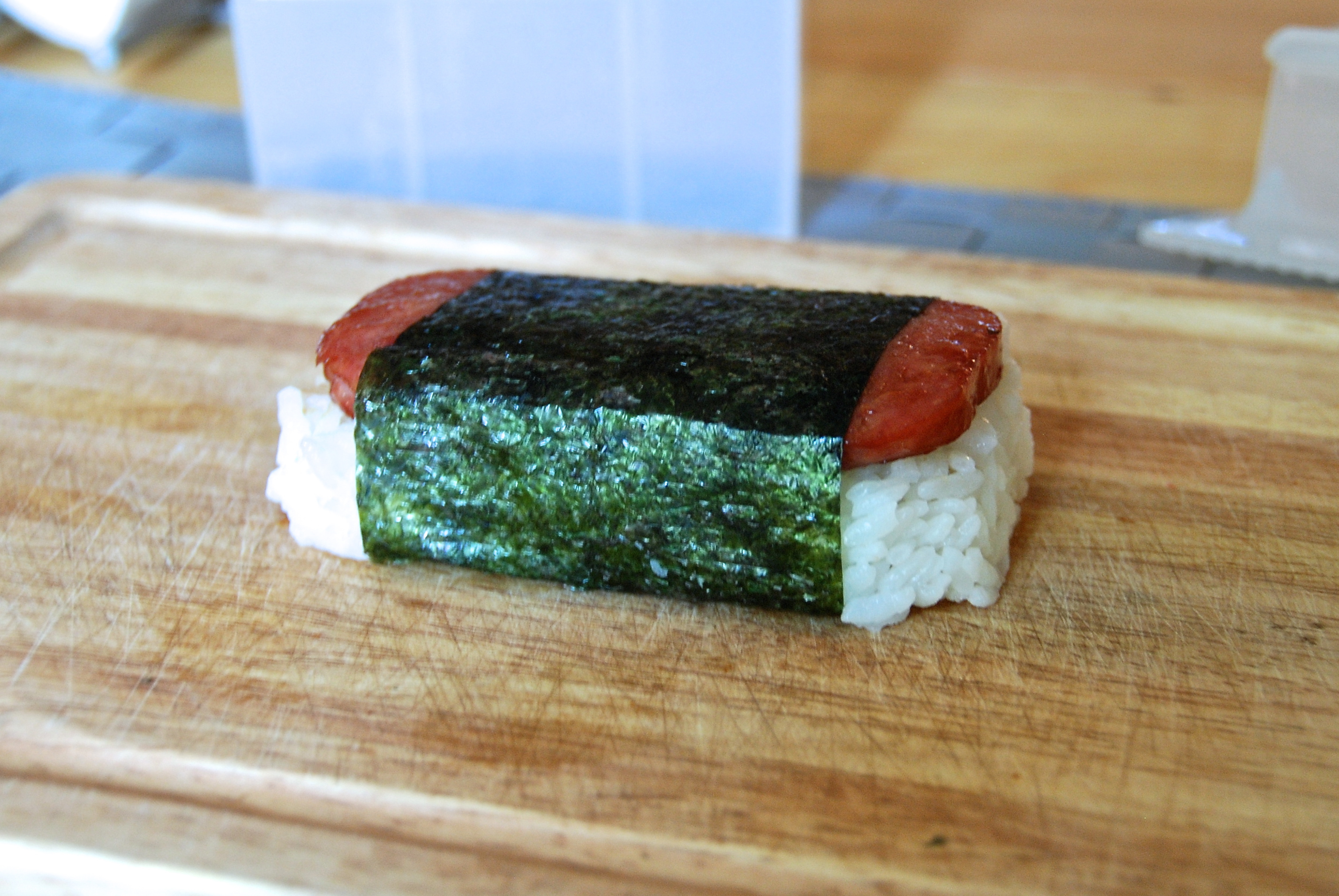 Ta-da! Enjoy. Wrap leftovers individually (otherwise they will dry out) in saran wrap and store in fridge. Heat in microwave 30 seconds each the next time you eat.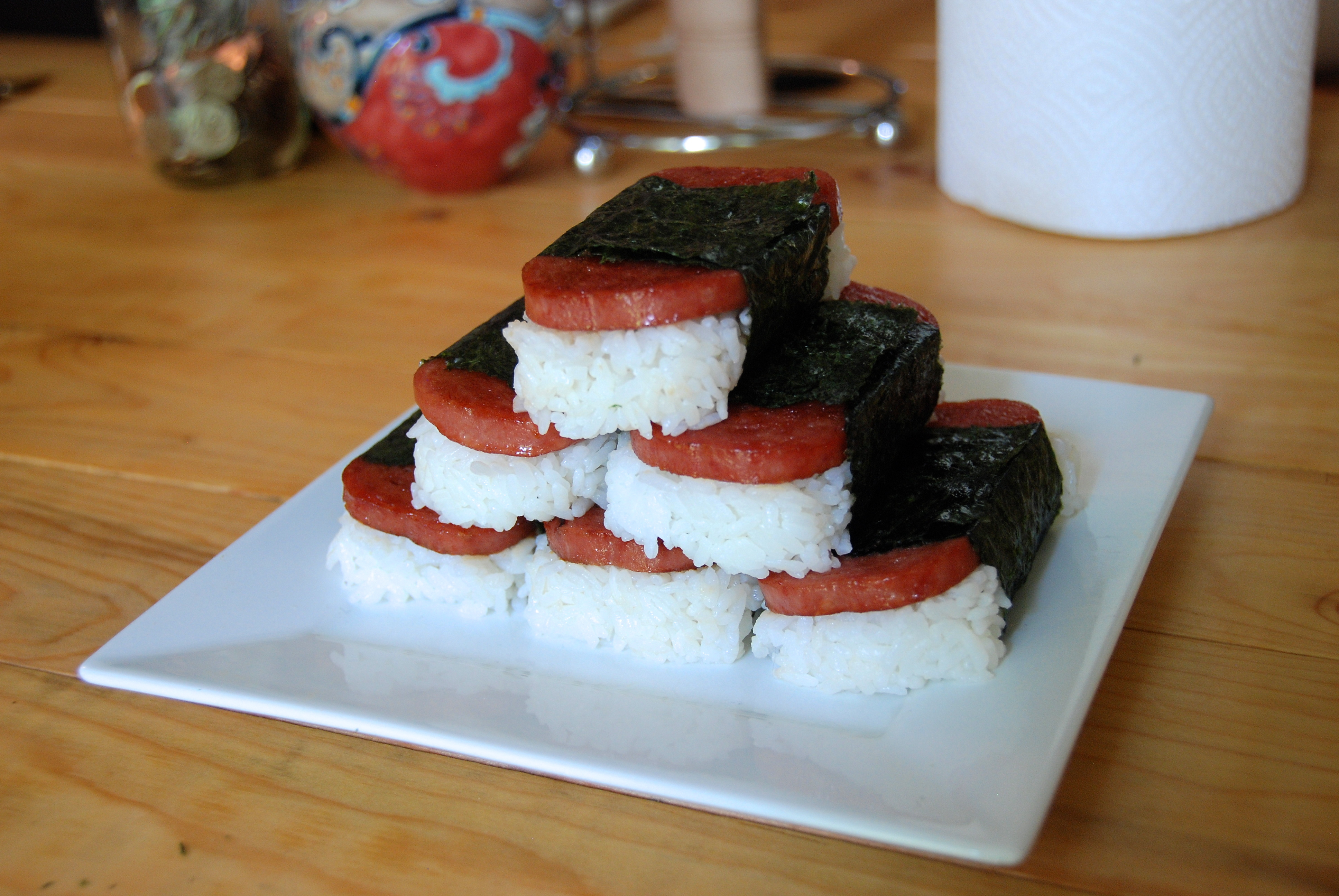 Thanks, Hawaii mom I've never met! 🙂 And thank you for reading!