So we are currently super into thin crust pizza! I don't know why the magic of thin crust took so long to dawn on us, but a couple of months ago B2 and I tried a new pizza place in our neighborhood and rediscovered all the perks of it we hadn't appreciated until now. It's crackly, flaky, crisp but with a little bit of give, and it takes up so much less belly real estate than doughy chewy regular crust that you can eat, like, seven more slices.  Which is clearly the most important part.
When I first set out to figure out thin crust at home, I realized after a few trials that the one I was after wasn't necessarily a pliable, Roberta's-style thin crust, black-blistered on the edges and stretchy (although I just saw this and now I might be amending my statement).  Instead, it was a crispy, layered "cracker-style thin crust" I learned hailed from St. Louis, a no-yeast (!) and no-rise magical creation that lets you go from pantry staples to pizza in less than an hour.  I based this recipe on one from Lottie + Doof and one from King Arthur Flour, and found that it was the perfect, slightly crunchy but slightly chewy thin crust we were after, and the quickest and easiest one I've ever made, to boot.  For the days when I forget to leave out a 24-hour no-knead dough, or even for the rest, I am so excited about this.
I'm pairing up with West Elm for these couple of weeks!  It was an arugula, apple, balsamic, & bacon combo that first stole my heart at that thin crust pizza place around the corner, and you can find my at-home recipe for it on their blog this morning.  Thank you so much to West Elm for sponsoring these posts!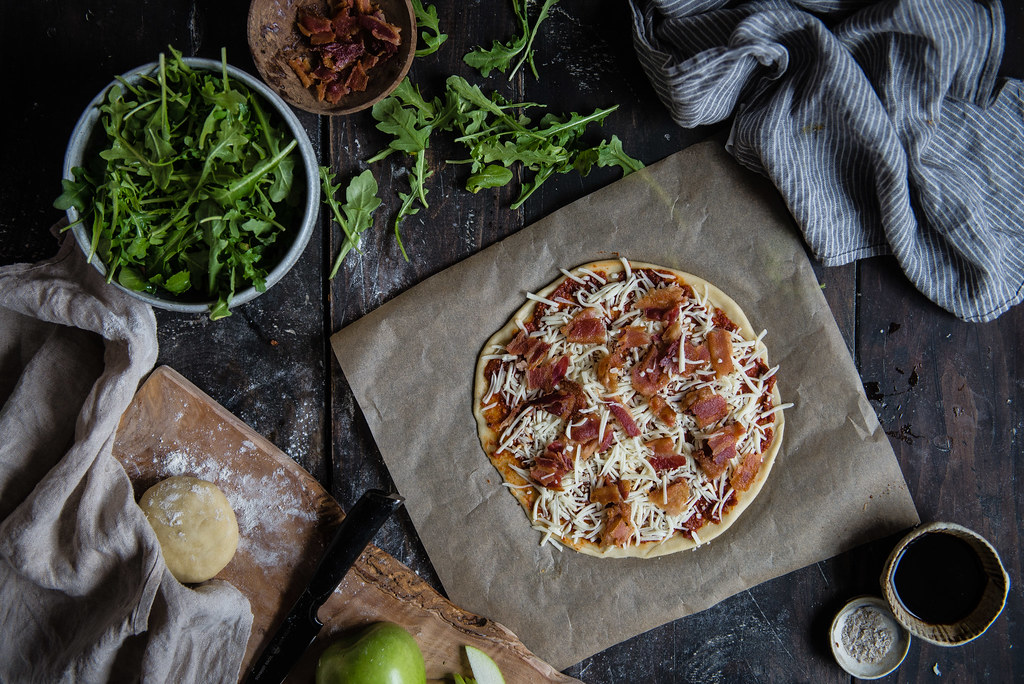 Print
Cracker-style thin crust pizza!
1 cup

plus 1 tablespoon (approximately

135 grams

) all-purpose flour, plus more as needed

1/2 teaspoon

sea salt

1/4 teaspoon

baking powder

6 tablespoons

water

2 tablespoons

canola oil

1/2 teaspoon

honey (or sugar)
Instructions
Whisk together the flour, salt, and baking powder in a medium bowl. In a small bowl or measuring cup, whisk together the water, oil, and honey. Pour the water mixture into the flour mixture and stir until a dough comes together. Switching to your hands, knead the dough until smooth and supple, about 5 minutes. Divide the dough into two equal pieces (or leave as one, for one larger pizza), shape each one into a round disk, cover with a cloth, and let rest on a board for 30 minutes.
Preheat the oven to 500 degrees with a pizza stone or cast-iron skillet (turned upside down, if you like) inside.
Working with one portion of dough at a time, roll a dough disk between two pieces of parchment paper into a round that is about 10-inches in diameter. Peel off the top layer of parchment. If you like, brush lightly with olive oil (I often forget this step, so I'll go ahead and say it's optional), then spread with sauce and your choice of topping. (Here's one we're liking lately!)
Using the parchment paper, transfer the pizza to the pizza stone in the oven. (I place the parchment directly on the stone–no need to slide the crust off the parchment paper.) Bake until browned on top and slightly charred on the edges, about 10 minutes. Enjoy!