Last Saturday, when we were still puttering around in the throes of jet lag, a good friend dropped by to help ease us back into the real world.  She belongs to that lucky (for us) class of friends where the apartment is never too messy to have them pop in and where a squishy couch and some food is all you need for "entertainment," which was perfect, because that's pretty much what we had — half-unpacked duffels in the corner and all.
So we spent a sunny morning drowsily debriefing the wedding over matcha Oreos and peach cobbler, and when I finally got off my butt and into the kitchen, we had this charred corn for lunch.  It's heavily inspired by David Chang's roasted sweet summer corn (because there's no way I could have dreamed up something as genius and heavenly as miso butter on my own!) but I felt like something a tad crunchier, so the corn got a quick broil before it went in the pan, and on a whim I threw in garlic scapes instead of onions for a little more texture and liveliness. The charring adds a smoky note that I'm obsessed with, especially in tandem with the same from crisped-up bacon and the contrasting bite from snappy scapes.  And then there's the miso butter — salty, savory decadence with a hint of sweetness and the slightest fermented pucker, it's nutty and earthy yet creamy and smooth, and just plain amazing.  The corn doesn't need any more seasoning than that.
The first time I tried this out we devoured it plain, but this past weekend we threw it over a few sunny-side up eggs, melted mozzarella and chewy homemade tortillas, and it was beyond words.  We're having a little DIY taco party this Sunday (wee!) and I'm thinking this might have to make yet another appearance.  It's just too good.
Happy Wednesday, friends!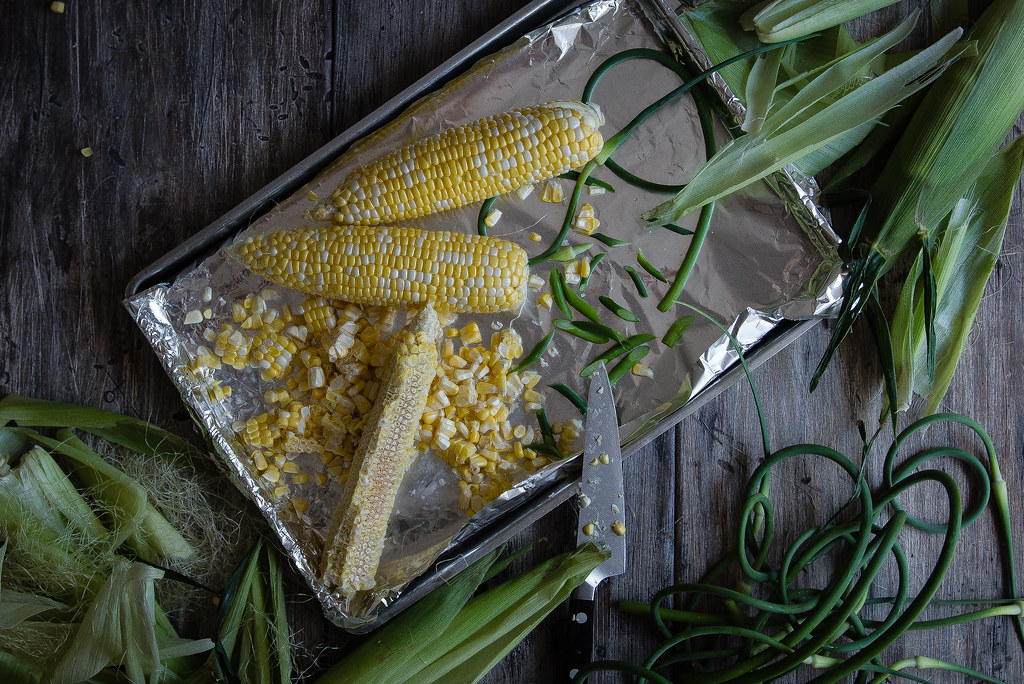 Print
Charred corn with miso butter, bacon & garlic scapes.
Adapted from Momofuku, by David Chang. The first time I tested this recipe was back when scapes were curling energetically out of every other basket at the farmer's markets, but I was pumped to find a few left this past weekend, so I hope that means they're still around for you as well. In the off season, garlic (not regular) chives, green garlic, or chive bulbs would all work well, and in a pinch, you can use green onions.
2 tbsp

white miso paste (or

1 tbsp

red miso)

2 tbsp

softened unsalted butter

4 cups

corn kernels (about

4

–

5

ears)

1 cup

(about 6) sliced garlic scapes* (see above for substitutions)

4

–

6

slices (about

4

–

5

oz) bacon, depending on your preference
Instructions
In a small bowl, whisk the miso paste into the butter until smooth and incorporated. It helps if the butter is softened and at room temperature, but will take a little bit of work before it's smooth. Set aside.
Turn your oven to broil and place your oven rack about 4″ to 6″ from your heating element, if needed.
Line a sheet pan with foil and lightly butter or oil it. Shuck the corn, remove the silks, and cut the kernels from the cob onto the pan. Add the scapes and spread the mixture in an even layer across the pan.
Broil the corn and scapes until there is visible charring in spots. This took me about 6-8 minutes in my oven, but can take as little as 3-5 minutes depending on the oven. If you see or hear a few kernels jump around in the pan, the corn is done. Remove from oven and set aside. (Alternatively, grill them!)
Next, dice the bacon. Fry in a cast-iron skillet over medium heat until crisp and the fat is rendered. Drain all but one tablespoon of the bacon fat. Turn the heat to its lowest setting, then add the corn and scapes to the pan and stir just until well-coated in bacon fat. Finally, add in the miso butter and cook until melted and evenly distributed. Enjoy on its own, as a side, or (our favorite) on tortillas with a fried egg and cheese.
Notes
For a creamier and softer corn, you can add about 1/2 cup of the broth of your choice, as per the original recipe, and cook until the broth no longer pools in the bottom of the pan.
Also, as an alternative to toasting your face in front of a hot oven in July, you can grill your corn on the cob (a la Joy the Baker) and slice the kernels off after grilling!