Happy Sunday! A few months ago, I was back home visiting my parents and noticed a box of sweet corn muffins sitting on the kitchen table. Oh, that's interesting, I thought, and next thing I knew there was only one left and incriminating crumbs were all over my face and fingers. (By the way, they were Publix brand — anyone else absolutely positively love Publix and think it's the best supermarket in the world minus Foodland because of their poke but if they had poke they would be the best? Publix is the best thing about the South.)
Anyway, once we were back in Brooklyn, I started craving those muffins again and decided to make some of my own. I was a little picky with these — I wanted them to be just the right ratio of cornmeal to flour, not too mealy but not simply a cake with a hint of corn, either. I also like my cornbread on the sweeter side, much more like muffins, and moist. Lastly, I look for any excuse to make things both sweet and spicy, so I decided to add some diced jalapenos. They turned out wonderfully, sweet and soft with a lovely heat, and reminded me in the best way of my Southern roots. I had them fresh and then after a few days, fried in the skillet with a dab of strawberry jelly for breakfast. Even though I loved them, I'm already thinking of a more savory version next time, with chives or cheese (or both).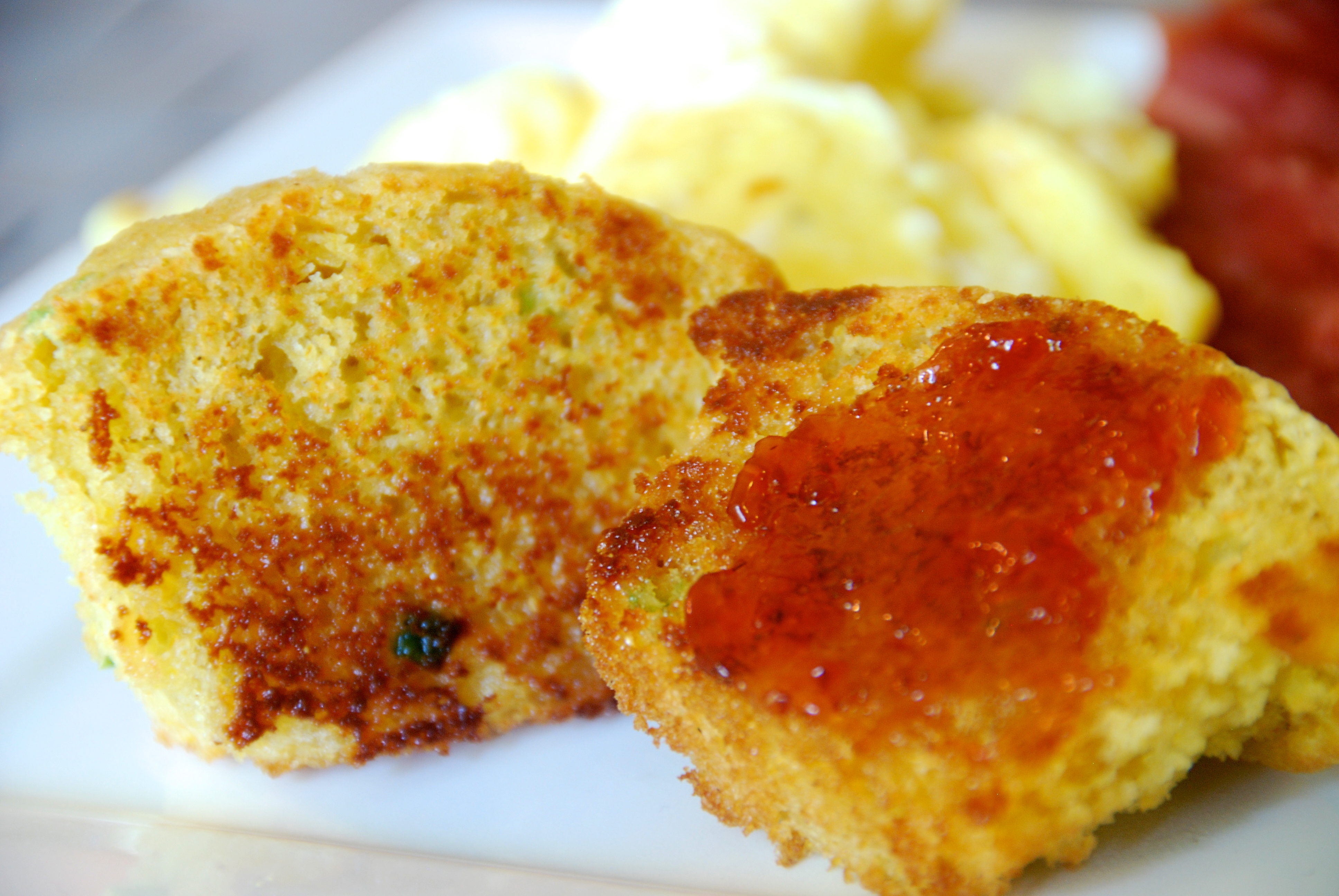 Jalapeno Sweet Corn Muffins
makes a half-batch of 6 (full recipe for 12 in parentheses, italicized).
1/2 cup plus 2 tbsp all-purpose flour (for 12 muffins, use 1 1/4 cups)
6 tbsp (1/4 cup plus 2 tbsp) cornmeal (3/4 cup)
1 1/4 tsp baking powder (2 1/2 tsp)
1/8 tsp (a pinch) baking soda (1/4 tsp)
1/4 tsp salt (1/2 tsp)
1/4 cup sugar (1/2 cup)
1/2 cup plus 2 tbsp milk (1 1/4 cup) (can replace with buttermilk)
1 egg (2 eggs)
1-2 tbsp honey (2-3 tbsp)
3 tbsp olive oil or vegetable oil (6 tbsp; optional: 3 tbsp oil and 3 tbsp melted butter)
1/2 jalapeno pepper, diced (1 pepper)
other mix-ins to consider: 1/2 cup sweet corn kernels (1 cup for a full batch); 1/4 cup shredded cheese (1/2 cup for a full batch); 1 green onion or 1 tbsp chives, chopped fine (2 for a full batch).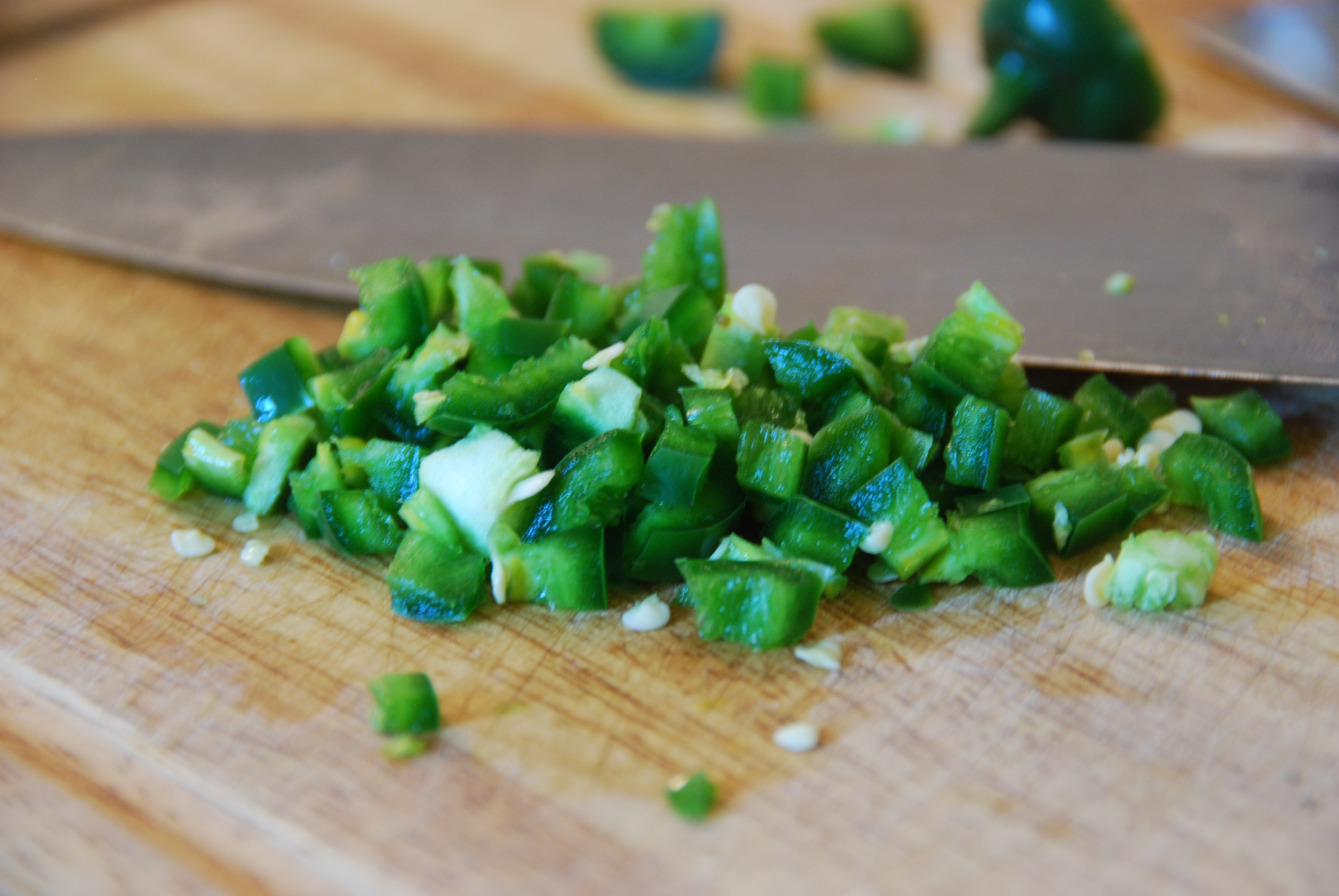 1. Preheat your oven to 400 degrees.
2. Sift together the dry ingredients (cornmeal, flour, baking powder, baking soda, salt, and sugar).
3. In another bowl, whisk together wet ingredients (milk, eggs, honey, and oil).
4. Add wet to dry ingredients and gently stir until just incorporated. Fold in diced jalapenos.
5. Place muffin paper liners in a 6-cup muffin or cupcake tin. Evenly divide batter into muffin liners.
6. Bake 15 minutes, until golden.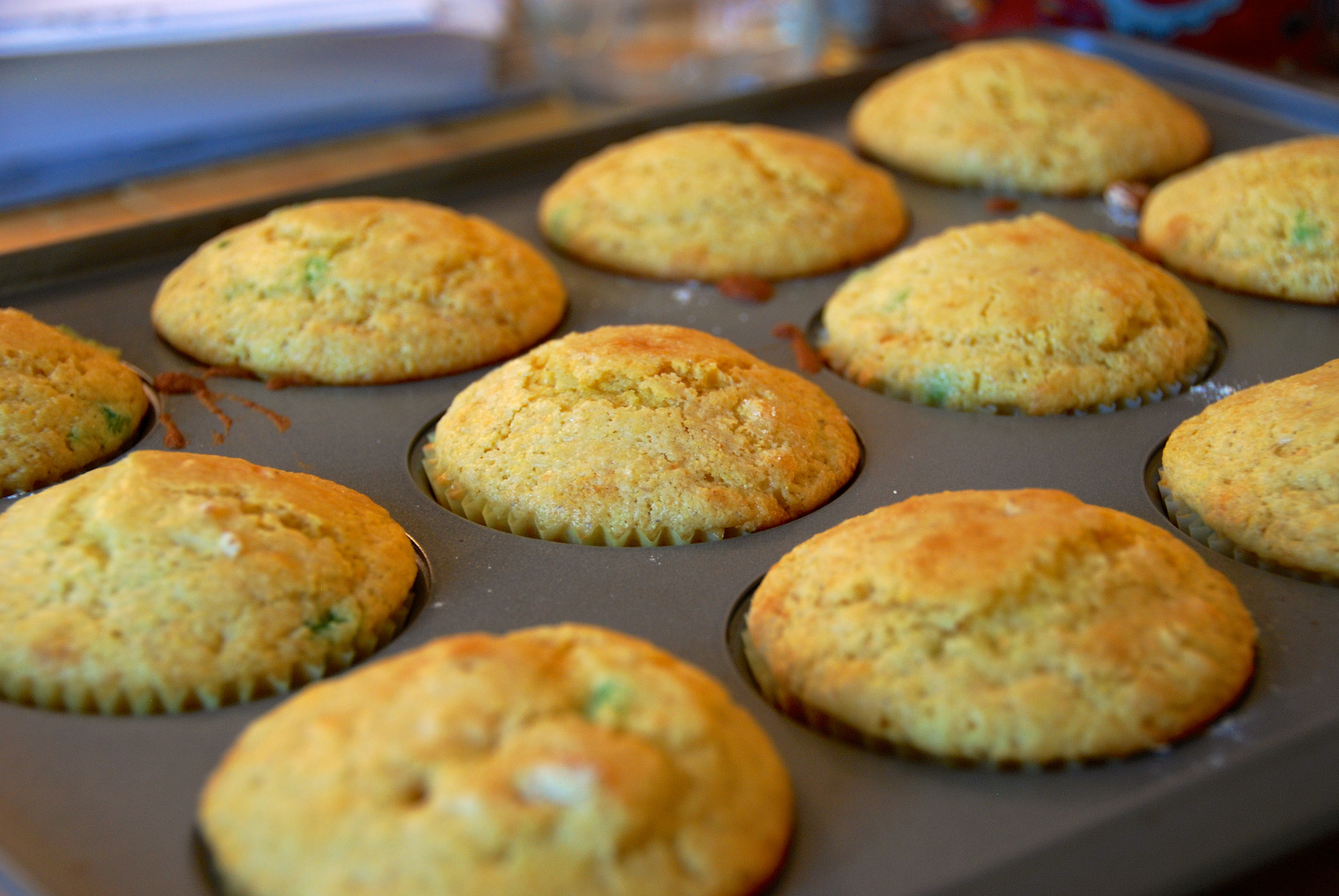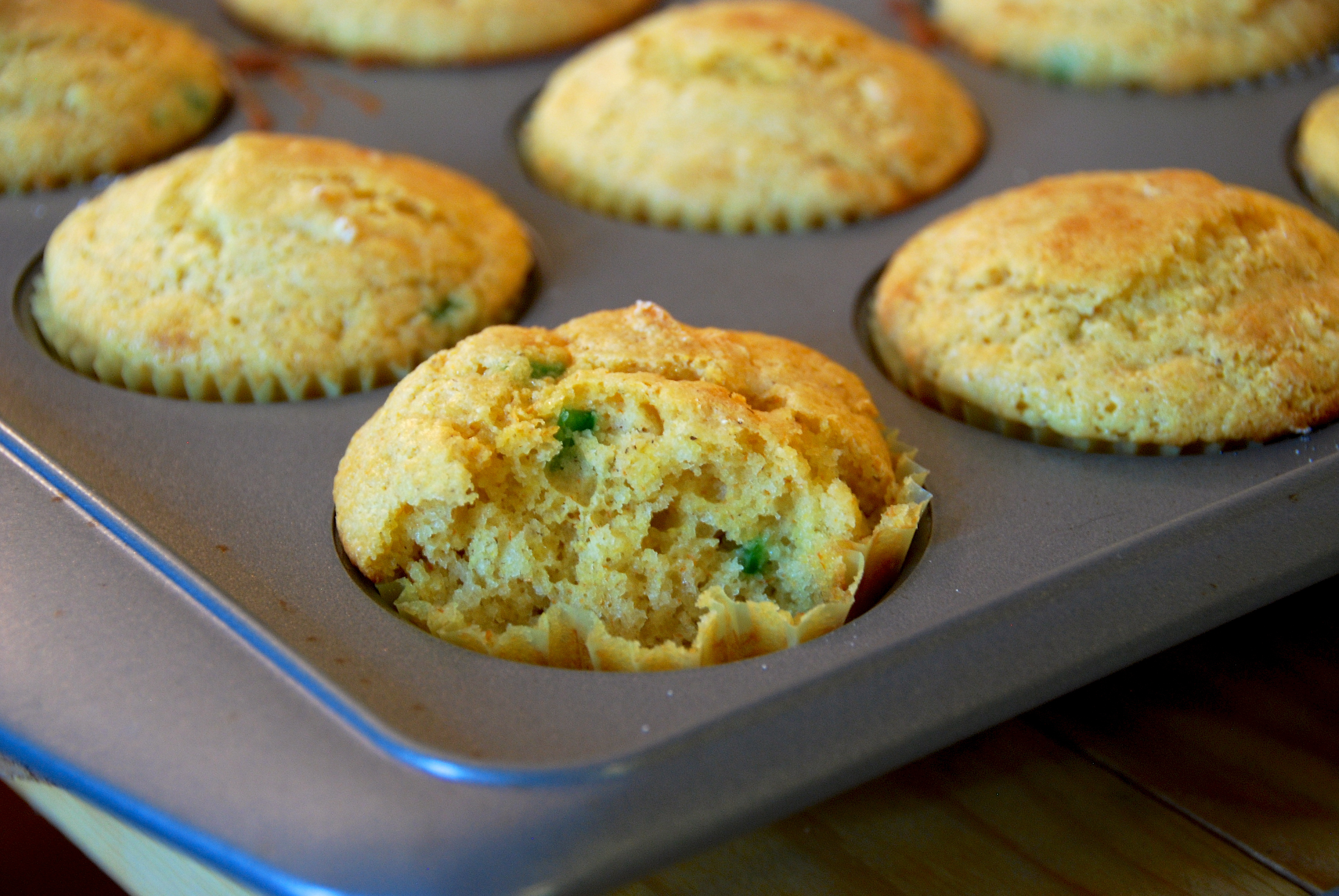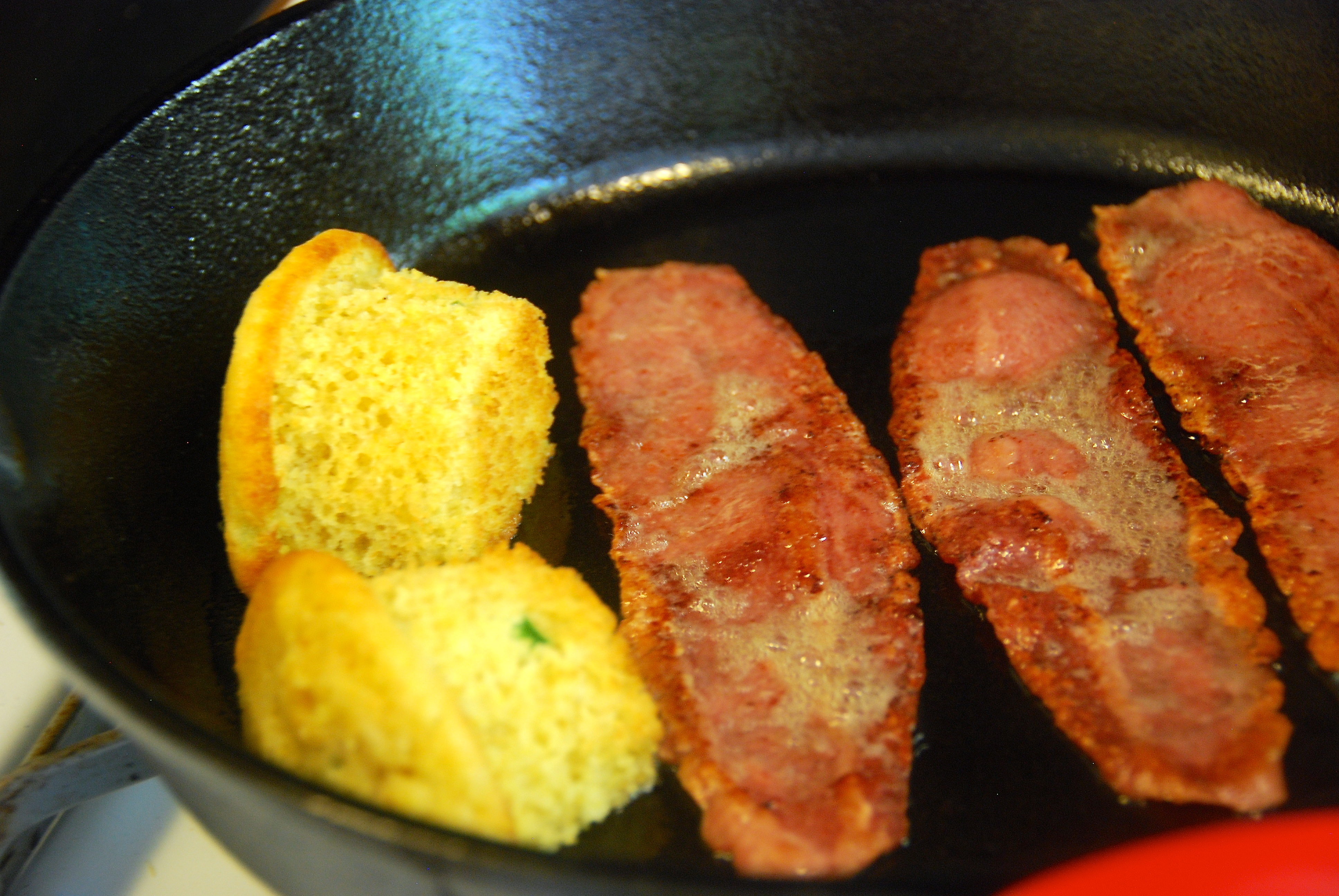 Some other delicious corn muffin and cornbread recipes to check out: Smitten Kitchen, Corniest Corn Muffins (these look so moist and delicious!), The Novice Chef, Jalapeno Sweet Corn Muffins (a version with a bit less cornmeal), A Couple Cooks, Sweet Corn Muffins, Constantly Cooking, Jalapeno and Chive Cornbread.
Thank you so much for reading! 🙂 I hope you all have a wonderful and relaxing Sunday.