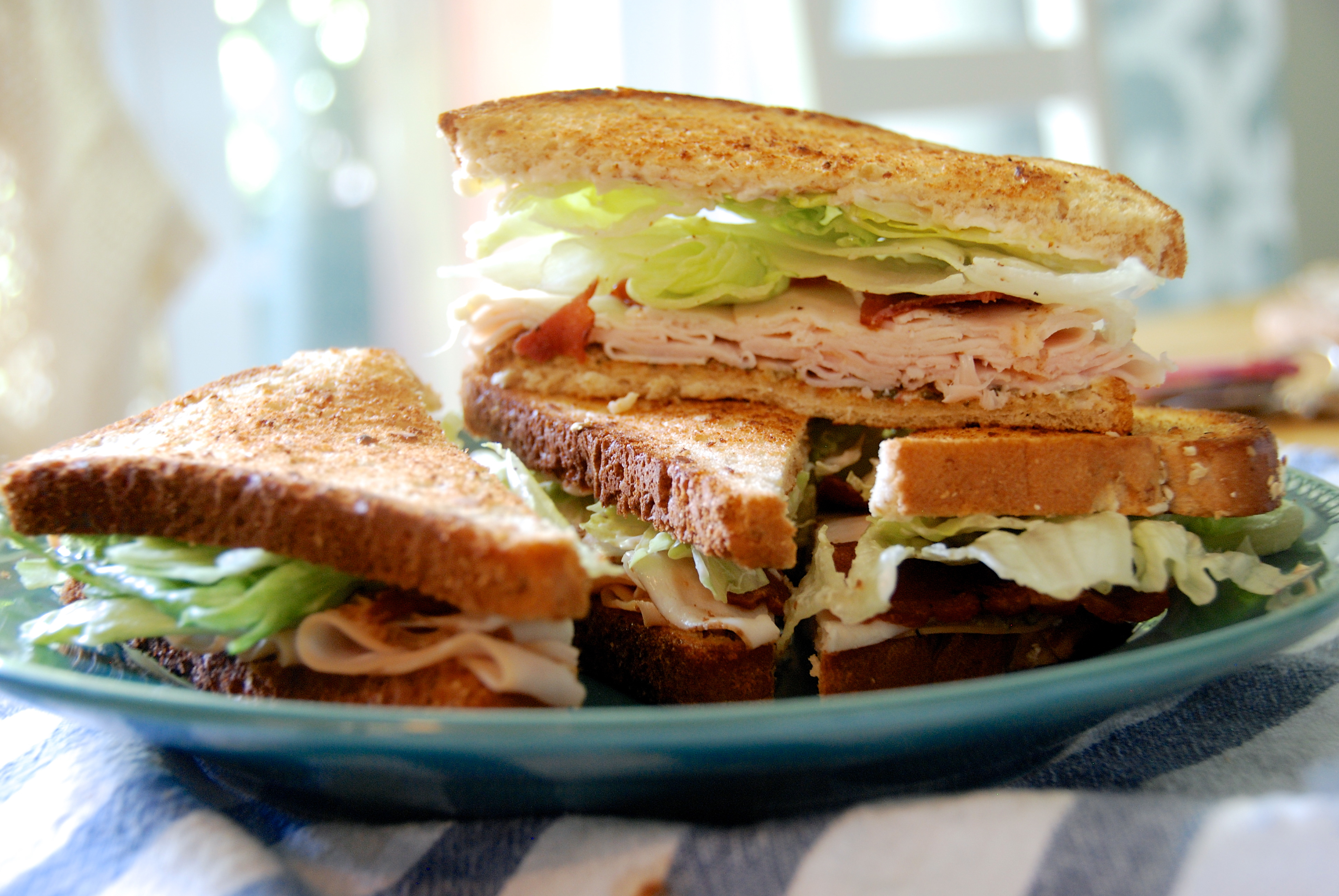 So we're in the homestretch before the bar! It's one week from tomorrow.  At this point, I'm more resigned than afraid (or in denial?), but I should still probably post this quick and scurry back to studying. Here's a quick and easy toasted club sandwich with pesto mayo, sliced turkey and chicken, my favorite spreadable cheese from Laughing Cow, and the added bonus of a little turkey bacon. A pretty great study break that doesn't take up too much time but is still tasty.
Easy Turkey Pesto Club
for two sandwiches.
3 rashers turkey bacon (or regular if you feel feisty)
4 slices hearty bread (I like Whole Grain Oatnut, a nice combo between whole grain and oatmeal that is healthy without being dry)
1 tbsp pesto (I use Buitoni)
1 tbsp mayonnaise
2 wedges Laughing Cow, Light French Onion (I LOVE these!)
4-6 leaves iceberg or romaine lettuce
3-4 oz (about 10 thin slices) sliced chicken
3-4 oz (about 10 thin slices) sliced turkey
1. First, rinse your lettuce leaves and pat dry. (Also, an amazing tip from Taste, Love, & Nourish — if they're a bit wilted, soak them in cold water and they'll regain their crispness by the time you're ready to put your sandwich together.  I first tried this just last week and loved it!)
2. Place bacon in a cold skillet with a light layer of oil and turn the heat to medium.  Fry, turning often, until semi-crispy and fat is rendered.  Remove bacon.  For the turkey bacon it won't be much grease, but still enough to toast your bread in, which I love 🙂  So, next:
2. Turn the heat to low and place bread in the skillet, moving the slices around a bit to absorb the bacon grease.  After 2-3 minutes (or when the underside is toasted; lift to check if you need to), flip to toast the other side.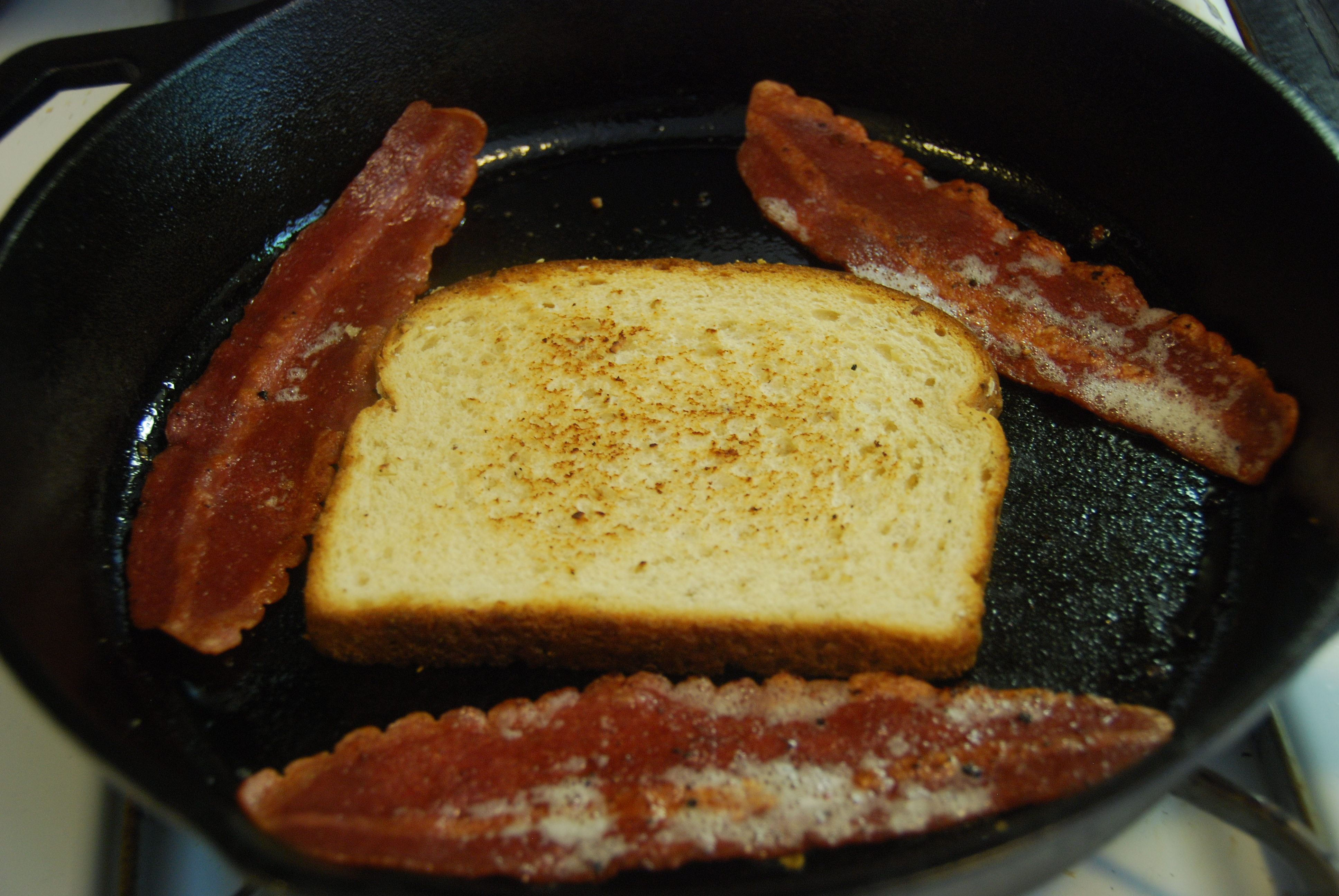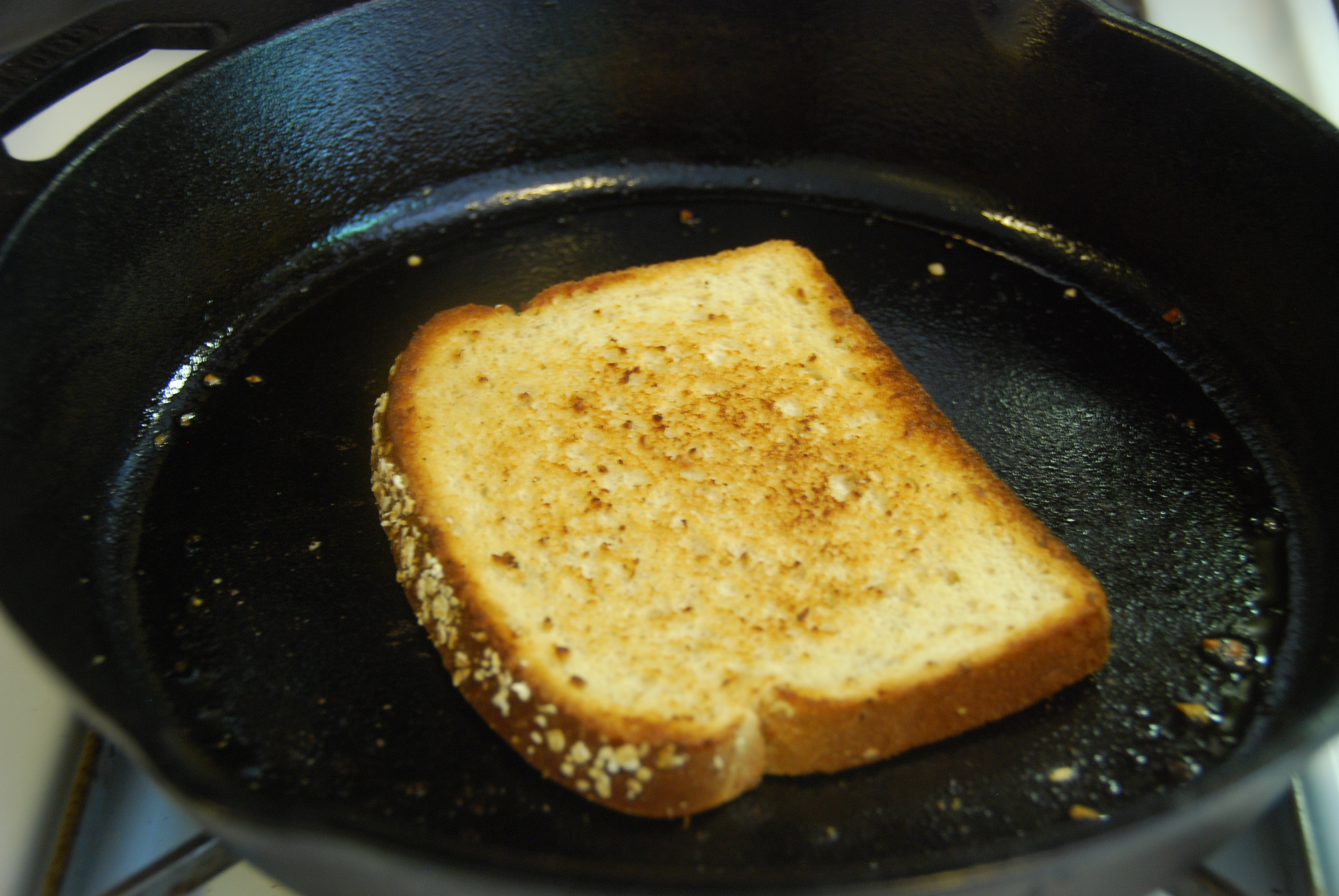 3.  Spread the Laughing Cow on two pieces of toast (one for each sandwich) — one wedge per slice.  The heat will help it spread a bit, though I haven't found it very difficult even if using cold bread.  (Note: I love Laughing Cow!  I feel like it adds so much flavor without being too heavy.  Another favorite sandwich is just chicken, lettuce, a light layer of honey mustard and mayo, and this cheese.  Try it if you're lazy like me 🙂 )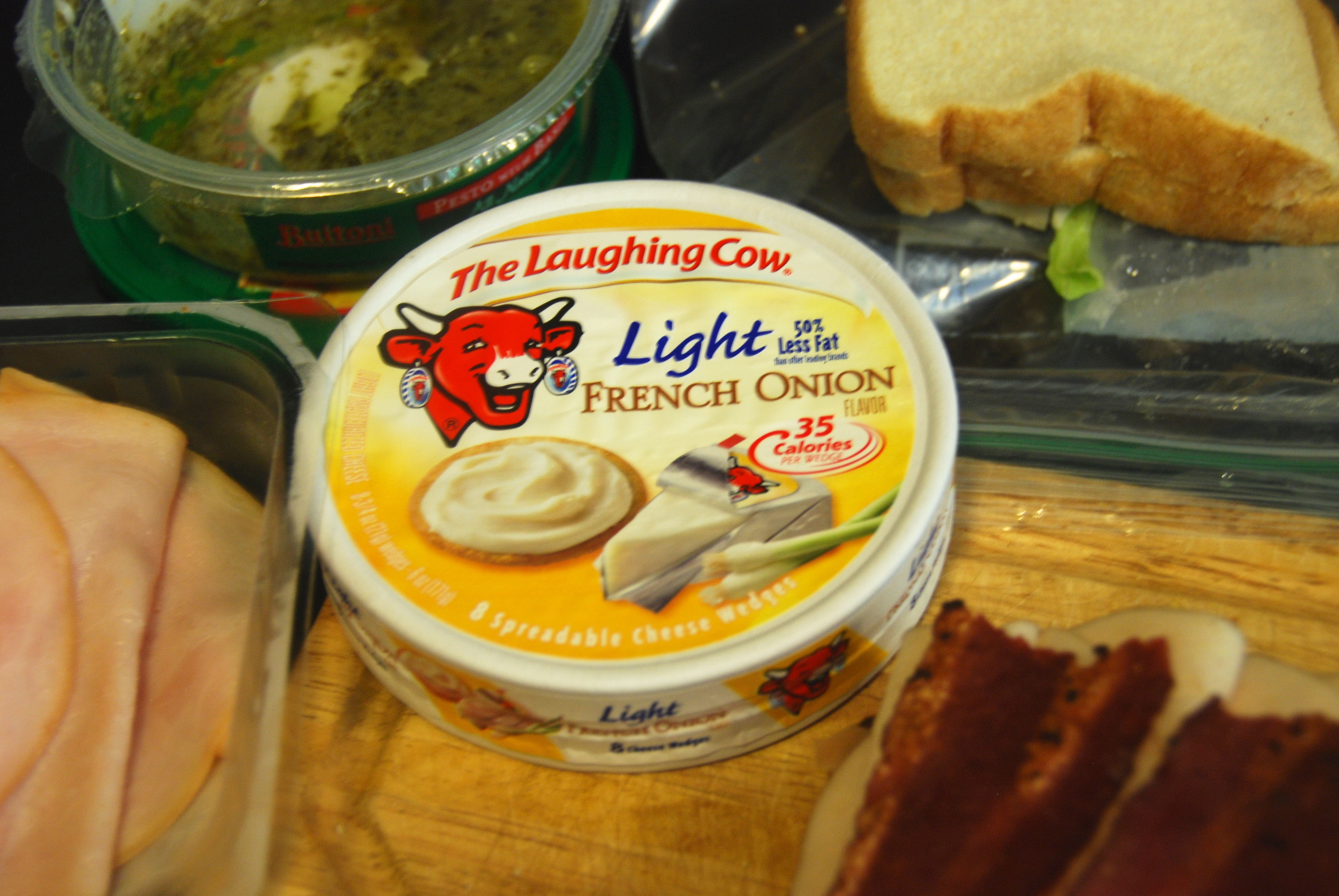 4. Next, take the other empty slices and spread mayo and pesto on each.  Here, you can either briefly whisk together the mayo and pesto before spreading, or just spread the mayo and pesto on, one half-tablespoon of each for each sandwich.  It doesn't really matter 🙂 Whatever is quickest!  (And also you can say screw it and totally ignore these directions, which is evidently what I did, judging from these photos.)
5. Finally, pile on lettuce, chicken (about 5 slices per sandwich), turkey (same), put it all together, slice into halves if you feel fancy, and serve.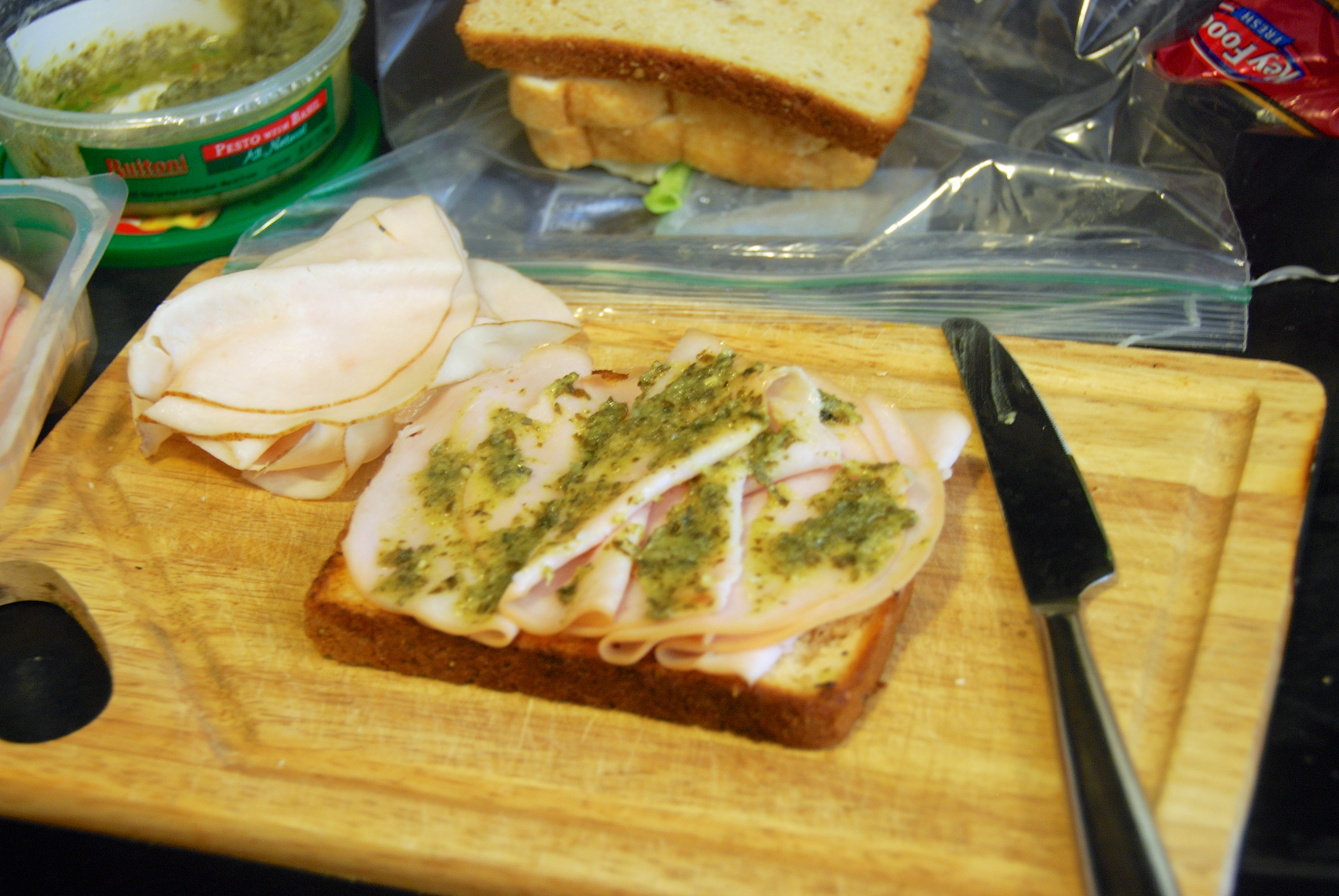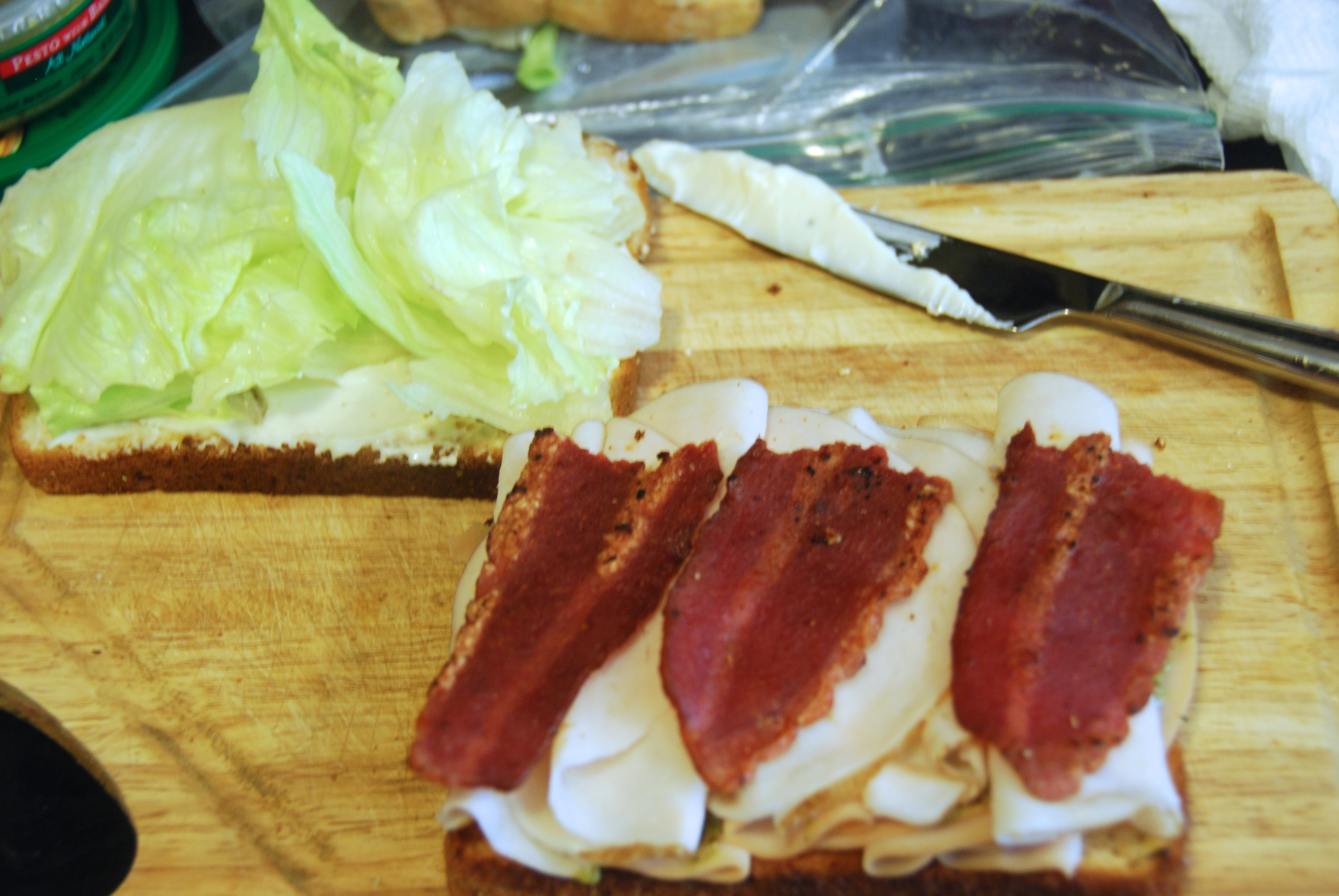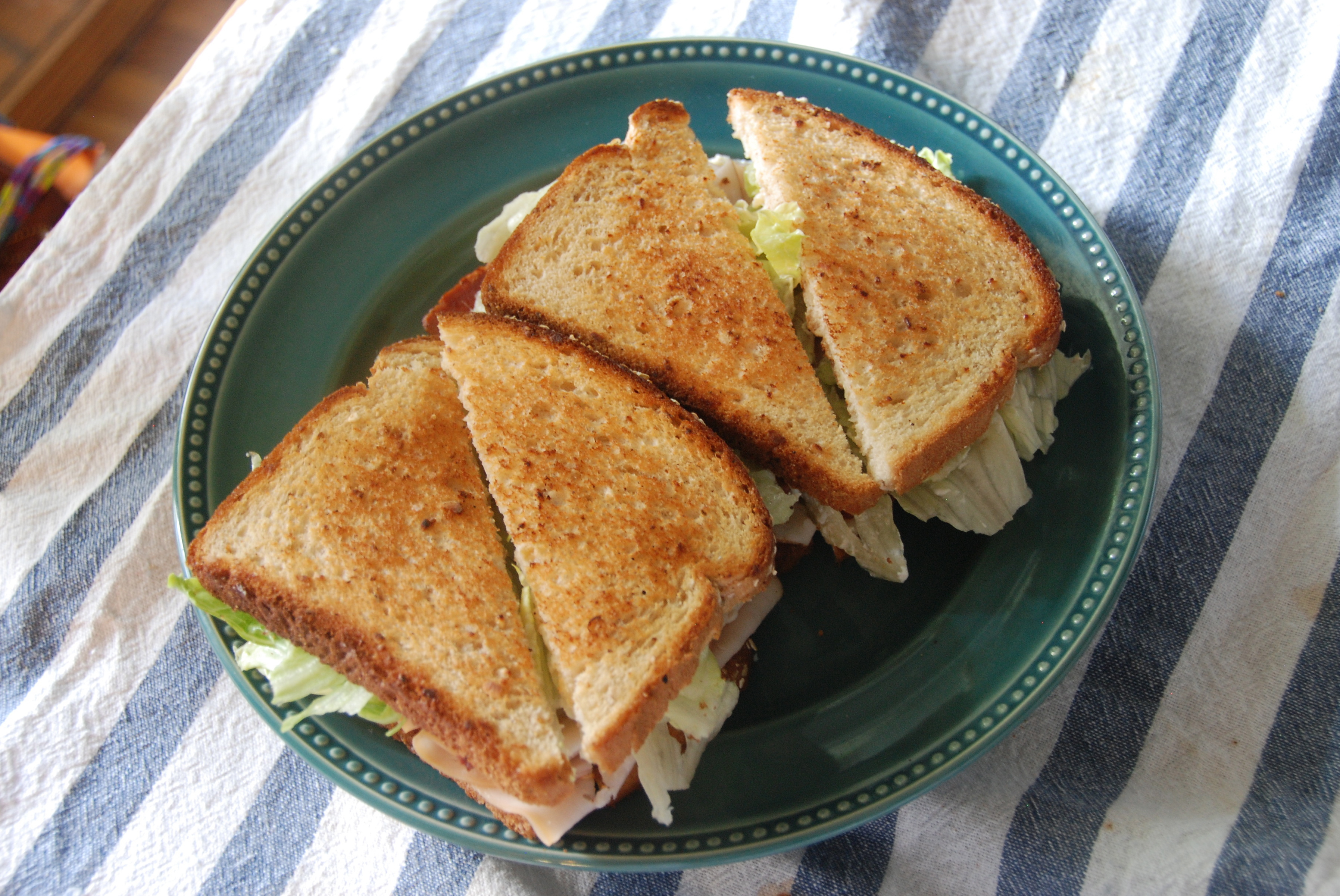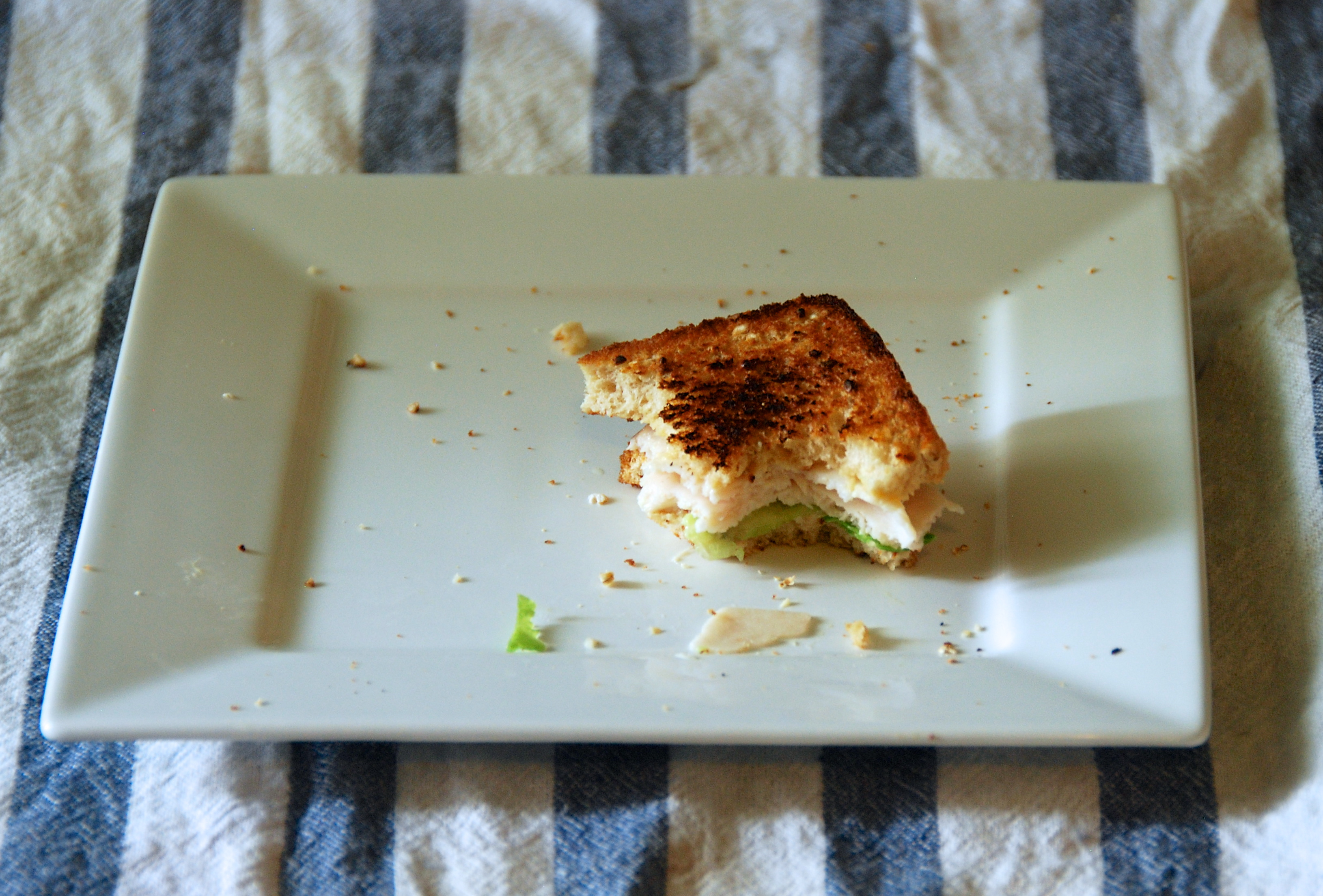 I hope everyone's having a good Monday! Thanks for reading — and to any other bar-takers who might be reading this, good luck!!