This post is in partnership with KitchenAid. You can find past posts here, here, and here.
Around a year ago, in balmy fall-ish weather like this, I had the happy chance to have dinner outside at Manuela in downtown LA.  Pretty much everything we had there was delicious, lots of familiar Southern staples, like tender, cloud-like cream biscuits with country ham, but wended through with neat touches like shishito peppers tucked amid potatoes, and glossy salmon roe on summer tomatoes and burrata.  
Because I'm always looking for ways to eat more greens, the one dish I ended up trying to make at home was a warm salad with charred sugar snap peas. Granted, sugar snap peas are one of those vegetables I'm willing to devour on their own, sweet and crisp and tender at the right time of year.  But grilled they get a little mellower and smoky, and combined with all the creative dressings that Manuela thought up, they turn into practically a meal on their own–there's crunch and protein from handfuls of crispy quinoa and pungent brightness from torn fresh mint, balanced by creamy dollops of whipped feta and rounded off with a sweet-and-savory compound butter.  (They make a sesame date butter, but I went with a tried-and-true miso honey butter that I love putting on everything.)
You can char your sugar snap peas a couple of ways.  With the weather cooling down, I'm turning on my oven more often again, and tried them out on the KitchenAid Smart Oven+ grill attachment that I wrote about earlier this summer.  We've never been grilling people (maybe because we never had a space to grill in until this year!) but this grill attachment makes it feel much more attainable for me than learning how to use an outdoor grill.  The grill fits onto the base pan and heating element inside the oven, you plug it in the same way as you do the baking stone and steamer attachments, and you're good to go.  It lets you grill year-round, minimizes smoke that you would get from an outdoor grill, and heats evenly from end-to-end thanks to the heating element.  I am converted.
If you don't have a Smart Oven+, you can certainly grill these on a regular outdoor grill, or even just in a hot cast iron pan on a normal stove, like these shishitos.  Any way you make them, I hope you enjoyed this as much as I did, and hope you are all staying safe and well.
Thank you to KitchenAid for sponsoring this post and providing these appliances.  All opinions are, as usual, my own.  Note: The grill attachment ships with the oven. Connect, call, or register to receive the baking stone and steamer by mail at no additional cost.  Allow 10-15 days for delivery.  Visit kitchenaid.com/redeem for more details.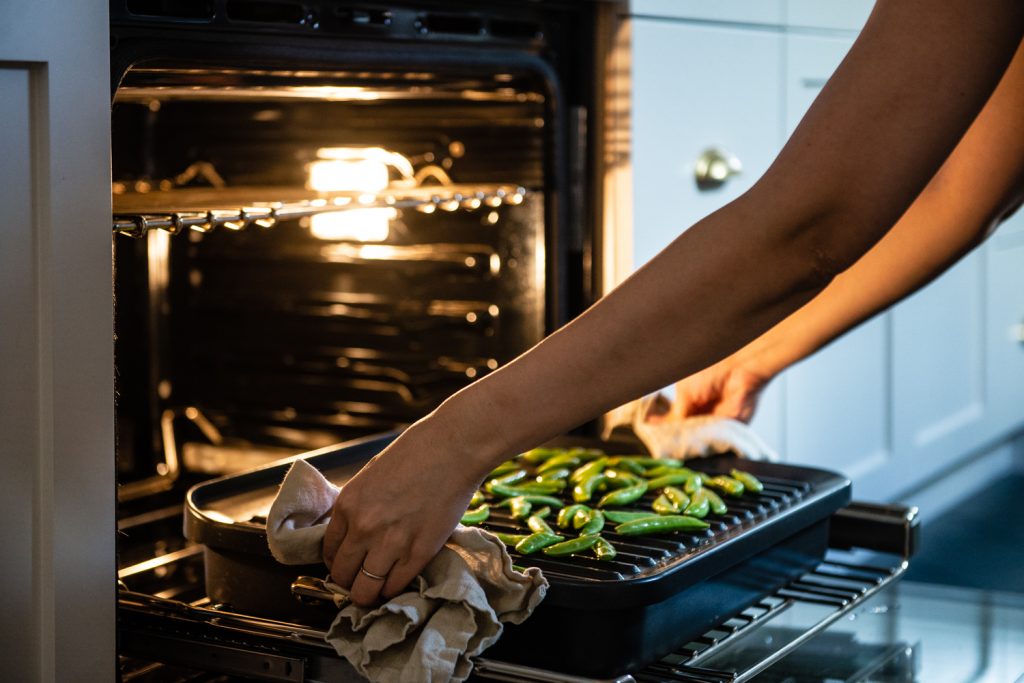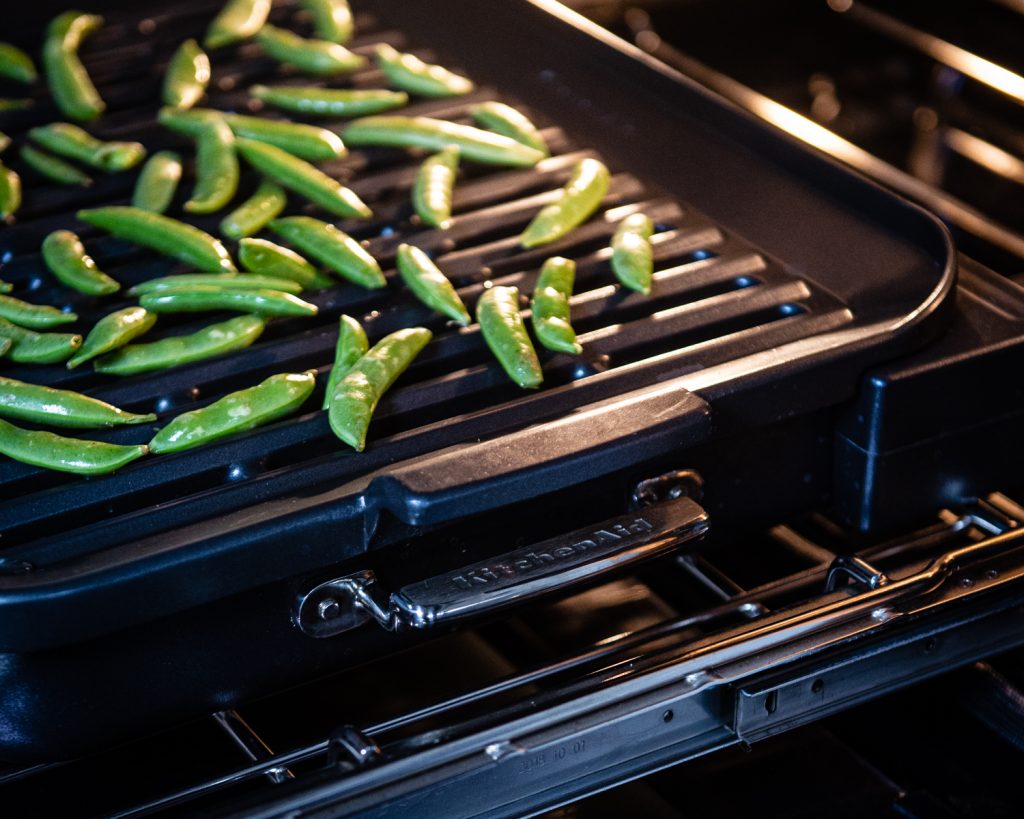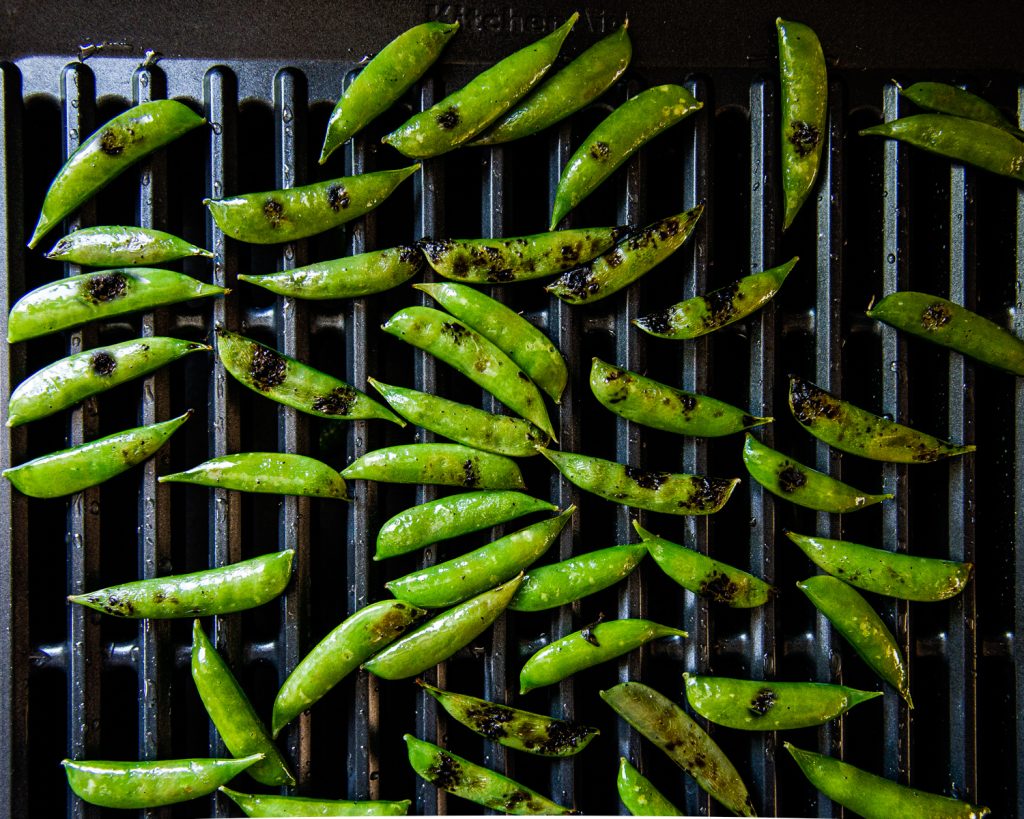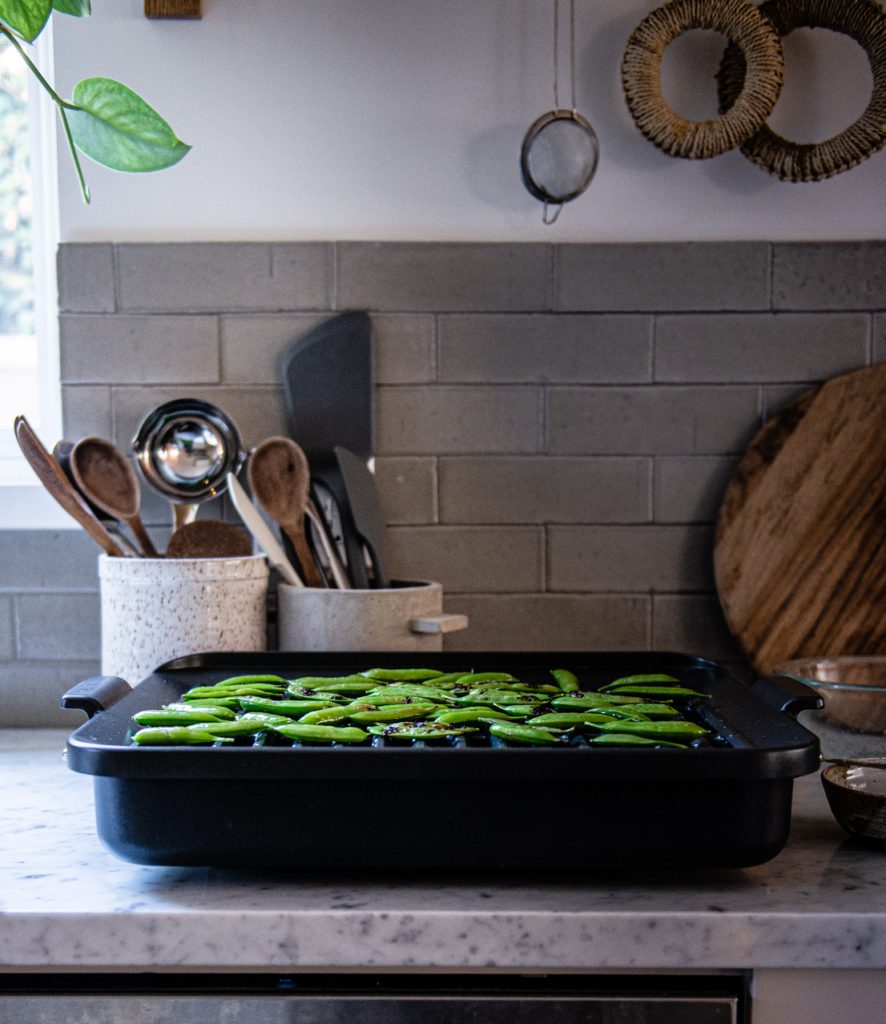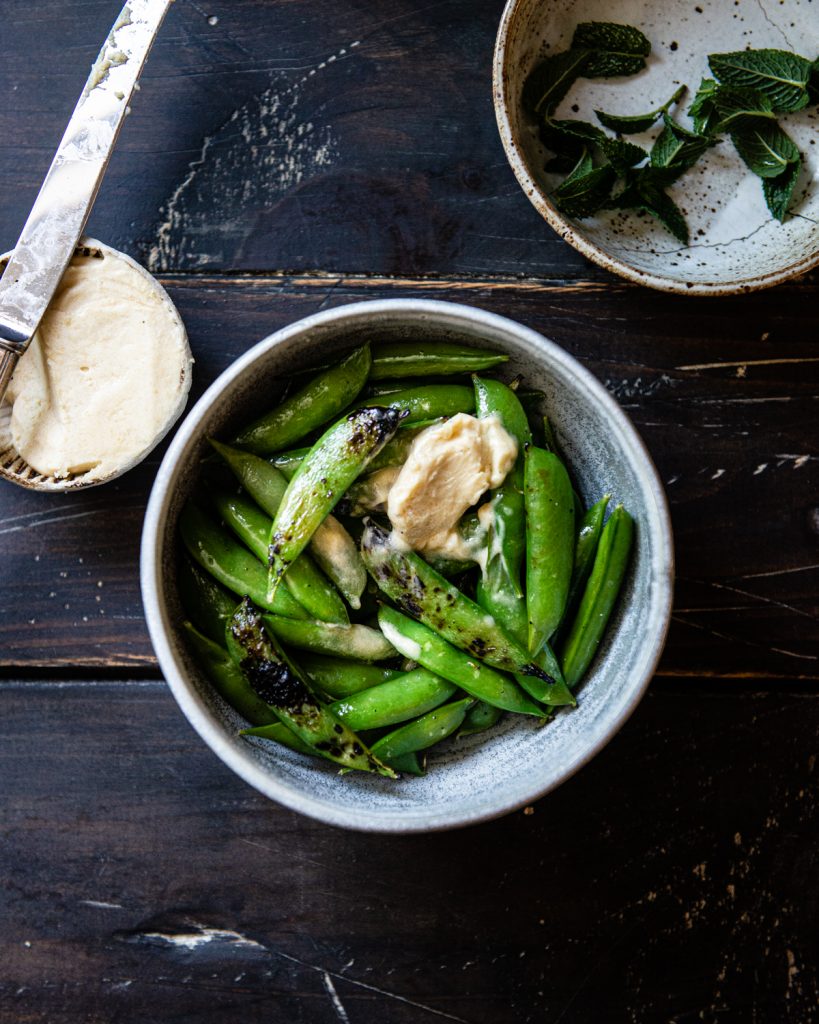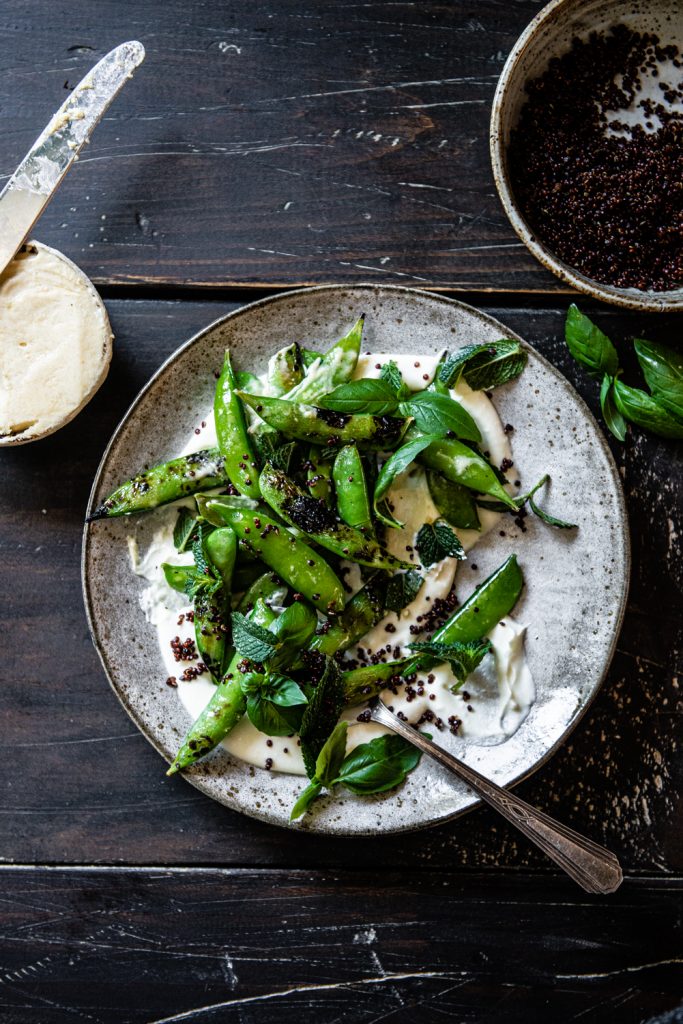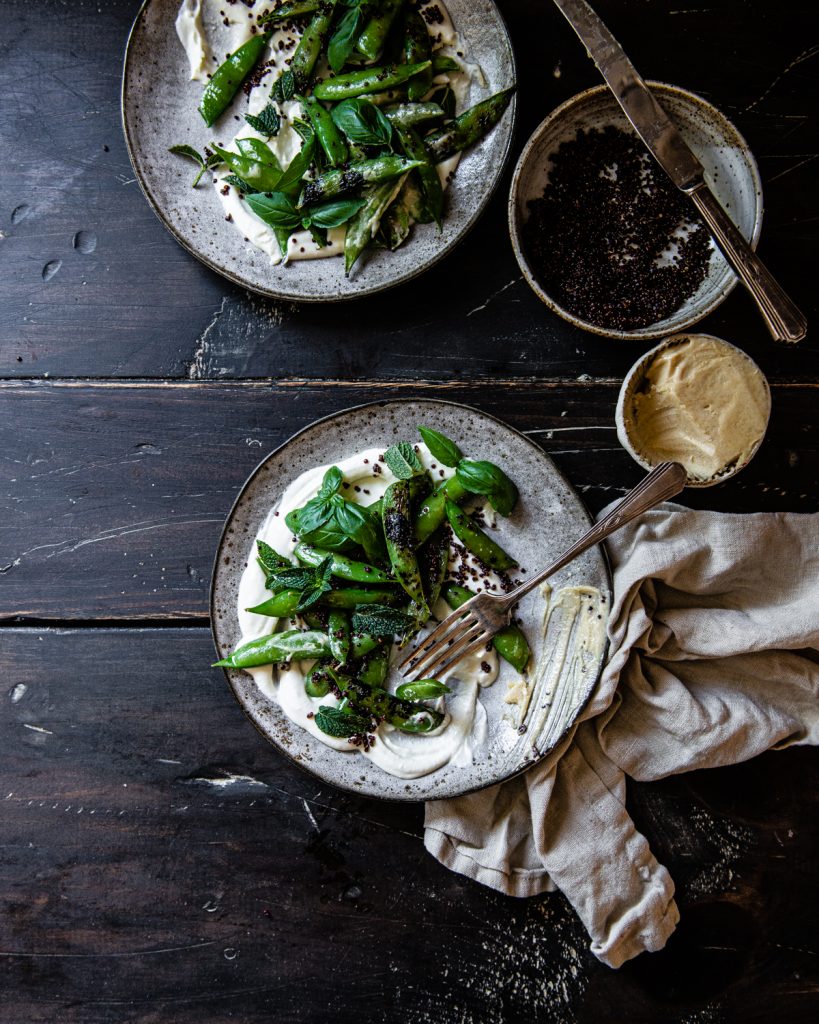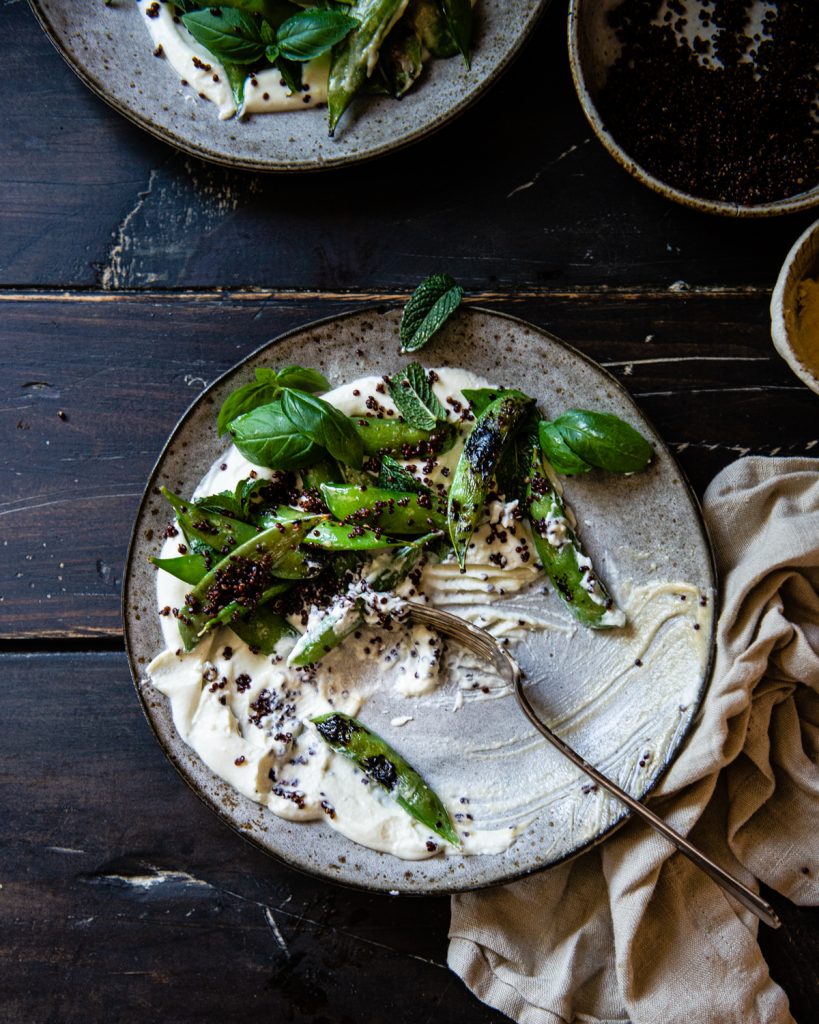 Print
blistered sugar snaps with crispy quinoa, miso honey butter, and whipped feta
For the crispy quinoa:
½ cup red or black quinoa
1 cup water or chicken stock, plus more if needed
1 teaspoon oil
¼ teaspoon salt
For the whipped feta:
4 ounces (113g) feta cheese
⅓ cup mascarpone, Greek yogurt, or cream cheese
1 teaspoon minced garlic (about 1 clove)
2 teaspoons olive oil
Salt and pepper, to taste
For the miso honey butter:
4 tablespoons (½ stick) butter (my favorite is Vermont Creamery)
1 ½ tablespoons white miso, or more if desired
2 teaspoons honey
For the rest:
3–4 cups sugar snap peas
1 tablespoon olive oil
Salt and pepper, to taste
Handful mint, torn
Instructions
For the crispy quinoa:

  First, cook the quinoa.  You can cook it however you typically do or according to package directions.  I like to do as follows, from Cookie and Kate:  Use two parts water to one part quinoa for red quinoa, and bring the water to a boil first with the oil and salt.  Add the quinoa and let simmer, uncovered, for about 20 minutes, or until quinoa is fluffy, tails have popped out for about half the quinoa, and the water is absorbed.  If the quinoa starts to sizzle or dry before it's fully cooked, add a bit more water, ¼ cup at a time.  When done, remove from heat and let sit, covered, for about 5 minutes.
When the quinoa is cooked, spread in a single layer on a cooking sheet.  Let sit until fully cool and dry.  Set your SmartOven+ to broil at 500 degrees, and the rack in the middle of the oven.  Broil the quinoa for about 4-5 minutes, or until the quinoa is sizzling in spots, and remove the cooking sheet and stir once.  Return to the oven for 2-3 more minutes, then remove from heat and set aside until ready to use.  The quinoa should be fully crisp and dry; when it's like this, it's fine to store at room temperature overnight or for a few days.

For the miso honey butter:

  Let the butter and miso sit at room temperature until soft.  Add the honey and whisk together until smooth. Chill until ready to use.

For the whipped feta:

  Combine the feta, mascarpone (or Greek yogurt or cream cheese), garlic, and olive oil in a food processor or blender and whiz until smooth.  If too thick, use a little bit of milk or water to thin.  Season with salt and pepper to taste.

For the rest: 

Finally, prepare your sugar snap peas.  Place the Smart Oven+ Grill Attachment in the oven.  (To prevent the sugar snaps from falling through, you may want to use a sheet of foil on top.  I didn't and had to be a bit careful about placing them on the grill, but they were otherwise fine.)  Select GRILL Mode and preheat the Grill to the High heat setting.  While the grill is preheating, you can de-string your peas.  In a large bowl, toss the sugar snaps in a little bit of olive oil, salt and pepper.  Once the Grill attachment is hot, place the sugar snaps on the preheated Grill and grill for about 3-5 minutes, or until there are some nice charred spots.
Return the peas to the bowl and add 2 tablespoons of the miso butter.  Toss until the peas are evenly coated.  On a large plate, spread the whipped feta-mascarpone mixture.  Add the peas, crispy quinoa, and torn mint.  Enjoy!
Notes
If you don't have a Smart Oven+, you can grill your sugar snaps on an outdoor grill, or simply by heating up a cast iron pan over high heat on a stove, and giving them a quick char.