Sometimes the simplest recipes are the best balms. Spending more time at home over this last year, we've been cooking nonstop but mostly just the homey, five-ingredient type meals that come together pretty fast and last us for a few nights. Things like fried kimchi and an over-easy egg on rice for lunch (that's right, I'm even at "lazy man's kimchi fried rice" at this point), or giant pots of spaghetti sauce. I'm sure it's not hard to find the subtext in gravitating towards straightforward, reliably predictable comfort foods right now.
These hush puppies came about a few weekends ago from that same notion. I've never actually made them at home before this, only associated them with a childhood nostalgia, paper plates at cookouts (and at Cook Out), but when I saw a recipe for them in Mama Dip's Kitchen–and saw that actually, it takes barely more than cornmeal, flour, buttermilk, and eggs–it really left me no choice but to get out a bowl and a box of yellow cornmeal.
And they are so good, and so easy! So easy, in fact, that Luke helped me make them. It is the best kind of revelation in learning that something you really love, especially with a specific and distinctive flavor, is so much simpler to make than you thought. The buttermilk, flour, cornmeal, and eggs get stirred up with a little sugar, minced onions, baking powder, and salt into a thick batter, are fried up in just a few minutes, and it results in comforting, delicious little golden nuggets that taste just like I remembered. They're a little crisp on the outside, moist and fluffy inside, deeply savory and just a little bit sweet. Fried right, they aren't greasy but almost light. You can serve them with a smear of butter or tartar sauce, but in my opinion, they're best just as they are.
I hope you've all been well. This is probably the longest break I've taken from this little space, in part to pay attention to the more important things that have been happening this summer, and in part because my family encountered some unexpected (non-COVID) health issues. Thankfully, things are fine (just busy) with me, B2 and the little bowls, and I hope they are with you too.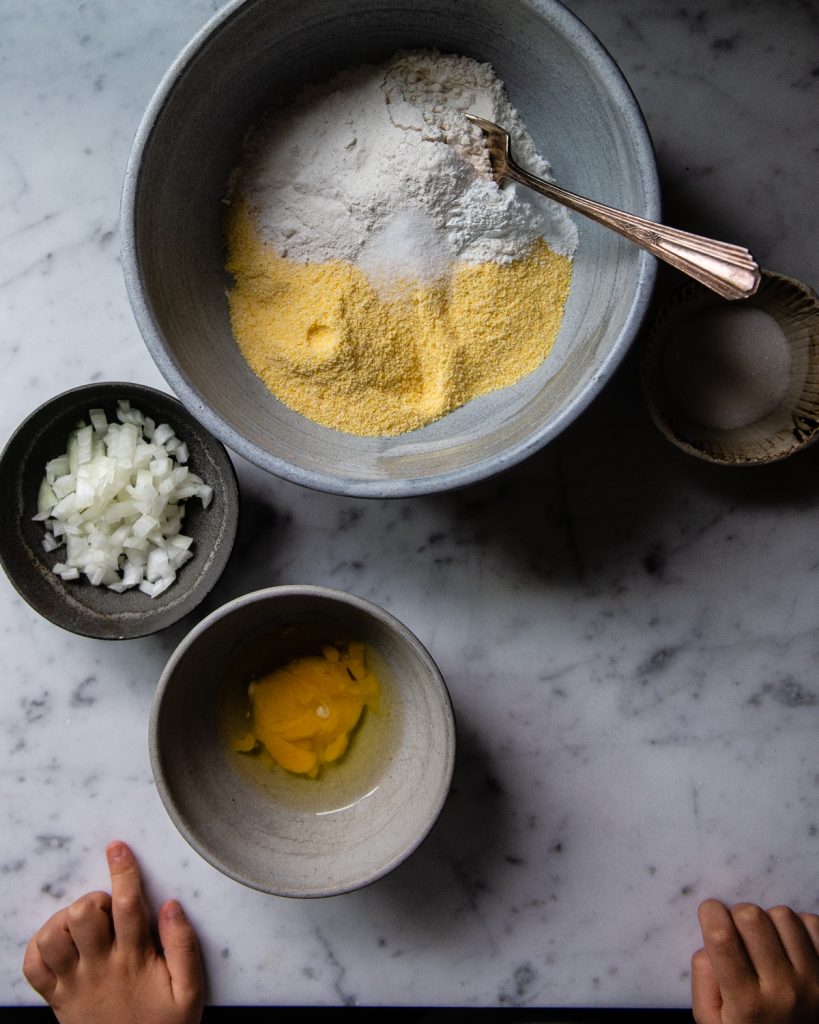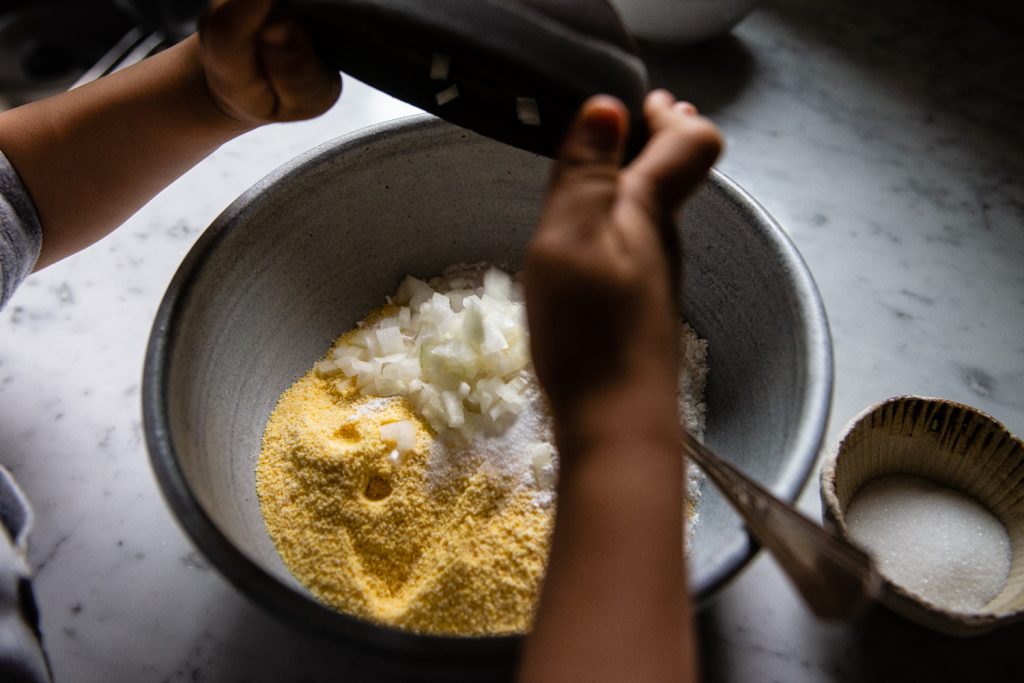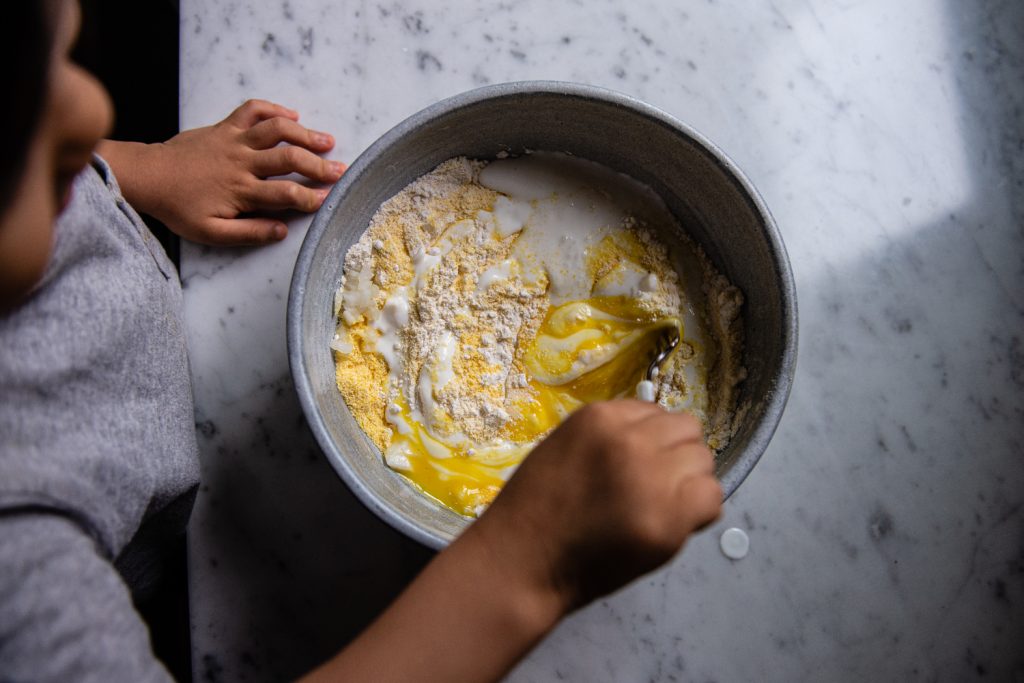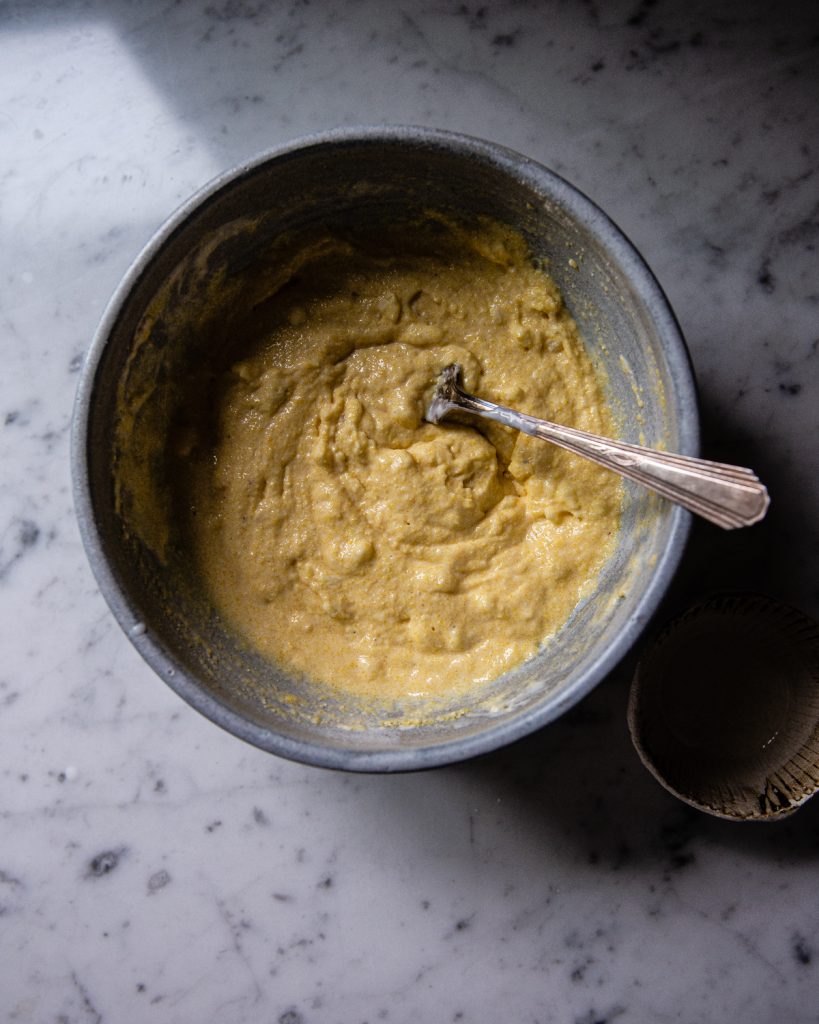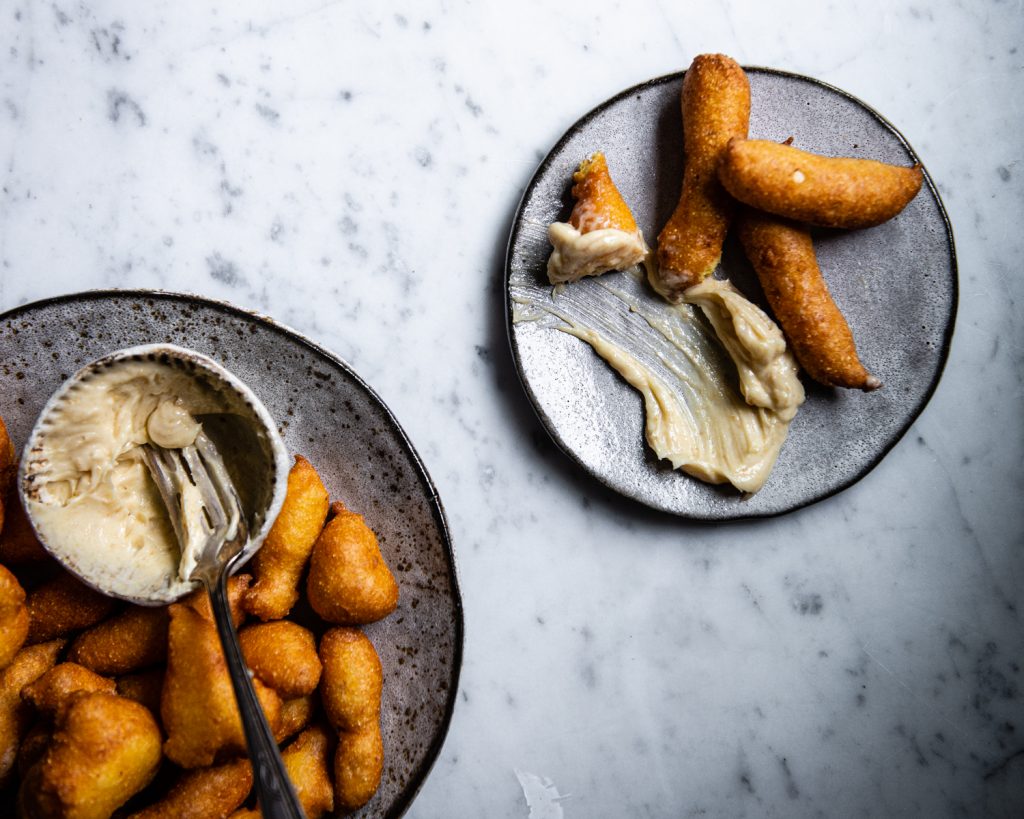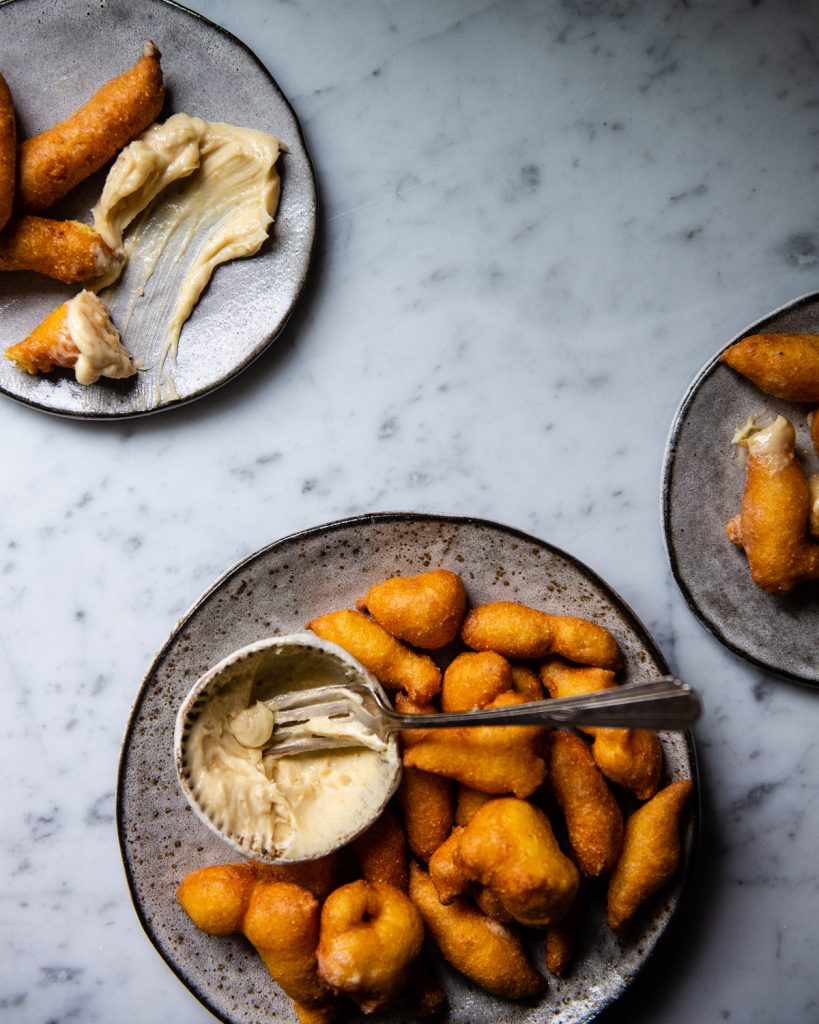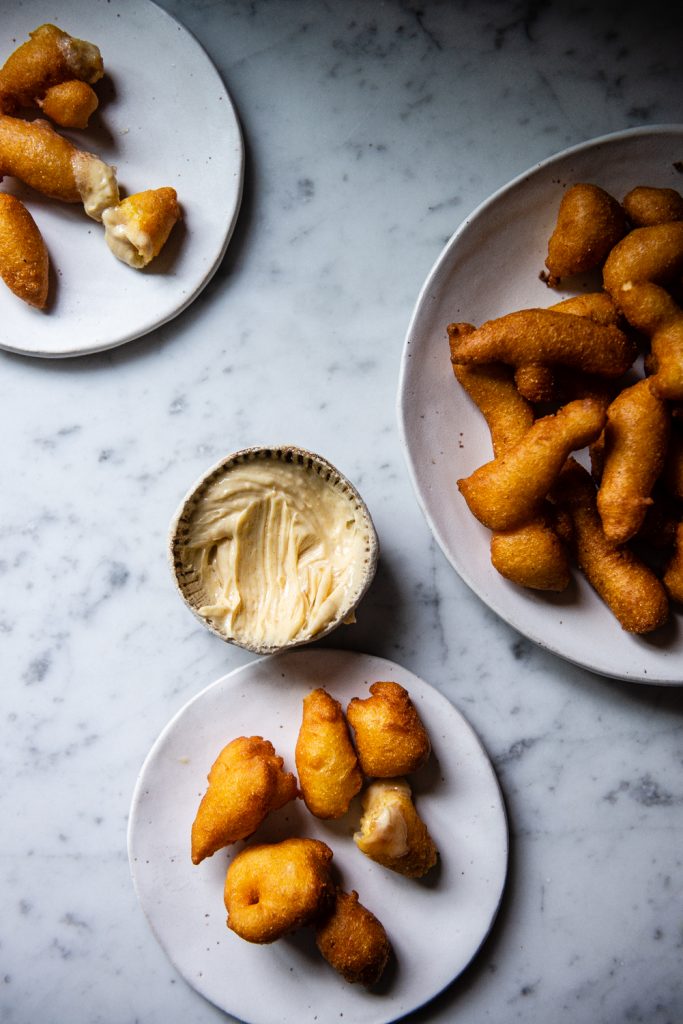 Print
Hush Puppies
Lightly adapted from the Mama Dip's Kitchen cookbook.  I tend to like the hush puppies oblong instead of round–it's just how I've had them more often–but you can make them any which way you like.  As you can see, my "oblong" ones turned out all kinds of shapes, which was a-okay with me.
1 cup cornmeal
½ cup all-purpose flour
1 tablespoon sugar
2 teaspoons baking powder
½ teaspoon salt
¼ cup finely minced or grated onion (about ¼ onion)
½ teaspoon garlic powder (optional)
1 egg, beaten
¾ cup buttermilk (or ½ cup plain yogurt, thinned with ¼ cup water or milk), plus more if needed
Instructions
Mix together the cornmeal, flour, baking powder, salt, and onion.  Stir in the egg and the buttermilk.  The consistency of the batter should be like a muffin batter or thick pancake batter.  If needed, use a little bit more buttermilk to thin.  
Let the mixture sit for 3 to 5 minutes, which will help it to hold together better while cooking.
While the mixture is resting, heat two inches of oil in a large cast iron skillet or pot to 350 degrees.
When you're ready to fry, line a large plate with paper towels, and give the mixture another good stir.  For round hush puppies, drop the batter by tablespoon into the oil.  For oblong hush puppies, pour the mixture into a piping bag and cut off a generously-sized hole, around ¾-inch, and pipe longer dollops into the oil.
Fry until brown all over, about 5 minutes.  Mama Dip says not to overcrowd them, or they will cook too slow and be greasy.
Remove and drain on paper towels.  Enjoy immediately.
Notes
If you like, serve with some butter, tartar sauce, or ranch dressing.  I've always preferred them plain.