This week we've been reveling in finally getting around to all the things that had fallen by the wayside in the last month or so. B2 led the charge on some direly needed spring cleaning, from finally unpacking our bags from LA right down to dusting everything in sight and wiping down the ceiling fan (which I would never have remembered to do?!), and thanks to him, I finally remember what the bedroom floor looks like. We've also been catching up with friends we haven't seen since 2015, or else catching up on TV shows (just in time for them to go on hiatus — come back, The Flash) or good movies (still crying from Creed) or, very simply, just Sitting Around and Doing Nothing because we can.
And I finally got around to making these beef curry puffs!  These little half-moon puffs were the kitchen portion of the things I left unfinished from last month, the puff pastry swaddled in plastic wrap and relegated to the depths of our freezer during our Juno water mishap.  But, happily, they've finally been rescued too.
If you're unfamiliar, as I was for a long time, these puffs are just like they sound — golden, crackly-flaky pastry hiding a smoky-earthy, savory and slightly sweet curried meat filling.  The ones here are based on the Chinese bakery version, but they were partly inspired by a long-ago memory of South African samosas, which I had a lot of one summer while working in a legal aid clinic in Cape Town.  Instead of the plump, potato-and-pea-filled pyramids I was more used to eating, South African samosas were smaller, compactly-folded paper-football-style triangles of something more like phyllo, with a sweet-and-savory ground meat filling inside.  And amazingly, they aren't all that different from these Cantonese-style beef curry puffs, although these are round little half-moons to their angular counterparts.  Both are crisp and flaky on the outside, a little bit decadent, with that sharp, bright curry inside somehow a little bit sweeter and rounder from the buttery richness of the pastry around it.  All this to say that I love when tasting a food brings back all kinds of different memories, and the hidden common threads between different places and cultures come out in unexpected ways.
This can be as much of a project or as easy-breezy of one as you like — I think they'd work really well with a storebought puff pastry or pie crust, and if making from scratch, both the dough and the filling can be frozen ahead of time, too.  The puffs can be made with a beautiful rope-braided edge that you can see in this post from Jen at Use Real Butter, on which this recipe is based, but you can pleat or seal the puffs in whatever way is easiest for you (which is, as you can probably tell, what I did).  Either way, they'll be just as tasty, and perfect for a potluck or a crowd.  I hope you enjoy them!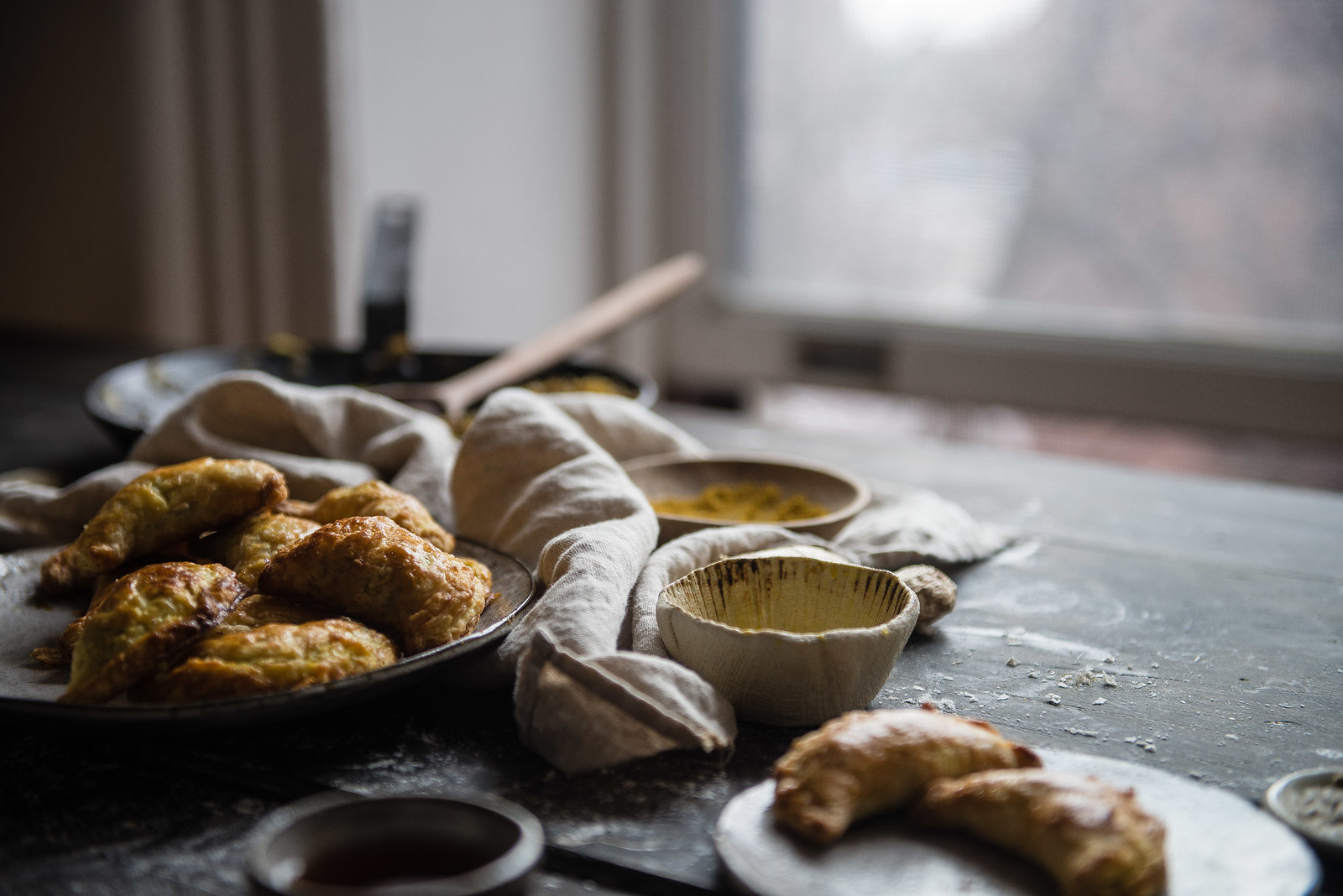 Print
Curry puffs
Yield: about

two

dozen 3-inch puffs.

1

x
Scale
Ingredients
1/2 tbsp

vegetable oil, or enough to thinly coat pan

1 cup

finely diced onion (about

1/2

medium onion)

2

–

3

tbsp curry powder (see Notes for brands)

1/2

lb ground beef (see Notes for variations)

1/2 tbsp

sake or Shaoxing rice wine

1 tbsp

soy sauce, or more to taste

1/2 tbsp

sugar, or more to taste

1/4 tsp

grated ginger (optional, to taste)
salt and pepper to taste

1

lb homemade or storebought puff pastry or pie crust, well-chilled (I used

one

batch of Sam's rough puff pastry, which is my personal favorite)
Instructions
If you haven't already, make your puff pastry and chill in the refrigerator. If using a frozen storebought pastry (or if you've made your puff pastry ahead of time and frozen it), remove from the freezer and let thaw while you make the filling. Take care not to let it get too soft — it should be pliable but still slightly cool when the filling is done.
Meanwhile, make the filling. Heat the oil in a skillet until shimmering. Add the onion and 1/2 tbsp of the curry powder and sauté until the onions begin to sweat.
Add the beef and cooking wine, and stir until beef begins to brown. Add the remaining curry powder (you may want to reserve a tablespoon and adjust to your liking later), soy sauce, sugar, grated ginger, and salt and pepper. Cook until the beef is browned all the way through. Taste and adjust seasonings to your liking, then set aside and let cool.
Preheat the oven to 450 degrees. Line a large baking sheet with a Silpat or parchment paper.
Roll out the puff pastry to about a 1/8-inch thickness or less. Cut out 3- to 5-inch rounds, rolling scraps as needed until you're out of dough. Place about 1 tablespoon of the filling (or a bit more or less, depending on the size of your dough circles) on each circle of dough, taking care not to overfill (I'm always tempted). Fold the dough in half over the filling to form a semi-circle. Pinch the edges together and pleat or fold as desired. You can refer to Jen's post for a beautiful braided edge, or you can seal with the tines of a fork. (Or muddle through with something in between, like me!)
Once folded, set the puffs on the parchment- or Silpat-lined baking sheet. They don't need to be more than an inch or so apart. If you run out of room, place extras in the refrigerator to chill until ready to bake. Beat the egg yolk with a splash of water or milk, and brush it over each pastry. Bake for 12-15 minutes, or until golden-brown. Let cool briefly, and enjoy!
Notes
I think these would work with most any curry powder you can find, although I do love Season with Spice and I think any of their curry powders would work wonderfully. In a pinch, McCormick will do you just fine — in that case, I found a little bit of ginger helped liven the taste a bit. Otherwise, it can get a little heavy. S&B is a solid Asian brand, and if you're a Golden Curry lover like we are, I suspect a cube or half-cube of Golden Curry with a little bit of water would be delicious!
As for substitutions, I think this would also work wonderfully with diced or ground chicken; you can also add a small potato to the filling, boiled to just tender and diced small.