A few months ago, in the midst of bar exam doldrums, I came across this recipe for banana bread bars with brown butter frosting that looked mindblowing. But, given our extremely sedentary (nearly vegetative) lifestyle at the time, I omitted the frosting and ended up making only the bars, with Greek yogurt instead of sour cream. And they were absolutely fantastic just on their own! No frosting necessary (though the brown butter frosting does sound pretty out-of-control). The cake was pillowy, moist, and banana-y, but not so dense and cloying as a typical banana bread; I was actually surprised by how soft and chewy the texture was. They were so good that even Bowl #2, enemy of sweets, ate at least half the pan. As good as they were, though, at the time I felt it was a little lackluster just to post a couple of squares of banana cake with no frosting, so I figured I'd make them as cupcakes or as a regular loaf later on, and shelved the idea.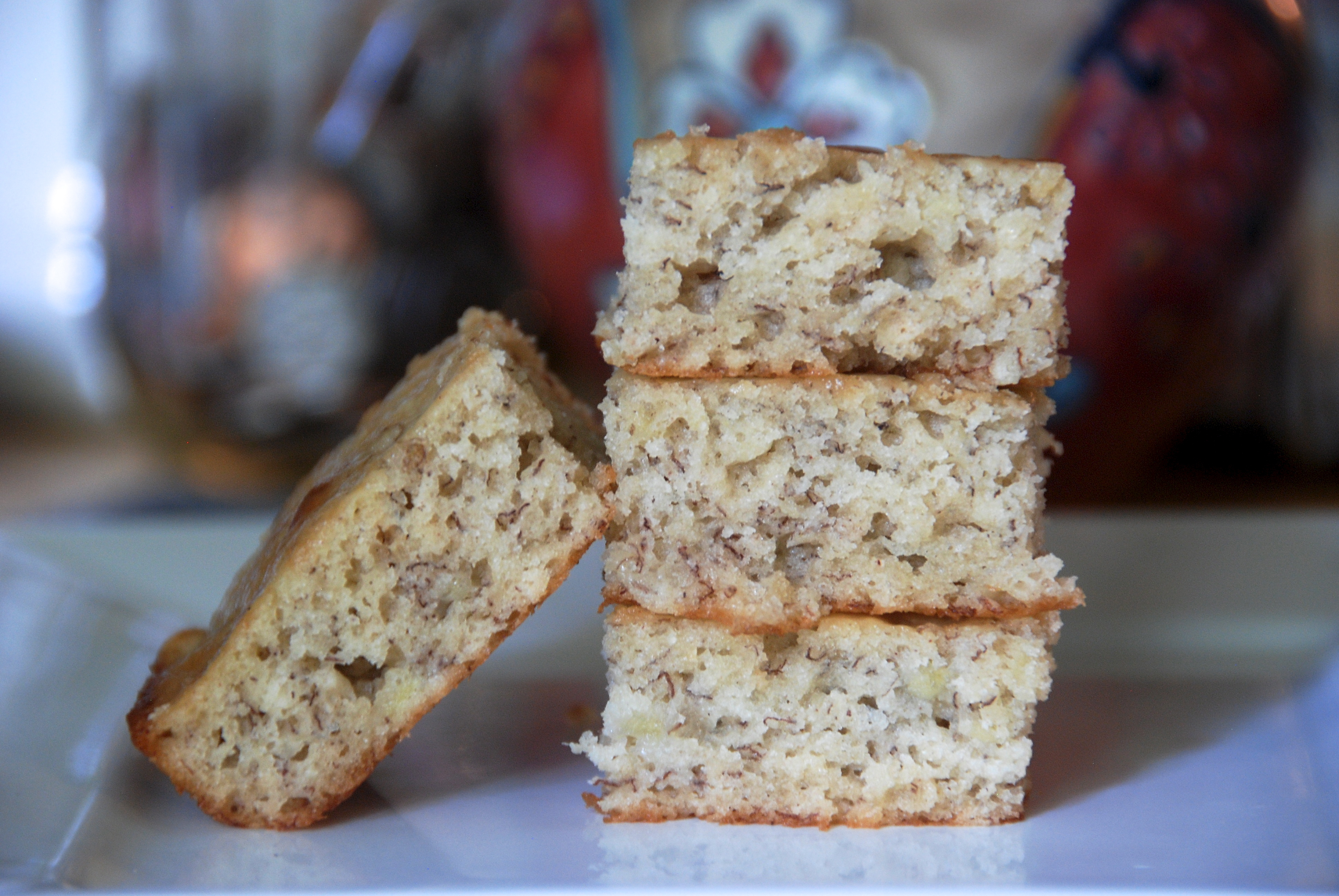 So I forgot about these awesome bars for awhile (how dare I!) And then I saw this chocolate hazelnut banana bread from Cooking Light on Instagram, using Nutella, and it all came together. I have kind of a thing for swirls in food … and Nutella. So I made these! Banana cupcakes — technically muffins, since they have no frosting, but they're much more cake-y than muffin-y — with Nutella swirl. (And then obviously realized I'd seen it elsewhere, like here, and here. I'm pretty sure this happens every single time I think I'm being original.)
And then I made them again … and again. My mother wanted to give them to friends — such a win for me and my newbie baking skills! I got to make three whole batches. I tried a few variations, which I'll get to in just a second, but each time the cupcakes turned out wonderfully. The swirl is just enough to add a bit of chocolate hazelnut flavor, but not too much to be overpowering, which is good because the cupcakes are quite rich as it is. The cakes themselves are light and fluffy, very much a cupcake, and not a banana bread or banana muffin. Edit: Best of all, I just calculated the calories, and they're actually not too bad for you! They're full of Greek yogurt and use about a third less sugar than some other recipes I came across, so they come out to about 130 calories per cupcake. Not fantastic, but not totally wracked-with-guilt-y, either. 🙂
So the variations. Since I had the rare luxury of making so many at once, these three batches also ended up being an opportunity to experiment on oil versus butter in baking cakes. For the first batch, I followed the original recipe and used 4 tablespoons of butter. After coming across this comparison by the Cake Blog, I made a second batch with only oil, and then, being somewhat dissatisfied with both, I combined the two and used both butter and oil in a last batch.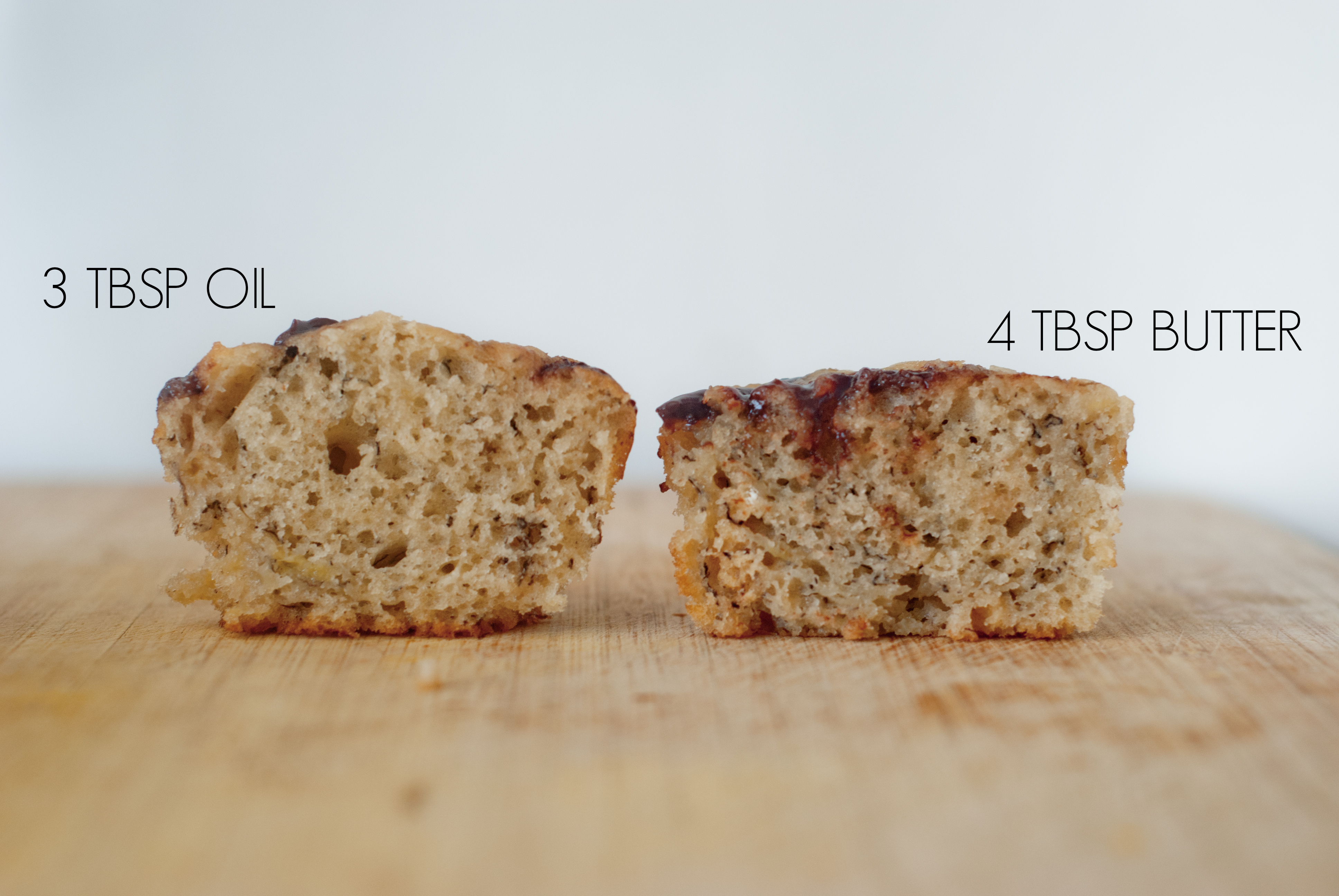 The butter and oil versions I baked in the same day, so I was able to compare side-by-side. (So fun!) My oil version was taller and lighter, just as the oil cake on the Cake Blog was, and the crumb was open and noticeably coarser. The butter version did not rise nearly as much, but stayed denser, with a crumb that was more even, and a texture that was somewhat chewier. (A note on this below, though.) Both the oil and butter cakes were quite moist, but, unlike the author of the Cake Blog article, I did think that the oil version had a flatter taste than the butter one. It was still very good, but the butter version just tasted somehow fuller, with significantly more depth to the banana flavor — on the whole, I thought it was much more satisfying. Still, as cupcakes they didn't rise very much, and were a bit heavy for my liking. Plus, I didn't like the idea of so much saturated fat and cholesterol if I could avoid it.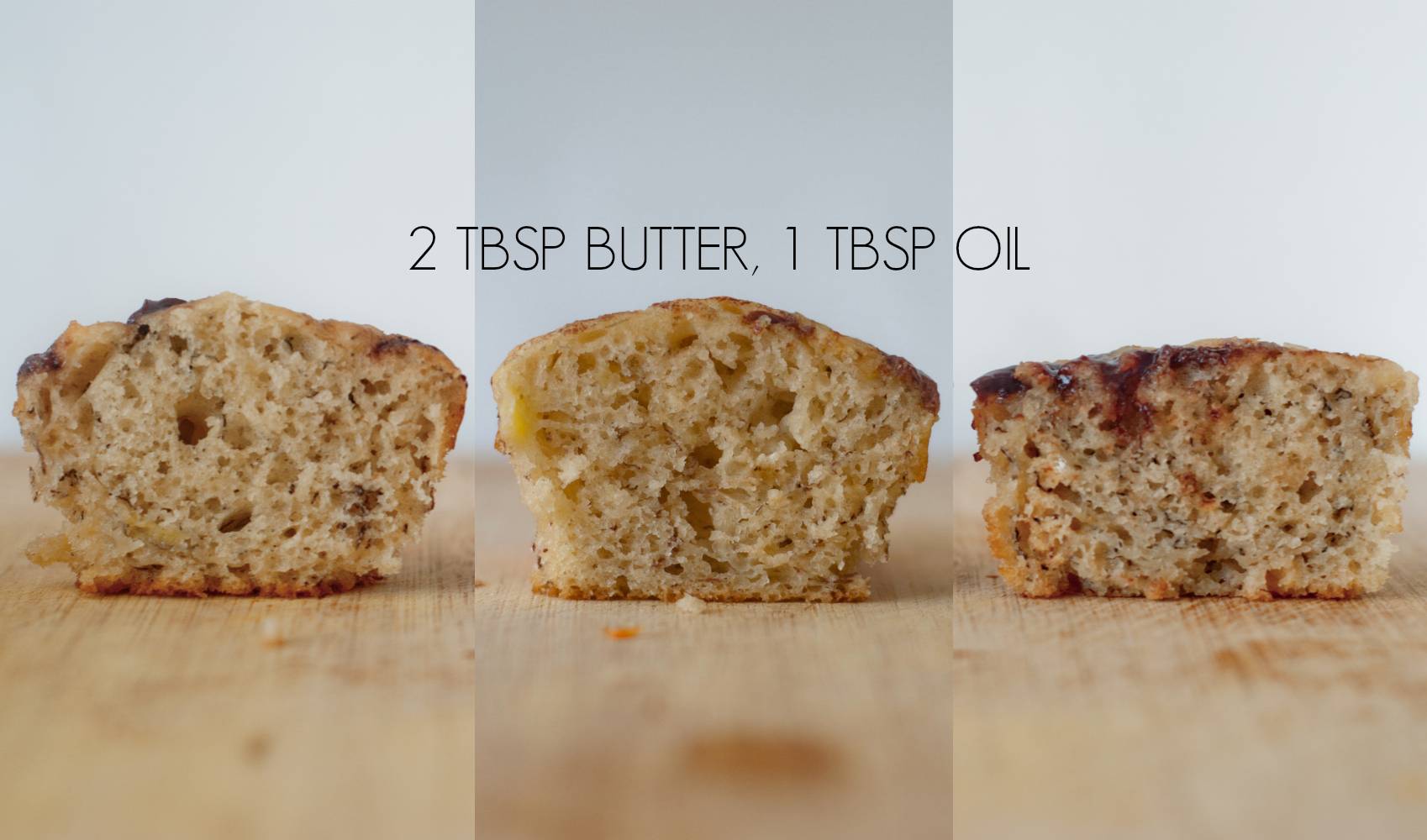 So then I went for the hybrid, when my mother surprised me with one more request for a batch yesterday. The last batch, I used 2 tablespoons of butter and only 1 tablespoon of oil, instead of the 1.5 that it probably should have gotten according to conversion ratios I've seen, since the cupcakes seemed like they could spare a little fat. And I was happiest with these results. The cake had the nice round butter flavor that I liked before, and the crumb was more even and resilient than the oil version's was, but it was nice and light — and actually had the highest dome out of any of the cupcakes (somehow). Success! I've written the recipe below with the combination, but you can also go for 4 tablespoons of butter and no oil, or 3 tablespoons of oil and no butter, and I'm pretty sure you will still like these.
Lastly, a side note — I do think that the butter version was a bit denser than it should have been because the butter and yogurt were not as warm as I thought they were before I began to cream them together, and thus the mixture had a few lumps and wasn't as aerated and well-blended as I would have liked. The second batch, and especially the third, were made with the ingredients solidly at room temperature (which may have been the reason that it had the highest rise in the end). I also modified the recipe to cream together the butter, sugar, and egg first, then the yogurt later, to help avoid lumps even if the ingredients are colder. Lesson learned — don't get impatient, and be sure to follow the room-temperature rule! Eggs, butter, milk, and yogurt at room temperature when you begin!
Banana Cupcakes with Nutella Swirl
yields 12 cupcakes (or muffins).
for the cupcakes (adapted from The Girl Who Ate Everything and Life's Simple Measures)
1/2 cup granulated sugar
1 egg
2 tbsp butter, softened*
1 tbsp oil*
1/2 cup Greek yogurt
1 large or 2 small to medium very ripe bananas (should yield a little less than 1 cup mashed)
1 tsp vanilla extract
1 cup all-purpose unbleached flour
1 tsp baking soda
¼ tsp salt
for swirl:
2 tbsp Nutella spread (I think this would be tasty with peanut butter, too!)
1 tsp oil
*If using butter only, use 4 tablespoons of butter; if using oil only, use 3 tablespoons of oil.
1. Preheat oven to 350F and line a 12-cup muffin tin with liners. (Note that these have a tendency to cling a bit to the liners, so I don't know whether you want to lightly grease it, or use foil liners.)
2. Cream together butter, sugar, and egg until fluffy. Add oil, Greek yogurt, mashed banana, and vanilla extract, and whisk again until blended. [If using oil, cream together only the egg and sugar for a minute or so, until airy. Then add oil, Greek yogurt, mashed banana, and vanilla extract, and whisk again until blended. If using butter, cream the butter, egg, and sugar, then the Greek yogurt, mashed banana, and vanilla.]
3. In a separate bowl, sift flour, baking soda, and salt together. Add dry ingredients to wet and stir gently until incorporated. The batter will be quite thick.
4. Divide batter evenly between liners. You should have just enough — scraping down the bowl should result in the liners filled about 2/3 full. (Which is good, because otherwise I'd be licking up so much raw batter.)
5. For the Nutella swirl, warm about two tablespoons of Nutella with a few drops of oil in the microwave for about 10 seconds. Stir until fluid, then drop small dots of Nutella over each cupcake, three or so each. Very gently run the very tip of a butter knife or a toothpick through each dot in a circle to form swirls. You can also use peanut butter, or omit the swirl entirely.
6. Bake at 350F for 12-15 minutes, or until tops are golden and spring back when touched, and a toothpick inserted comes out clean. Mine were done at 12 minutes exactly.

I hope you enjoy! Thank you so much for reading! 🙂