Hi again! This past week, I said a wistful goodbye to paradise and headed back home to visit my own parents, while Bowl #2 stayed in Honolulu for a little while longer to enjoy some alone time with his family. It was the perfect, lazy, relaxing trip (and I already miss Bowl #2's mom so much!) but it was time to go home. Honolulu, I'll be seeing ya.
Of course, being back with my own parents has its own perks, even if it's not Hawaii. It goes without saying that the best part is the fact that I get to see them. This will likely be the last time that I can come home for more than a few days at a time, so I'm spending as much time with them as possible. But it also means that I get to wreak havoc on my mom's kitchen in ways that I couldn't when staying with my boyfriend's parents. 😉 So here's the first of the projects — matcha (green tea) shortbread cookies.
I wanted a little more visual interest than plain green, but I don't have cookie cutters, so I decided to try a swirl pattern. I made two batches of dough, rolled them out separately and layered them, then rolled them up like cinnamon rolls and cut them into rounds. I was delighted with the whimsical, Dr. Seuss-y result, and best of all, my parents loved them — they're not too sweet, but satisfyingly buttery, with just enough creamy green tea flavor to be subtle but unmistakable.
Let's see. A few notes about the recipe. First, my go-to shortbread recipe (essentially the recipe below without matcha, and with various additions depending on what I feel like) is only about half of what I see in a lot of recipes, calling for one stick of butter instead of two, one cup of flour instead of two, etc. etc., and yielding about 24 cookies instead of 48. (Or 36 mini-cookies, as it did here.)
This time, I wanted to try adding an egg yolk to the dough, which I hadn't tried before. I had read that the yolk adds a bit more tenderness, while also helping to hold the cookie together, but I wasn't really able to discern a real difference in the resulting texture. I suspect that if it had been traditional shortbread it would have yielded a cookie that was a little more golden than the ones I usually make, which would have been pretty, I think!
But because making a swirl required me to halve a recipe that is, in effect, already halved, I had to divide an egg yolk between the two batches of differently-colored dough. That turned out fine for me, and I'm not a super stickler for measurements, but if it bothers you, then you can go ahead and omit it — because, like I said, I don't think the egg yolk made an enormous difference. Or you can just double the recipe, use an egg yolk for each kind of dough, and either freeze half of it to bake up later, or make 48 regular size cookies (and approximately 83 million mini Dr. Seuss cookies). We blew through this smaller batch in just two days, though, just between the three of us, and the cookies keep well in a sealed container, so I don't think you'll have a problem finishing it even if you're only feeding yourself or two of you.
Also, I apologize for the lack of step-by-step photos for the swirl effect. I wasn't sure how these would turn out and wanted to focus on getting them right, so there's only a few photos of the process after the logs were already formed. If anyone's actually interested in making these and the instructions don't seem clear, I'll be making them again for a Chinese party my parents are throwing next Saturday (aw yeah, bring on the aunties and uncles), so come back in a week and I'll have more pictures of the process then. 🙂 The concept is fairly simple, though, and if I can do it, you definitely can! (Plus, if you mess up, they still taste just as good.) Edit: Photos added! Hope they help!
Matcha Swirl Shortbread Cookies
makes about 36 mini-cookies (1″ diameter)
light green swirl:
1/4 cup (2 oz, about 56 g, or 1/2 stick) unsalted butter, room temperature
3 tbsp confectioners' sugar
1/2 egg yolk (optional)
1/4 tsp almond extract
1/2 cup (about 63 g) all-purpose flour
1/2 tsp matcha powder
1 pinch of baking powder
1 small pinch of salt
dark green swirl:
1/4 cup (2 oz, about 56 g, or 1/2 stick) unsalted butter, room temperature
3 tbsp confectioners' sugar
1/2 egg yolk (optional)
1/4 tsp almond extract
1/2 cup (about 63 g) all-purpose flour
1 tsp matcha powder
1 pinch of baking powder
1 small pinch of salt
1. Prepare the light green dough first. In a medium bowl, whisk together the butter and powdered sugar vigorously until smooth. Add half the egg yolk and the almond extract, and whisk again until smooth.
2. In a separate bowl, whisk together flour, 1/2 tsp matcha powder, baking powder and salt. (A note on judging the color — the mixture will be a little lighter green than the dough will actually turn out.) Gradually add flour mixture to butter in batches, beating after each addition, until ingredients are fully incorporated and it has formed a thick, rough dough. Form the dough into a ball and place in the refrigerator.
3. Next, prepare the dark green dough. Repeat steps 1 and 2 for the dark green dough, but with 1 full teaspoon of matcha powder. You may want to play around with the amount of matcha you add — you can up the dark green dough to 1.5 tsp, for instance, or decrease the light green dough to 1/4 tsp, for greater contrast and a stronger green tea flavor.
4. Here, you can either chill the dough balls or just roll them out immediately. I found that it was fine to roll them out right away the second time I made them. I placed the dough between two layers of saran wrap in order to minimize the dough sticking to the rolling pin — alternatively, you can also place them into Ziploc bags, which was amazing for getting the size of the layers exactly the same. If you want to make mini-sized cookies, like I did, roll the dough out to about 1/8″ thickness, into squares that are about 5″x5″ (or the size of one sandwich Ziploc). There should be about four in total, two of each color. If you want to reuse the Ziplocs, chill the dough at this point until hard and then peel off the Ziplocs before layering and rolling into logs; if you don't care, just slit the sides and peel off. Place one lighter-colored square on top of one dark-colored square, lining them up as best you can, and gently roll lengthways into a log. It should form a roll about an inch in diameter, and you should get two logs out of the dough. For regular-sized cookies, roll the dough out thicker (I'd guess about 1/6″ or thereabouts), instead, so that each ball yields one 7″x7″ square, instead of two smaller ones. Roll those up together and that should result in a log that is thicker, with larger cookies. Either way, once rolled, replace in fridge and let chill for another hour to harden again. At this point, you can also freeze it if you'd like to bake it later.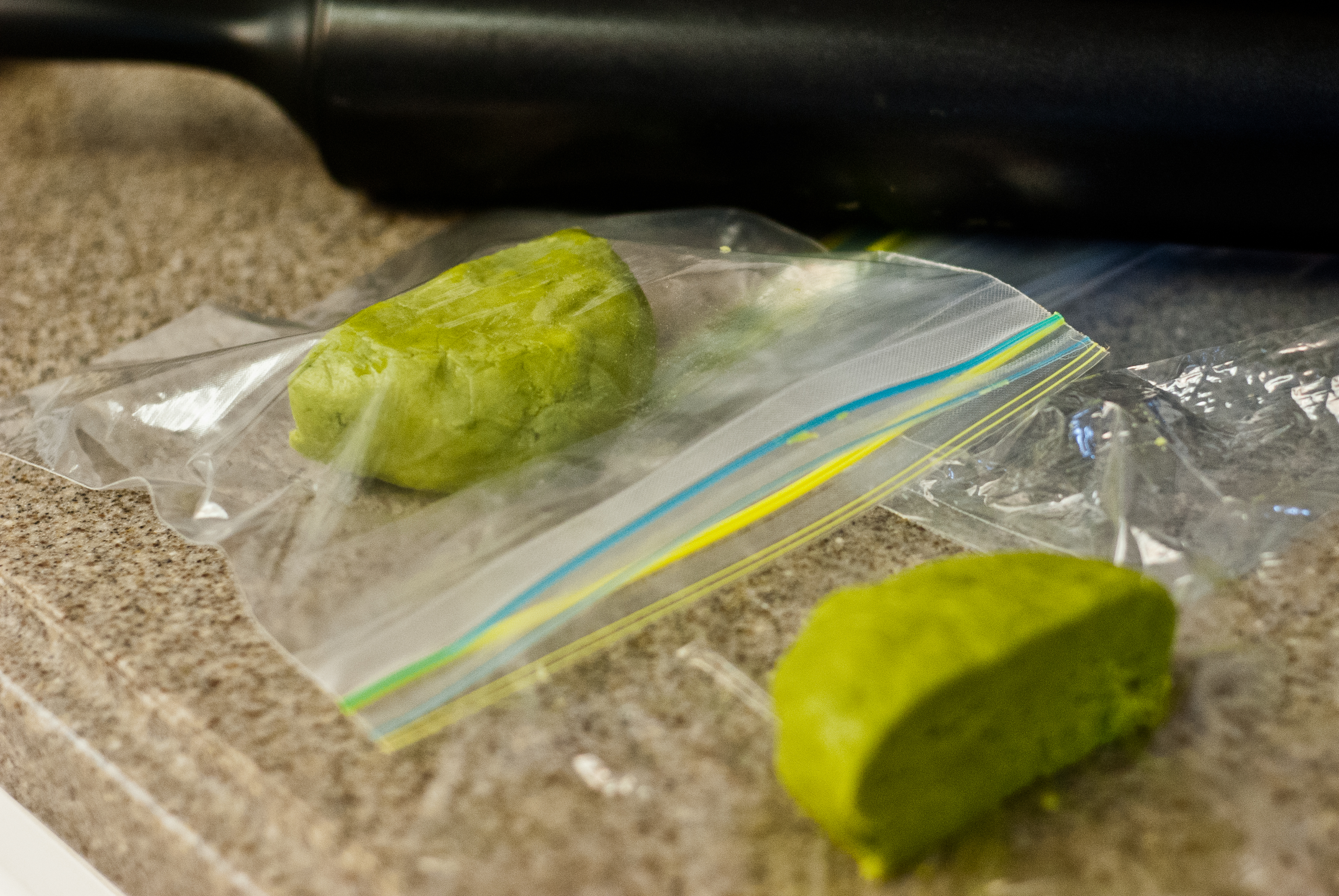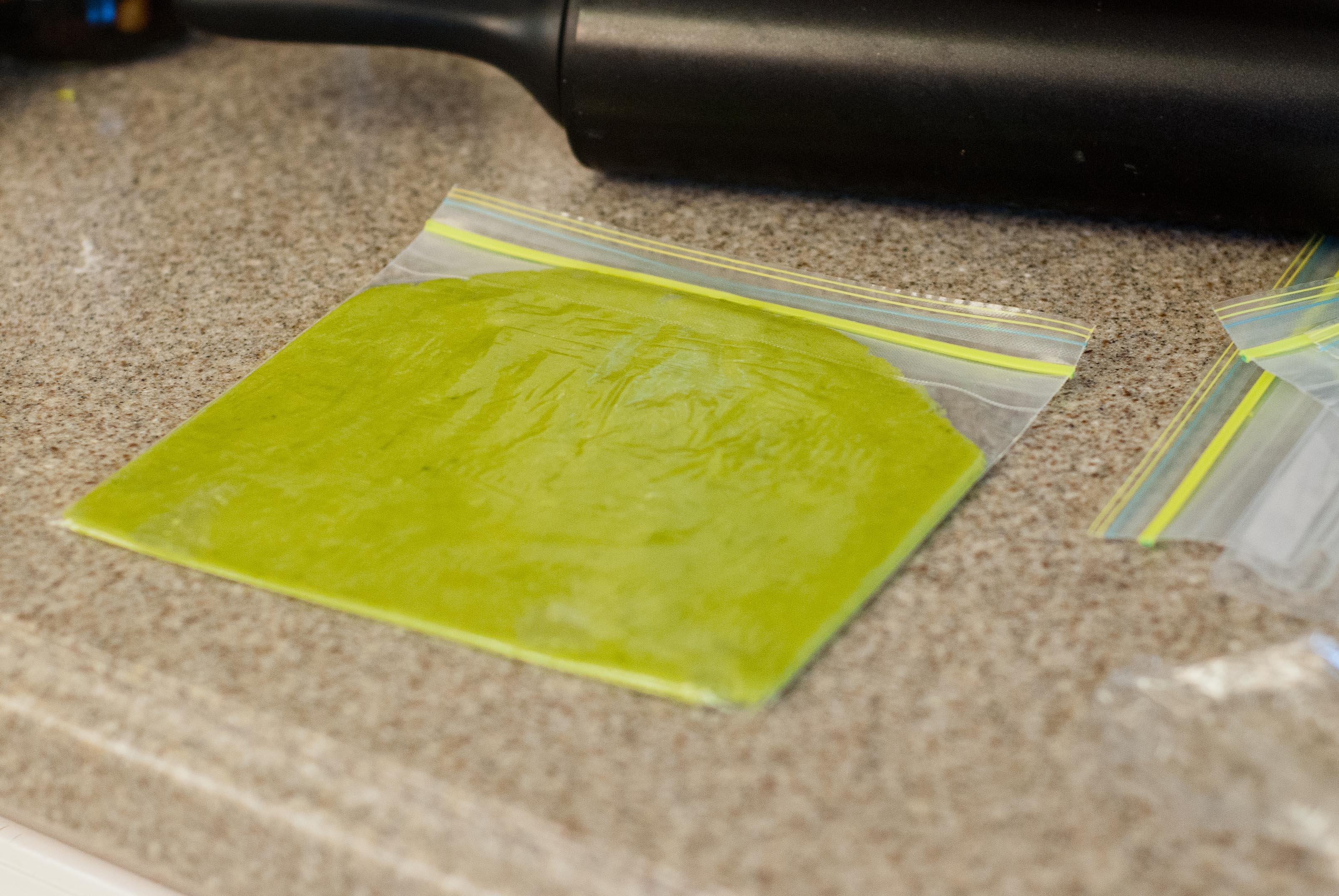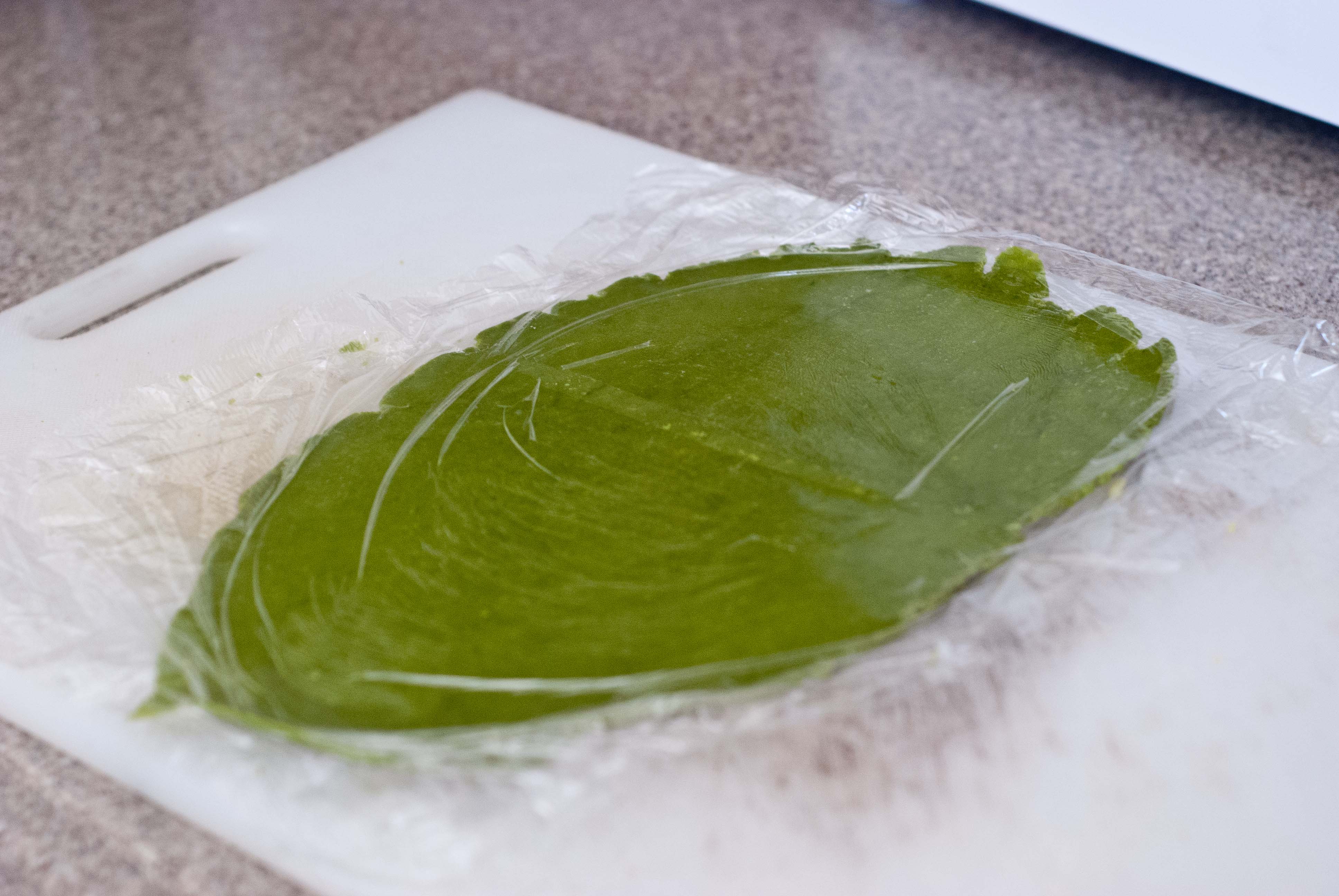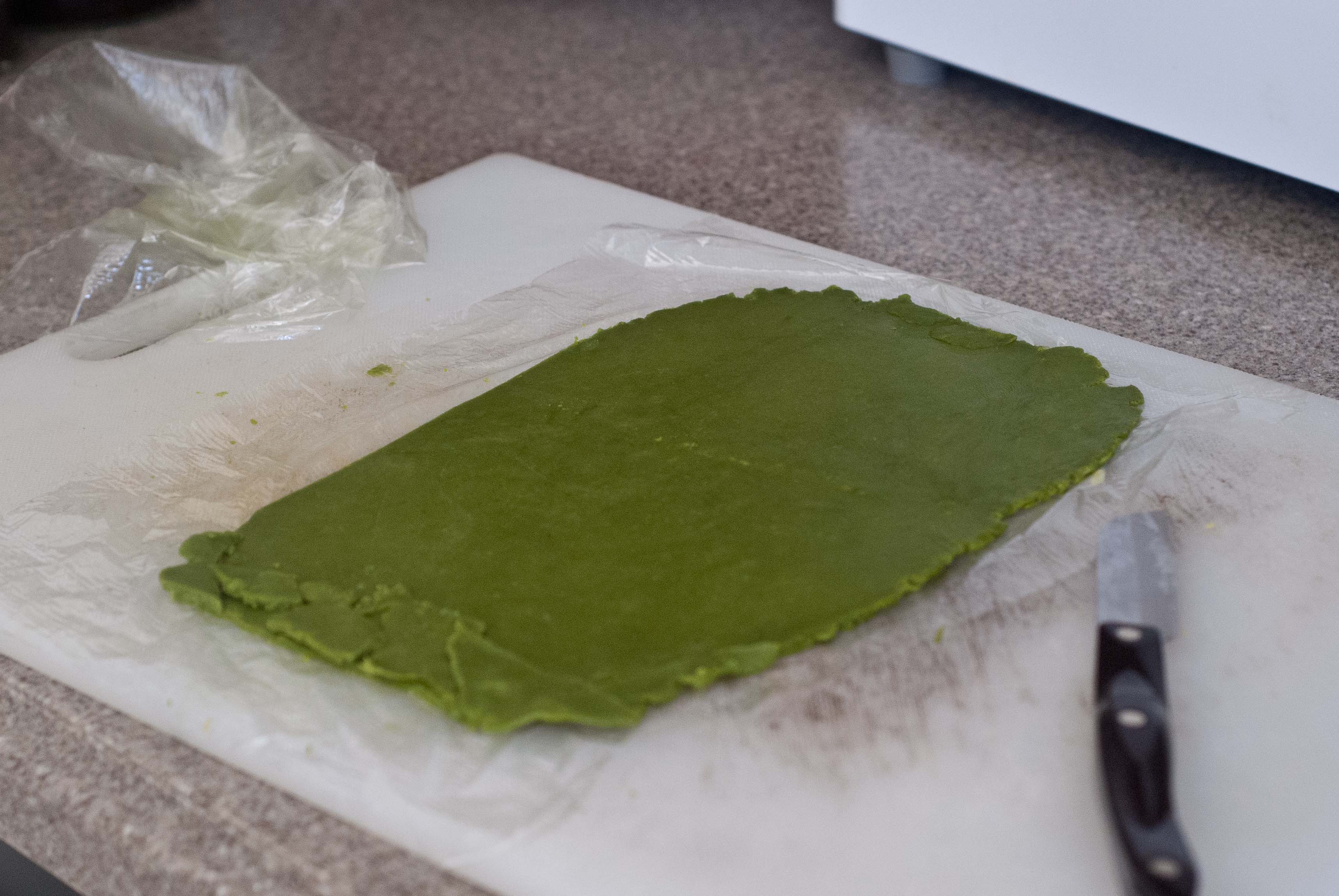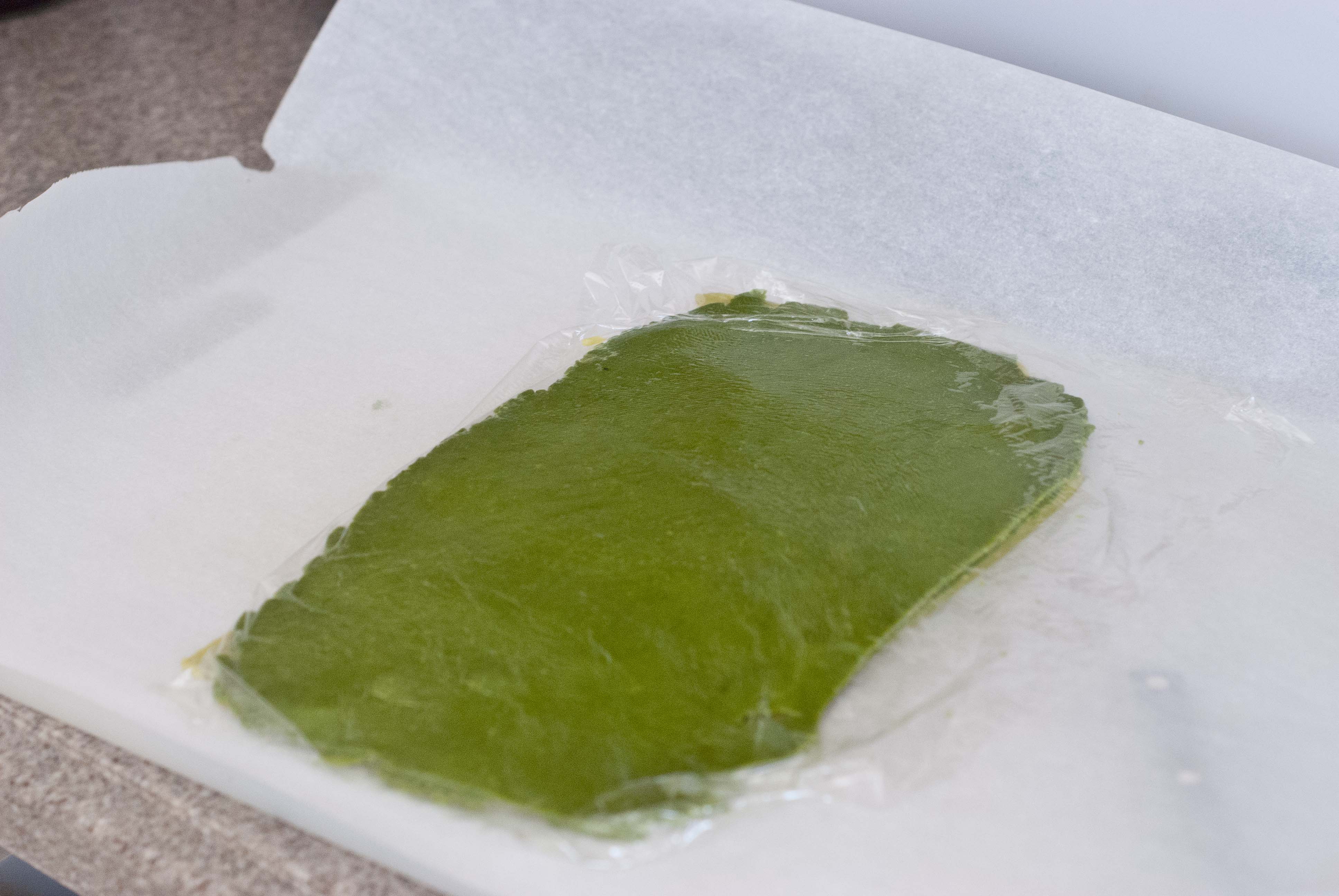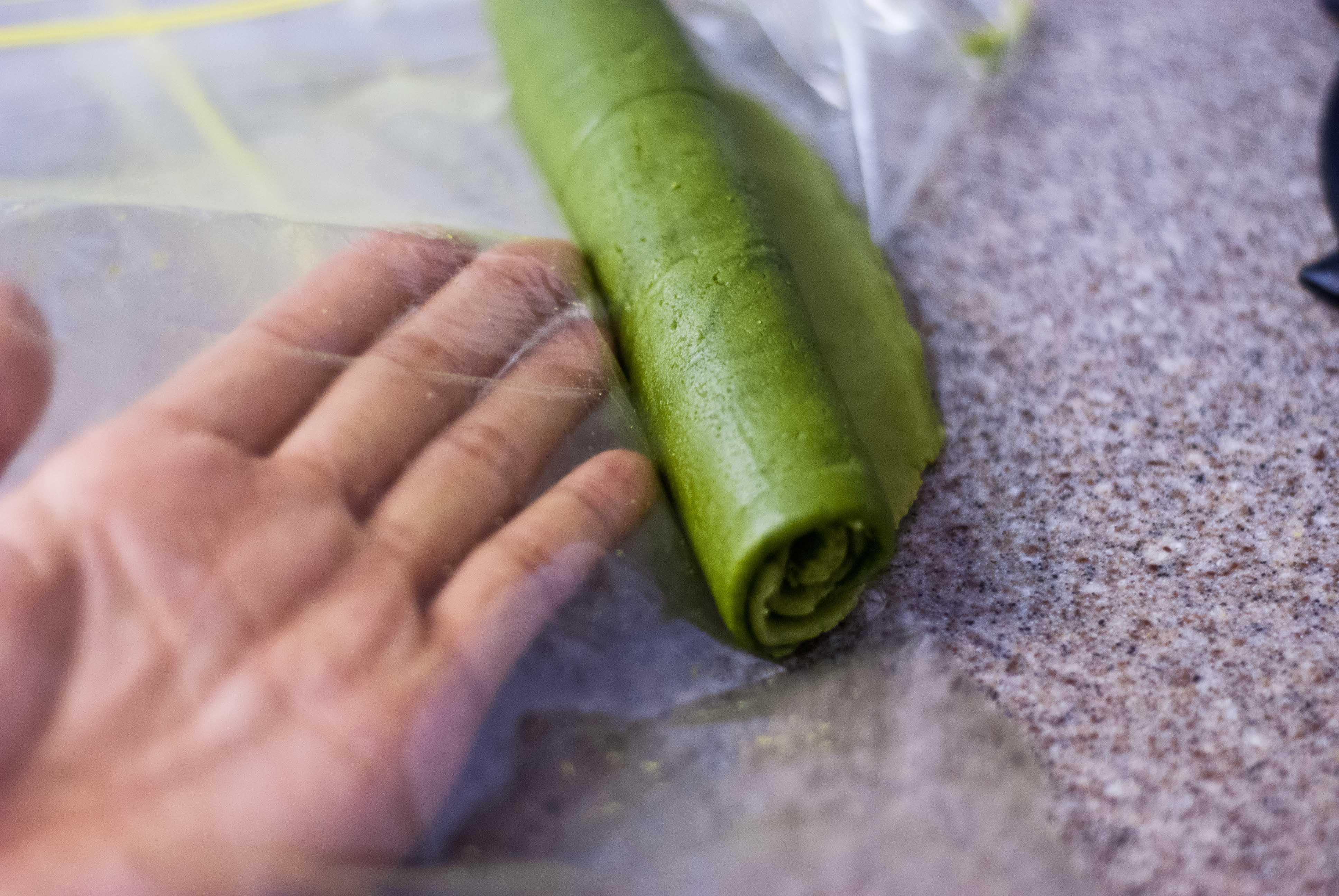 5. When you're ready to bake, preheat the oven to 350 degrees. Remove logs from the fridge (or let defrost, if frozen, for about 10-15 minutes) and slice into 1/4-inch thick rounds. Place on a baking sheet lined with parchment paper. You only need to leave about half an inch to an inch of space between them, since they will not spread. Bake until you can see the barest hints of brown forming on the bottom edges — about 10 minutes for mini cookies, and about 12 minutes for regular.
Notes: You can find matcha powder at most Asian supermarkets, or on Amazon — the brand I use is Maeda-En and it comes in a small canister. Maeda-En makes a culinary version in a silver canister, listed here on Amazon for $10, and a better-quality drinking version in a gold canister, listed for $12 — I think you can find the gold type for $9-10 in Asian supermarkets. I have usually used the gold version and find that it yields excellent results — unfortunately, I can't tell you how the silver differs in taste because I've never compared. Either way, it's a bit pricey for a 1 oz tin, but that will last you a pretty long time if you decide to splurge on it. I also almost sprang for a brand I saw at Whole Foods, which sold for $18 for a 1.5 oz bag (ouch).
You may want to up the amounts of matcha in the dough if you really like green tea. But I would recommend adding it to the darker dough rather than the lighter, because the matcha powder has a surprisingly saturated color in dough even when very little is used. I went with a total of 1 1/2 tsp between the two doughs (1/2 tsp for the lighter dough and 1 tsp for the darker), but would probably consider upping it in the darker dough to 1 1/2 tsp next time.
Also, don't worry too much about making perfect squares or lining them up exactly. They all turn out pretty cute, even the rounds sliced from the squashed-up ends. 🙂
Lastly, if you want to avoid the trouble of the swirl effect altogether, just combine the quantities above and make one big ball of dough. Then simply roll it out flat and use cookie cutters or roll it into a log and slice. Just to be handy, the ingredients for a full batch without swirl are printed below. (And, for a basic shortbread with no flavoring, omit the almond extract and matcha powder.)
Matcha Shortbread Cookies, without Swirl
1 stick unsalted butter, at room temperature
6 tbsp confectioners' sugar
1 egg yolk (optional)
1/2 tsp almond extract
1 cup all-purpose flour
1 1/2 tsp matcha powder (increase for a stronger matcha flavor)
1/8 tsp baking powder
1 pinch of salt
Follow the same directions as above, but just once — cream butter and sugar, then add yolk and extract and beat again; in a separate bowl, sift dry ingredients, add to wet in batches, whisk until dough forms; roll into a log and chill; slice into rounds and bake at 350 for 10 minutes for mini's, 12 minutes for regular. (Wow. Maybe I should be this concise normally.)