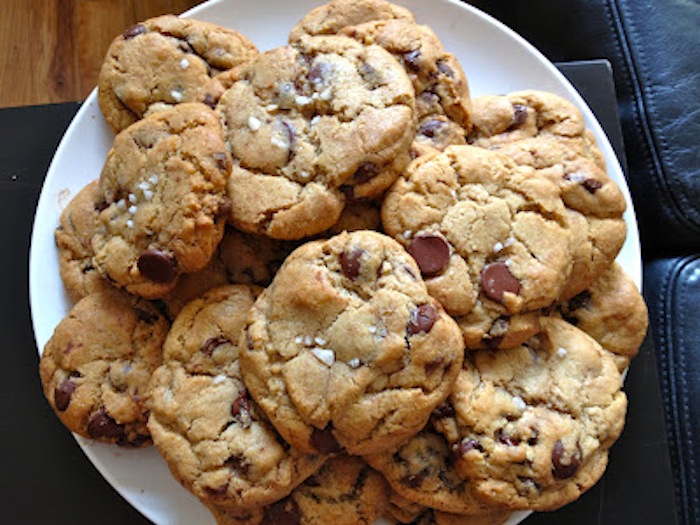 Today is Sunday. That, to me, feels like a cookie day. I was going to post a delectable recipe I just found on Taste Love & Nourish, these wonderfully decadent but (relatively) guilt-free chocolate fudge cookies, but I've been having problems with my new oven where none of my cookies will spread! And I don't know why! 🙁 (If anyone happens to read this, your tips would be much appreciated!) So far, I have managed to deduce that my oven is very hot (at least 50 degrees hotter than the setting reads, I think) and suspect that the new pan I bought a few months ago may also have something to do with it, but with much fiddling I've only gotten my cookies to kind of spread, but mostly have been eating strange cookie-truffle hybrids that, while still delicious, don't resemble cookies at all. So, trust me that those fudge cookies are amazing, and instead I will simply post my very very most favorite recipe for chocolate chip cookies — to be precise, the New York Times Jacques Torres 36-hour-waiting-period cookies — that I first made last year (a simpler time free of oven mysteries).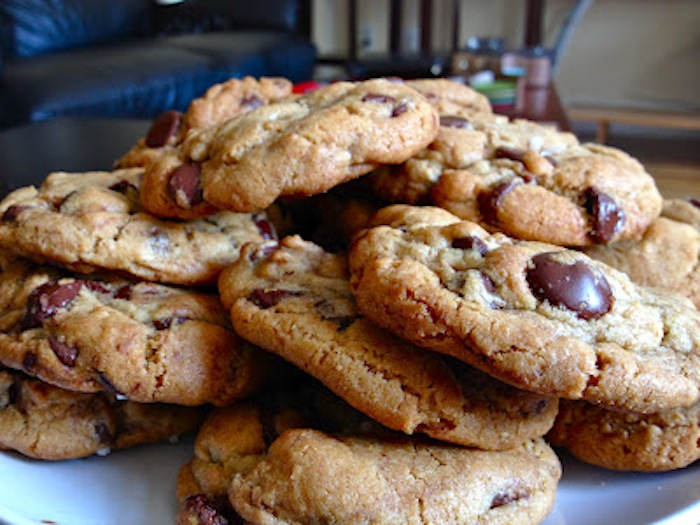 This post was originally titled the "best chocolate chip cookies you will ever bake." And at the time, I believed it! Normally, I wouldn't have been so audacious as to call anything I've made "the best that you will ever make," knowing neither you nor your culinary capabilities. But at that point, I'd seen this NYT recipe floating around the Internet for a few years and had only ever seen it with this title. The best chocolate chip cookies ever, the most ridiculously, mind-blowingly amazing pieces of heaven, etc. etc. etc. And when I made them, I found them absolutely deserving. They were rich, just the right amount of chewy and crispy, with a deep and nuanced caramel flavor that (I assume) came from the 36-hour waiting period where the dough ascends to a greater plane of being. And the sea salt was the final, perfecting touch.
However, I've since come across some interesting discussions on the Jacques Torres recipe, most notably here at Averie Cooks. I was surprised to see that the pushback to this recipe (which I've so wholeheartedly embraced, clearly) but it just goes to show that there's always more to be learned and another recipe to be tried. 🙂 And, you know, I was pretty nervous about making such a grand claim to begin with (even with everyone else's hearty endorsements of the same recipe), so I feel pretty comfortable knocking this down to the precisely accurate title — "The Best Chocolate Chip Cookies I've Ever Baked." 😉 Hope you enjoy!
The Best Chocolate Chip Cookies I've Ever Baked

The first time I came across this recipe was on For Me, For You, here (and I wholly recommend reading her post over mine, because it's beautifully done, plus she gives wonderful tips for baking these and all cookies in general!). The original New York Times article on the cookie is here. Lastly, my recipe here is without a mixer, since I don't have one. I used a whisk and then a wooden spatula.
2 cups minus 2 tbsp. cake flour
1 2/3 cups bread flour
1 ¼ tsp. baking soda
1 ½ tsp. baking powder
1 ½ tsp. coarse salt, such as kosher
2 ½ sticks unsalted butter, softened
1 ¼ cups light brown sugar
1 cup plus 2 tbsp. granulated sugar
2 large eggs
2 tsp. vanilla extract
1¼ pounds (20 oz.) bittersweet chocolate chips or chunks, preferably about 60% cacao content, such as Ghirardelli
Sea salt or kosher salt for garnishing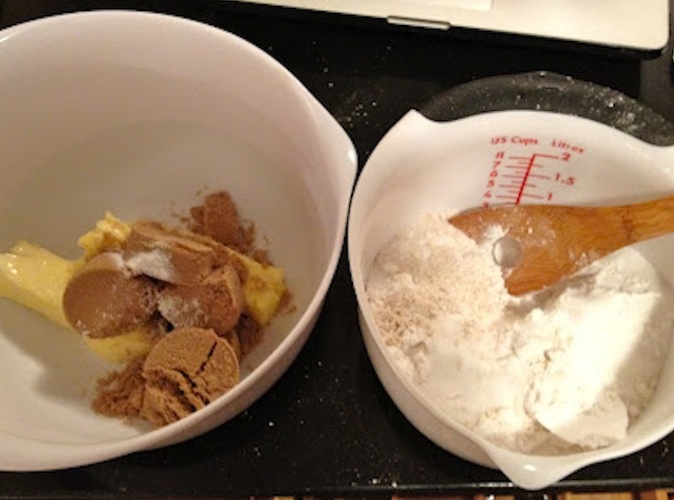 1. Combine flours, baking soda, baking powder, and salt in a bowl. Sift and set aside.
2. Whisk butter and sugars until very light and fluffy, about 3 to 5 minutes. Add the eggs, one at a time, mixing well after each addition. Mix in the vanilla. Scrape down the sides of the bowl with a rubber spatula as needed.
3. Add dry ingredients, and mix until just combined. (I used a wooden spatula to do this.) Add the chocolate chips, and mix briefly to incorporate.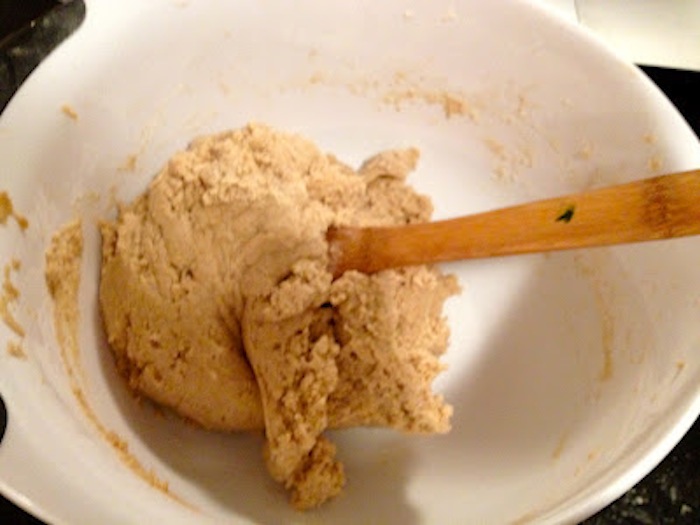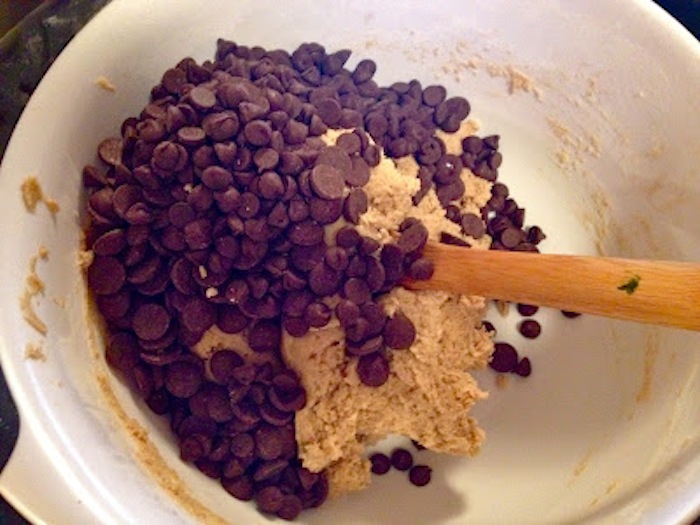 4. Press plastic wrap against the dough, and refrigerate for 24 to 36 hours. The dough may be used in batches, and can be refrigerated for up to 72 hours. (I put the dough into a gallon Ziploc bag.)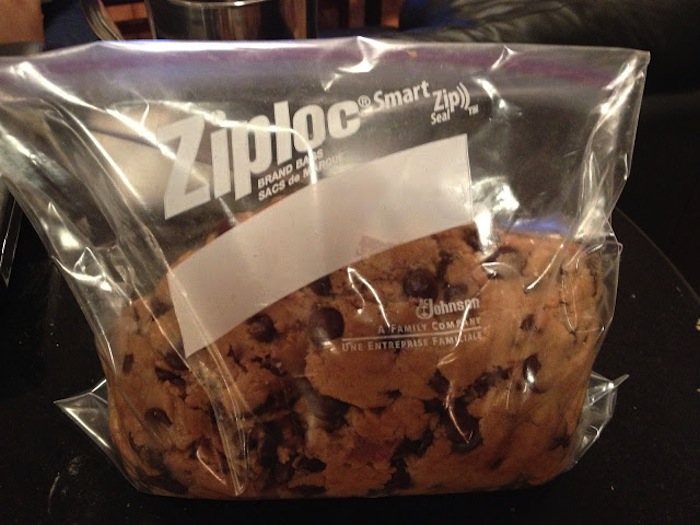 36 HOURS LATER!
5. Preheat oven to 350°F. Remove the bowl of dough from the refrigerator, and allow it to soften slightly. Line a baking sheet with parchment paper or a nonstick baking mat. (I used foil and greased it very lightly.)
6. Roll dough into golf-ball sized balls. Place six to a baking sheet. Sprinkle lightly with sea salt, and bake until golden brown but still soft, 15 to 20 minutes.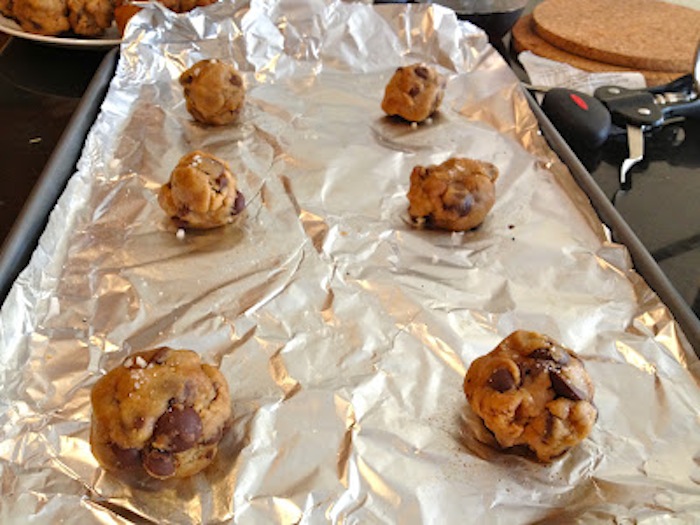 I baked the batch of dough six at a time for 15 minutes at 350 degrees. The recipe says 15-20 minutes but I found 15 was more than enough. The cookies will continue to set after you remove them from the oven. This yielded a ridiculous 36 cookies for me (though some were smaller at the beginning before I got the hang of it — I think it should be about 24-30).
Enjoy, and thank you so much for reading!