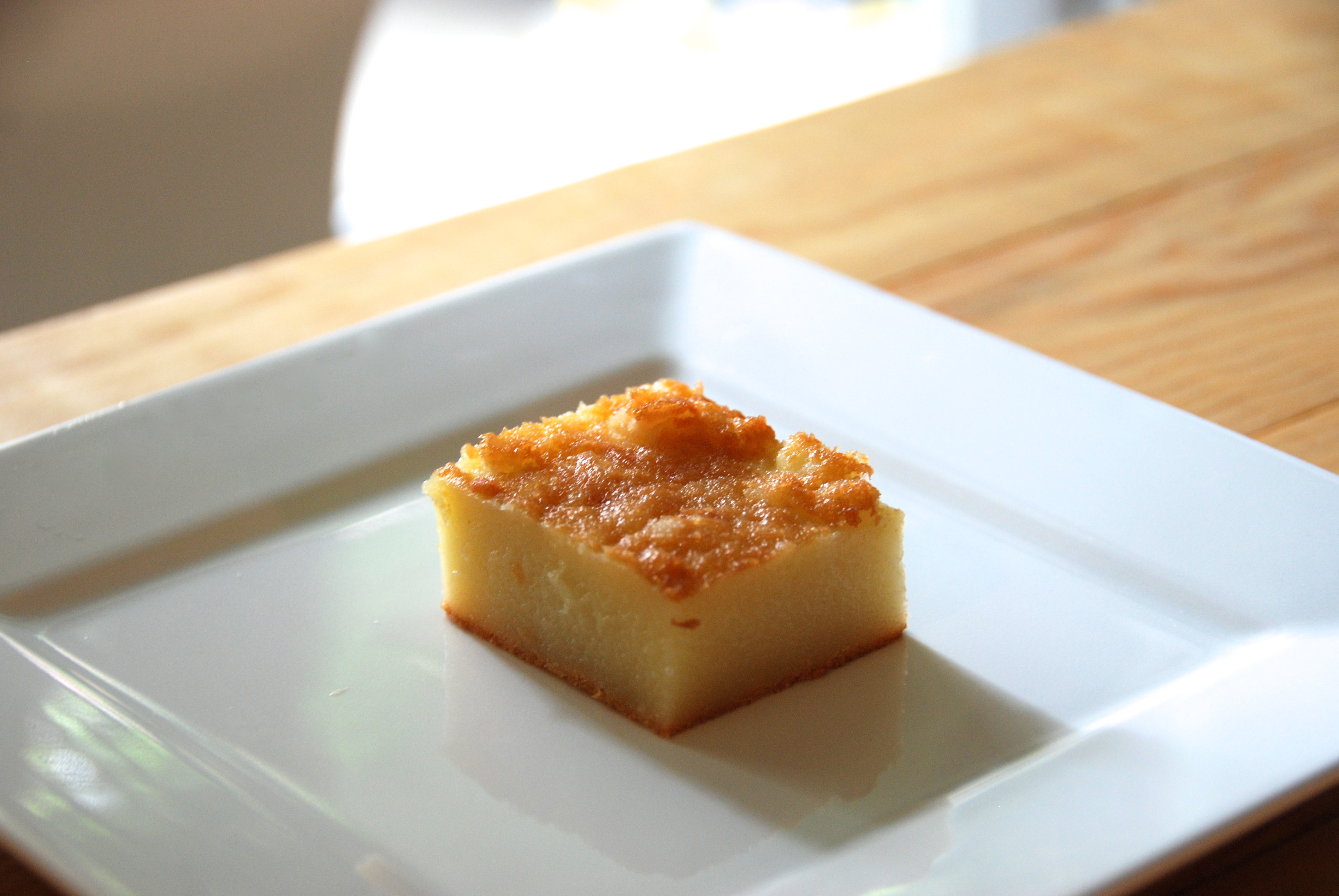 Butter mochi! The subject of my third and final installment of this little series on Hawaiian foods (parts 1 and 2 were on ahi poke and Spam musubi). I love all the ways that Hawaii is a blend of Asian and Western influences — when it comes to food, it can only mean good things. For instance, I'm not the biggest fan of traditional Asian mochi, like the Chinese nian gao with red bean paste, because it's a bit too chewy and bland for me. But when amped up with more sugar and a whole (!) stick of butter, the Hawaiian version becomes pretty delicious.
Here is the recipe, below, which I got from Bowl #2's Hawaii friend's mom (which seems to be happening a lot). This is his family's prize recipe — so, in retrospect, it was really extremely kind of him to share it with me. He makes this for every Hawaii party he throws on the mainland, and has jazzed it up with mango, bourbon, coconut flakes, you name it. So, though I may not have the tradition behind me, he does — and it definitely, definitely shows. This butter mochi is serious. The crispy edge pieces are my absolute favorite and unbelievably addictive. (Be warned, though, that the edges are by far the best straight out of the oven, and though they will stay nice and crisp at room temperature, if refrigerated, they will become chewy. I won't say whether that's an instruction to eat every single edge piece in one sitting … or whether I personally did that.) Once refrigerated, you can go all out and reheat pieces by panfrying in a skillet to regain a bit of crispness. You might as well — this isn't health food!
Butter Mochi
2 cups milk
1 can (15 oz) coconut milk
1 stick (113 grams or 4 oz) unsalted butter, melted
5 large eggs
1 tablespoon vanilla extract
1 1/2 cups (300 grams) sugar
2 3/4 cups (16 oz) mochiko flour
2 tsp baking powder
1. Preheat oven at 350 degrees.
2. Whisk together milk, coconut milk, melted butter, eggs, and vanilla extract in a large bowl. In a separate bowl, sift together sugar, mochiko flour, and baking powder.
3. Gently mix together wet and dry ingredients until fully incorporated. There may be a few lumps, but if mixed for a few more seconds should dissolve on their own.
4. Pour into a lightly greased 9×12 baking dish.
5. Bake for 1 hour at 350 degrees, until brown at the edges and golden brown on top. Sometimes it needs extra time, especially if you like the edges to be particularly crispy. The batter will also rise significantly, but will settle after cooling.
Notes: Our friend suggested several tablespoons of bourbon, and also noted that he sometimes uses coconut flakes (in which case he decreases the amount of sugar.) I also read myself that some like to omit coconut milk altogether (since it tends to be quite rich) in favor of using all milk with a few teaspoons of coconut extract. Lastly, I used whole milk, but might recommend skim, since others have noted that it doesn't lessen the taste. Probably a wise choice in light of the butter.
Edit (12.27.13): Over Christmas we made a quarter of this recipe in two miniature pie pans (like these, available on Amazon) and loved it. (This way every piece is an edge piece! YES.) I used these proportions: 1/2 cup milk, 1/4 cup plus 2 tbsp coconut milk, 1/4 stick (2 tbsp) butter, 1 egg, 1/2 tsp vanilla extract, 1/4 cup plus 2 tbsp white sugar, 1/2 cup mochiko flour, 1/2 tsp baking powder. Divide batter between pie pans and bake for about 30-40 minutes, or until golden brown on top. It will dome like crazy but will settle down just fine once out of the oven, and should not spill over. I also used almond milk the second time, and added a bit of whiskey — both did excellently.