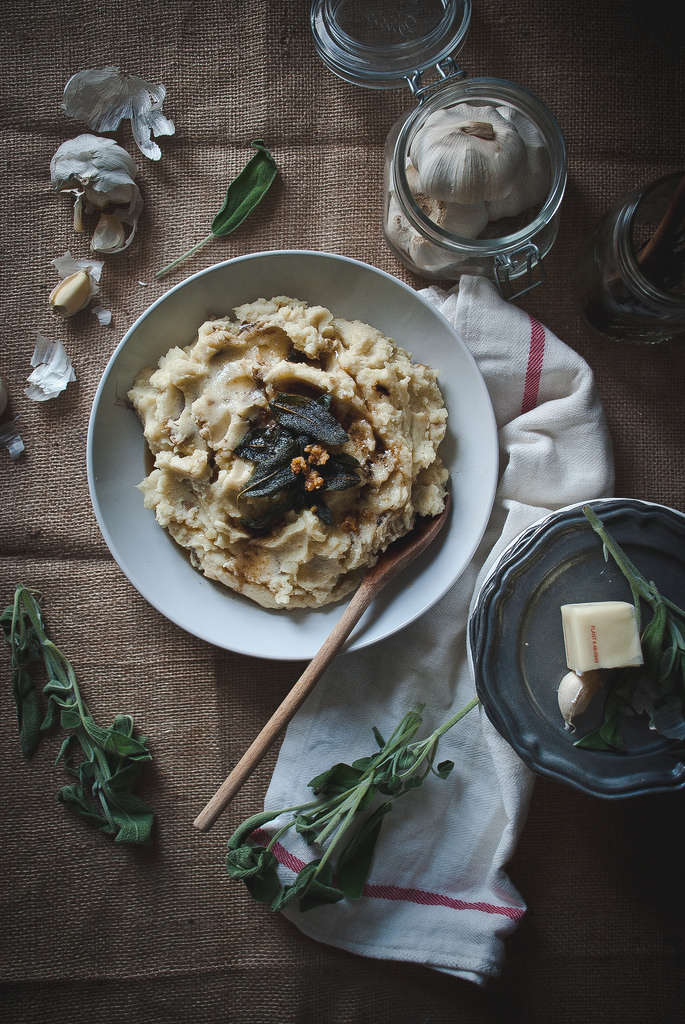 So this may seem odd, given my great and well-documented love for Southern comfort food, but I'm not usually the biggest fan of mashed potatoes.  To me they're like the vanilla extract of side dishes — potentially delicious, but usually in need of a partner.
When I was a kid, my dad used to drive me to KFC as a treat once in awhile after piano lessons or swim practices. Man, I got all up in that meal. Two piece meal, all legs, Original, mashed potatoes and coleslaw, please, thank you.  But I'm pretty sure I spent half my time (after tearing into those Original chicken legs like a starved shipwreck survivor) trying to figure out how to make those mashed potatoes more palatable.  Leftover fried chicken bits mixed in?  Spread thick on a biscuit?  With … the coleslaw?  (I wish I could say I didn't try that, but I did.  … And I liked it.)  However you slice it, the mashed potatoes were the one thing on that plate I didn't devour with single-minded ferocity.
I realize I'm making it sound like I was very into my KFC experience. I was.  I was very into KFC.
Anyway.  I've come to realize that making mashed potatoes from scratch does a thing or two or trillion for them.  But a few months ago, I came across these glorious-looking roasted garlic smashed potatoes on The Baker Chick, and that was a real game-changer.
First, this salt potato thing is genius.  Boil the potatoes in well-salted water, pasta-style, and the result is a flavorful skin and a creamier potato.  Smash it all up with butter and milk, leaving the skins because you're lazy because they're nutritious and have fiber and such.  Then, add to that a couple of cloves of golden fried garlic.  (That should have been one awesome head of roasted garlic, but I got impatient.)  Finally, throw in one pan of sage leaves crisped up in brown butter?  It turns out mashed potatoes can do the damn thing all on their own after all.