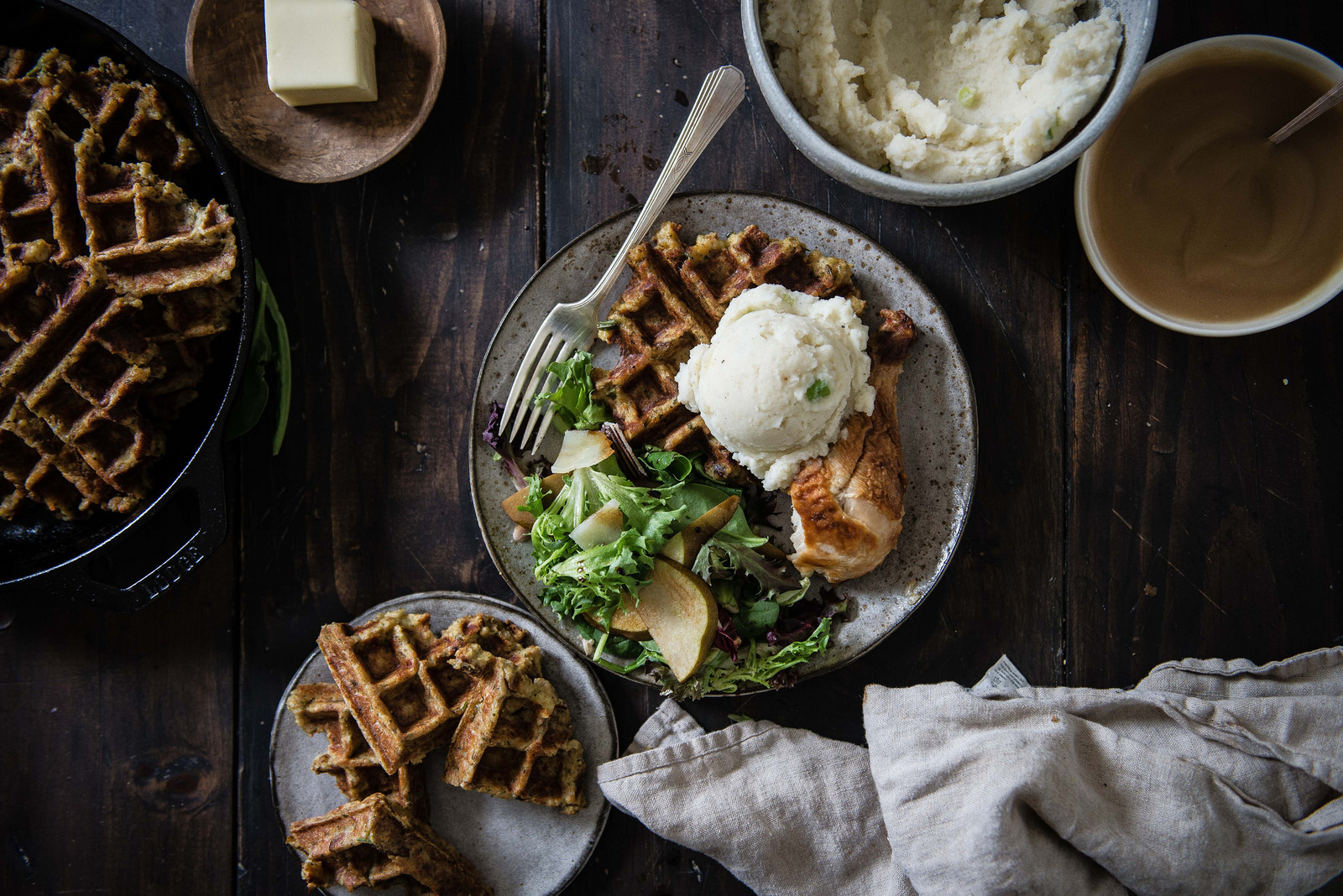 A few years ago I came across an Alton Brown diatribe against one-use kitchen gadgets (or "unitaskers," I think he calls them) and thought it would be a good rule not to buy them for our New York kitchen.  This more or less worked (mostly thanks to B2 putting his foot down on random Amazon purchases and the fact that we just had no room, lest we start storing kitchen appliances in our bathroom) but I also pretty much immediately found ways to bend the rule, i.e. the SPAM slicer is okay because it can also slice tofu, and the potato ricer can also make excellent pumpkin puree — clearly bi-taskers!
And then, in a fit of indulgence a few months ago, I bought our very first waffle iron.  This is arguably the largest unitasker to grace our kitchen.  But I calculate that a waffle iron is actually at least a penta-tasker (quintup … tasker?):  (1) waffle pizza! (2) waffle grilled cheese! (3) waffle-ninis! (4) all kinds of actual waffles!  And, now, (5) stuffing waffles!  
The thing is, if I used the waffle iron to make only stuffing waffles, I'm pretty sure it would still be worth it.  After seeing them crop up in all sorts of places online, I've been waiting to make these for all the years that our kitchen was too cramped to fit a waffle iron, and they lived up to every expectation:  All the intensely savory, buttery, carb-tastic goodness of my very favorite Thanksgiving side dish is stuffed into a sizzling iron and made delightfully crispy on the outside, but fluffy and almost creamy inside, ready to tuck all the other Thanksgiving leftovers, from mashed potatoes to turkey to cranberry sauce, into its perfectly square divots.  (And I added maple syrup, because why not.)  I can think of no better way to reheat stuffing the next day — and in fact, it's good enough that I'd be happy to make stuffing just to waffle.
After a tumultuous couple of weeks, wishing you all a safe, happy Thanksgiving.  Thank you so much for being here, and for reading!