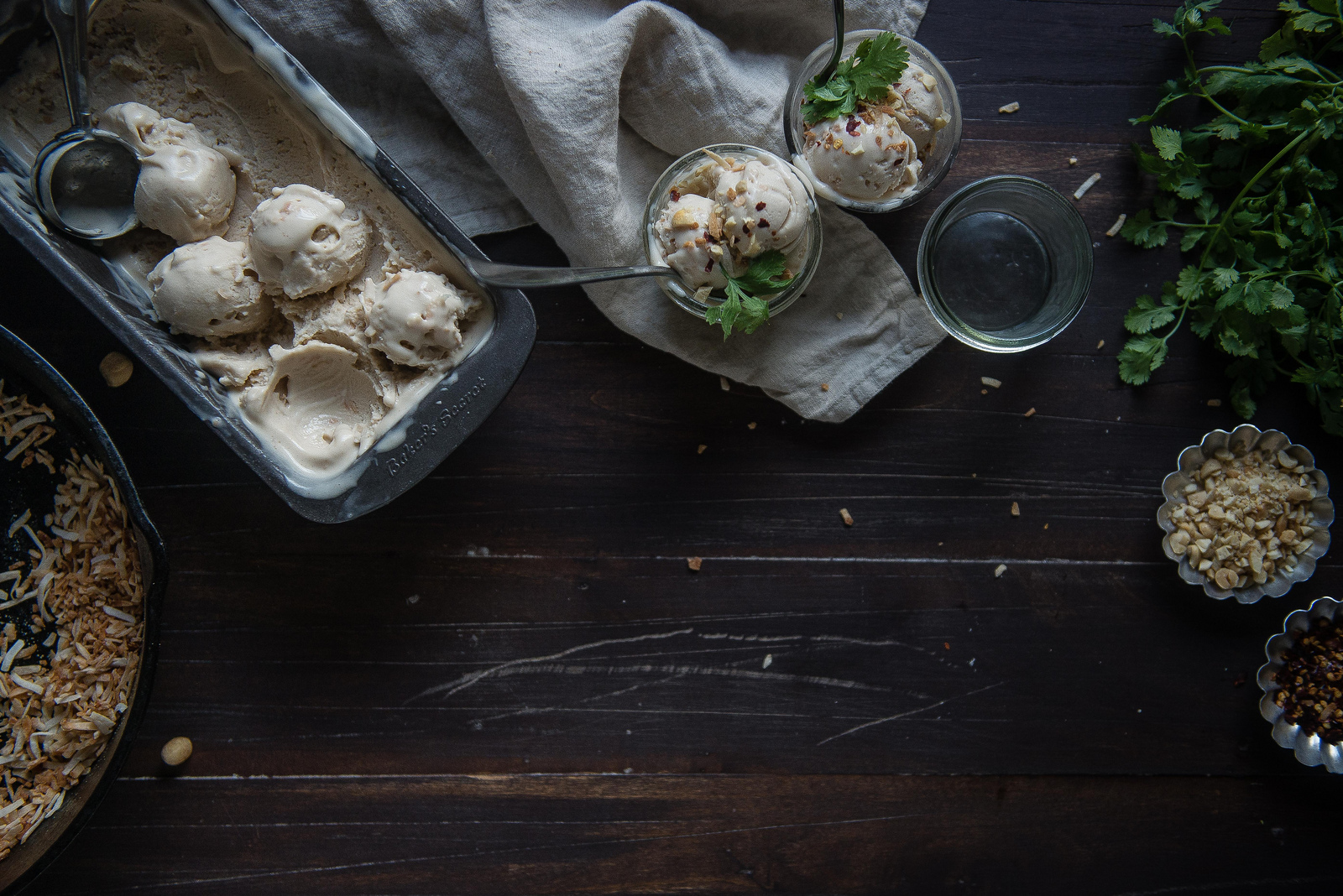 It always surprises me around this time of year that summer hasn't technically ended. Less so when I hear about sweltering heat in LA or abiding humidity in Florida, but at least around these parts, it feels like fall.  We're retiring our AC and pulling out sweaters. The air has a crisp snap to it in the mornings; the leaves are edging golden. The subway fills up more on my way to work, and I'm back to coming home from work in the cool gloss of darkness.
At the same time, there are still fleeting hints of summer around, even if it doesn't feel like it outside. The afternoons are sunny, and the local markets are still overflowing with summer produce. This past weekend, I came home with a bounty of white nectarines that were sweeter than candy. And this week, I'm still eating ice cream. This (dairy-free!) Thai peanut version, to be specific.
Truth be told, I'm kind of overdue for a homemade dairy-free ice cream.  Eating a lot of lactose almost always makes me uncomfortable, but because I'm bad, I do it anyways — clearly.  And clearly again.  (I'm single-handedly setting back the cause of people with mild food intolerances.)  But after a few too many internal struggles, and after coming across an abundance of gorgeous dairy-free ice creams this summer (just look here and here!), I thought it was time to own up, because frankly, the dairy-free versions are just as good — if not better!
This is a riff on a Jeni's flavor I've been meaning to try for a long time.  Her Bangkok Peanut ice cream has fascinated me ever since a friend came back from a Jeni's in Nashville raving about it, and I thought it'd be the perfect place to start with dairy-free ice cream, given that it already contains coconut milk, and all her ice creams are egg-free to begin with.  In addition to the cornstarch and corn syrup combination Jeni already uses to fortify her ice cream, I added a tablespoon of bourbon to keep the ice away, as per Ashley's tip to add alcohol, and replaced the cream cheese in her formula with a little extra peanut butter.
I was completely in love with the taste and texture that resulted. It was the fluffiest, softest ice cream I've ever made, with a thick and creamy texture that's reminiscent of gelato. And just like Jeni says, the taste is like pad Thai in ice cream, in the best, least-weird way possible — it has a subtle coconut flavor, the smoothest, richest peanut butter taste, and a punchy edge from the cilantro and red pepper I ended up topping it with.  To me, it's an ideal bridge between late summer and early fall.  Cool and refreshing, but creamy and decadent enough to be comforting, especially with the touch of heat from the cayenne.
I hope you're all having a great last Wednesday of summer!
Edit:  The first version of this post listed this ice cream as vegan, which I've now realized was totally incorrect.  It contains honey, so it is only dairy-free.  You can replace the honey with agave nectar, maple syrup, or more corn syrup to keep the recipe vegan.  Thank you so much to the commenter who asked!