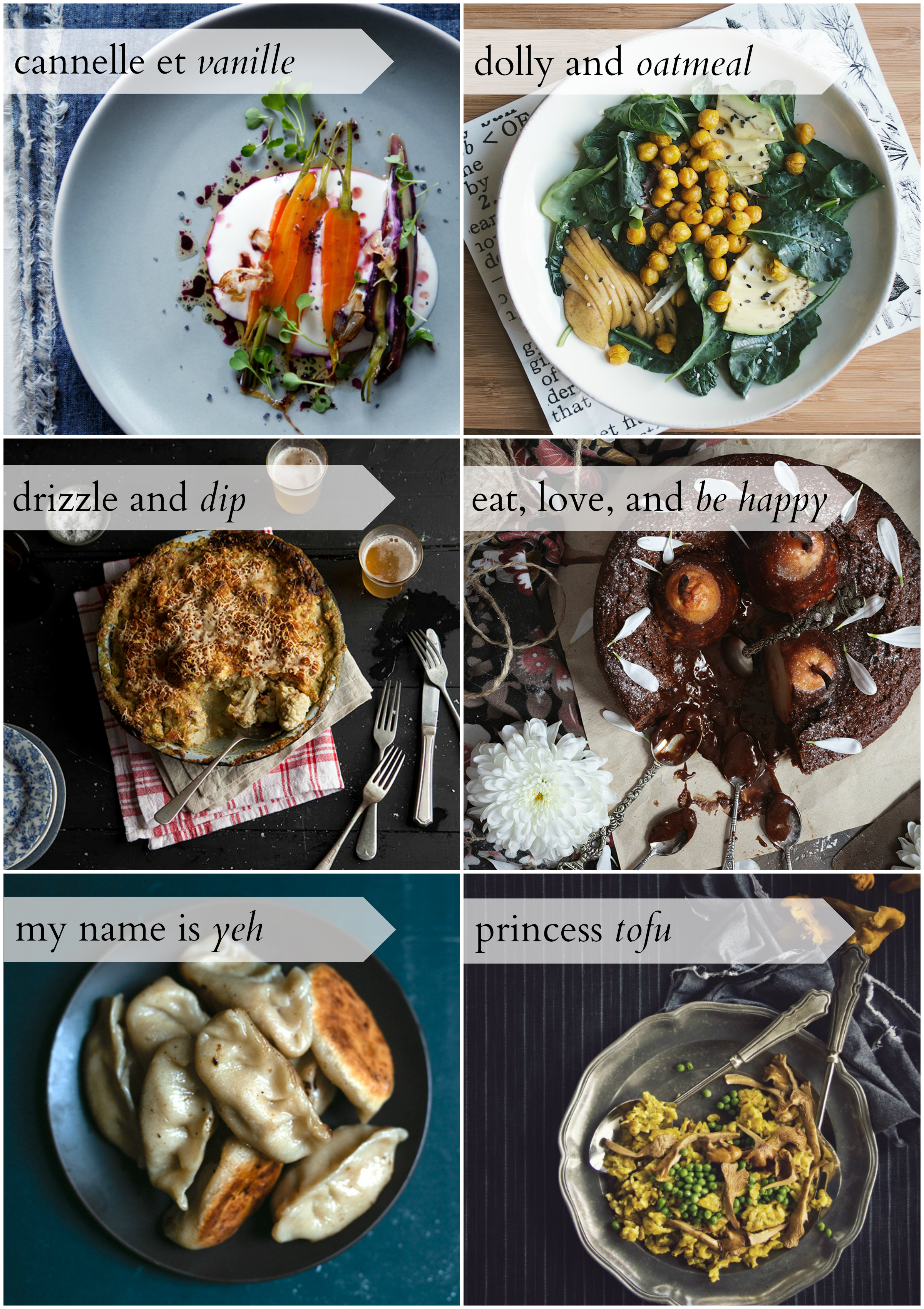 Past posts can be found here.
1. Cannelle et Vanille (Roasted Carrots with Honey, Sage, & Garlic). I'm sure this recommendation doesn't come as a surprise to many — Aran's fresh, vibrant recipes and photography make her blog one of those staples for any reading list.
2. Dolly and Oatmeal (A Warm Salad of Roasted Turmeric-Chili Chickpeas and Pear). A lovely blog devoted to eating well.  Given that I sometimes gravitate towards the decadent and indulgent (don't we all?), Lindsey's blog is refreshing and necessary source of balance.
3. Drizzle and Dip (Jamie Oliver's Best Cauliflower and Broccoli Cheese). Sam's gorgeous, Cape Town-based site is full of stunning recipes and photography, which is what drew me to her blog originally, but I love the snapshots of South Africa from time to time on her blog and in her Instagram — I spent a summer once working in Cape Town and would love to go back someday.
4. Eat, Love, and Be Happy (Chocolate Pear Cake). The picture says it all!  Monica's recipes and photography are divine — I was hooked the moment I saw the first post.  I also love that hers is another international blog.  The truly global quality about the blogging community never ceases to inspire me.
5. my name is yeh (The Best Potstickers Ever). Molly's blog is a wonderfully unique amalgamation of experiences and cultures — her take on traditional Asian potstickers, for instance, appear right alongside adorable mini pumpkin sufganiyot, along with glimpses into her life in North Dakota and gorgeous, nostalgic documentation of her various travels. Her blog is without question one of my new favorites (just look at my Facebook!)
6. Princess Tofu (Pumpkin and Chive Spaetzle with Sherried Chanterelles).  If you ever need inspiration for food styling, photography, or simply what to make, Phi's blog is where to go.  It embodies exactly I love about the food blog world — its ability to motivate you to expand your horizons and your abilities.

By the way, at least two of these I found through Jen at Savory Simple's awesome Facebook recs. Follow her for a constant source of food-magic!
P.S. I don't know why all these pictures happened to be overhead shots with circles.  My subconscious is trying to tell me something.  Maybe something to do with the shape of my waistline after how much I ate these past two days.  ;) Happy belated Thanksgiving and hope you enjoy these fantastic blogs! Are there any blogs you're obsessed with lately?
Oh, and I want to extend a heartfelt thank you to Jasline at Foodie Baker, Colleen at Royal Icing Diaries, and Jennifer at The Daily Doss for being so kind in nominating me for the Liebster Award. It truly makes my day whenever I get one of these, so thank you so very much for thinking of me! Definitely check out their awesome blogs, as well — they deserve the awards they got!