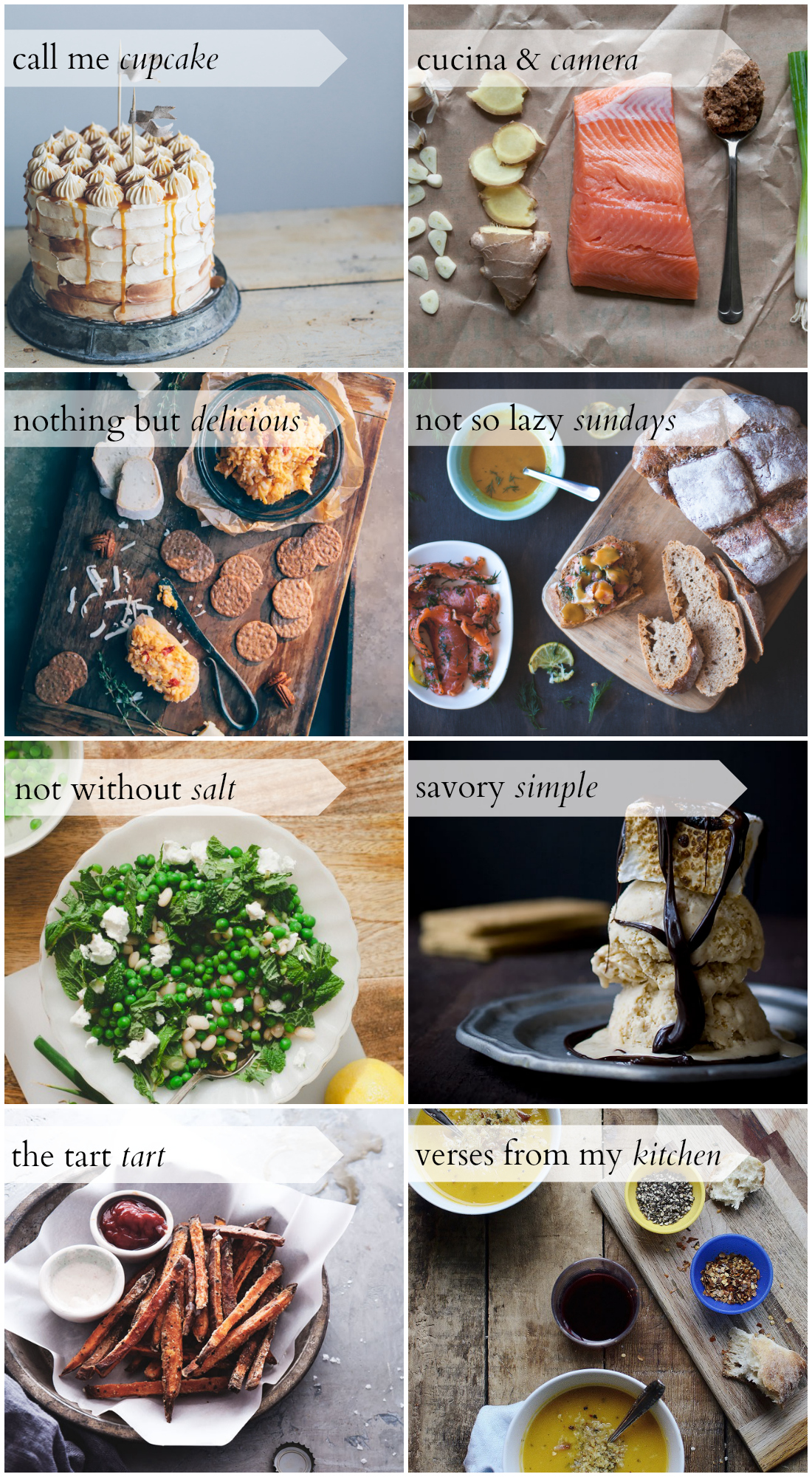 Happy Halloween!

 Here's a quick post on blogs I've been loving this past month — these are some houses I would definitely trick-or-treat at. (Past posts here.)
1. Call Me Cupcake (from An Ode to Cakes).  I originally found Linda Lomelino through her superstar Instagram (Instagram celebrities are still something I'm getting used to! 44k followers? Baffling.)  Her blog houses some of the most stunning food photography I've ever seen.
2. Cucina & Camera (Chopstick Salmon).  Sarah's blog is only a few months old, but already so stunning.  Her photography strikes me as thoughtful – her arrangements of food are impeccably artistic but economical, and impactful without feeling too busy or unrealistic.  Love it (and I'm so going to be able to say, I saw it first…ish!)
3. Nothing But Delicious (Pimento Cheese).  Pimento cheese!  Have you ever seen it look so classy?  I love the mix of things on this blog and its surreal, dreamy qualities.  Inspiring.
4. Not So Lazy Sundays (Salmon Gravlax with Sweet Dill Mustard Sauce).  Another blog with a faintly dreamy quality about it, and food that just looks too stunning to eat.  I love this kind of faded perfection — no idea how to create it but I'm content admiring it from here!
5. Not Without Salt (White Bean Salad with Peas and Mint).  A fresh, vibrant blog that makes me hungry just to browse through.  And an interesting and unique layout, as well.
6. Savory Simple (S'mores Sundae).  I've been a fan of Jennifer's blog for longer than just this month, but somehow failed to mention it earlier (as far as I can tell).  As I believe the esteemed Movita put it, her photos are "epic."  Pretty much, I would say.  I also love that Jennifer has a knack for hitting the recipes that really make you want to run into the kitchen and recreate yourself — the right mix of simple but not boring, interesting and challenging but not unattainable. Oh, and she makes the most gorgeous, flawless layer cakes you've ever seen.
7. The Tart Tart (Baked Sweet Potato Fries).  I just found this blog the other day and am so excited I did.  I love everything about it, especially once I read her story on her first macarons — it just made me feel like I knew her, commiserated, and wanted to be friends!  Which is always a treat when reading blogs.  Also, caramelized white chocolate ganache?  Need to try.
8. Verses From My Kitchen (Man-made Mac and Cheese).  Simply gorgeous photography, the title of that mac & cheese post is clever in the best way, and um, also, that mac & cheese.  Mustard, cardamom, nutmeg, Gruyere, white cheddar — sounds unbelievable.