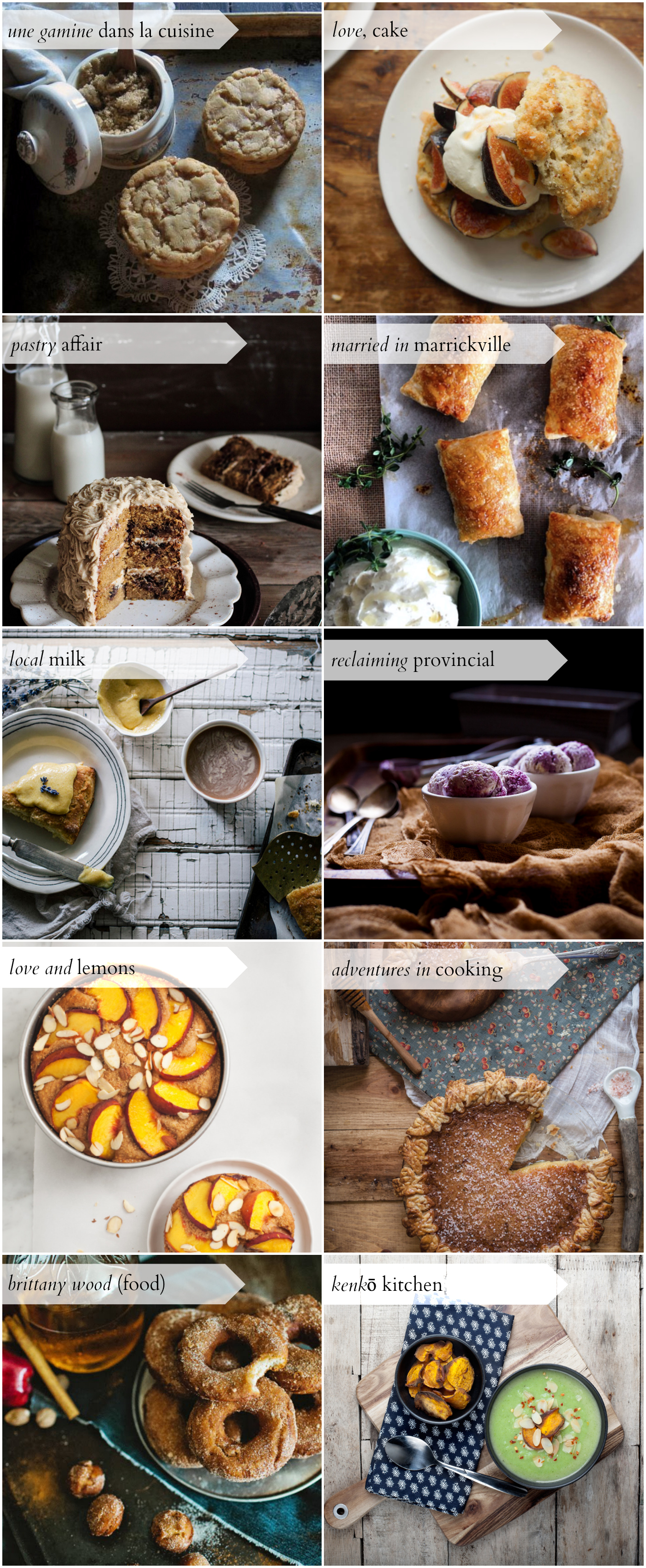 I think the past four or five months since starting this baby-blog have been one large exercise in figuring out exactly what I want to say with it — whether I want to post on more than just food; whether I want to post on just one kind of food; whether I want to post recs of things I like, and how often; how best to balance posting about other blogs with posting my own recipes. And the photography is something else entirely — how do I want to photograph my food? Minimalist? Light? Dark? Props? Backdrops? I'm still figuring it out, clearly, but one thing that has definitely helped has been focusing on what it is I like about other blogs and what I find inspirational about them. This month, I decided to do one big post on blogs I've been loving, instead of the more frequent posts I did in August. Here they are, in no particular order, and hope you love them as much as I do!
1. Une Gamine dans la Cuisine (Brown Sugar Toffee Cookies). I've noticed that I seem to be drawn to darker photography — it seems so rich and vibrant. Valerie's styling and photography is stunning, and what's even more impressive is that she uses a point-and-shoot, which was a necessary reminder to me that the camera you use is only one very small part of making food visually beautiful.
2. Love, Cake (Honeyed Fig Shortcake with Hazelnut Biscuits). This blog is full of fun, inventive recipes — just check out this carrot cake made with quinoa. The photography is refreshingly crisp and bright (yay, not everything I like is dark!) and her writing is lively, funny, and meaningful.
3. Pastry Affair (Cookie Dough Cake). Back to dark, rich, and rustic.

Beautiful photography, beautiful food, heartfelt writing. I was especially touched by this post and am always gratified to read personal journeys so generously shared by other bloggers.
4. Married in Marrickville (Apple Pillows). The recipes on this blog have a nostalgic, familiar kind of quality about them; I also like that the photography feels real and unstaged, which can be refreshing at times in a blogosphere crowded with mock tabletops and props. And these apple pillows look simply delicious. (Any dessert compared to a pillow? I will have that, thank you.)
5. Local Milk (Cornmeal Brown Butter Scones and Lavender Peach Curd). I actually first found Beth's blog because her Pinterest board was so beautifully curated. You know someone's got talent when their taste in pins stands out too! Check out this otherwise simple photo of okra and corn — so gorgeous.
6. Reclaiming Provincial (Honey-Thyme and Blackberry-Goat Cheese Swirl Ice Cream). Just look at the title of that post! I was so excited to come across this blog and it has not disappointed since I've found it. I also love Carey's quirky, down-to-earth writing (like this post, which I found hilarious and so relatable! I feel like this kind of food-doctoring-gone-wrong story happens to everyone at some point.)
7. Love and Lemons (Almond Peach Cake). Yay, another of the bright-and-sunny variety! Everything on this blog seems so refreshing, and I'm especially obsessed with the travel blogging Jeanine and Jack are doing in Japan (wow, alliterative) right now. Japan is one country I've never been to and I'm so in love with their crisp, bright photos of that wondrous land.
8. Adventures in Cooking (Salted Rose & Honey Pie). This is another blog where I feel I have so much to learn from the styling, the impeccable use of props, lighting contrasts, and of course, the food. This pie is definitely on my list of things to achieve someday. (Tall order, since I've yet to make a non-graham cracker pie crust.) I also love all the unique shots of bee-keeping and honey-making in that particular post!
9. Brittany Wood: Food (Apple Cider Donuts). The "food" category of Brittany Wood's blog is phenomenal, which is crazy considering that that's just one of the many things that she does. Her beautiful travel photography is worth checking out as well — I just always gravitate towards the food photos.

10. Kenkō Kitchen (Cauliflower & Broccoli Soup with Sweet Potato Crisps). Last but not least! So … I am not really a health person. If you couldn't tell by the peanut butter brownies and the Nutella pancakes and so on and so forth. I am completely indiscriminate in my love of processed foods, sodium, fat, refined sugar, and everything else. So I like turning to this blog for a dose of healthy without sacrificing gorgeous

I love Kate's vibrant, cleverly styled photography and her commitment to eating well. I may not follow that example, but it's nice to read about it from time to time!
Lastly, two things — first, I am always a little bit hesitant to post these because it feels like I'm snubbing the rest of the bloggers out there that I so admire, so I hope it doesn't come across as that. I'm so incredibly inspired by everyone I meet and whose work I come across that a just a monthly list could not possibly do all of them justice! Thanks to everyone that I've come into contact with.

And second, thanks to Food Daydreaming for very kindly nominating me for the Liebster Award! I was so flattered.

I don't know if I'll end up answering the questions and passing it on, since I did one a few months ago, but it really meant a lot to me.
Thank you so much for reading!