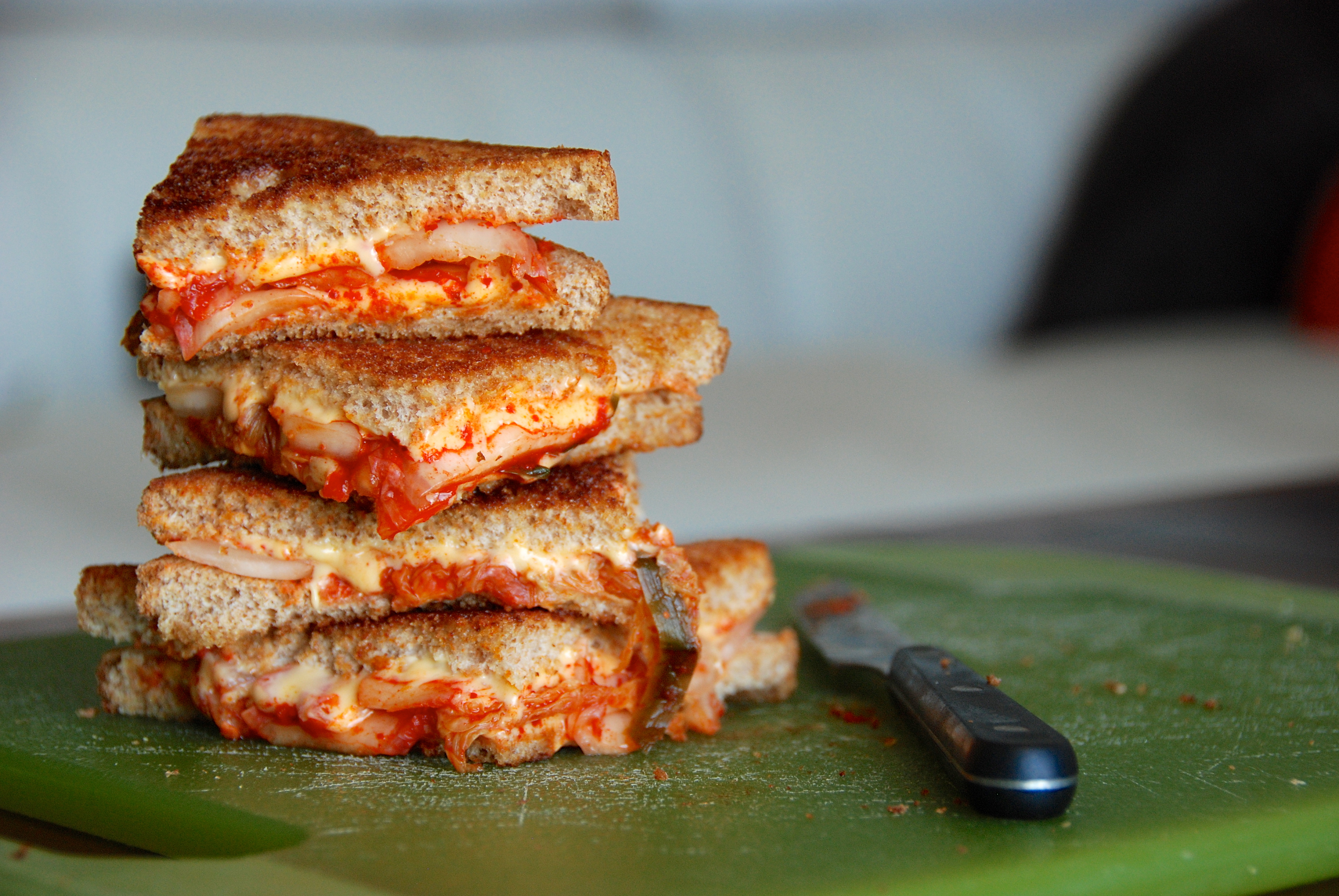 Did you just gasp with horror? I realize that this is a highly polarizing statement, but I love kimchi and cheese. I can't imagine budae jjigae without cheese. I made kimchi chicken quesadillas once and thought I'd died and gone to heaven. And this kimchi grilled cheese might be my very favorite grilled cheese sandwich, ever.
To me, kimchi adds a welcome liveliness to the heavy grease of the cheese, while the cheese also helps to cut the piercing acidity of the kimchi. But, much to my disappointment, Bowl #2 and his mother were both horrified by the thought of kimchi grilled cheese. (His reaction was "Kimchi WHAT?" while his mom just looked at me in amazement when I suggested it.) It looks like some people, like the folks at Serious Eats, partially have my back — they did articles on kimchi quesadillas here and kimchi grilled cheese here. But these have met with some resistance too, particularly to the kimchi quesadilla. Bowl #2's objection is that the cheese drowns out the pungent taste of the kimchi, which I can understand. Others just seem to abhor the thought of the combination. From my perspective, kimchi and cheese are just meant to be together, like a particularly awesome, sassy PB&J. To quote the articles by Serious Eats, it would never occur to me that it might "blow up with pure evil," and it's not even that it "doesn't sound appealing" to me but turns out to be. It just sounds super duper appealing! But I guess I'm just weird like that.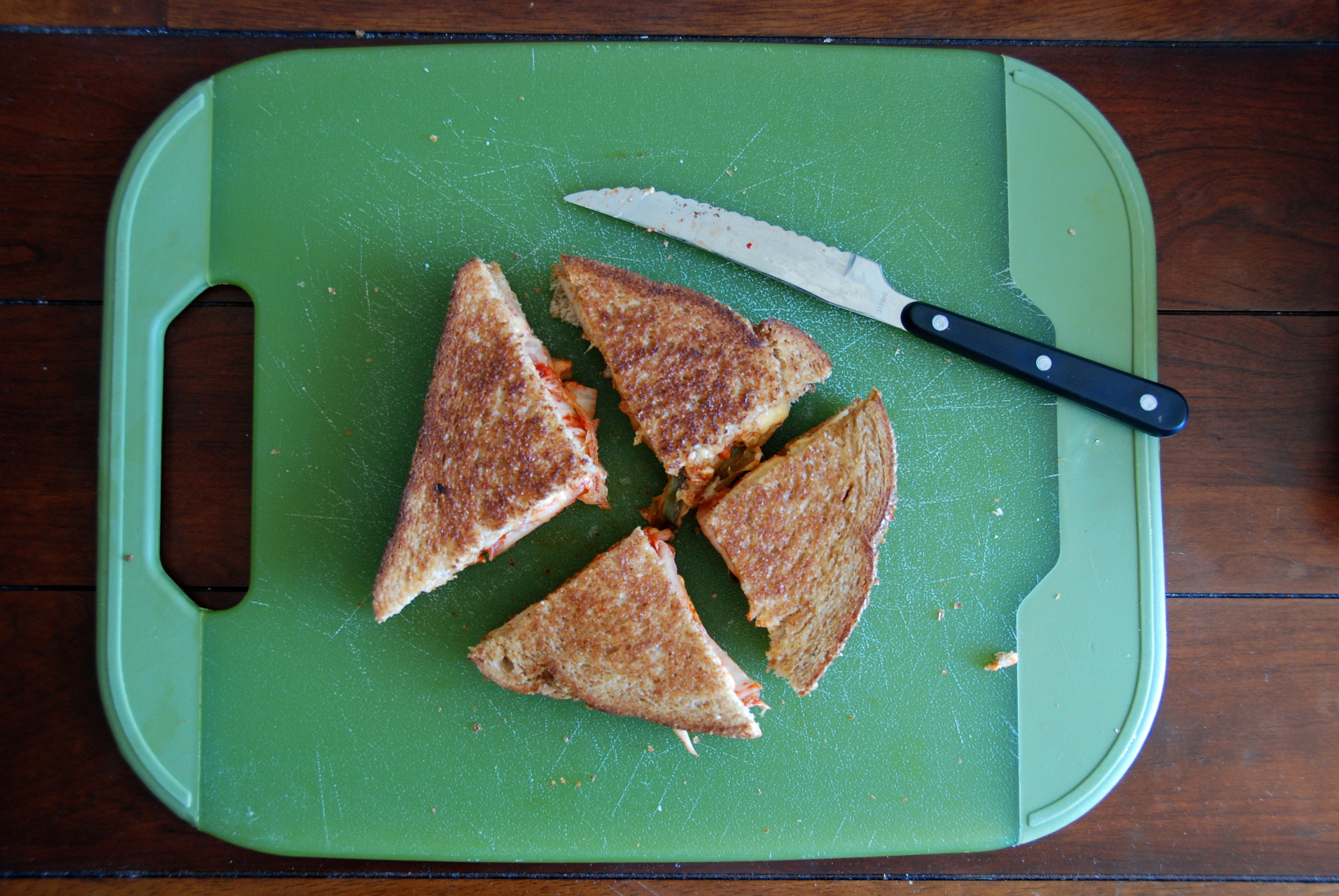 Anyway, here's the seriously simple recipe for kimchi grilled cheese, just in case you're crazy like me.

And if you're not, just take out the kimchi and make a regular ol' grilled cheese. I'm convinced that grilled cheese is something that everyone should know how to make, so if there's any beginner cooks out there who need the basics, this is for you too!
Kimchi Grilled Cheese
makes one sandwich.
2 slices bread (any — I used wheat)
about 1 tbsp butter, enough to thinly butter one side of each slice
2 slices American cheese (but I can see any kind of meltable cheese working here — pepperjack, cheddar, Colby, provolone, etc. Also, of course you can add more cheese! I support the right to limitless cheese.)
1/2 cup kimchi, drained, patted dry, and chopped
1. Butter one side of each slice of bread, taking care to spread the butter to the very edges. (The very first time I tried to make a grilled cheese, sometime way back in high school, I didn't do this and left a very clean black outline of a piece of toast in our frying pan. I'm not sure my mom ever got it off.) Note: Some people melt the butter directly into the skillet and then fry the bread in it, which I do not do. I find buttering the slices themselves to be a more precise use of the amount of butter I'll need, and is likely a lesser amount as well. Also, if I have a toaster handy I like to lightly toast my bread beforehand, but that's totally optional.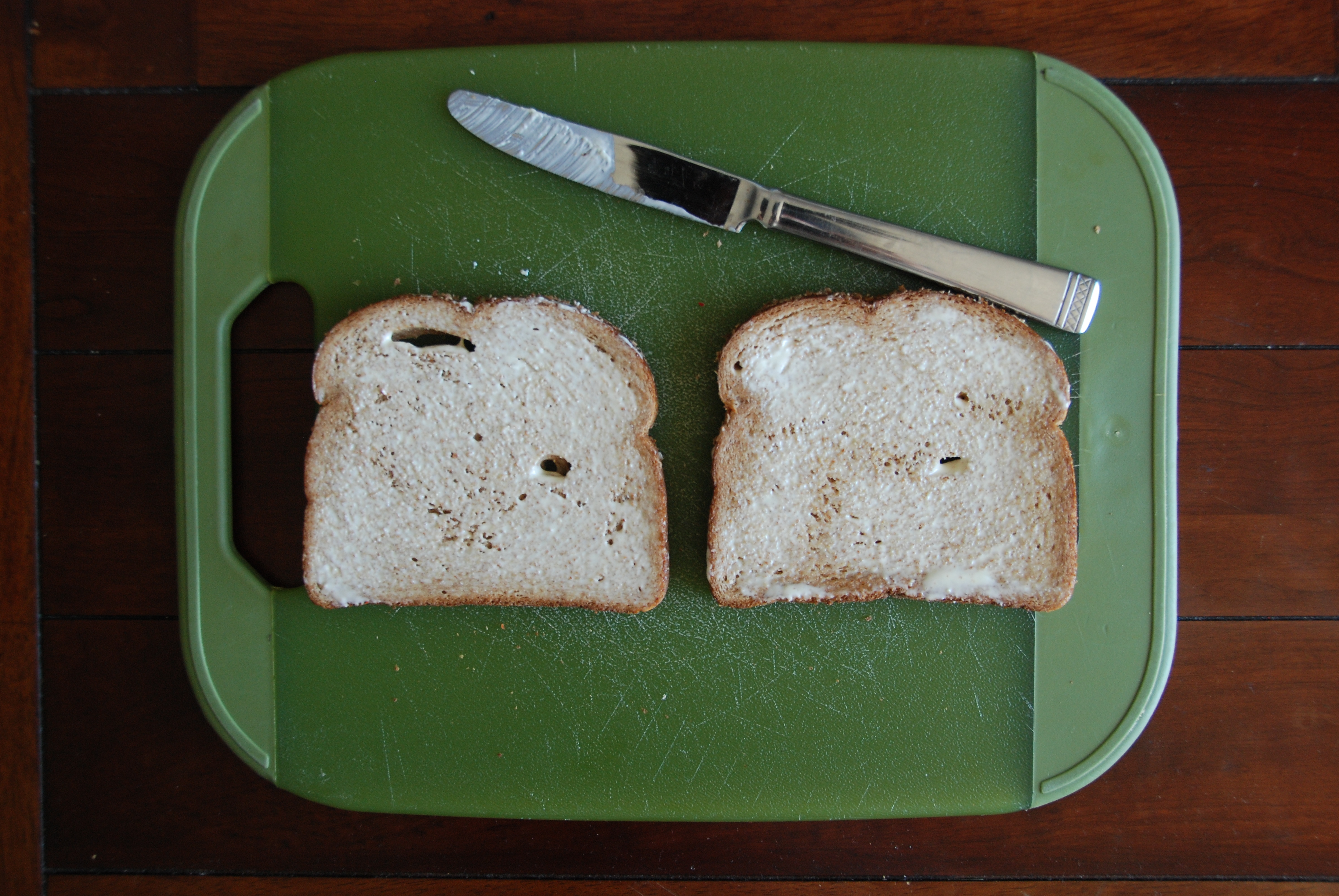 2. Heat a skillet over medium heat, then place the slices of bread butter-side down. Next, you'll need to add one slice of cheese to each slice of bread. If you're using cheese that takes a bit of time to melt, you may want to add your slices right away. If you're using the questionable processed Kraft kind (me! no shame), then wait until the bread is lightly browned (I just lift up the bread to take a peek) before adding the cheese, or else it'll melt everywhere and no one wants that. I have an irrational dislike of melting cheese burning on a skillet.
3. Layer kimchi over one slice only — this makes flipping the other one to combine them easier. Another note: Some people recommend panfrying the kimchi on its own to get it warmed up and add some crispy bits, as well as avoiding sogginess. If you're feeling really decadent you can panfry in butter and then your mind will be really blown. I did that for the quesadilla. But I felt like keeping things (and cleaning) simple, so I just added the kimchi straight and did not find that it made the sandwich texture any less enjoyable, maybe because it's cushioned with cheese on both sides. Omit this step altogether for regular grilled cheese.

4. Let the bread fry on the skillet until golden brown and the cheese is melted on top. Depending on your skillet, you may want to lower the heat at this point to medium-low or low heat to prevent burning (is there anything as sad as a burned grilled cheese?) Finally, flip the cheese-only slice onto the kimchi-and-cheese slice (highly technical terms are these) to complete the sandwich, and press lightly on top with a spatula to get them to really squish together. Remove and let cool, then slice and serve!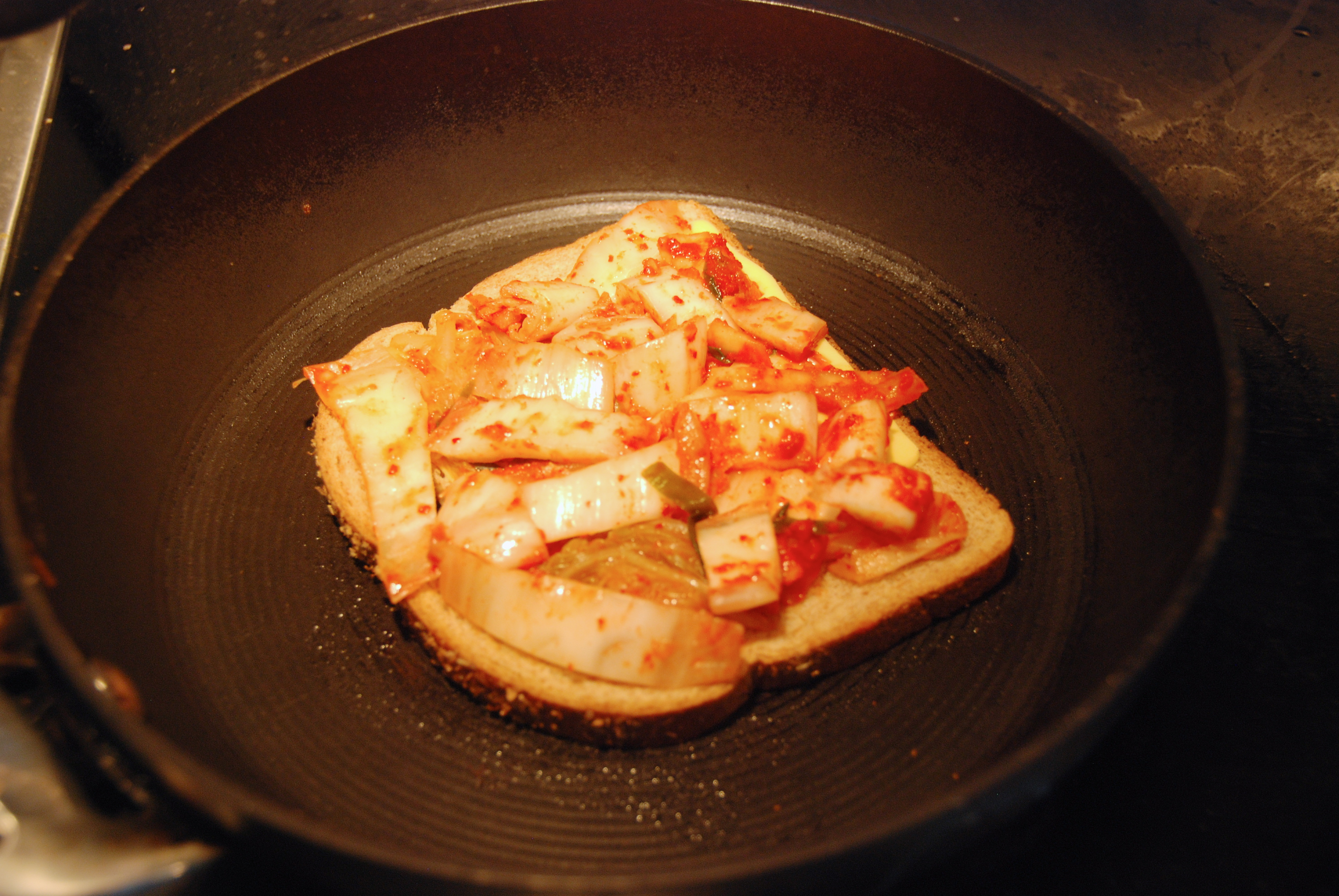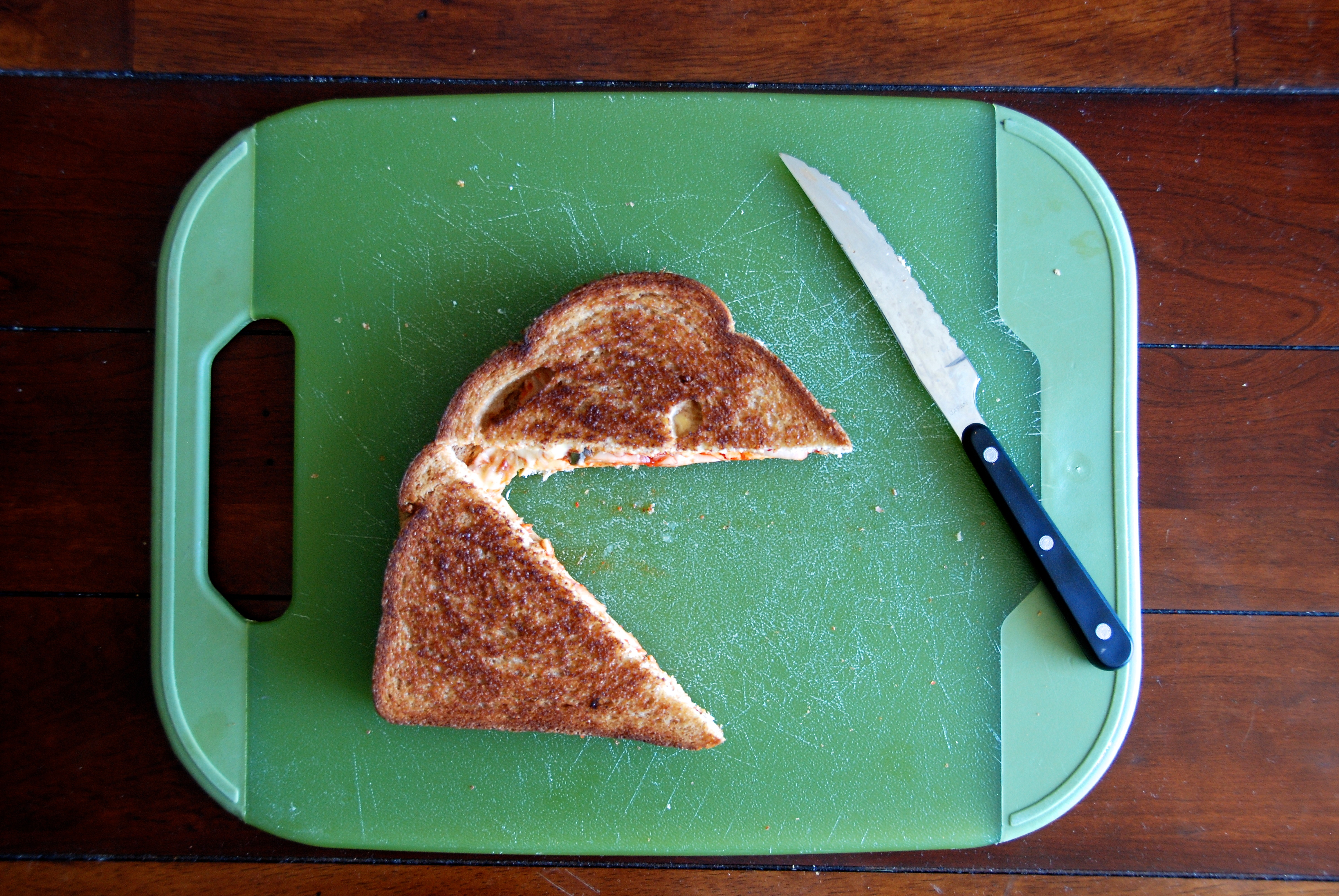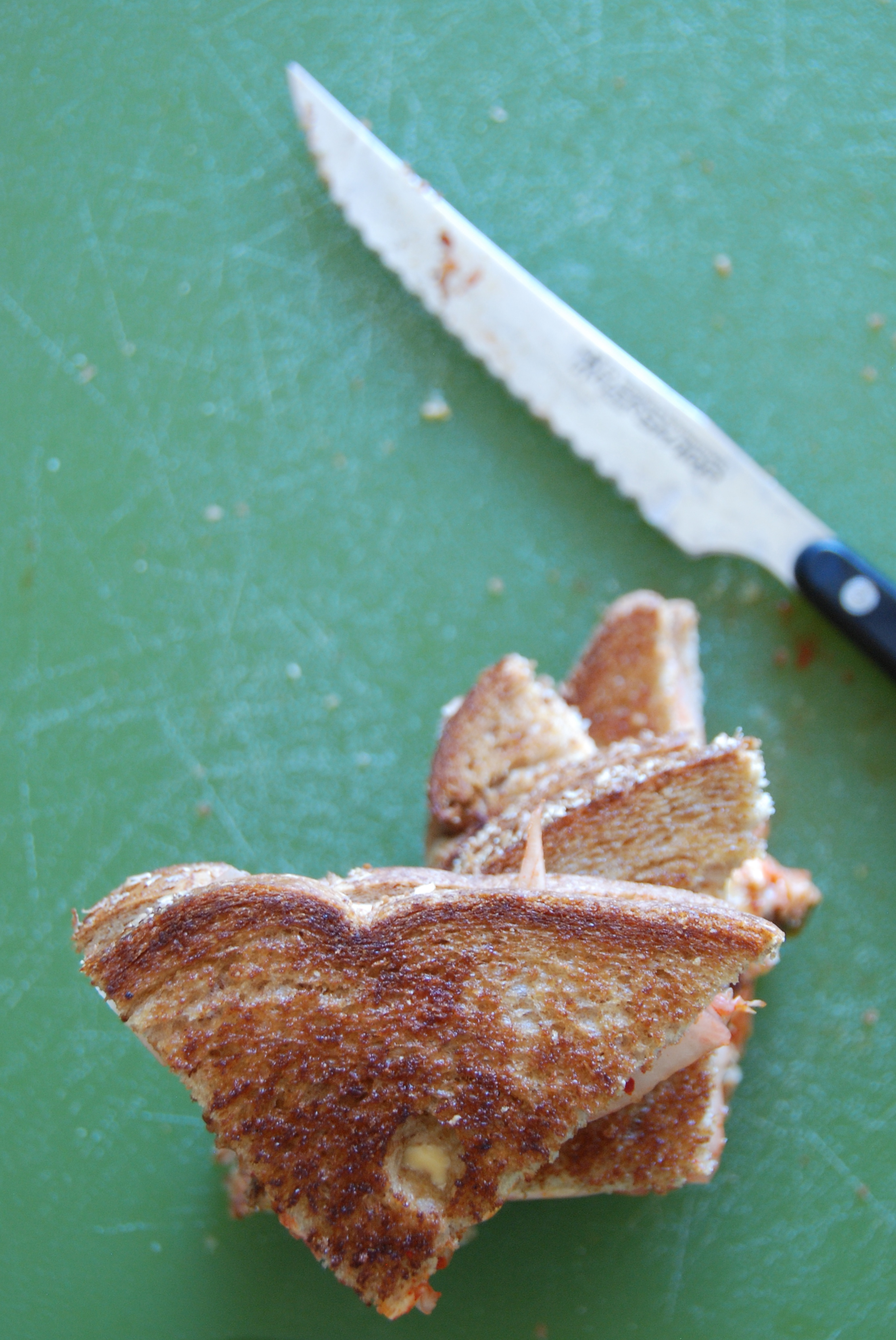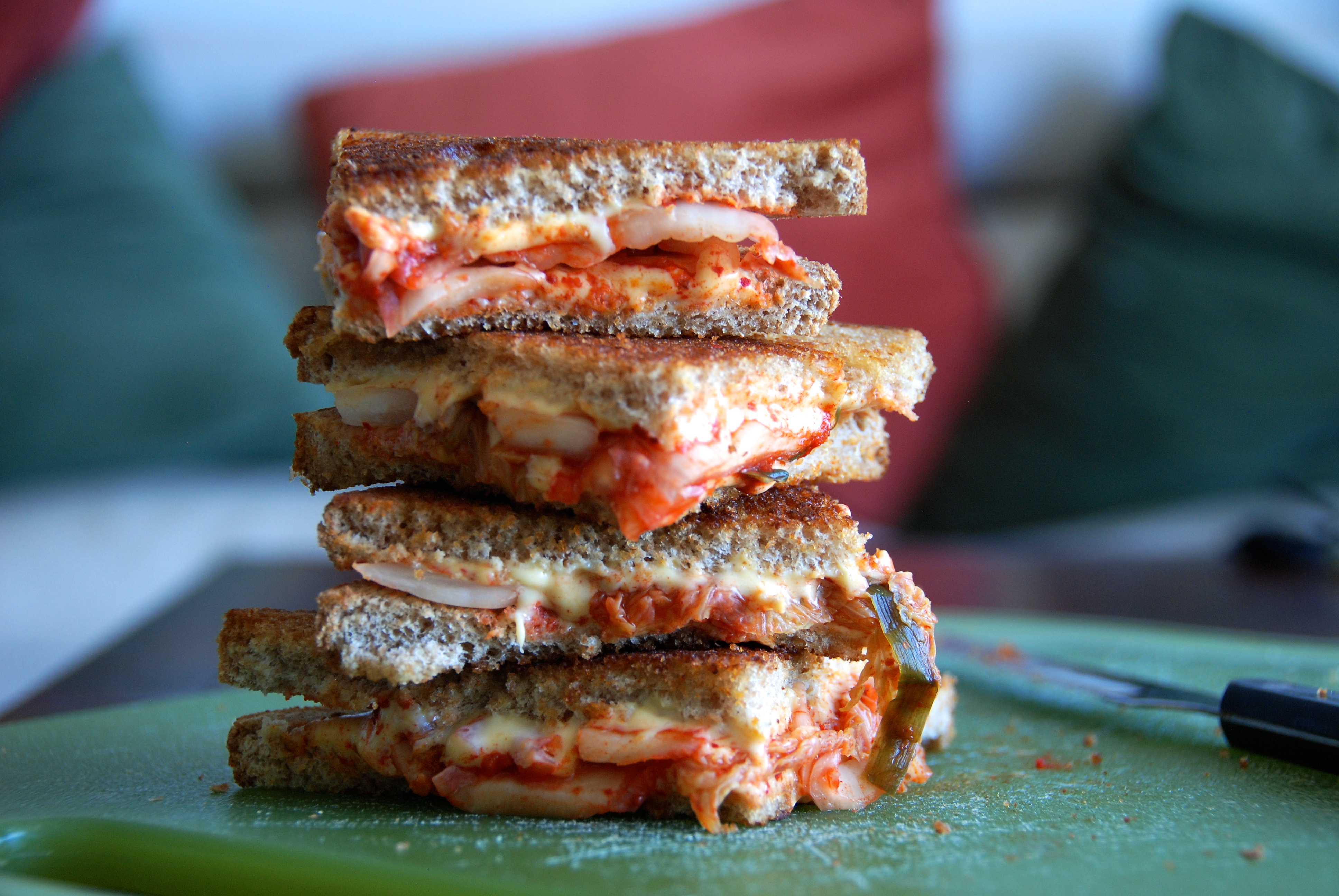 Thank you for reading and sorry if I disgusted you! 😉
PS Anyone notice a pattern here lately? Blueberries, then kimchi. Then blueberries. Then kimchi. Maybe I should rename this blog "Blueberries & Kimchi." (That sounds definitely more disgusting than kimchi and cheese. But I kinda like the sound of it.)
So that was a little weird. Instead, you might like these more traditional kimchi recipes: